(1) FANAC.ORG SCANNING STATION AT DUBLIN 2019. Joe Siclari looks forward to digitizing more zines and photos at the Worldcon —
FANAC.org has scanned and archived over 92,000 pages of fanzines. Next week, our Scanning Station is coming to Dublin. If you are attending the Dublin Worldcon and can brings fanzines appropriate for scanning, we would love to have them. We'll scan right there on site – we'll be set-up at a fan table in the Convention Center. Look for our banner.

We have run similar Scanning Stations this year at Boskone and Corflu with great success. To see what we already have scanned and have online, look at our main fanzine page: http://www.fanac.org/fanzines/Classic_Fanzines.html.

If you have old fannish photos that you can bring, we'd love to scan them as well. If you have photos in digital format, please bring those too.

Even if you don't bring material to scan, stop by our table anyway and say hello.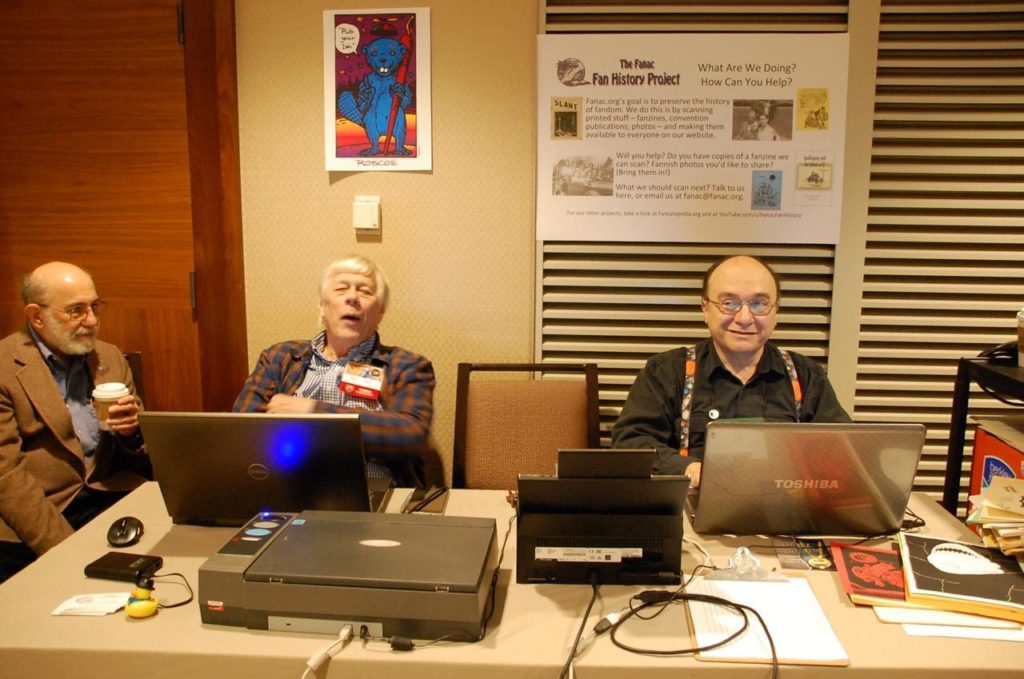 (2) PRE-'64 IN PUBLIC DOMAIN. Boing Boing's Cory Doctorow says "Data-mining reveals that 80% of books published 1924-63 never had their copyrights renewed and are now in the public domain".
…But there's another source of public domain works: until the 1976 Copyright Act, US works were not copyrighted unless they were registered, and then they quickly became public domain unless that registration was renewed….

…Now, Leonard Richardson (previously) has done the magic data-mining work to affirmatively determine which of the 1924-63 books are in the public domain, which turns out to be 80% of those books; what's more, many of these books have already been scanned by the Hathi Trust (which uses a limitation in copyright to scan university library holdings for use by educational institutions, regardless of copyright status).

"Fun facts" are, sadly, often less than fun. But here's a genuinely fun fact: most books published in the US before 1964 are in the public domain! Back then, you had to send in a form to get a second 28-year copyright term, and most people didn't bother.
(3) WHEATON W00TSTOUT. The 2019 pouring of Stone Farking Wheaton w00tstout is here. Comic artist Alan Davis designed the label. Will you collect it or drink it?
Each year, when July rolls through, Stone Brewing serves up a superhero of an imperial stout. Its sheer existence, a POW! BAM! WHAM! square to the face. Its contents – an art; its bottle – a collectible. Stone Brewing announces the release of Drew Curtis / Wil Wheaton / Greg Koch Stone Farking Wheaton w00tstout.

Over the years, Stone Farking Wheaton w00tstout has become one of Stone's most anticipated annual releases, and not just because it's an astoundingly flavorful beer concocted as a collaboration between FARK's Drew Curtis, nerd royalty Wil Wheaton and Stone Brewing co-founder Greg Koch. It's the incredible label art adorning this beer over the years that has elevated it to the pinnacle of beer, geekery and beer geekery. "W00tstout is more than a great beer," said actor, writer and Stone Farking Wheaton w00tstout collaborator Wil Wheaton. "It's a work of art, carefully designed to be as drinkable right now as it will be in a decade. I am so honored and proud to be one of its parents."
(4) CLARION WEST 2020. Next year's Clarion West instructors have been announced:
(5) STRANGERS LIKE ME. Brian Doherty, in "San Diego Comic-Con and the Tensions of Market-Induced Growth" on Reason.com, reports from the convention and finds that despite its huge size lovers of comics and the small press can find a great deal to satisfy them at the convention. He also interviews Maryelizabeth Yturvalde of the Mysterious Galaxy sf shop, who says she sold a great many YA novels to Comic-Con attendees.
…But who are "people like yourself" in the tent of fannish tents? That's the sticking point. Things can get complicated when you are thrust in a tight space with people whose nerdy obsessions don't match yours. Smith joked about seeing a bunch of people dressed as Klingons sneering at the lame geeks striding by dressed as stormtroopers.

On one of this year's historical panels, Barry Short, a longtime SDCC worker and a former comic shop owner, described the vast crowds attracted to the con as a clear victory, the promised land all the lonely geeks of decades gone by had been fighting for. Their culture was no longer mocked and hated! Their tribe had grown beyond imagining! But one detail that he chose to highlight was telling—that it was no longer hard to find T-shirts featuring Marvel superheroes.

That sort of thing would not be any kind of victory to, say, indie cartoonist Mary Fleener, who on a historical panel remembered fondly the days in the 1990s when she and a few fellow independent artists could pool money together for a table that cost less than $400 and profit selling their homemade mini-comix. Her tribe was different than Short's; they just awkwardly co-existed in the same grounds.

Comics are not just the root of the biggest Hollywood blockbusters; they're a newly respected part of American literary culture. The artists and writers responsible for that aren't necessarily obsessed with superhero T-shirts. But even that conclusion was complicated at a SDCC panel starring Chris Ware, author of Jimmy Corrigan, the Smartest Kid on Earth, one of the linchpins of modern literary comics. He admitted, in his self-lacerating sad-sack way, that as a nerdy, scared, hated kid in school, if he found anyone else who shared in any way his tortured love and fascination with crummy Mego toy figures of comics characters, he'd want to hold them close—too close for their comfort.

Comic-Con is filled with people who both seek validation in their manias and mistrust the manias next door, whether those neighboring fandoms seem to bring down the cultural property values or try to make them annoyingly highbrow.

No matter how pollyannaish you want to be about change and growth, more people in an experience makes for a different experience. Such changes may come to the benefit of the newcomers but the detriment of old-timers….
(6) GATHERING DATA. ScienceFiction.com, in "Brent Spiner Teases Data's Role On 'Star Trek: Picard'", quoted the actor from his recent appearance at the Las Vegas Star Trek Convention.
I am delighted to be part of the show and all I am, is a part of the show…I want to make it semi-clear, because I don't want to make it too clear, that I am not a regular on the show. Data did die at the end of Nemesis. But I am on the show. I do make appearances. Data's story is a part of the thread of show."
Apparently the Data-like android is a predecessor called B-4.
The Las Vegas Review-Journal's also asked Spiner about Facebook's Area 51 craze:
Given Spiner's connections to Area 51 — his Dr. Brakish Okun was in charge of research there in both "Independence Day" and "Independence Day: Resurgence," its 20-years-later sequel — you can't let the actor off the phone without asking if he has advice for anyone looking to follow the Facebook phenomenon and storm the secretive military installation to "see them aliens."

"Well, let me just say, I know this is going to be a huge disappointment to everyone, but if they do this, and they actually get there, I will not be there," Spiner says, dryly.

"I mean, unless I'm well paid. Then I'll show up."
(7) TRADE WARRIORS. The Hollywood Reporter explains how "A boycott of Japanese products has been growing as a political spat with historical roots impacts sectors from beer to cars to movies" — "Anime 'Doraemon' Latest Victim of Japan-South Korea Trade War".
The Korean release of the latest installment of Doraemon, Japan's biggest anime franchise, has been postponed indefinitely as a trade war between the Asian neighbors continues to escalate.

Doraemon: Nobita's Chronicle of the Moon Exploration, the 39th feature in the tales of the blue, "cat-type robot" and his human sidekick, schoolboy Nobita, is the latest victim in the Tokyo-Seoul spat.

Last month Butt Detective: The Movie was also caught up in the growing boycott of Japanese goods, services and companies. The film, a spinoff from a children's book and anime TV series about a detective with a head shaped like a backside, had received maximum scores on South Korean review websites on its release, but got a bum deal after the sites were hit with posts calling for cinemagoers to boycott Japanese films.

…The current row was triggered when Japan announced July 1 that it was placing export restrictions to South Korea on materials used in manufacturing semiconductors, a major Korean industry. Tokyo accused Seoul of breaking sanctions on North Korea, but the move was widely seen as retaliation for a Korean court ruling that Mitsubishi Heavy Industries has to pay compensation to Koreans forced to work for the company during World War II….
(8) ROSEN OBIT. Fraggle Rock voice actor Stuart M. Rosen has died reports SYFY Wire.
Stuart M. Rosen, a prolific voice actor and creator who helped develop the iconic children's puppet program Dusty's Treehouse in the late 1960s and voiced The Storyteller in HBO's Fraggle Rock, reportedly has passed away from cancer. He was 80 years old.
(9) TODAY'S BIRTHDAYS.
[Compiled by Cat Eldridge.]
Born August 5, 1891 — Donald Kerr. Happy Hapgood in 1938's Flash Gordon's Trip To Mars which might be one of the earliest such films. His only other genre appearances were in the Abbott and Costello films such as Abbott and Costello Meet the Mummy and Abbott and Costello Meet the Invisible Man in uncredited roles. (Died 1977.)
Born August 5, 1935 — Wanda Ventham, 84. Mother of Benedict Cumberbatch. She's showed up on during Doctor Who over a number of years playing three different roles (Jean Rock, Thea Ransome/Fendahl Core and Faroon) in three different stories, "The Faceless Ones" over six episodes, Serial: "Image of the Fendahl" over four  episodes and "Time and the Rani" over three  episodes. That'd mean she appeared with the Fourth and Seventh Doctors. She was also Col. Virginia Lake, a series regular on UFO, during the Seventies. 
Born August 5, 1940 — Natalie Trundy,79. First, she was one of the Underdwellers named Albina in Beneath the Planet of the Apes. Next, she played Dr. Stephanie Branton, a specialist studying apes from the future who came into our present day in Escape from the Planet of the Apes.  Then in Conquest of the Planet of the Apes and Battle for the Planet of the Apes, she played the chimp Lisa.  
Born August 5, 1947 — Élisabeth Vonarburg, 72. Parisian born, she's Quebec resident. She was the literary director of the French-Canadian SF magazine Solaris. Her first novel, Le Silence de la Cité, was published in 1981. Since then she's been a prolific witter of novels and short fiction. In 1993, her website notes sgphecreceived a Prix spécial du Jury Philip K. Dick Award  for In the Mothers' Land.  H'h. I'm pleased to say that iBooks is deeply stock in her works but Kindle has nothing at all by her. Her website, in French of course, is here.
Born August 5, 1956 — Robert Frezza, 63. Wrote five SF novels of a space opera-ish nature in five years covering two series, McLendon's Syndrome and The VMR Theory, and The Small Colonial War series which is A Small Colonial War, Fire in a Faraway Place and Cain's Land) before disappearing from writing SF twenty years ago.
Born August 5, 1956 — Maureen McCormick, 63. Though better for being Marcia Brady on The Brady Bunch, she has done some genre performances. She was Eve in Snow White: A Deadly Summer and Officer Tyler in Return to Horror High, both decidedly pulpish horror film. A step up in class was her portrayal of the young Endora in two episodes of Bewitched, "And Something Makes Three" and "Trick or Treat". She shows up in another magical show, I Dream of Jeannie, as Susan in "My Master, the Doctor".  And she was used in six different roles on Fantasy Island.
Born August 5, 1968 — Matt Jones, 51. Started as columnist for Doctor Who Magazine. A decade later, he wrote two of the Tenth Doctor scripts, a two-parter, "The Impossible Planet" and "The Satan Pit", and one for Torchwood, "Dead Man Walking". He co-authored with Joan Ormond, Time Travel in Popular Media.
Born August 5, 1980 — JoSelle Vanderhooft, 39. Former Green Man reviewer with a single novel so far, Ebenezer, and several collections, Steam-Powered: Lesbian Steampunk Stories and Steam-Powered II: More Lesbian Steampunk Stories. She also co-edited with Steve Berman, Heiresses of Russ 2011: The Year's Best Lesbian Speculative Fiction.
Born August 5, 1961 — Janet McTeer, 58. Last genre role was as Jessica's mother, Alisa Jones. in Jessica Jones. She was also Edith Prior in The Divergent Series: Insurgent, and the elderly Princess Aurora who was the narrator in Maleficent. 
(10) CHECK THAT OFF. J. Scott Coatsworth got into SFWA – not everybody does: "POINT OF VIEW: Setting Goals (And Making Them)".
I set myself two missions at the start of this year – one, to get into the Science Fiction Writers' Association (SFWA, pronounced Siffwuh) by writing and selling a qualifying short story. And two, to take steps to snag an agent for what I hope will be the next step in my writing career.

Well, missions one accomplished….
(11) A HOIST OF BOOKS. Atlas Obscura reads from the log of the "Bokbåten", a circulating library afloat.
Sweden and its Nordic neighbors are among the world's most literate countries. These nations boast a range of newspapers and public libraries, as well as provide convenient access to computers and strong educational resources to its residents.

Access to books and resources might be harder to come by for some, though, especially those living on the remote islands of Stockholm's archipelago—the largest group of islands in Sweden and the second-largest in the Baltic Sea.

To combat this obstacle while continuing its prioritization of literacy, twice a year the Stockholm Library Service rents a boat for a week and brings books to 23 inhabited islands. Each spring and fall, the boat is packed with approximately 3,000 books and sets sail along Stockholm's eastern seaboard as an aquatic library….
(12) IT'S EERIE. He looks just like a pinker version of my father when he was young.
My father is in the lower left corner of this holiday card, sent out in the early days of television.
(13) IN GLORIOUS BLACK AND WHITE. Jessica Holmes updates Galactic Journey readers about the current Doctor Who arc: "[August 5th 1964] A Bit Of A Flub (Doctor Who: The Sensorites [Part 2])".
Meanwhile, John's having his brain fixed, and the city Administrator comes in to whine about it. He was the one who wanted to disintegrate everybody last episode, if you recall. He doesn't seem to like anything about the humans. Not their names, which he reckons are absurd (cheek!), not their culture of egalitarianism (though I could dispute that), and not their stupid, ugly faces (pot, kettle!)
(14) I DARN YOU TO HECK. TheWrap's article is paved with good intentions – and spoilers (beware!): "'Chilling Adventures of Sabrina' Creator Says 'We're Going to Hell' in Season 3 – 'and It's Very Fun'".
If the closing moments of the second season finale of "Chilling Adventures of Sabrina" hadn't already made it clear that the show was going to take an even darker turn next season, then creator Roberto Aguirre-Sacasa did so Sunday by confirming the fiery setting Sabrina (Kiernan Shipka) and co. will be entering when the show returns….
(15) SECOND TIME'S THE CHARM. BBC is on the beach — "Franky Zapata: Flyboarding Frenchman crosses English Channel".
French inventor Franky Zapata has made the first-ever successful Channel crossing on a jet-powered flyboard.

Mr Zapata, 40, took off from Sangatte, near Calais, at 06:17 GMT on Sunday and landed in St Margaret's Bay in Dover.

The invention, powered by a kerosene-filled backpack, made the 22-mile (35.4-km) journey in 22 minutes.

Mr Zapata, a former jet-ski champion, had failed in his first attempt to cross the Channel on 25 July after complications with refuelling.
Here's the Voice of America video:
(16) ROMANCING THE STONE? "'Snow White' gravestone on show in German museum".
Once upon a time a museum in a charming old German town was given a very important, long-lost gravestone.

It was that of Maria Sophia von Erthal, a baroness who is believed to have inspired the Brothers Grimm to write Snow White and the Seven Dwarfs.

Her restored gravestone has just gone on display at the Diocesan Museum in Bamberg, southern Germany. It was donated by a family who had rescued it.

The museum director says Sophia's life "became the nucleus of Snow White".
(17) LOTERIA UPDATE. BBC finds the game is evolving — "Loteria: A centuries-old game remade for millennials". Beyond Picacio's version: "La Mano" becomes "El Nail Art", "El Mundo" becomes "La Student Debt"…
Lotería, a game that's been played across Latin America for centuries, has been given a humorous and perceptive update by designer Mike Alfaro. The new version is now being sold online.
(18) BIRD IS THE WORD. You knew this, right? CBS News tells "How the Peanuts character Woodstock got his name".
Charles Schulz, the creator of the comic strip "Peanuts," was many things: a father, a veteran, an artist. But one thing he was NOT, by any stretch, was a hippie.

When asked if he thought Schulz would have enjoyed attending the 1969 Woodstock Music and Art Fair, Benjamin Clark, curator of the Charles M. Schulz Museum in Santa Rosa, Calif., laughed, "No!

"He was famous for not really enjoying travel, or crowds."…
(19) SLASHER FICTION. Slate: "Jimmy Kimmel Debuted a Considerably Less Heartwarming Trailer for That Tom Hanks Mister Rogers Movie". Is A Beautiful Day in the Neighborhood genre? Well, if Jimmy Kimmel is to be believed it's actually a horror film. (Hint: Don't believe him.)
[Thanks to Chip Hitchcock, Cat Eldridge, JJ, John King Tarpinian, Mike Kennedy, Jon Del Arroz, Martin Morse Wooster, Carl Slaughter, and Andrew Porter for some of these stories. Title credit goes to File 770 contributing editor of the day Jack Lint.]