(1) CODE OF CONDUCT INCIDENT. The Armadillocon 41 committee has posted an "ArmadilloCon Incident Report" about an event that happened August 3. The person removed from the con was not identified, nor have I found any statement of their own.
There was an incident at ArmadilloCon on Saturday night. A program participant who had gone significantly off-topic on a panel subsequently laid hands on another attendee. Several other attendees intervened and separated the two.

The convention was notified of the incident and proceeded to suspend the program participant from programming pending the outcome of the investigation. After speaking to several witnesses of this public incident and the program participant, the convention committee concluded that the program participant had violated the ArmadilloCon Code of Conduct.

The program participant was removed permanently from the programming schedule, their membership was revoked, and they left the convention without incident.

ArmadilloCon cannot and will not tolerate violations of our Code of Conduct at the convention. Respect toward fellow attendees is paramount.
(2) JMS. Yesterday's Reddit "Ask Me Anything" with the Babylon 5 creator is available to read: "I'm J. Michael Straczynski, AKA JMS and we're having an AMA to commemorate the release of my autobiography Becoming Superman we're here to have a freewheeling back-and-forth on the TV series movies and comic books I've worked on." Here's his answer to "How fast can you write?"
I generally try to avoid writing something until it's all right there in my head, and I have to get it all down before it disappears, so I end up writing in white heat, but only after a prolonged period of just thinking about it really hard. I've written hour-long TV scripts in 48 hours or less when there was an urgent need to do so, and I once rewrote an outside movie script in 72 hours when there was, again, a crisis situation and someone needed my help.
(3) BRADBURY CENTENNIAL. Symphony Space, a performing arts center on the Upper West Side of Manhattan presenting hundreds of music, literary, family, film, theatre, and dance events each year, will offer "Selected Shorts: Ray Bradbury Centennial Celebration" on May 20, 2020.
Selected Shorts salutes science fiction icon Ray Bradbury, credited as "the writer most responsible for bringing modern science fiction into the literary mainstream" by The New York Times. Host Neil Gaiman (Good Omens) takes the stage with Bradbury admirers who pay tribute to the legendary author's unearthly short fiction and its enduring influence.
(4) MELVILLE BICENTENNIAL. The Argonaut's Bliss Bowen describes Ray Bradbury's contribution to the whale tale: "A celebration of "Moby Dick" recalls the sci-fi icon's Venice-inspired take on Melville's classic".
"It's not often in the life of a writer lightning truly strikes. And I mean, there he is on the steeple, begging for creative annihilation, and the heavens save up spit and let him have it. In one great hot flash, the lightning strikes. And you have an unbelievable tale delivered in one beauteous blow and are never so blessed again."

That's how Ray Bradbury described creative inspiration in his 1992 book "Green Shadows, White Whale." It's a lightly fictionalized account of six months he spent adapting Herman Melville's 1851 novel "Moby Dick" into a screenplay for mercurial director John Huston's 1956 film, when tensions between them were bristling because literary lightning bolts were not striking. Bradbury had by then published "The Martian Chronicles" (1950) and "Fahrenheit 451" (1953) but was not yet the science fiction master he became before his death in 2012…
(5) WE'LL JUST KEEP THIS OUR LITTLE SECRET. Seanan McGuire has an unusual way of avoiding publicity. Thread starts here.
(6) THE COLD-BLOODED EQUATION. As part of his dinosaur-themed series of posts, Camestros Felapton reacts to the ethical conflicts in an award-winning novelette: "Hugosauriad 3.7: Think Like a Dinosaur by James Patrick Kelly".
…The idea that a teleport is actually a machine that kills you and makes a living copy of yourself somewhere else has been explored in fiction including by Stanislaw Lem. The most famous philosophical example though is in Derek Parfit's 1984 book Reasons and Persons*. In Chapter 10 "What we believe ourselves to be" Parfitt opens with a sci-fi vignette…
(7) FIELD OF DREAMS. Surprisingly enough, if you build it they will come. "MLB Sets 2020 Game at 'Field of Dreams' Location" – The Hollywood Reporter has the story.
…The Chicago White Sox and the New York Yankees will play a regular season game Aug. 13, 2020 in Dyersville, Iowa, at the site of the beloved baseball flick. What's more, the league will begin construction on a temporary 8,000-seat ballpark on the Dyersville site that neighbors the iconic movie location. A pathway through a cornfield will take fans to the ballpark, which will overlook the famed site. The right field wall will include windows to show the cornfields beyond the ballpark. Aspects of the ballpark's design will pay homage to Chicago's Comiskey Park, home of the White Sox from 1910 to 1990, including the shape of the outfield and bull pens beyond the center field fence.

The game, which will be broadcast by Fox and begin at 7 p.m. ET, marks the first-ever MLB game ever held at the location as well as in the state of Iowa. That the White Sox are participating is fitting, given that the 1919 squad featuring Shoeless Joe Jackson and dubbed the Black Sox for throwing the World Series (against the Reds) were featured in Field of Dreams. The game is being staged with the participation of Field of Dreams producers Universal Studios.
(8) THIRTEENTH DOCTOR. Titan Comics will have a new issue of Doctor Who on sale August 28.
DOCTOR WHO: THE THIRTEENTH DOCTOR VOL. 2 TP – This second collection of the new Doctor's adventures sends her to medieval Europe, where bloodsucking aliens are making a dent in the tourist trade…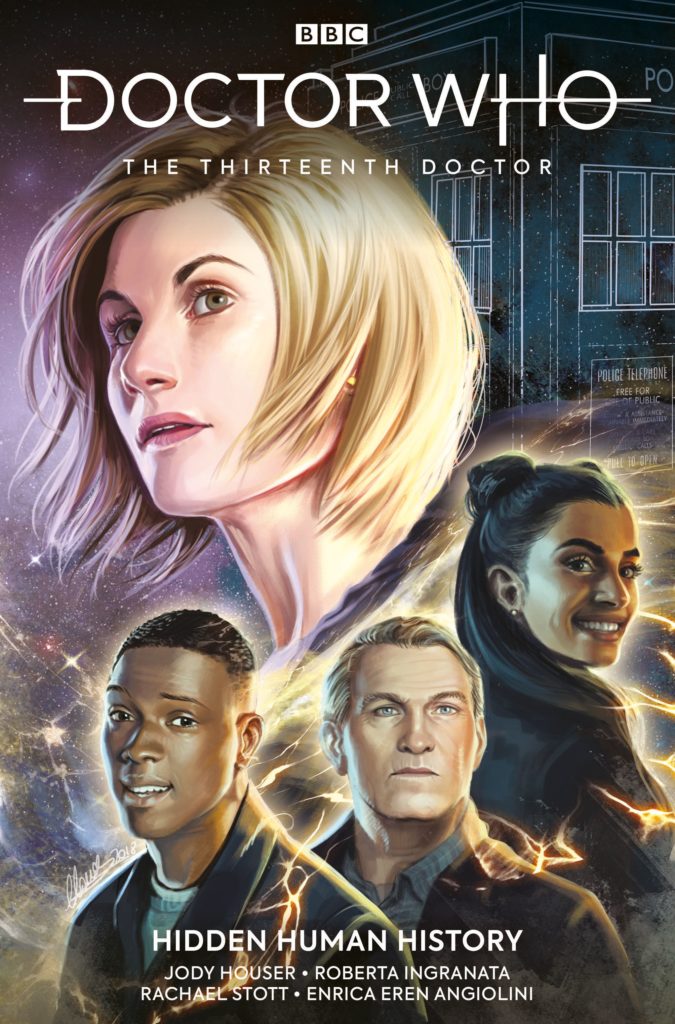 (9) TODAY'S BIRTHDAYS.
[Compiled by Cat Eldridge.]
Born August 8, 1919 — Dino De Laurentiis. Maker of Dune obviously but less obviously also a lot of other genre including Conan the Barbarian, Flash Gordon, King Kong, Halloween II and Halloween III, Dead Zone and The Last Legion. (Died 2010.)
Born August 8, 1930 — Terry Nation. Best known as scriptwriter for Doctor Who and creator of the Daleks. He later created Blake's 7. He would also write scripts for The Avengers, The Champions andMacGyver. (Died 1997.)
Born August 8, 1935 — Donald P. Bellisario, 84. Genre shows include Tales of the Gold Monkey, Airwolf and of course that truly amazing show Quantum Leap. OK, is Tales of the Gold Monkey genre? Well if not SF or fantasy, it's certainly pulp in the best sense of that term.
Born August 8, 1937 — Dustin Hoffman, 82. Ahhh, Captian Hook, the man who got swallowed by the vast crocodile in Hook. Yeah, I like that film a lot. By no means his only genre appearance as he was Mumbles, Caprice's fast-talking henchman in Dick Tracy (not a film I love), Mr. Edward Magorium in Mr. Magorium's Wonder Emporium and the voice of Master Shifu in Kung Fu Panda.
Born August 8, 1950 — John D. Berry, 69. Editor of myriad fanzines, notable as one of featured a column in the Eighties written by his longtime friend, William Gibson. "The Clubhouse"which he wrote from July 1969 to September 1972 for Amazing Stories reviewed fanzines. His last published piece was "Susan Wood: About and By", an appreciation of the late author. Partner of Eileen Gunn.
Born August 8, 1961 — Timothy P. Szczesuil, 58. Boston based con-running fan who chaired chaired Boskone 33 and Boskone 53. He's also edited or co-edited several books for NESFA, Strange Days: Fabulous Journeys with Gardner Dozois and His Share of Glory: The Complete Short Science Fiction of C. M. Kornbluth.
Born August 8, 1974 — Dominic Harman, 45. Wandering through the Birthday sources, I found this UK illustrator active for some twenty years. He's won three BSFA Awards, two for Interzone covers and one for the cover for 2011 Solaris edition of Ian Whates' The Noise Revealed. My favourite cover by him? Naomi Novik's His Majesty's Dragon cover, the 2006 Del Rey / Ballantine edition, is an outstanding look at his work.
Born August 8, 1987 — Katie Leung, 32. She played Cho Chang, the first love interest for Harry in the Potter film series. Her only other genre appearance to date is as Dou Ti in Snow in Midsummer at the Swan Theatre, Stratford-upon-Avon. Dou E Yuan, often also translated as The Injustice to Dou E, is a Chinese play written by Guan Hanqing (c. 1241–1320) during the Yuan dynasty with serious bloody magic realism in it. End of your history lesson.
Born August 8, 1993 — Kawennáhere Devery Jacobs, 26. She's an Kahnawake Mohawk. Why I mention that will be apparent in a moment. Her most recent role is recurring one as Sam Black Crow on American Gods but she has a very long genre history starting being Monique on the Stephen King's Dead Zone series. From there, she was Claudia Auditore in Assassin's Creed: Lineage, a series of three short films based on the Assassin's Creed II video game before showing up as Ali's in Rhymes for Young Ghouls which is notable for its handling of First Nations issues. She's Daisy in Another WolfCop (oh guess which monster), an unnamed bar waitress in Being Human, Nourhan in Exploding Sun and Sam in the The Walking Dead: Michonne video game. Out soon is Blood Quantum about a zombie uprising on a First Nations homeland.
(10) COMICS SECTION.
Garfield plays a variation on a familiar sci-fi movie theme.
Life on Mars? Well, sure, if you can call this life: Close To Home.
(11) RADIO 4. Two more episodes of Stranger Than Sci-Fi are available for listening on BBC Radio 4 for the next few weeks. SF Concatenation's Jonathan Cowie says, "Last week's episode included a fair bit on Sue Burke's Semiosis about the science (compared with the SF) of plant intelligence, communication etc. Apparently, they (plants) can hear bees buzzing! (By the way, we – in our SF2 Concatenaton team annual round robin – cited Semiosis as one of the 'Best SF Novels of 2018' – though this is a bit of annual fun for us, we do seem to get a few that go one to be shortlisted and/or win awards. See our past year's performance here 'Best Science Fiction of the Year')."
In this episode, Jen and Alice investigate the science behind Sue Burke's book, Semiosis, about a mysterious breed of intelligent plants. They talk to Sue about how watching her houseplants formed the inspiration for the book. Then they ask the linguist Dr Hannah Little if we could ever learn the language of something that has a completely different understanding of what communication means. Finally, Professor Lilach Hadany explains how a radical new study might show plants are listening to each other – and maybe even to us.
Jen and Alice explore one of the oldest questions in science and science fiction – why should we travel into space? At a time when Elon Musk and Jeff Bezos are promising space colonies in the next fifty years, is it time to rethink our relationship with space? They talk to the astro-biologist Dr. Louisa Preston about whether there is life out there on other planets. Then they find out how we might already be endangering that potential life. The space archeologist Dr Alice Gorman explains how we are polluting our solar system, why we should worry about space junk and what a manifesto for sustainable space travel might look like.
(12) SFF ON STAGE. Prize-winning play Machine Learning got a live reading – "Neukom Institute Literary Arts Awards: VoxFest 2019".
The Neukom Institute for Computational Science awarded the second annual Neukom Literary Arts Award for Playwriting to Francisco Mendoza. Mendoza was presented with a $5,000 honorarium and his award at this summer's VoxFest, a week-long festival hosted at Dartmouth College and co-produced by Dartmouth's department of theater and Vox Theate…

Daniel Rockmore, director of the Neukom Institute for Computational Science, left, congratulates Francisco Mendoza. "When we first read Francisco's play we were taken by its thoughtful and moving treatment of the possible effects of our relationships with machines and each other. It was clear from the performance that great strides were made with just one week's worth of development and we very much look forward to see how Francisco's continued work with VoxFest will strengthen an already strong and imaginative vision. I was thrilled with the reading and am excited by this continued collaboration between the Neukom Institute, Dartmouth's Department of Theater, and Northern Stage," said Rockmore.
(13) WHAT ARMADILLOCON IS ABOUT. Marshall Ryan Maresca's "ArmadilloCon 41 Toastmaster Speech" was so good it got a shout-out from Martha Wells ("Toastmaster Marshall Ryan Maresca did a wonderful opening ceremonies speech about acknowledging the problematic past of fandom and SF/F and moving into the future, and how ArmadilloCon and the writers workshop give us the chance to pay forward to the next generations:")
…Because—and this is so important—this isn't just a place that celebrates what's happening now in all the tremendously geeky and fannish things we love. Nor is it a place that just looks to the fascinating and problematic past of those things. It is a place that fosters the people who will make those things tomorrow. We do that with our writers workshop, with the multiple panels on craft and business. We do that by filling the room with people who want to share, who want to pay it forward, who want to hold out a hand to the person behind them and say, "Hey, let's go."

If you are a person who ever whispered to yourself, "Maybe I could do that. Maybe I could write that. Maybe I could make that. Maybe I could be that."

This is a place that opens its doors to you.

You are seen.

You are heard.

You are believed in.
(14) BEING A REAL WRITER. Tobias Buckell exhorts writers to remember that a successful writing career doesn't look only one way. His terrific thread starts here.
(15) IT'S THE POLICE FORCE, LUKE. The Hollywood Reporter noticed the suspect has familiar name – so did the actor who plays the character: "Mark Hamill Responds to Warrant Being Issued for Luke Sky Walker".
Mark Hamill is again having some fun after a man named Luke Sky Walker seems to still be getting in hot water.

It was reported on Wednesday that the 22-year-old Walker had a warrant issued for his arrest in Carter County, Tennessee, concerning a charge of property theft over $1,000, according to the sheriff's office.

Just as he did last year when Walker was arrested for violating probation after a felony theft charge, the Luke Skywalker actor took notice and had some quips.
(16) WOULD YOU DRINK IT FOR A QUARTER? BBC explains why it's rare — "Chernobyl vodka: First consumer product made in exclusion zone".
"It's the only bottle in existence – I tremble when I pick it up," says Prof Jim Smith, gingerly lifting a bottle of Atomik grain spirit.

The "artisan vodka", made with grain and water from the Chernobyl exclusion zone, is the first consumer product to come from the abandoned area around the damaged nuclear power plant.

The team started the vodka project by growing crops on a farm in the zone.

"Our idea then was [to use that rye grain] to make a spirit," they say.

As well as Prof Smith, who is based at the University of Portsmouth, UK, the team behind the spirit is made up of researchers who have worked in the exclusion zone for many years – studying how the land has recovered since the catastrophic nuclear accident in 1986.

They hope to use profits from selling it to help communities in Ukraine still affected by the economic impact of the disaster.
(17) EYES ON THE PRIZE. "Staring at seagulls helps protect food, say scientists". (Or you could always just eat it.)
The secret to protecting your seaside chips from scavenging seagulls is to stare at them, scientists have said.

The birds are more likely to steal food when they can avoid the gaze of their victims, according to a new study.

Researchers at the University of Exeter put a bag of chips on the ground and timed how long herring gulls took to approach when they were being watched.

They compared this to how long it took for the gulls to strike when the person looked away.
(18) FERAL BARD. A mashup of Shakespeare and D&D — thread starts here.
[Thanks to Lise Andreasen, Karl-Johan Norén, Mike Kennedy, Carl Slaughter, JJ, Chip Hitchcock, Avilyn, SF Concatenation's Jonathan Cowie, Cat Eldridge, Martin Morse Wooster, Andrew Porter, and John King Tarpinian for some of these stories. Title credit goes to File 770 contributing editor of the day Ingvar.]