(1) NO COUNTRY FOR OLD SPACEMEN. NBC News reports "Astronaut Buzz Aldrin Medically Evacuated From South Pole".
Aldrin, 86, is in stable condition after "his condition deteriorated" while visiting Antarctica, according to White Desert, which organizes luxury tourism trips to the icy continent. The group said Aldrin was evacuated on the first available flight out of the Amundsen-Scott South Pole Station to the McMurdo Station on the Antarctic coast under the care of a doctor with the U.S. Antarctic Program.

He then was flown to Christchurch, New Zealand, and arrived at about 4:25 a.m. local time Friday (10:25 a.m. Thursday ET), according to the National Science Foundation, which provided the flight for Aldrin.
Official statement about Buzz and his evacuation from the South Pole. He's recovering well in NZ. Full statement https://t.co/OacRI4577Z pic.twitter.com/QdrEaHuQHq

— Buzz Aldrin (@TheRealBuzz) December 1, 2016
(2) FIRST FANS OF STAR WARS. Skywalking to Neverland's latest podcast features Craig Miller:
Craig Miller, former head of fan relations at Lucasfilm and ancillary producer, is back to give more insider info on The Star Wars Holiday Special. He tells us about how the small production kept growing to promote the stars of CBS and other fun-facts. We also talk about the 1976 MidAmeriCon WorldCon where Star Wars had its first panel and exhibit featuring the first actual props and costumes from STAR WARS. Cut to: 40 years later and the staff that organized that presentation is back to replicate that same panel.
(3) MENACE APPRECIATION. James Davis Nicoll selected Heinlein's "The Menace From Earth" to be the latest test for the panel at Young People Read Old SF.
Of all the authors name-checked in the post that inspired this project, the one I figured would be least appealing to younger readers would be Robert A. Heinlein. He's one of the grand old men of the field: winner of multiple Hugos, architect of the Future History, over-user of the word "spung." He may have been a giant in his day, long long ago, but time has not been kind to his books….
These old stories generally don't get a warm reception, but some of the panelists actually liked this one:
So, how did this story stack up? Good. It shows that women are capable of balancing their career ambitions with their romantic relationships, and that there is often a conflict between the two… especially for women. So that's pretty cool.
(4) TIPTREE SYMPOSIUM. The 2016 James Tiptree, Jr. Symposium runs December 2-3 at the University of Oregon in Eugene. This year's theme is "A Celebration of Ursula K. Le Guin". View the full schedule of events and speakers.
We are very pleased to learn that Ursula Le Guin, honoree of this year's Tiptree Symposium, is planning to attend the events on Friday, December 2. However, due to recent health issues causing limited mobility and stamina, she will not be able to sign books. Thank you for your understanding.

Ursula K. Le Guin (1929- ) is a remarkable poet, essayist, critic, translator, and storyteller. In all these forms, she never ceases to challenge our expectations about "words, women, places," as the subtitle to her essay collection Dancing at the Edge of the World puts it. Her many awards testify to her literary skill and deep humanity, and her work has inspired a generation of writers by showing how the unreal can comment on (and incorporate) the real, and how the future can serve as a powerful metaphor for the present. Her writing combines perspectives from anthropology, feminism, science, history, utopian thought, and Taoist philosophy, all wrapped up in convincing and compelling narratives of exploration and self-discovery.
(5) IT'S A WRAP. Birth. Movies. Death. harshes the squee about a forthcoming reboot: "The Mummy Gets A Poster, A Brief Teaser And A Stolen Tagline".
As you can see, The Mummy stars Tom Cruise as a guy who has to stop The Enchantress from Suicide Squad. Good luck to him, she's p tough.

The biggest curiosity is robbing The Bride of Frankenstein of its "Welcome to a new world of gods and monsters" line. I suppose it's not outright theft since it evokes the larger universe at play here, but it still seems weird. Is it a clue that we might see a little Frankenstein in this? Or his monster? That should be very exciting for those who haven't seen Penny Dreadful!
(6) HINES BENEFIT AUCTION #6. The sixth of Jim C. Hines' 24 Transgender Michigan Fundraiser auctions offers some of the author's own stuff – the complete audio book set of the Goblin trilogy.
The audio books are full-cast recordings from Graphic Audio, and the trilogy retails for $60. Each book comes as six CDs, with a runtime of approximately six hours apiece. They're new and shrink-wrapped, but I'll be happy to open them up and autograph them to you before mailing them, if you'd like.

About book one:

Jig the goblin was the runtiest member of an admittedly puny race. Jig was scrawny, so nearsighted as to be almost blind, and had such a poor self-image that when he chose a god to worship it was one of the forgotten ones – after all, what other sort of god would have him as worshiper? He also had a cowardly fire-spider for a pet, a creature that was likely to set your hair on fire if it got into a panic. Made to stand tunnel watch by the goblin bullies who'd been assigned the job, it was just Jig's luck to be taken captive by a group of adventurers – with the usual complement of a dwarf warrior, a prince out to prove himself, his mad wizard brother, and an elfin thief. Forced to guide this ill-fated party on their search for the Rod of Creation – though Jig had no more idea how to find it than they did – he soon had them stumbling into every peril anyone had ever faced in the fantasy realms. And they hadn't even found the Necromancer or the Dragon yet!
(7) BANDERSNATCH. Goodreads hosts a page of Bandersnatch quotes, I just discovered.
"As Tolkien points out, the name is "a pleasantly ingenious pun," referring to those who "dabble in ink." It also suggests people "with vague or half-formed intimations and ideas." ? Diana Pavlac Glyer, Bandersnatch: C. S. Lewis, J. R. R. Tolkien, and the Creative Collaboration of the Inklings
(8) FANTASY DESTROYED. Lightspeed's  "People of Colo(u)r Destroy Fantasy" issue is available.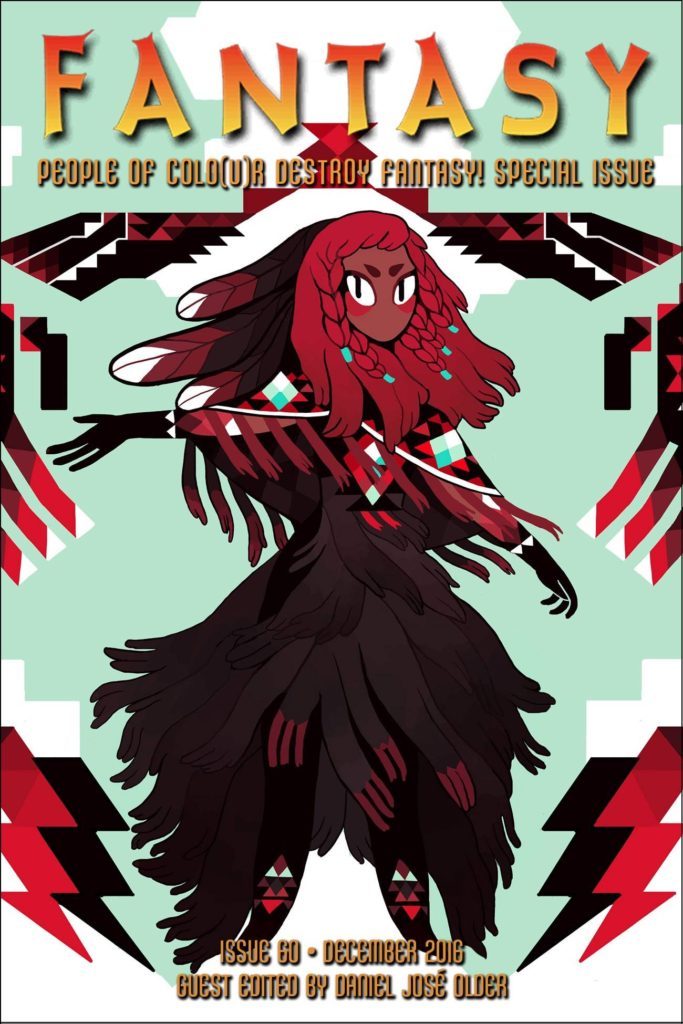 Funded as a stretch goal of LIGHTSPEED's People of Colo(u)r Destroy Science Fiction! Kickstarter campaign, we're happy to present a special one-off issue of our otherwise discontinued sister-magazine, FANTASY (which was merged into LIGHTSPEED in 2012), called People of Colo(u)r Destroy Fantasy!: an all-fantasy extravaganza entirely written—and edited!—by POC creators. The People of Colo(u)r Destroy Fantasy! special issue exists to relieve a brokenness in the genre that's been enabled time and time again by favoring certain voices and portrayals of particular characters. Here we bring together a team of POC writers and editors from around the globe to present fantasy that explores the nuances of culture, race, and history. This is fantasy for our present time, but also—most of all—for our future. People of Colo(u)r Destroy Fantasy! is 100% written and edited by people of color, and is lead by guest editor Daniel José Older, with editorial contributions from Amal El-Mohtar, Tobias S. Buckell, Arley Sorg, and others. It features four original, never-before-published short stories, from N.K. Jemisin, P. Djèlí Clark, Darcie Little Badger, and Thoraiya Dyer. Plus, there's four classic reprints by Shweta Narayan, Leanne Simpson, Celeste Rita Baker, and Sofia Samatar. On top of all that, we also have an array of nonfiction articles and interviews, from Justina Ireland, Ibi Zoboi, Erin Roberts, Karen Lord, John Chu, Chinelo Onwualu, and Brandon O'Brien, as well as original illustrations by Reimena Yee, Emily Osborne, and Ana Bracic.
(9) LEAD US NOT INTO TEMPTATION. What John Scalzi has to say to those who complain when he writes about politics is pretty much what every fanzine editor thinks, whether the gripe is about politics or another favorite topic, but not all of us are as bold about saying so out loud as Mr. Scalzi.
The Short Points About Me Writing On Politics

If you tell me you're tired of me talking about politics, or tell me to shut up about them, I'll tell you to kiss my ass. I'll write about what I want, when I want, where I want, which in this case happens to be about politics, now, here.
(10) HI-TECH PRACTICAL JOKE. I'm speechless. But they're not.
the year is 2020: our voice assistants only talk amongst themselves https://t.co/qci3XQ7Cvk pic.twitter.com/YMy0VEPZKc

— Internet of Shit (@internetofshit) December 1, 2016
(11) CALLING FLINT FANS. Eric Flint asked readers of his blog to nominate his novel for a Dragon Award. I looked up Flint at the Science Fiction Awards Database and was shocked to discover that in a long and distinguished career he's never won any of the multitude of awards tracked on that site. Maybe this will be his year.
I would like to ask for a personal favor. The Dragon awards are now open for nominations and I would appreciate it if as many of you as are so inclined would nominate THE SPAN OF EMPIRE, by Eric Flint and David Carrico, in the category of "Best Military Science Fiction or Fantasy Novel." I will stress that you should only do so if you actually liked the novel, but most of the people I know who've read the novel liked it a lot.
Flint received two nominations in the first year of the Dragon Awards, both in the Best Alternate History category which was won by Naomi Novik's League of Dragons.
(While fact-checking, I discovered the Dragon Awards website still has Novik's name misspelled as "Novak".)
(12) CLARKE CENTER PODCAST. The Arthur C. Clarke Center for Human Imagination's new podcast, Into the Impossible, has released is second episode — "Becoming a Galactic Wonder".
On this month's episode of Into the Impossible – a podcast of stories, ideas, and speculations from the Arthur C. Clarke Center for Human Imagination – we're looking at wonder and imagination. We'll get there through the plays of Herbert Siguenza (playwright, actor, and director; founding member of Culture Clash) that take us from Pablo Picasso in 1957 to a post-apocalyptic California, and the art (and green thumb) of Jon Lomberg (astronomical artist), who worked with Carl Sagan on the original Cosmos and has created a garden that can help us imagine our place in the universe. Both ask, as Herbert does in the persona of Picasso himself, "How can we make the world worthy of its children?"
(13) MIGHTY BURGER. The creator of the Big Mac has died and Hogu fans everywhere mourn…. Michael "Jim" Delligatti was 98.
The menu was pretty simple back in those early days — hamburgers, cheeseburgers, fries and shakes. But Delligatti saw that his customers wanted something bigger, so in 1967 at his restaurant in Uniontown, Pa., he put together two hamburger patties, topped it with cheese, lettuce, onions and pickles, and he developed a special sauce for the burger. He called it the Big Mac.
The early Big Macs were marketed with a paper collar around them. Pop culture scholar Dave Feldman said that sent customers the message that a Big Mac was  "A sandwich so mighty it needs a harness to restrain it!"
(14) BACK TO THE BREW-TURE. Of greater concern to our cousin fans across the Pond: when and how did Brits first brew?
Meanwhile, large pots and evidence of heat-cracked stones have been found at Skara Brae, a 5,000-year-old settlement in the Orkney islands just north-east of Scotland.

Local archaeologist Merryn Dineley believes that bits of the pottery were once used for heating malt – the germinated and heated cereal grains that ferment to produce alcohol. Dineley has experimented with Neolithic-style equipment and argues that malting of grains could have occurred in this period.
(15) CUTTING ROOM FLOOR. Entertainment Weekly invites you to "Watch these exclusive Star Trek: The Original Series clips from The Roddenberry Vault".
If there's a Star Trek obsessive in your family, their Christmas present will be released on Dec. 13. That's when Star Trek: The Original Series – The Roddenberry Vault, a massive new Blu-ray treasure trove of footage left on the cutting room floor, goes on sale. The Roddenberry Vault draws directly from film cans stored for decades by the Gene Roddenberry estate, and includes deleted scenes, alternate takes, and other behind-the-scenes look at the making of the series that launched the Trek franchise 50 years ago.

EW is excited to share two exclusive clips from The Roddenberry Vault, one of them focused on the making of the maddeningly cute Tribbles, the other a short and mesmerizing clip of Leonard Nimoy and William Shatner filming the "Transporter" effect.
[Thanks to Chip Hitchcock, John King Tarpinian, JJ, Martin Morse Wooster, and Stoic Cynic for some of these stories. Title credit goes to File 770 contributing editor of the day Niall McAuley.]