(1) LEFT AT THE ALTER. Damien Walter, never easy to please anyway, declares "Altered Carbon was always doomed".
Imagine somebody wrote a novel about the cat and the fiddle, and the cow that jumped over the moon. In fact, imagine somebody wrote a trilogy of novels, starring the luna leaping cow. Then imagine that Netflix turned the first novel into a 10 hour premium tv series, with Joel Kinnman?—?swiftly becoming this generation's Christopher Lambert?—?as the cow.

If you're really into the cat, fiddle and cow genre, if you're MEGA excited by animals leaping over celestial bodies, you'll be happy.

For everybody else, the experience of watching Altered Carbon is going to be about as enjoyable as 10 hours of kids nonsense poetry. You might have some patience for the first hour, but by episode 3 the audience will be desperate to jump ship.
(2) NOM DE GUERRE. "Anthony Boucher & I Discuss Pseudonyms" – "I think that says it all," writes Kim Huett of Doctor Strangemind."Beware though, I am particularly verbose in this installment."
Their names are Legion, for they are many.

According to The Illustrated Book Of Science Fiction Lists (edited by Mike Ashley for Virgin Books in 1982) E.C. (Ted) Tubb has 45 pseudonyms credited to him, Robert Silverberg is well behind with 25, Henry Kuttner further back yet with 18, while Cyril Korthbluth trails with a mere 13.

I suspect that in this, the future world of today, the question the above information raises is not why so many pseudonyms but why any at all? I know that when I were a lad it was a given that authors used pseudonyms all the time while we, their audience, didn't but nowadays it seems to be very much the opposite. So yes, I can understand why the above numbers might seem inexplicable to many of you.

So why were authors fond of pseudonyms once upon a time? Luckily for us editor, author, and co-founder of The Magazine Of Fantasy & Science Fiction, Anthony Boucher, decided to offer some explanation in Rhodomagnetic Digest #2, published by George Blumenson in August 1949 for The Elves', Gnomes' & Little Men's Science-Fiction Chowder & Marching Society. Boucher was certainly qualified to write on this topic since his real name was William Anthony Parker White….
(3) KICKSTARTER. Hampus Eckerman says "I've always regretted I was out of cash when the Swedish edition was made. I'll back this one for sure." — "The Keyring RPG".
The Keyring RPG is a combination of the idea of creating a procedural role-playing game and the discovery of a really cute notepad. Mashing those ideas together gave rise to the Keyring RPG.
From the FAQ —
What is the resolution mechanic in the game?

You have three basic abilities, strength, charisma and mental strength. Each of those abilities have a number of dots. Each dot represent a die. To determine if you succeed, you roll as many die as you have against a set difficulty, and you add the skills to the result of the die roll to improve your results.

Example:
I have 2 dots in strength, and I need to climb a wall. The wall has a difficulty of 3. Both of my rolls fail, a one and a two, but I have two dots in the skill problem solving. I add my dots in problem solving to the roll and succeed. From a narrative perspective, I use problem solving to create a sling harness and have my friends haul me up the wall.
Key features (no pun intended):
The Basic Game is very small, only 7 x 3 x 2 centimeters. You can carry it on your keyring.
It features a procedural adventure building system
A full rules set that allows for a lot of flexibility when playing
Five sets of generic maps
Mission cards
Location cards
Obstacle cards
Reward cards
Motivation cards
Character sheets
They've raised $3,795 of their $7,590 goal with 13 days to go.
(4) THE 39 CANDLES. Galactic Journey hopes you didn't miss Rod Serling's guest appearance on Jack Benny's show — "[February 4, 1963] Fiddler in the Zone (a most unusual episode of Serling's show)".
As Benny walks home in the dark, a Twilight Zone-like fog envelops him and the music takes off on a Twilight Zone-like theme.  Before long he runs into a sign reading, "Welcome to Twilight Zone.  Population unlimited. [an arrow left] Subconscious 27 Mi./ [an arrow right] Reality 35 Mi." (It gets a laugh, if only canned.) Benny finally sees his house across the street and goes and rings the bell.  Rochester answers but doesn't recognize Benny.  Rochester calls on his employer, "Mr. Zone" (Serling) to deal with the situation, and Serling explains that the town is named after him ("You can call me Twi"), and he is the mayor.
(5) CLARKE CENTER PODCAST. Into The Impossible, a podcast of stories, ideas, and speculations from the Arthur C. Clarke Center for Human Imagination, has posted Episode 14, "Alien Contact":
We're digging in the vaults to explore ideas of alien contact, with Jill Tarter (SETI Institute) and Jeff VanderMeer (bestselling author of the Southern Reach trilogy). We'll talk about the Drake Equation, the faulty math of the film Contact, manifest destiny, whether we're alone, flawed assumptions about the concept of intelligence, what fiction can do to help us think about the very alien-ness of alien contact, and how it may be happening all around us.
(6) DOCTOROW TO SPEAK AT UCSD. On February 9, bestselling author and blogger Cory Doctorow will be back on the University of California San Diego campus for a lecture on "Scarcity, Abundance and the Finite Planet: Nothing Exceeds Like Excess".
His 5 p.m. talk and a public reception are organized by the Qualcomm Institute's gallery@calit2.
The event in Atkinson Hall is open to the public and the UC San Diego community, and admission is free. RSVPs are requested to [email protected].
In 2017, Doctorow was a Writer in Residence in the Clarion Science Fiction and Fantasy Writers' Workshop, hosted by the Clarke Center (also located in Atkinson Hall) on the UC San Diego campus. You can hear Cory and fellow 2017 instructor Nalo Hopkinson talk about the Clarion Workshop in an interview with Maureen Cavanaugh at KPBS last summer.
(7) CASE OBIT. David F. Case (1937-2018) died February 3 at the age of 80. Stephen Jones remembers him:
Since the early 1960s he has lived in London, as well as spending time in Greece and Spain. A regular contributor to the legendary Pan Book of Horror Stories during the early 1970s, his stories "Fengriffin" and "The Hunter" were filmed as, respectively, —And Now The Screaming Starts! (1973) and Scream of the Wolf (1974), and Arkham House published his novel The Third Grave in 1981 (soon to be reprinted by Valancourt Books). The author of an estimated 300 books or more under various pseudonyms, his powerful zombie novella "Pelican Cay" was nominated for a World Fantasy Award in 2001, and David was Guest of Honour at the 2010 World Horror Convention held in Brighton, England. He was always a bigger-than-life character, and I'll miss him.
(8) TODAY IN HISTORY
February 4, 1938 — Disney releases Snow White and the Seven Dwarfs.
February 4, 1950 — The Flying Saucer opened theatrically.
February 4, 1951 — Two Lost Worlds premiered.
February 4, 1995 — Terry Gilliam's Twelve Monkeys appeared in theaters.
(9) TODAY'S BIRTHDAY BOY
Born February 4, 1914 – George Reeves, 1950s TV's Superman.
(10) COMICS SECTION.
Mike Kennedy says Brewster Rockit is always genre, and this one doubly so.
(11) SPANNING THE DIVIDE. Derek Kunsken told Black Gate readers he's doing his best at "Bridging the Cultural Gap between Canada and the USA".
But on an ongoing basis, now that I have a New York literary agent, I do my best to provide her with as much information as possible about how to best handle a Canadian client. I'm aware that what is normal for me might not be normal for her, so I send her videos and articles.

For example, Canada is going through its own crime wave. Last year in Miramichi, some people tried to go through a McDonald's drive-thru on a chesterfield pulled by an ATV. This year, a bank was robbed in New Brunswick and the thieves were only caught when they stopped in their get-away to go through a Tim Horton's drive-thru….
(12) HUGO RECS. Rich Horton tells his "2018 Hugo Recommendations: Novelette".
The top candidates for my ballot are:

Yoon Ha Lee, "Extracurricular Activities" (Tor.com, 2/17) – a quite funny, and quite clever, story concerning the earlier life of a very significant character in Lee's first novel, Ninefox Gambit. Shuos Jedao is an undercover operative for the Heptarchate, assigned to infiltrate a space station controlled by another polity, and to rescue the crew of a merchanter ship that had really been heptarchate spies, including an old classmate….
(13) NEWITZ REVIEWED. Abigail Nussbaum's latest column, "A Political History of the Future: Autonomous by Annalee Newitz", has been posted at Lawyers, Guns & Money.
Welcome back to A Political History of the Future, an irregular series about how contemporary SF and fantasy address current political issues, and how they imagine worlds different than our own in their political, social, and economic functioning. Our first subject, published last fall, is the first novel by io9 co-founder Annalee Newitz, a technothriller about a world in which the ready availability of non-human labor fundamentally changes the meaning of freedom.

The title of Autonomous is a pun, and a thesis statement. "Autonomous", in our understanding and in the current common usage, refers to machines that can function without human interference–autonomous cars, most commonly. Despite its connotations of freedom, it's a designation that denotes inhumanity. It isn't necessary, after all, to specify that a human being is autonomous. In the world of Autonomous, this is no longer the case. Its citizens–human and machine–are distinguished as either autonomous or indentured. So a word that connotes freedom becomes a reminder of how it can cease to be taken for granted, and a usage that connotes inhumanity is transformed in a world in which personhood is a legal state and not a biological one. In both cases, it's a reminder that the hard-won ideas of liberty and human rights that we take for granted are not set in stone; that core assumptions about how society could and should function can change, in many cases for the worse.
(14) BOY STUFF. NPR's Scott Simon interviews the author about her new book: "Tamora Pierce Writes One For The Boys (But Just One) In 'Tempests And Slaughter'"
On writing her first male hero

I thought it was fair. I thought I owed the boys some. And Arram is so popular, and gets into so much trouble, that I knew I could do it. Which was an act of hubris on my part that still leaves me breathless. See, I'm kind of notorious for one thing in particular as a writer — I'm pretty straightforward about teenagers and sex. I've lost count of the mothers and father's who've come up to me and said, "Thank you for explaining it to them." The thing was, in my first book, I had a girl disguised as a boy. And when you're a girl disguised as a boy, going through puberty, the changes in your body become a major part of the plot. So I just stuck with it as I went on. And when I was working on this book, I got to a point and I went, "Oh my god, I can skip it, but that wouldn't be right." So I went to my writing partner, Bruce Coville, and first he laughed himself silly at me, but all those embarrassing little questions, he answered them for me. But it was important, it had to be done. I had to be as fair to the guys as I was to the girls. Which is one reason why I'm going back to girls after this is over.
(15) MOURNING LE GUIN. Ricky Grove told Booklad readers, "Ursula K. Le Guin, My Book Parent, Has Died".
…Ursula was not just a great author to me, she was one of several of my book parents. Growing up as I did with a family who was more interested in drinking and violence, I never got guidance in how to live. Through her books, Ursula taught me that you could deal with a problem by thinking rather than fighting. She taught me that gender differences don't make one gender superior to the other. And she also helped me understand that we all have shadow parts of ourselves that we fear, but the way to cope with the shadow is to accept it with courage….
(16) BILL SCHELLY AUTOBIOGRAPHY. Now available for pre-order, Sense of Wonder, My Life in Comic Fandom – The Whole Story by Bill Schelly. (Publishing date: April 17.)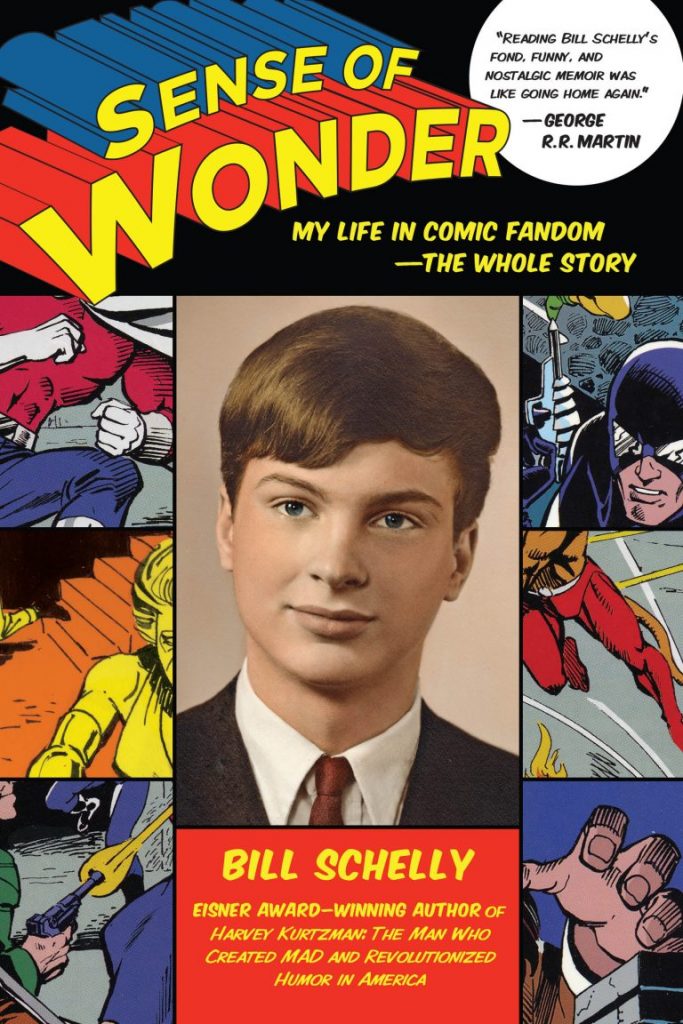 A fascinating story of growing up as a gay fan of comic books in the 1960s, building a fifty-year career as an award-winning writer, and interacting with acclaimed comic book legends.

Award-winning writer Bill Schelly relates how comics and fandom saved his life in this engrossing story that begins in the burgeoning comic fandom movement of the 1960s and follows the twists and turns of a career that spanned fifty years. Schelly recounts his struggle to come out at a time when homosexuality was considered a mental illness, how the egalitarian nature of fandom offered a safe haven for those who were different, and how his need for creative expression eventually overcame all obstacles. He describes living through the AIDS epidemic, finding the love of his life, and his unorthodox route to becoming a father. He also details his personal encounters with major talents of 1960s comics, such as Steve Ditko (co-creator of Spider-Man), Jim Shooter (writer for DC and later editor-in-chief of Marvel Comics), and Julius Schwartz (legendary architect of the Silver Age of comics).

… Note from the author: This is NOT the same book that was published in 2001 under the title Sense of Wonder, A Life in Comic Fandom (which is out of print). This new book contains two parts: the text of the first book, and a sequel of equal length. Part one covers my life up to 1974; part two picks up the story and continues it to 2017.
(17) IT'S A THEORY. According to MovieWeb, "Secret Gay Porgs in The Last Jedi Have Twitter Freaking Out".
Before The Last Jedi hit theaters, there were rumors circulating that Finn and Poe would have a relationship in the movie, marking the first openly gay characters in Star Wars. That rumor was obviously proven to be false, but The Last Jedi did feature a brief gay relationship between two other characters that many Star Wars fans did not notice right away and now everybody is freaking out. Rian Johnson has not confirmed the scene yet, but he will more than likely address it since he has talked about nearly every decision he made while making The Last Jedi.

An eagle-eyed Twitter user spotted two Porgs snuggling with each other in the background of a scene on Ahch-To and noticed that both of the creatures were male. Officially, male Porgs are slightly larger and have orange feathers around their eyes, which both of the Porgs in question have. The image of the two gay Porgs has since taken the internet by storm and people are freaking out that they didn't notice the small detail right away.
only male porgs have orange plumage around their eyes, and both snuggling porgs have those markings. gay porgs, folks. tlj is a gift that keeps on giving pic.twitter.com/yxDO6HJ3iD

— what kind of raisin (@ikolism) February 2, 2018
(18) PORTMAN ON SNL. Natalie Portman answers Star Wars questions in her Saturday Night Live monologue….
And her Stranger Things 3 preview is hysterical.
[Thanks to JJ, Chip Hitchcock, Hampus Eckerman, Will R., Andrew Porter, Martin Morse Wooster, Carl Slaughter, John King Tarpinian, and Steve Vertlieb for some of these stories. Title credit goes to File 770 contributing editor of the day Jenora Feuer.]