(1) LABORS OF LOVE. The Hugo Award Book Club has completed its series of articles on the depiction of labor unions in science fiction. Olav Rokne sent the links with a note, "I welcome any feedback, and appreciate being informed of any omissions."
At their peak in 1954, unions represented almost a third of workers in the United States, and it was easy to take their existence — and their action as a counterbalance to the power of capital — for granted. Even employees in non-union workplaces enjoyed gains because employers had to keep up with union shops to retain and recruit labour.

But despite their prevalence in society, labour unions were largely absent from science fictional narratives during the Golden Age, and their few portrayals in the genre are usually either comedic or antagonistic.

As labour activist and science fiction author Eric Flint pointed out atWorldCon76, the major contributors to the development of science fiction — from the dawn of the Golden Age of Science Fiction through this era of union organizing and stability — were largely drawn from academic circles or the upper middle class. Despite working for a living, these authors and editors did not see themselves as part of the proletariat, and thus based their narratives on assumptions that their privileged working relationships allowed them to hold.
Cory Doctorow has been one of the leading lights of the genre's reappraisal of the role of employment in society and the relationship between workers and employers. Tackling such subjects as employment precarity, labour mobility, and income inequality, Doctorow's work consistently shows a strong understanding of the labour union world.

Of particular note is his 2010 novel For The Win which depicts a unionization drive amongst workers who are paid to gather resources in a World Of Warcraft-style online game. This depiction shows the necessity of worker organization in the face of capital overreach, and is informed by knowledge of the systemic flaws in traditional labour organizing.
The first unmistakable labour union in science fiction cinema that we were able to find is the Textile and Garment Workers Union depicted in the 1951 Ealing Studios comedy The Man In The White Suit. The film revolves around the invention of an indestructible fabric by a mild-mannered chemist played by Sir Alec Guinness, and the subsequent attempts by business and labour unions to suppress the invention. The depiction of unions in this movie is broad and largely inaccurate, depicting them as collaborating with management and encouraging industrial sabotage.

Despite these inaccuracies about how unions operate, we will be endorsing The Man In The White Suit for 1952 Retro Hugos, . It is in most ways a superb and thoughtful piece of science fiction about the introduction of a new technology, and is elevated by witty dialogue and star-worthy performances (Guinness was nominated for an Academy Award that year for a different comedy from the same studio).
(2) COLD READING. Wil Wheaton has done a free audiocast of a 1931 story from Astounding, "The Cave Of Horrors" by Captain S.P. Meek at Soundcloud.
I needed to get out of my comfort zone, so I went to Project Gutenberg, clicked through a few bookshelves until I got to classic Science Fiction, and decided to do an unrehearsed, essentially live narration of a story that was published in Astounding Stories of Super Science in 1931.

It's not the greatest story I've ever read (if I'd read it before I narrated it, I wouldn't have chosen it), but it's a fine representative of that era's genre fiction writing. I had some fun doing my best impression of someone reading it in 1931, and I recorded it to share with any of you who are interested in this sort of thing.
(3) DAYS OF YORE. Rob Hansen has added reports, photos, and publications from "Brumcon 2 – The 1965 Eastercon" to his British fanhistory site THEN. Charlie Winstone's conreport sets the stage:
It all started some fifteen months ago, – the Brummies, in a fit of derring-do, talked Ken Cheslin into standing up and calling for the 1965 Convention venue to be Birmingham. This he did, not without some misgivings. After all the British Science-Fiction Association's Committee was also centred upon Birmingham. Still, there were plenty of Brummies (Easter Brummies, as they were christened by Archie Mercer) around – it was surely not an impossible task to put on a Convention.
(4) THE FINAL COURSE. Scott Edelman welcomes you to dig into dessert with Parvus Press publisher Colin Coyle in Episode 91 of Eating the Fantastic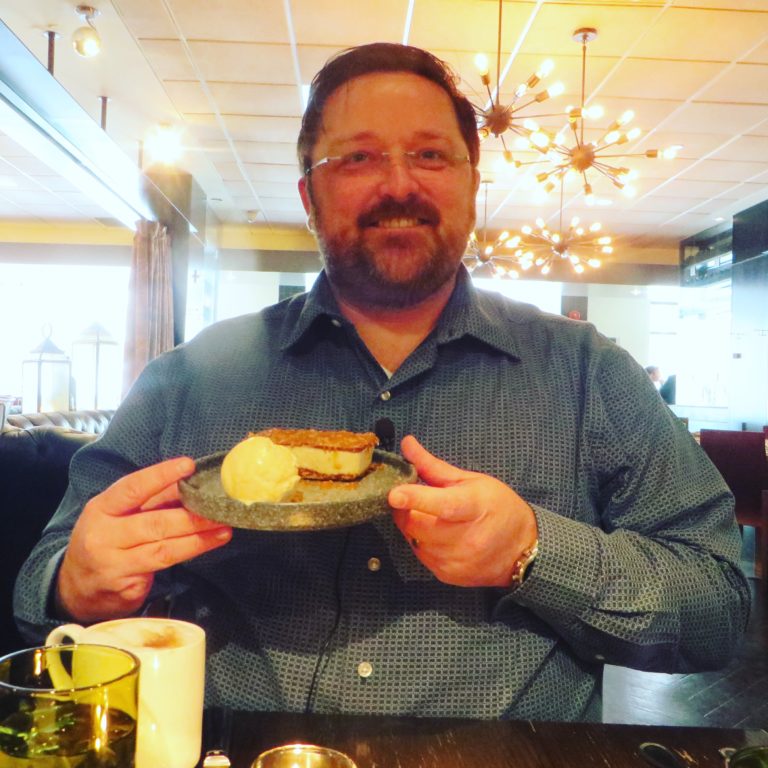 This episode of Eating the Fantastic almost didn't happen, and not just because it was recorded somewhat spontaneously. No, the reason this episode almost didn't happen was because instead of digging into dessert, we were afraid we might be spending the night being interrogated by the Secret Service. And if that had occurred, the blame would be entirely on Parvus Press publisher Colin Coyle.

It was all due to his afternoon mission to visit the White House and fulfill Kickstarter rewards relating to his recently released anthology If This Goes On, edited by Cat Rambo. And because that title contains my short story "The Stranded Time Traveler Embraces the Inevitable," I decided to tag along. We had an off-the-record lunch at Jaleo, but once we we'd completed our mission, we debriefed what we'd just done over dessert at Art and Soul.

We discussed the reason we were glad we got to record the episode rather than spend the night in jail, how the tragic events of Charlottesville inspired him to hire Cat Rambo to assemble the If This Goes On anthology, why he switched over to the Kickstarter model for this book and what surprises he discovered during the process, the reason his company isn't publishing horror even though he'd like to, the surprising shared plot point slush pile writers used to indicate future American culture was failing, what an episode of West Wing taught him about launching Parvus Press, what he isn't seeing enough of in the slush pile, the acting role of which he's proudest from back in his theater days (hint: you've probably seen Danny DeVito do it), the advice he wishes he could have given himself when he started out as a publisher, and much more.
(5) RIGHTS GRAB. Peter Grant flags "Another Attack on Author Rights" at Mad Genius Club. He points to an Authors Guild report that the "Los Angeles Times Wants Rights to Books Written by Staff", which begins –
One of the nation's leading newspapers is attempting an unprecedented rights grab, according to its writers. In the midst of contract negotiations with its newsroom staff, the Los Angeles Times, purchased last year by biotech billionaire Patrick Soon-Shiong, has proposed that its journalists, as a condition of employment, cede control of any books or other creative works made outside of their daily journalistic duties.

The Los Angeles Times Guild, a trade union representing some 400 newsroom staffers, has called the proposal "a new low in the newspaper industry," pointing out that no other major newspaper has such strict copyright restrictions. "If we have a book idea related to our work," according to the Times Guild, "the company wants unfettered power to claim control over whether it gets written, who owns the copyright and what we might get paid for it."
In a comment Dorothy Grant asks whether the AG complaint should be taken at face value:
Several thoughts on that: first, we're not seeing the actual contract clause, we're seeing what one party to the negotiations has taken public in an attempt to pressure the other side. Which means that the ratio of truth to hyperbole is… unknown.
(6) GO RIGHT TO THE SOURCE. "Many of the short stories that inspired Love, Death + Robots are free online" says The Verge's Andrew Liptak in a post that supplies the links.
(7) PUNCHING IN. Charlie Martin touts "The Power of Pulp" at PJ Media.
But have you read any "quality" fiction recently? Between making sure that all the right demographics are presented in the exact right way, and the tendency of "quality" fiction to still be about nothing, most of it is not much fun. In fact, there's even a technical term for reading that's supposed to be fun: it's called ludic fiction. It's characterized by a particular experience: you get lost in it. You forget you're reading and you're engrossed in the vicarious experience.
Have you noticed that the people who stress the importance of "fun" rarely sound like they're having any?
(8) TODAY'S BIRTHDAYS.
[Compiled by Cat Eldridge.]
Born March 22, 1920 – Ross Martin. Best known for portraying Artemus Gordon on The Wild Wild West. I watched the entire series on DVD one summer some decades back include the films in less than a month from start to finish. Now that was fun! It looks like Conquest of Space, a 1955 SF film, in which he played Andre Fodor was his first genre outing. The Colossus of New York in which he was the brilliant Jeremy 'Jerry' Spensser came next, followed by appearances on Alcoa Presents: One Step Beyond, The Twilight Zone, Zorro, The Immortal, Night Gallery, Invisible Man, Gemini Man (a far cheaper version of Invisible Man), Quark (truly one of the worst SF series ever), Fantasy Island and Mork & Mindy. (Died 1981.)
Born March 22, 1930 – Stephen Sondheim, 89. Several of his works were of a fantastical nature including Into The Woods which mines deeply into both Brothers Grimm and Charles Perrault for its source material. And there's Sweeney Todd: The Demon Barber of Fleet Street which is damn fun even if it isn't genre.
Born March 22, 1931 – William Shatner, 88. Today is indeed his Birthday. I could write a long, detailed Birthday entry but y'all know everything I could possibly say here. Suffice it to that I did enjoy him on Trek for the most part and actually found his acting on TekWar where he was Walter H. Bascom to be some of his better work. Now the short-lived Barbary Coast series featuring his character of Jeff Cable was the epitome of his genre acting career.
Born March 22, 1946 – Rudy Rucker, 73. He's certainly best known for the Ware Tetralogy, the first two of which, Software and Wetware, both won Philip K. Dick Award. Though not genre, I do recommend As Above, So Below: A Novel of Peter Bruegel.
Born March 22, 1950 – Mary Tamm. She's remembered for her role as Romana, the companion to the Fourth Doctor in "The Key to Time" story. It seemed liked she was there longer only because another actress, Lalla Ward, played her in the following season. This actress was soon to be married to Tom Baker. She also appears briefly in the 20th Anniversary special The Five Doctors through the reuse of footage from the uncompleted story Shada. Tamm had only one other genre gig, to wit as Ginny in "Luau" on the Tales That Witness Madness series. (Died 2012.)
Born March 22, 1969 – Alex Irvine, 50. I strongly recommend One King, One Soldier, his offbeat Arthurian novel, and The Narrows, a WW II Detroit golem factory where fantasy tropes get a severe trouncing. He's also wrote The Vertigo Encyclopedia which was an in-house project so, as he told me back then, DC delivered him one copy of every Vertigo title they had sitting in the warehouse. For research purposes. And he's written a fair number of comics, major and minor houses alike.
Born March 22, 1978 – Joanna Page, 41. Queen Elizabeth I in the first episode of "The Day of the Doctor" on Doctor Who in which the Tenth Doctor, Eleventh Doctor and the War Doctor all make appearances. Other genre appearances are scant but she did play María on Bedlam, a British supernatural series, she was Gladys in a film adaptation of Arthur Conan Doyle's The Lost World, and she also played of Ann Cook in the film adaptation of Alan Moore's From Hell.
(9) COMICS SECTION.
We've all heard of the saying "the customer is always right" but when you work in service industries, what can you do to vent your frustration when the customer is rather annoying?

Whether it's children running riot, requests for the most obscure information, or just plain rude customers, Australian bookshop worker Anne Barnetson has faced it all. But she's come up with a rather novel way of dealing with such awkward situations.

Anne is the creator of Customer Service Wolf, a comic found on Instagram and Tumblr. It gives a humorous anthropomorphic take on life dealing with strangers turning up in bookshops with strange requests.
(10) PLAYING IN OVERTIME. Tolkien and Hubbard are not the only prolific deceased authors in our midst. See "Isaac Bashevis Singer from Beyond the Grave" in The Paris Review.
As if in fulfillment of his own prophecy, Isaac Bashevis Singer has been astonishingly prolific in death. An untranslated magnum opus, Shadows on the Hudson, was translated into English in 1998, followed by a sequel collection of reminiscences of pre-1914 Jewish Warsaw, More Stories from My Father's Court, followed by a steady, enviable beat of short stories, either unpublished or published in Yiddish but never translated, stories steadily adding to and enriching Singer's great twin themes: the magical Yiddishkeit cosmos wrecked in World War II and the scattered, wandering survivors of that wreckage. In the past two years, Singer's stories have been published in Harper's and The New Yorker. Another, "The Murderer," appears in the current spring issue of The Paris Review. Every few months, it seems, there is a Singer dispatch from beyond the grave, another unlabeled bottle floating in on the tide. Reading his bibliography, one would never guess he has been dead nearly three decades. And there will be more Singer for the foreseeable future, as the editor of his estate told The New Yorker: "There are novels, short stories, memoirs, even plays—some of which appeared in Yiddish and some of which … exist only as handwritten manuscripts." Heaps of Singer's words are wheeling blindly about in library archives, at the bottoms of desk drawers, manuscripts translated by hand on magazine tear sheets, unilluminated microfilm vibrantly uncollected and unclassified. He and his oeuvre refuse to be still. They seem to wend their way to the surface with something like the residue of Singer's consciousness, or rather with the uncanny pseudoconsciousness of an automaton, set in motion by a now-dead hand.
(11) GAME IN THE WORKS. Rad Magpie's mission is to "Support underrepresented creators and radical interactive media." Their first in-house studio is working on the first Sri Lankan fantasy game to exist called Sigiriya with Mary Anne Mohanraj
Sigiriya is a mobile game set in the ancient Sri Lankan fortress of the same name. Our interactive experience marries heart-centered, narrative-driven gameplay with both fantastical and historical elements.

Our team is working to bring this game to life, and we are currently in the early production phases.
(12) YOU ASKED FOR IT, WE GOT IT.  "Toyota to Help Develop Moon Rover" says the headline, though Daniel Dern comments, "In my initial glimpse I thought it said "Moon River" and wasn't sure if it was about the song, or they were going 'Lunar Duckboats!'"
Toyota will be adding some depth to its development prowess when it partners with Japan's space agency to create a manned lunar rover powered by fuel cell technologies.

According to the Japan Aerospace Exploration Agency (JAXA), though Japan has no plans to send humans into space at this time, the rover could serve as a building block to eventually get them there.
(13) DRAGON LADY. In her New Yorker article "A Battle for My Life". Emilia Clarke, TV's Daenerys Targaryen, reveals she had two surgeries for brain aneurysms after season 1 and season 3 of Game of Thrones, and discusses that people should be urgently treated if they have brain or stroke problems.
Just when all my childhood dreams seemed to have come true, I nearly lost my mind and then my life. I've never told this story publicly, but now it's time.
(14) ABOVE THE STORM. BBC admires this photo taken by Juno: "Planet Jupiter: Spectacular picture of Jupiter's storms".
This beautiful picture of Jupiter was assembled from three separate images acquired by Nasa's Juno spacecraft as it made another of its close passes of the gas giant.

The probe has a colour camera onboard and citizen scientists are encouraged to play with the data to make their own views of the planet.

This one, which is colour-enhanced, was produced by Kevin M Gill.

The US space agency has dubbed it "Jupiter Marble" – a reference to the full disc pictures of Earth captured by satellites down the years that have been called "Blue Marble".
(15) LOOK OUT, IT'S A JUGGERNAUT! From BBC we learn – "Autonomous shuttle to be tested in New York City".
A self-driving shuttle service is to be deployed in New York City by the middle of the year.

Boston start-up Optimus Ride will run vehicles on private roads at the Brooklyn Navy Yard site located on New York's East River.

The shuttle will help workers get around the large site.
(16) CALL FOR A VERDICT. The question is: "Can you murder a robot?" The BBC story covers a lot of ground.
Back in 2015, a hitchhiker was murdered on the streets of Philadelphia.

It was no ordinary crime. The hitchhiker in question was a little robot called Hitchbot. The "death" raised an interesting question about human-robot relationship – not so much whether we can trust robots but whether the robots can trust us.

The answer, it seems, was no.….

Hitchbot is not the first robot to meet a violent end.

Dr Kate Darling, of Massachusetts Institute of Technology (MIT), encouraged people to hit dinosaur robots with a mallet, in an workshop designed to test just how nasty we could be to a machine.

She also conducted an experiment with small bug-like robots.

Most people struggled to hurt the bots, found Dr Darling.

"There was a correlation between how empathetic people were and how long it took them to hit a robot," she told BBC News, at her lab in Boston.

"What does it say about you as a person if you are willing to be cruel to a robot. Is it morally disturbing to beat up something that reacts in a very lifelike way?" she asked.

The reaction of most people was to protect and care for the robots.

"One woman was so distressed that she removed the robot's batteries so that it couldn't feel pain," Dr Darling said.
(17) MERGER MASHUPS. Chris Hemsworth on Instagram celebrated the Disney-Fox merger by wearing a Deadpool outfit with a Viking helmet. Ryan Reynolds marked the merger by wearing mouse ears on his Deadpool outfit on his Instagram post.
(18) VIDEO OF THE DAY. In "Why Do Flat-Earth Believers Still Exist?" on YouTube, John Timmer of Ars Technica shows the increasinly flimsy evidence flat earth followers have for claiming the earth is flat.
[Thanks to John King Tarpinian, Daniel Dern, Mike Kennedy, Martin Morse Wooster, Chip Hitchcock, Cat Eldridge, JJ, Michael Toman, Carl Slaughter, and Andrew Porter for some of these stories. Title credit belongs to File 770 contributing editor of the day Kip Williams.]