(1) TUNING IN. The Doctor may use her time traveling skills to visit your TV set even sooner than the beginning of Season 12. Radio Times speculates that "Doctor Who could air an extra episode before the new series".
RadioTimes.com understands that a plan is in the works to air a standalone Doctor Who special some time before series 12 hits screens, possibly in a festive slot like this year's New Year's Day Special or the Christmas specials that were released every year prior (from 2005 onwards).

However, it's also possible that the proposed episode will bypass the festive period altogether, airing in a less competitive slot to give the Tardis team their best reintroduction this winter, and avoiding the usual holiday themes favoured by previous Doctor Who specials.
(2) ORDERS OF THE PURPLE SAGE. Just as French fries are merely a delivery vehicle for ketchup, File 770 exists to publicize where Scott Edelman goes to eat lunch. In Episode 99 of Eating the Fantastic, the meal is served at the Sagebrush Cantina in the company of comics legend Gerry Conway.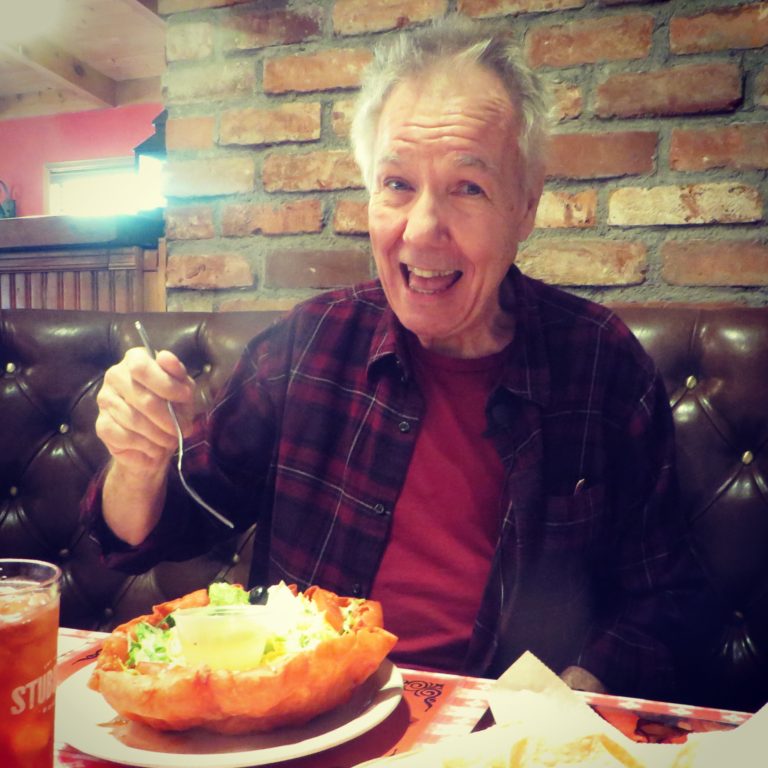 My first meal of the Nebula Awards weekend was with comics legend Gerry Conway, who I've known for at least 48 years, since 1971 — when I was a comics fan of 16, and he was 19, and yet already a comics pro with credits on Phantom Stranger, Ka-Zar, and Daredevil. Our paths back then crossed in the basement of the Times Square branch of Nathan's (which, alas, no longer exists) where the late Phil Seuling had organized a standalone dealers room without any convention programming dubbed Nathan's Con, which was a test run for his future Second Sunday mini-cons.

Gerry and I have a lot of history in those 48 years, including his time as Marvel's editor-in-chief when I worked in the Bullpen — though his tenure was only six weeks long, two of those weeks my honeymoon — a tenure you'll hear us talk about during the meal which follows. He's the creator of The Punisher, Power Girl, and Firestorm, and wrote a lengthy and at one point controversial run on Spider-Man. But he's also worked on such TV series as Matlock, Jake and the Fatman, Hercules: The Legendary Journeys, Law & Order, and many others.

At Gerry's recommendation, our meal took place at the Sagebrush Cantina in Calabasas, California, where I invite you to take a seat and eavesdrop on our longest conversation in 40 years.

We discussed how the comics business has always been dying and what keeps saving it, why if he were in charge he'd shut down Marvel Comics for six months, what it's like (and how it's different) being both the youngest and oldest writer ever to script Spider-Man, the novel mistake he made during his summer at the Clarion Writers Workshop, why he's lived a life in comics rather than science fiction, what caused Harlan Ellison to write an offensive letter to his mother, the one bad experience he ever had being edited in comics (it had to do with the Justice League), the convoluted way Superman vs. Spider-Man resulted in him writing for TV's Father Dowling Mysteries, how exasperation caused him to quit his role as Marvel's Editor-in-Chief (while I was out of the Bullpen on my honeymoon), how he'd have been treated if he'd killed off Gwen Stacy in today's social media world, and much, much more.
(3) TALKING ABOUT A GAMES HUGO. Camestros Felapton starts a thoughtful discussion of Ira Alexandre's motion in "Looking at the Hugo Game/Interactive Experience proposal".
…I think accessibility to the works remains one of the biggest obstacles to this category working effectively, although the proposal makes substantial efforts to address this.

My other concern is the multiple vectors against which we'd need to judge works in this category. The proposal gives numerous examples of other game awards but I'm struck by the many ways game awards split their own categories….
(4) KOTLER'S PICKS. Paul Weimer hosts "6 Books with Steve Kotler" at Nerds of a Feather. I'm in the middle of reading the author's latest —
6. And speaking of that, what's your latest book, and why is it awesome?

My latest book is Last Tango in Cyberspace. It's a novel that follows a protagonist named Lion Zorn. He's an empathy tracker or em-tracker, a new kind of human with a much deeper ability to feel empathy than most. His talent lets him track cultural trends into the future, a form of empathetic prognostication, and a useful skill to certain kind of company. But when Arctic Pharmaceuticals hires him to em-track rumors of a new and extremely potent psychedelic—with potential medical uses—he ends up enmeshed in a world of startup religions, environmental terrorists and overlapping global conspiracies. It's a thriller about the ramifications of accelerating technology, the evolution of empathy, and the hidden costs of consciousness-expansion. And it's awesome because, well, it's just a ton of mind-blowing fun.
(5) GROKKING JAPAN. In The Paris Review, Andrei Codrescu resurrects "The Many Lives of Lafcadio Hearn", once among the best-known literary figures of his day.
…History is a fairy tale true to its telling. Lafcadio Hearn's lives are a fairy tale true in various tellings, primarily his own, then those of his correspondents, and with greater uncertainty, those of his biographers. Hearn changed, as if magically, from one person into another, from a Greek islander into a British student, from a penniless London street ragamuffin into a respected American newspaper writer, from a journalist into a novelist, and, most astonishingly, from a stateless Western man into a loyal Japanese citizen. His sheer number of guises make him a creature of legend. Yet this life, as recorded both by himself and by others, grows more mysterious the more one examines it, for it is like the Japanese story of the Buddhist monk Kwashin Koji, in "Impressions of Japan," who owned a painting so detailed it flowed with life. A samurai chieftain saw it and wanted to buy it, but the monk wouldn't sell it, so the chieftain had him followed and murdered. But when the painting was brought to the chieftain and unrolled, there was nothing on it; it was blank. Hearn reported this story told to him by a Japanese monk to illustrate some aspect of the Buddhist doctrine of karma, but he might as well have been speaking about himself as Koji: the more "literary" the renderings of the original story, the less fresh and vivid it becomes, until it might literally disappear, like that legendary painting.
(6) VISIONARY. CNN discovers Simon Stålenhag — "Simon Stålenhag's hauntingly beautiful retro sci-fi art".
Simon Stålenhag's paintings are a strange, irresistible mix of mundane scenes from the Swedish countryside and haunting scenarios involving abandoned robots, mysterious machinery and even dinosaurs.

They are the product of his childhood memories — growing up in suburban Stockholm and painting landscapes and wildlife — and his adulthood appreciation for sci-fi.

"I try to make art for my 12-year-old self," he said in a phone interview. "I want to make stuff that would make my younger self see it and go, 'I'm not supposed to look at this because it's for adults, but I really want to anyway.'"
(7) UNSURPRISINGLY, THE IRS RECOGNIZES SATAN. The Burbank Leader generated some clicks with its overview: "The IRS gave nonprofit status to a satanic church. Will all hell break loose?".
Earlier this year the Internal Revenue Service officially recognized the Satanic Temple as a church, meaning it has 501(c)(3) tax exempt status.

According to the church's website, the Satanic Temple's mission is "to encourage benevolence and empathy among all people, reject tyrannical authority, advocate practical common sense and justice, and be directed by the human conscience to undertake noble pursuits guided by the individual will."

Yet perhaps because the group describes itself as a "nontheistic religious organization" and maintains an openness about taking political stances, the IRS decision has brought some controversy.

According to an article on Rewire.News, a pro-life petition online states, "This egregious decision runs counter to everything America stands for," and a Catholic commentator argued that without God or a literal Satan, there is no "real religion."
A letter to the editor from a self-identified atheist began:
I'm fine with the ruling, based on the finding that the Temple's attributes — unique tenets, regular congregations and religious services — meet the IRS guidelines for a tax-exempt religious organization, i.e., a church. Neither God, gods nor Satan are required to be a "real religion" under these guidelines, contrary to the commentator quoted in this month's question.
(8) TODAY'S BIRTHDAYS.
[Compiled by Cat Eldridge.]
Born July 5, 1904 — Milburn Stone. Though you no doubt know him as Doc on Gunsmoke, he did have several genre roles including a German Sargent in The Invisible Agent, Captain Vickery in Sherlock Holmes Faces Death, Mr. Moore in The Spider Woman Strikes Back and Capt. Roth in Invaders from Mars. (Died 1980.)
Born July 5, 1929 — Katherine Helmond. Among her roles was Mrs Ogre in Time Bandits and Mrs. Ida Lowry in Brazil. Now I'll bet you can tell her scene in the latter… (Died 2019.)
Born July 5, 1941 — Garry Kilworth, 78. The Ragthorn, a novella co-authored with Robert Holdstock, won the World Fantasy Award. It's an excellent read and it makes me wish I'd read other fiction by him. Anyone familiar with his work? 
Born July 5, 1948 — Nancy Springer, 71. May I recommend her Tales of Rowan Hood series of which her Rowan Hood: Outlaw Girl of Sherwood Forest is a most splendid revisionist telling of that legend? And her Enola Holmes Mysteries are a nice riffing off of the Holmsiean mythos.
Born July 5, 1957 — Jody Lynn Nye, 62. She's best known for collaborating with Asprin on the MythAdventures series  Since his death, she has continued that series and she is now also writing sequels to his Griffen McCandle series as well. 
Born July 5, 1963 — Alma Alexander, 56. Author of three SF series including the Changer of Days which is rather good. I'm including her here for her AbductiCon novel which is is set in a Con and involves both what goes on at that Con and the aliens that are involved. 
Born July 5, 1964 — Ronald Moore, 55. He's best known for his work on various Star Trek series, on the Battlestar Galactica reboot and on the Outlander series.  
Born July 5, 1972 — Nia Roberts, 47. She appeared in two two Doctor Who episodes during the time of the Eleventh Doctor, "The Hungry Earth" and "Cold Blood". But it's an earlier role that gets her a Birthday citation just because it sounds so damn cool: Rowan Latimer in the "Curse of the Blood of the Lizard of Doom" episode of the Dr. Terrible's House of Horrible whichspoofed shows such as Roald Dahl's Tales of the Unexpected.
(9) GET MAD. If you want to see more of Alfred E. Newman's gap-toothed smile, Doug Gilford's MAD Cover Site is the place for you.
Look at every regular issue cover from the comic book days of 1952 to the present day! Issue contents included!
(10) COUNTING FANS AT WORLDCONS. The latest round of Hugo statistics led to a discussion on the SMOFs list about other Worldcon stats, where Rene Walling reminded readers about his compilations, published by James Gunn's Ad Astra earlier in this decade:
Sweeping statements and generalizations are often made about the membership of early World Science Fiction Conventions (WSFC, or Worldcon) such as "only the same people came back every year" or "the attendance was all male." Yet rarely is more than anecdotal evidence given to support these statements. The goal of this report is to provide some hard data on the membership of early Worldcons so that such statements can be based on more than anecdotal evidence.
…The number of members listed over the entire 1961-1980 time span totals 33,279 for the WSFC sources, which represents 81.66% of the total from the Long List (40,752). The total number of individual members is 17,136.
(11) IS BEST SERIES WORKING? At Nerds of a Feather, Joe Sherry precedes his discussion of the nominees in "Reading the Hugos: Series" with some meta comments about the category.
This is worth mentioning now because 2019 is the third year of the Best Series category and the second appearance of Seanan McGuire's October Daye series because McGuire has published two additional novels (The Brightest Fell, Night and Silence) as well as some short fiction set in that universe. I wouldn't be shocked to see McGuire's InCryptid make a second appearance next year, and I also expect to see The Expanse to have its own second crack at the ballot, though with The Expanse I hope readers wait one more year for the ninth (and final?) volume to be published so that The Expanse can be considered as a completed work.

I'm curious what this says about the long term future and health of the category if we see some of the same series make repeat appearances. Of course, we can (and do) say the same thing about a number of "down the ballot" categories like Fanzine (we do appreciate being on the ballot for the third year in a row!), Semiprozine, and the Editor categories.
(12) IN A BAD PLACE. Steve J. Wright's review of the finalists has reached "Hugo Category: Best Dramatic Presentation (Short Form)" – and there's one he really doesn't like.
We have two episodes of The Good Place, and I won't complain about that either, because this is a popular vote and the show clearly has its fans…. I'm still not among them. It seems to me that The Good Place is still trying to be several things at once, and is failing at all of them, and since the things it's trying to be include "funny" and "though-provoking", the result isn't good.
(13) HELICON AWARDS. Richard Paolinelli celebrated the Fourth of July by announcing the ten inaugural winners of the Helicon Awards on his YouTube channel. Sad Puppy Declan Finn won the Best Horror Novel category, which is probably more informative about where these awards are coming from than that Brandon Sanderson and Timothy Zahn also won.
The 2019 Helicon Awards celebrates the best literary works of 2018 in Science Fiction, Fantasy, Military Sci-Fi/Fantasy, Alternate History, Media Tie-In, Horror and Anthology (SF/F/H).
Throughout the presentation Paolinelli keeps using the pronouns "we" and "our" without shedding very much light on who besides himself is behind these awards. The slides for the winners bear the logo of his Science Fiction & Fantasy Creators Guild, opened last year with the ambition of rivalling SFWA. The Science Fiction & Fantasy Creators Guild closed group on Facebook is listed as having 275 members – you can't see the content without joining, but FB displays a stat that it's had 6 posts in the last 30 days. The SFFCGuild Twitter account hasn't been active since February 2018.
Paolinelli's blog claims sponsorship of the awards, but in the video he says not only won't winners be receiving a trophy, he hasn't even designed a certificate for them, though he might do that in a few weeks.
In addition to the 10 Helicon Awards, Paolinelli named "three individual honorees for the Mevil Dewey Innovation Award, Laura Ingalls Wilder Best New Author Award and the Frank Herbert Lifetime Achievement Award."
So far as the first two awards are concerned, it's likely that what did most to persuade Paolinelli to give them those names was the decision by two organizations this past year to drop the names from existing awards – in Wilder's case (see Pixel Scroll 6/25/18 item #5), the US Association for Library Service to Children said it was "over racist views and language," while the American Library Association dropped Dewey (see Pixel Scroll 6/27/19 Item #13) citing "a history of racism, anti-Semitism, and sexual harassment."
(14) A FANNISH ANIMAL. "My Wild Time Living in a House Full of Wombats" is an article at The Daily Beast, where else?
What is a full night's sleep?! I haven't had one of those in a long time. I run Sleepy Burrow Wombat Sanctuary in Australia, which is the largest wombat sanctuary in the world. I'm up every three hours to do round-the-clock feedings for the baby wombats that have recently come into our care. Their first nights with us are always the most critical time where their survival is the most at risk. If being up all night is what it takes to pull them through, I will do it. Don't feel too bad for me though. I wouldn't trade the life I have for anything in the world. I have a wonderful family I built with the most supportive husband, who is my partner both in life and rescue. I'm a mother to two perfect daughters, a dog, and a house full of the cutest wombats you can imagine. As a family unit we have rescued over 1,300 wombats.
(15) NIGERIAN SFF. Adri Joy makes the book sound pretty interesting, though rates it only 6/10: "Microreview [book]: David Mogo, Godhunter by Suyi Davies Okungbowa" at Nerds of a Feather.
That main character, it will not surprise you to hear, is David Mogo, Godhunter. David lives in a version of Lagos which has been subjected to the Falling: a war which has caused thousands of Orisha to rain down on the city and take up residence. A half-god himself, David was abandoned by his mother and raised by a foster-father who also happens to be a wizard, wielding magical talents which David's divinity keeps him from using in the same way. Instead, when we meet David he's trying to throw himself into a bounty hunting existence with as much amoral abandon as possible, taking on a job from far more shady wizard Ajala for "roof money" while trying to suppress the sense that he should be acting with slightly more principle.
(16) SPONGING OFF FANS. That's the allegation, anyway: "SpongeBob SquarePants fan claims Nickelodeon copied art".
A fan has claimed Nickelodeon used his SpongeBob SquarePants artwork without his permission.

Matt Salvador, 17, says the art was featured in an advert for the show which was aired in June.

His artwork, uploaded online in 2016, is drawn in the style of a background used in a typical episode.

Various YouTube channels have uploaded the video, which the fan says shows the same artwork, but with his signature in the bottom-right corner removed.
(17) THINKING INSIDE THE BOX. Unlike Facebook or Google — "Why the BBC does not want to store your data".
BBC audience members could soon be using all the data from their social media and online accounts to fine tune the content they listen to and view.

The BBC is developing a personal data store that analyses information from multiple sources to filter content.

Early prototypes of the BBC Box draw on profiles people have built up on Spotify, Instagram and the BBC iPlayer.

The BBC will not store data for users. Instead, preferences will be kept in the Box so they can be reused.

The project is seen as "disruptive" because individuals will decide what they use their data for themselves.

The Box is part of a larger European project seeking to give people more control over their data.
(18) STILL NOT READY. Let's face it: "Biased and wrong? Facial recognition tech in the dock".
Police and security forces around the world are testing out automated facial recognition systems as a way of identifying criminals and terrorists. But how accurate is the technology and how easily could it and the artificial intelligence (AI) it is powered by – become tools of oppression?

Imagine a suspected terrorist setting off on a suicide mission in a densely populated city centre. If he sets off the bomb, hundreds could die or be critically injured.

CCTV scanning faces in the crowd picks him up and automatically compares his features to photos on a database of known terrorists or "persons of interest" to the security services.

The system raises an alarm and rapid deployment anti-terrorist forces are despatched to the scene where they "neutralise" the suspect before he can trigger the explosives. Hundreds of lives are saved. Technology saves the day.

But what if the facial recognition (FR) tech was wrong? It wasn't a terrorist, just someone unlucky enough to look similar. An innocent life would have been summarily snuffed out because we put too much faith in a fallible system.

What if that innocent person had been you?

This is just one of the ethical dilemmas posed by FR and the artificial intelligence underpinning it.

Training machines to "see" – to recognise and differentiate between objects and faces – is notoriously difficult. Computer vision, as it is sometimes called – not so long ago was struggling to tell the difference between a muffin and a chihuahua – a litmus test of this technology.
[Thanks to Cat Eldridge, John King Tarpinian, JJ, Chip Hitchcock, Martin Morse Wooster, Mike Kennedy, rcade, Michael Toman, Carl Slaughter, and Andrew Porter for some of these stories. Title credit belongs to File 770 contributing editor of the day Paul Weimer.]