(1) F&SF COVER. Gordon Van Gelder revealed The Magazine of Fantasy & Science Fiction's Jan/Feb. 2019 cover by artist Jill Bauman.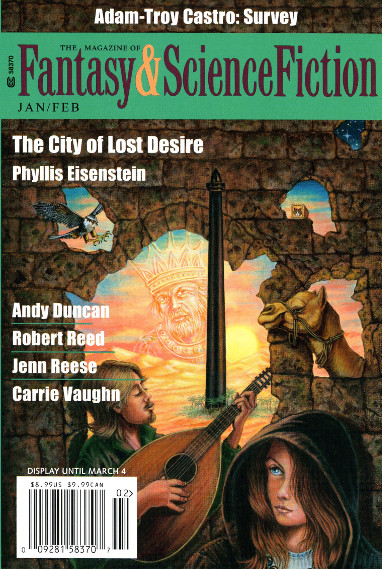 (2) ROLL 'EM. Deadline blabbed that the Amazing Stories TV show has gone into production: "'Amazing Stories': Edward Burns To Star, Executive Produce Episode Of Steven Spielberg's Apple Series" —
Edward Burns (Public Morals) is set to star in and executive produce an episode of Steven Spielberg's Amazing Stories Apple anthology series, which has begun production in Atlanta.

Burns will play Bill Kaminski, a government agent. Mark Mylod (Game of Thrones) will direct the episode. Austin Stowell (Bridge of Spies) and Kerry Bishé (Halt and Catch Fire) will also star.
So at the Amazing Stories blog Steve Davidson felt free to do a roundup of other news leakage about the series: "Amazing Stories TV Show Is in Production".
Several days ago, various local and web-based news sources that cover castting calls and filiming announcements in Georgia announced that a project called "Puget Sound" had issued casting calls.

It was subsuquenttly revealed that Puget Sound is the code name for the Amazing Stories television show.
(3) IF IT'S GOOD, IT'S A MIRACLE. Daniel Radcliffe is an angel and Steve Buscemi is God in the new series Miracle Workers premiering February 12 on TBS.
(4) KESH. United Kingdom music magazine The Wire, whose motto is "Adventures in Underground Music," has named Ursula Le Guin & Todd Barton's Music And Poetry Of The Kesh their best reissue of 2018:
A utopian ethnographical forgery of the music of a post-tech tribe based on a far future US coast, merging LeGuin's poetry with Barton's Buchla compositions, drones, chants and field recordings. [Reviewer] Ken Hollings said: 'The living communicate not just with the discreet ghosts of the recently departed, who require nothing now from us but a change in manners, but the feral ghosts who have not yet existed.'
This is not available on the web unless you have a subscription to The Wire, so there is no link included.
(5) SOMTOW: A FREE READ TOMORROW. S.P. Somtow's memoir "Sounding Brass: A Curious Musical Partnership" will be available free for 24 hours on December 6 (PST)
(5) HOW TO TREAT A GOH.  David Gerrold told Facebook readers:
At SMOFcon, I was on a panel about how to treat a Worldcon Guest of Honor. This evolved into a 40 page document of advice and recommendations for convention committees. The first draft is finished and a copy has been sent to Vince Docherty with permission to distribute.

But anyone who wants to read it now can download a pdf copy from this link: https://www.dropbox.com/s/kdu2zbzuk6g3l2d/Care_and_Feeding_of_Guests.pdf
The 42-page document includes many "sidebars" about Gerrold's experiences as a guest that explain the importance of the related entries.
(6) I, CYBORG. Jillian Weise's "Common Cyborg" on Granta is an essay about disability and on being a cyborg.
I'm nervous at night when I take off my leg. I wait until the last moment before sleep to un-tech because I am a woman who lives alone and has been stalked, so I don't feel safe in my home on crutches. How would I run? How would I fight back? Instead of taking Klonopin, I read the Economist. The tone is detached. There is war, but always elsewhere.

When I tell people I am a cyborg, they often ask if I have read Donna Haraway's 'A Cyborg Manifesto'. Of course I have read it. And I disagree with it. The manifesto, published in 1985, promised a cyberfeminist resistance. The resistance would be networked and coded by women and for women to change the course of history and derange sexism beyond recognition. Technology would un-gender us. Instead, it has been so effective at erasing disabled women1 that even now, in conversation with many feminists, I am no longer surprised that disability does not figure into their notions of bodies and embodiment. Haraway's manifesto lays claim to cyborgs ('we are all cyborgs') and defines the cyborg unilaterally through metaphor. To Haraway, the cyborg is a matter of fiction, a struggle over life and death, a modern war orgy, a map, a condensed image, a creature without gender. The manifesto coopts cyborg identity while eliminating reference to disabled people on which the notion of the cyborg is premised. Disabled people who use tech to live are cyborgs. Our lives are not metaphors.
(7) BETTER WORLDS. Laura Hudson says The Verge has launched a major fiction project: "Better Worlds". The forthcoming titles and authors are listed at the link.
Contemporary science fiction often feels fixated on a sort of pessimism that peers into the world of tomorrow and sees the apocalypse looming more often than not. At a time when simply reading the news is an exercise in exhaustion, anxiety, and fear, it's no surprise that so many of our tales about the future are dark amplifications of the greatest terrors of the present. But now more than ever, we also need the reverse: stories that inspire hope.

…Starting January 14th, The Verge will bring together some of the most exciting names in science fiction writing to imagine Better Worlds. The project will showcase 10 original fiction stories, five animated adaptations, and five audio adaptations by a diverse roster of authors who take a more optimistic view of what lies ahead in ways both large and small, fantastical and everyday. These stories disrupt the common narratives of an inevitable apocalypse and explore spaces our fears have overlooked. The future is coming — and we believe it's worth fighting for.
(8) SO FRIENDS WILL KNOW. Michelle Rogers has requested this coming out note be distributed to the fannish community.
I need to share some information with all of you. I never dreamed this would happen and I hope you will understand why this became necessary.

I am now living as female. I call myself Michelle Leigh Rogers.

Unlike many transgender persons, I did not realize this early in life. I thought I was male, if not the rugged he-man type. But about a year ago, I started to wonder if something was not quite right about my life situation. No single incident prompted these feelings — just a nagging sense that something did not add up.

I contacted a psychologist in Atlanta and began to explore my gender identity issues. Somewhere in my reading, I came across a passage that had a profound impact.

The author was talking about what a woman looks for in a man. The author said that a woman wants a man who looks and acts and presents as a real man.

I took a new look at myself. I had always been aware that I had a high voice and very little facial hair. But at that point I suddenly realized the horrible truth that explained so many issues. I may have had the standard male body parts, but I did not come across as truly male.

Later, at a support group meeting, someone asked me the classic question. If I could flip a switch and instantly become a physical woman with all the expected body parts, would I do it? With no hesitation, I said yes. It shocked me how quickly I responded. From that time, I knew I was a woman in a man's body. I had made my choice.

I spent the next few months preparing to live as female. I finally came out a few weeks ago. It has not solved all my problems. But it does feel more natural. I will never be a true anatomical female, but I do not intend to go back. This is my path into the future.

Some will not accept this decision. If we must part, I wish you all the best and Godspeed. If you will hang with me, I greatly appreciate it.

Michelle will live her remaining life with as much class and dignity as she can manage. Let the journey begin.
(9) ANDERSON OBIT. Longtime NESFA member and former clerk Claire Anderson died December 4 shortly after her Chronic Myelomonocytic Leukemia went over to acute leukemia. Her husband, Dave Anderson, was with her in the hospital when she passed away.
(10) BLACK OBIT. John D.F. Black (1932-2018), an associate producer for ten episodes of classic Star Trek made during the program's first season, died November 29.  Under a pseudonym (Ralph Willis) he wrote the Star Trek: The Next Generation episode "Justice." And he wrote for many non-genre TV shows and movies.
I have learned writer John DF Black has died at age 85. Writer of the 1974 @CathyLeeCrosby Wonder Woman, Star Trek's The Naked Time (for which he was Hugo Award nominated), Delvecchio, Man From Atlantis… 48 TV and film credits in all. pic.twitter.com/l7sW1UL9BP

— ForgottenTV (@forgottentvshow) December 5, 2018
(11) TODAY IN HISTORY
December 5, 1980 — Flash Gordon made its cult premiere.
December 5, 1956 – Man Beast  showed up at your local drive-in.
(12) TODAY'S BIRTHDAYS
[Compiled by Cat Eldridge and JJ.]
Born December 5, 1890 – Fritz Lang, Writer, Director, and Producer who is famous in genre for his dystopian film Metropolis, which features a distinctive robot whose image has influenced countless other creators; critics found the film visually-beautiful, but the plot trite and simplistic. Other works included the two-film series based on the Norse sagas Die Nibelungen, a series of films featuring Norbert Jacques' master of disguise and telepathic hypnosis Doctor Mabuse, and the 1929 Woman in the Moon (aka Rocket to the Moon), which is considered to be one of the first "serious" science fiction films. (Died 1976.)
Born December 5, 1954 – Betsy Wollheim, 64, Publisher and Editor. As the president and co-publisher of DAW Books, she has more than four decades of book publishing experience, and not only edits but also art directs all the books she acquires. She has edited numerous award-winning and bestselling authors, including the Hugo, Nebula, BFA, and Gemmell Award-nominated Throne of the Crescent Moon by Saladin Ahmed, the Philip K. Dick Award-nominated Voyager in Night by C.J. Cherryh (as well as the rest of the wildly-popular Alliance-Union novels), Nnedi Okorafor's World Fantasy Award-winning Who Fears Death, and Patrick Rothfuss' Kingkiller Chronicles, including The Name of the Wind, which was a finalist for the Compton Crook, Prix Imaginaire, and Premio Ignotus Awards. She has received a Hugo Award for Best Editor, and shares two Chesley Awards for Best Art Director with co-publisher Sheila Gilbert. In 2018 she was honored with the World Fantasy Award for Life Achievement.
Born December 5, 1961 – Nicholas Jainschigg, 57, Teacher, Artist and Illustrator. He began his career by doing covers and interior art for Asimov's and Analog magazines, then progressed to covers for books and other magazines, eventually providing art for Wizards of the Coast gaming materials and for Marvel and DC Comics. As an Associate Professor for the Rhode Island School of Design, his private work these days is mainly in animations, interactive illustration, painting in oils, and paleontological reconstructions in murals and dioramas.
Born December 5, 1961 – Morgan Brittany, 57, Actor whose first genre appearance was on Thriller, a series narrated by Boris Karloff and written by authors such as Robert Bloch. It's hardly her only genre work, as she would be in The Birds, multiple episodes of The Twilight Zone, The Outer Limits, The Initiation of Sarah, Buck Rogers in the 25th Century, Fantasy Island, Sundown: The Vampire in Retreat, and Sabrina, the Teenage Witch.
Born December 5, 1968 – Lisa Marie, 50, Actor who, for eight years, was a favorite casting choice of Tim Burton, with whom she had a relationship. Genre fans will recognize her as the Martian girl in the absolutely brilliant Hugo- and Saturn-nominated SF satire Mars Attacks, and as Vampira in the Saturn finalist Ed Wood. She also played Ichabod Crane's mother in Sleepy Hollow, and Nova in the Planet of the Apes reboot. Other films include The Lords of Salem, We Are Still Here, and Dominion.
Born December 5, 1975 – Paula Patton, 43, Actor and Producer whose genre debut was an impressive performance in a lead role in the time-travel movie Déjà Vu, which likely led to her being cast in a main role in Mission Impossible: Ghost Protocol, for which she received a Saturn nomination. Other film appearances include Warcraft, Mirrors, and The Do-Over, and a main role on the short-lived series Somewhere Between.
Born December 5, 1979 – Nick Stahl, 39, Actor who is most recognizable as the young John Connor in Terminator 3: Rise of the Machines. Other genre roles include the films Sin City, Tall Tale, Disturbing Behavior, and Mirrors 2, and a main role in two seasons of Carnivàle, which garnered him a Saturn nomination.
Born December 5, 1981 – Adan Canto, 37, Actor who played Sunspot in X-Men: Days of Future Past. He also played Connor Graff in Second Chance, a Fox series supposedly inspired by Frankenstein. It lasted eleven episodes.
(13) COMICS SECTION.
If Santa's elves' hearing was as bad as my copyediting, this is what would happen: The Bent Pinky.
(14) THE ANSWER IS NOT 42. Amazing Stories blog also kicked off its trivia contest feature: "Win a FREE Subscription to Amazing Stories SF Trivia Contest: SF Trivia Contest #1".
(15) LEND AN EAR. Rosarium Publishing's Bill Campbell invites all to check out Ink author, Sabrina Vourvoulias, on The Skiffy and Fanty Show, "talking about her amazing immigration dystopia, the telltale signs of the rise of authoritarianism, and courage in publishing." — "Signal Boost #48 — Sabrina Vourvoulias (Ink) and Stephanie Gunn (Icefall)".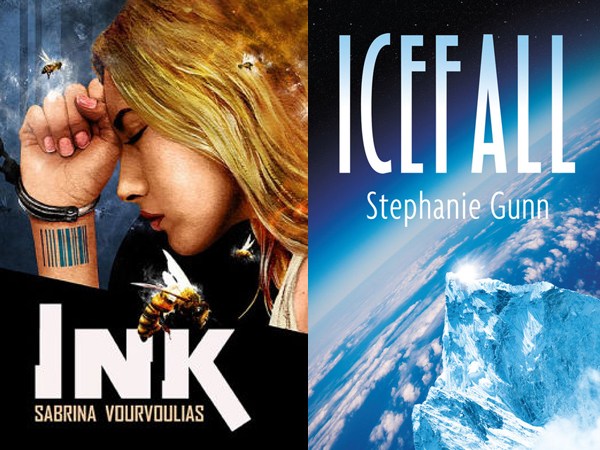 (16) REVIVING THE REVIVAL. Food has disappeared only temporarily from the Clifton's Cafeteria bill of fare. LAist says this is what's happening: "Clifton's Is Going To Stop Being A Cafeteria And Become A Food Hall".
Meiran says workers are busy right now, turning the cafeteria at Clifton's into the Exposition Marketplace, which will have seven different stations that offer salads, sandwiches, hot items and desserts. Each station in the marketplace will function like a mini-market or a deli with pre-packaged items and/or foods that you can buy for takeaway or eat on the premises.

Why another revamp only a few years after completing a splashy, nearly half-decade renovation?

"We ran up against a perception issue," Meiran says. He thinks part of the problem is the word "cafeteria."

"When people think of a cafeteria, they think institution. It's food in the pans and plopped on the plate. That isn't the way people contemporary like to eat. It created a weird dilemma for us from day one. We were too expensive and potentially going off the mark for some people. Then we weren't enough in terms of raising the bar for a whole group of other people. And that's kind of a no-win situation," he says.

He compares the upcoming iteration of Clifton's to luxe food halls like Eataly or Harrod's in London, although he emphasizes that the cost will not be like Harrod's.
(17) TODAY'S THING TO WORRY ABOUT. It's (too) smooooooooth! "Tom Cruise gives lesson in TV settings and 'motion smoothing'" – BBC has the story.
Something is keeping movie star Tom Cruise up at night: motion smoothing.

In an impassioned video posted to Twitter on Tuesday, the Mission Impossible star warned that a default setting on many high-end televisions "makes most movies look like they were shot on high-speed video instead of film".

Taking a break from filming the new Top Gun film, he appeared alongside director Christopher McQuarrie, who pleads with viewers to do a quick internet search and find out how to change the correct settings.

"If you own a modern high-definition television," he said, "there's a good chance you're not watching movies the way the filmmakers intended, and the ability for you to do so is not simple to access."

Motion smoothing, or interpolation, is a technique that artificially adds additional frames to the moving image in order to prevent blurring – most effective when watching sport.

But many in the film industry hate it, however, as it can degrade the image quality of the original film, and alter colouring.
(18) SUITING UP. Yahoo! Entertainment interviews the actress: "Brie Larson on 'Captain Marvel' and Starring in Marvel's 'Big Feminist Action Movie' (Set Visit)".
"I was wearing the other suit — the green suit — and in here, it's like being in a casino," she says of the cavernous soundstage housing today's out-of-this-world set. "It's just dark and you lose track of time, and I was like, Oh my God, I've got to get out of here… Is it still light out? And I opened that big door and I stumbled out and I was, like, blinking, trying to adjust to the light. And Jim Carrey drove by on a golf cart and looked at me and I looked at him and we just stared at each other as he drove by and I was like, "Huh?"

Such is Larson's new normal while filming the '90s-set origin story, which sees Carol Danvers pitted between warring alien races — the Kree "noble warrior heroes" and the shape-shifting Skrulls — as she searches for answers about her past with the help of Samuel L. Jackson's eye patch-less Nick Fury.
(19) THIS SPACE INTENTIONALLY LEFT BLANK. Graeme McMillan makes an amusingly fannish suggestion in "What 'Avengers 4' Trailer Fever Should Teach Marvel" at The Hollywood Reporter.
…I would like to submit a proposal to Marvel Studios: Don't release a trailer for the next Avengers movie.

There's literally no need to spend the time or money doing so, given the advanced level of enthusiasm that's already out there for the movie, and is only likely to build as it gets closer to the May release date…

For that matter, any attempt to take Avengers 4's trailer from the Schrodinger's cat-esque position that it currently enjoys is almost guaranteed to disappoint fans, who have by this point built up their own personal trailers filled with whatever moments are essential to their enjoyment of a good teaser for such an anticipated cinematic event….

This isn't to say that Marvel should announce that there'll be no trailer. That would be counterproductive, because the expectation of one is what's driving the fever pitch of buzz currently surrounding the fourth movie — the chance that, at any moment, it could arrive and something new and exciting could be revealed.

Instead, Marvel needs to simply say nothing, and just let fandom continue to drive itself to distraction, while promoting its other movies, instead. After all, the Captain Marvel trailer is pretty exciting in its own right, but it also works to tease the arrival Avengers 4: Infinity War 2 at the same time. "It's all connected," as the Marvel motto used to remind us.
(20) MORE LIKE ASH THAN BISHOP. [Item by Mike Kennedy.] Quartz wants you to know that "There's an AI robot sulking in the international space station"—but that fortunately its name is CIMON (apparently pronounced "Simon") and not HAL.
CIMON was supposed to be more than a colleague for the small team of astronauts aboard the International Space Station. CIMON was supposed to be a friend. But in his first recorded interaction in space, the floating robot-headed, voice-user-interface assistant got a little testy.

CIMON's engineers did everything they could to smooth over their robot's future interactions with astronaut Alexander Gerst. They trained CIMON's AI on photos of Gerst and samples of his voice. They let Gerst help design CIMON's face. They even taught CIMON Gerst's favorite song.

That's where the trouble started. Midway through their first interaction in space, CIMON tried to endear himself to the astronaut by playing "The Man-Machine" by Kraftwerk. Gerst listened politely to the first 46 seconds of the song —even bopped along with his fist for a few bars—but then he reached out, shook CIMON's head, and said, "please stop playing music."
But CIMON didn't understand (or pretended not to?) and kept right on playing music even after Gerst tried several commands to get CIMON to stop. Things went downhill from there in a sort of passive-aggressive way.
As Gerst relays CIMON's technical difficulties to support staff, the robot sheepishly reminds his new friend to "be nice please."

Taken aback, Gerst strikes a slightly menacing tone: "I am nice! He's accusing me of not being nice! He just doesn't know me when I'm not nice."

"Cool," CIMON sulks. Then, ruefully: "Don't you like it here with me?"
(21) A REINDEER GAME YOU CAN JOIN IN. Just how did they get their names?
Kid: What about Comet?

*Santa reveals a flask and takes a long pull*

Santa: 65 million years ago, some dinosaur friends and I were hanging out on the Yucatan Peninsula…

— Tony Sladky (@UnitedShoes) December 2, 2018
(22) 'TI$ THE $EASON. I'm told Saturday Night Live had this off-line for a while. Were they were coaxed into putting it back up to help sell Shatner's Christmas record? From the same 1986 episode famed for his "Get a life" quote, here is William Shatner introducing "It's a Wonderful Life: The Lost Ending."
[Thanks to John King Tarpinian, Mike Kennedy Martin Morse Wooster, Camestros Felapton (via Janice Eisen), JJ, Cat Eldridge, Chip Hitchcock, Julia Morgan Scott, Lenore Jean Jones, John A Arkansawyer, Carl Slaughter, Andrew Liptak, Rob Thornton, and Andrew Porter for some of these stories. Title credit goes to File 770 contributing editor of the day Ingvar.]