(1) HELP IS ON THE WAY. Jimmy Kimmel Live plugs the "Game of Thrones Hotline for Confused Fans."
There is a lot going on in "Game of Thrones," and it can be difficult to keep track of what's what and who's who. But fortunately help is on the way. Cast members Sophie Turner, Lena Headey, John Bradley, Joe Dempsie, Maisie Williams, Kristian Nairn, Iwan Rheon & Liam Cunningham host a new hotline to assist their confused fans.
(2) RONDO SETS RECORD. Never mind the Dragon Awards – voting just closed in the "17th Annual Rondo Hatton Classic Horror Awards" and would you like to guess how many participants they had? The administrator says —
The final votes are still be tallied, but close to 4,500 people voted this year, a new record.

The results will be posted soon, once the vote is finalized and visual material is prepared for the release.
(3) RELATIVELY LITERATURE. Gautham Shenoy contemplates "Ian McEwan and the (re)invention of science fiction: Why contempt for SF only exposes ignorance" at Factor Daily.
…So in this light, in the context of authors who actively avoid a novel of theirs being described as 'science fiction', and given the latest instance of Ian McEwan distancing himself from said label, I'd like to humbly offer a way in which one can tell if it's an SF novel or not. "Whether a novel is science fiction—or not—depends on who the author is and who reviews it".

As an advertising professional who has spent almost 20 years in the marketing business and who knows a thing or three about positioning and target audiences, this is perhaps the best description that I think we can arrive at. But where does this leave the reader?

It is up to the individual reader to decide whether he/she/they would rather go by convenient labels than follow interests or read what he/she/they would like to. As a reader – and not just of SF – I am in agreement with the author of Cloud Atlas and The Bone Clocks, the writer David Mitchell who says that genre snobbery is a bizarre act of self-mutilation because, "It's convenient to have a science fiction and fantasy section, it's convenient to have a mainstream literary fiction section, but these should only be guides, they shouldn't be demarcated territories where one type of reader belongs and another type of reader does not belong…What a shame. All those great books that you're cutting yourself off from."
(4) WEIMER DOUBLE-HEADER. Paul Weimer told Facebook readers:
If you thought "Self, I want to hear @PrinceJvstin on a podcast", today is YOUR day.
You can hear Paul on @SFFAudio talking about @nevalalee's Astounding – "The SFFaudio Podcast #522 – READALONG: Astounding by Alec Nevala-Lee"
-AND-
On @SkiffyandFanty, he talks with their Hugo Finalist crew about Komarr — "Reading Rangers #10: Komarr by Lois McMaster Bujold".
Hello, Rangers! We're back with everyone's favorite Space Nancy Drew in Komarr! This time Stina, Paul, and Trish sit around the campfire to talk about women's agency, budding relationships, whether or not Miles is "dad" material, how good intentions can go horribly, horribly wrong, the politics of isolationism, and more!
(5) KNOWING CAMPBELL. Stanley Schmidt's guest editorial for Analog "John and Me" takes off from the "The Astounding John W. Campbell, Jr." panel at last year's Worldcon moderated by Alec Nevala-Lee. Schmidt's views of Campbell's work are very different than those of fellow panelist Robert Silverberg, and he says in closing —
…As for what kind of editing John was doing in his last years, my experience indicates that he was still doing the kinds of things he was famous for, and still doing them very well. It's unfortunate that some of his personal idiosyncrasies drove away some of his best writers, but that's a separate question from the quality of his work. Maybe I was fortunate that I didn't know him personally before I started writing for him, or I might have found it harder, too—though I hope I wouldn't have let my disagreements with him, even on big issues, make me reject him entirely as a person. I did disagree with his editorials more often in those years than I had earlier, but as far as I knew he was just doing the professional argument-baiting he had always done. Even if I had known that he really held beliefs that I found highly objectionable, I doubt that I would have found that adequate reason to sever all contact with him and his work. A lot of people hold misguided beliefs, but my experience, I think, is a good example of how it's possible to work productively with somebody, and respect some of his qualities, even while sharply disagreeing with some of his views. Maybe that's a lesson that a whole lot of people need to relearn about now.
(6) SLF READINGS. The Speculative Literature Foundation's Deep Dish Reading Series in Chicago resumes on May 9.
(7) DOC WEIR AWARD. The Doc Weir Award is voted on by attendees at the Eastercon and is presented to a fan who has worked hard behind the scenes at conventions or in fandom and deserves recognition. As Fandom.com explains —
The award consists of a silver cup (which must be returned the following year) and a certificate (if someone remembers to create one!)

The cup is engraved with the names of the previous winners, and in fine fannish tradition, it is up to each year's winner to have their own name engraved at their own cost!
Jamie Scott is the 2019 winner.
Bill Burns of eFanzines has more info on the Doc Weir Award, and a list of all winners from 1963 to 2018 here.
(8) 71ST EASTERCON. Next year's UK Eastercon, called Concentric, will be in Birmingham at the Hilton Metropole (NEC).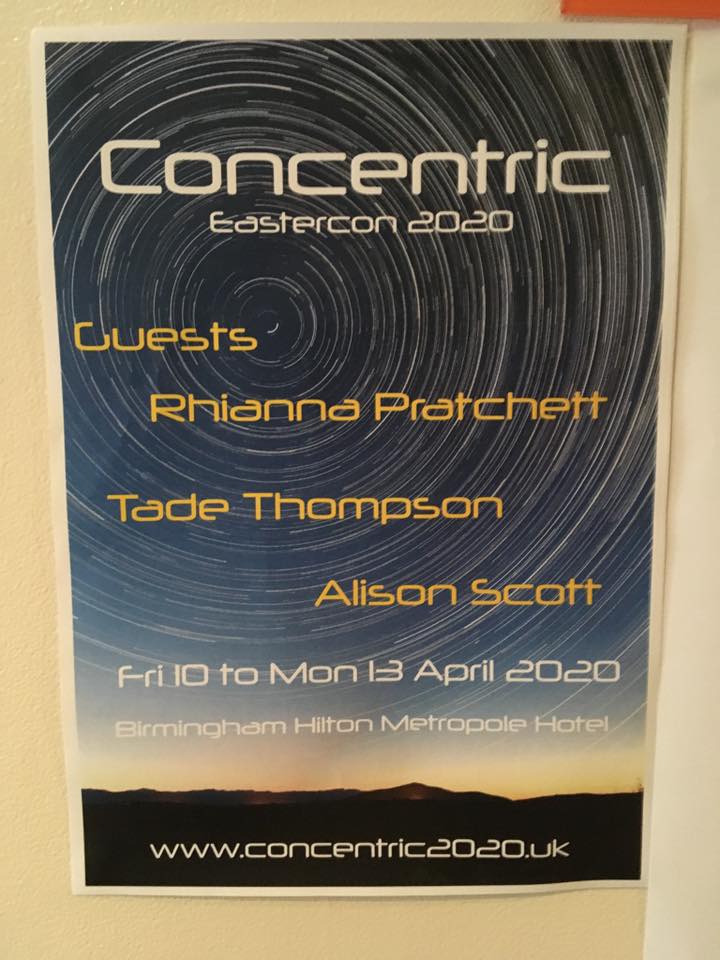 (9) ON THE AIR. Eneasz Brodski offers a "Crash Course in Creating a Podcast" at Death Is Bad.
1. Bona fides

I'm Eneasz Brodski. I produce the Methods of Rationality podcast. It began as me, in my bedroom, with a lot of enthusiasm and a handheld mic after a few hours of research. As of this writing it's been 6.5 years since I started. I've spent over 10,000 hours working on this podcast, I've produced over ninety hours of audio fiction spread across 185 episodes, totaling almost 4.5 million downloads. I've been a finalist for the Parsec Awards three times. I've never done professional audio work, but I have some idea of how to get an amateur podcast going.
(10) WOLFE'S MEANING. In a New Republic article, Jeet Heer declares "Gene Wolfe Was the Proust of Science Fiction".
…News of Wolfe's passing spread on the internet on Monday morning, as the first images of the fire at Notre-Dame also started circulating. Many Wolfe fans were struck by the coincidence. "Gene Wolfe is dead and Notre-Dame is engulfed in flames," the writer Michael Swanwick tweeted. "This is the Devil's own day." Swanwick's grief is understandable. Yet Wolfe himself might offer more consoling counsel. Death and life, his work often showed, are not so much opposites but partners, with the passing of the old being the precondition for the birth of the new. Cathedrals can burn but they can also be rebuilt, and in fact all cathedrals are in a constant state of maintenance and repair….
(11) MARTIN BÖTTCHER OBIT. German film composer Martin Böttcher (1927–2019) died April 19. Cora Buhlert pays tribute — "In Memoriam Martin Böttcher".
…But Böttcher's most famous film score would be the one he composed for Horst Wendlandt's other series, the Winnetou movies of the 1960s, based on Karl May's adventure novels. Ironically, Martin Böttcher himself had never read a single Winnetou novel, which must make him one of the very few Germans of his generation who did not read Karl May. When someone asked him why he didn't read the novels, Böttcher answered, "I've seen every single Winnetou movie dozens of times. I know how the story goes. I don't need to read it."

I've written about the Winnetou movies and what they meant for several generations of Germans before, so let's just listen to Martin Böttcher's iconic Old Shatterhand theme….
(12) TODAY'S BIRTHDAYS.
[Compiled by Cat Eldridge.]
Born April 22, 1916 — Virginia Heinlein. Editor of Grumbles from the Grave. Also allowed Tramp Royale to be published after her husband's death. And for some reason allowed longer versions of previously published works Stranger in a Strange Land, The Puppet Masters, and Red Planet to be published. Anyone read these? Used bookstores here frequently had copies of Stranger in a Strange Land so buyers didn't hold on to it… (Died 2003.)
Born April 22, 1934 — Sheldon Jaffery. Bibliographer who was a fan of Weird Tales, Arkham House books, pulps, and pretty much anything in that area. Among his publications are Collector's Index to Weird Tales (co-written with Fred Cook), Future and Fantastic Worlds: A Bibliographical Retrospective of DAW Books (1972-1987) and Horrors and Unpleasantries: A Bibliographical History and Collector's Price Guide to Arkham House. He also edited three anthologies which Bowling Green Press printed, to wit Sensuous Science Fiction from the Weird and Spicy Pulps, Selected Tales of Grim and Grue from the Horror Pulps and The Weirds: A Facsimile Selection of Fiction From the Era of the Shudder Pulps. (Died 2003.)
Born April 22, 1937 — Jack Nicholson, 82. I think my favorite role for him in a genre film was as Daryl Van Horne in The Witches of Eastwick. Other genre roles include Jack Torrance in The Shining, Wilbur Force in The Little Shop of Horrors, Rexford Bedlo in The Raven, Andre Duvalier in The Terror, (previous three films are Roger Corman productions), Will Randall in Wolf, President James Dale / Art Land in Mars Attacks! and Jack Napier aka The Joker in Tim  Burton's The Batman. I watched the last one, was not impressed.
Born April 22, 1946 — John Waters, 73. Yes, he did horror films, lots of them. Shall we list them? There's Multiple Maniacs, Suburban Gothic, Excision, Blood Feast 2: All U Can Eat and Seed of Chucky. The latter described as a "supernatural black comedy horror film" on Wiki. He also narrates Of Dolls and Murder, a documentary film about a collection of dollhouse crime scenes created in the Forties and society's collective fascination with death.
Born April 22, 1950 — Robert Elswit, 69. Cinematographer. An early short film he worked on was a 1982 TV adaptation of the Ray Bradbury short story "All Summer in a Day." He began his career as a visual effects camera operator working on films like Star Trek: The Motion Picture, The Empire Strikes Back, and E.T. the Extra-Terrestrial. He worked on Mission: Impossible – Ghost Protocol and Mission: Impossible – Rogue Nation. 
Born April 22, 1959 — Brian Taves, 60. Author of The Jules Verne Encyclopedia and Hollywood Presents Jules Verne: The Father of Science Fiction on Screen.  He also wrote Talbot Mundy, Philosopher of Adventure: A Critical Biography. Mundy is the author of the Jimgrim / Ramsden stories, a fantasy series. 
Born April 22, 1966 — Jeffrey Dean Morgan,53. He's best known for his roles as Dr. Edward Marcase in The Burning Zone, John Winchester on Supernatural, the Comedian in Watchmen, Negan on The Walking Dead  and Harvey Russell in Rampage. He also played Jeb Turnbull in Jonah Hex. And was Thomas Wayne in Batman v. Superman though he was uncredited for it. 
Born April 22, 1984 — Michelle Ryan, 35. She appeared as the evil sorceress Nimueh in Merlin, and as Lady Christina de Souza in the Doctor Who episode "Planet of the Dead" in the era of the Tenth Doctor. She was also in the comedy film Cockneys vs Zombies as Katy,and played Elanor in Andron. And yes, they rebooted the Bionic Woman series in which she played the lead character Jaime Sommers. It lasted nine episodes. Points to who remembers the original actress without looking her up. 
(13) TV ON THE CHEAP Because Filers may still have time still available for consuming video content – yeah, right — ZDNet points you at the "10 best free video streaming services for cord cutters".
It's possible to watch a lot of excellent movies and TV shows for free — if you know how.

When cord-cutting became a thing, it was all about saving money. Today, cord-cutting costs are catching up with cable. Indeed, with Disney Plus coming, with its must-watch package of Marvel Universe, Star Wars, and Disney films, plus internet TV streaming services like AT&T DirecTV Now drastically raising its prices, I can easily see a cord cutter's total viewing bill crossing the $100-a-month barrier.

Fortunately, there are some answers.

There's at least one inexpensive TV-bundling service: Philo TV. At $16 a month for three simultaneous streams of 45 popular channels, it's a steal. But, if you can live with commercials, there are at least 10 good free streaming services to try.
(14) AFRICAN VOICES. CNN reports "Netflix to launch all girl superhero animation series from Africa".
As part of its growing acquisition of content from Africa, Netflix has announced its first original African animated series – Mama K's Team 4.

The series is produced by award-winning South Africa based studio, Triggerfish Animation, and London based kids and family entertainment specialist, CAKE.

Mama K's Team 4 tells a story of four teenage girls living in a futuristic version of Lusaka, Zambia's capital city. The girls are recruited by an ex-secret agent to save the world.

Designed by Cameroonian artist Malcolm Wope, the animation drew inspiration for the visuals from retro 90s hip hop girl groups, Netflix said in a statement announcing the deal….
(15) BY THE BOOK. Steve J. Wright has completed his Hugo Novel finalist reviews.
(16) COMMEMORATIVES. These BrexitStamps are over a year old – but news to me!
(17) NAVIGATING BY THE PUPPY CONSTELLATION. Lou Antonelli has launched a semiprozine for original sff, Sirius Science Fiction, which offers $25 for each original story upon publication.
WHO WE ARE

Sirius Science Fiction is an on-line web site dedicated to publishing original speculative fiction – science fiction, fantasy, alternate history and horror. We like stories with a sense of wonder and excitement.

In a time when mainstream speculative fiction has been overrun by political correctness and identity politics, we offer a venue free of pretension and ideological litmus tests.

Sirius Science Fiction publishes one original short story a week, plus occasional reprints. Original stories are posted every Friday.
(18) SPOILER WARNING. Well, beware if you're a fluent Rot-13 speaker. Here's the surprise ending to "Beyond the Bounds of Genius: Chapter 8" of Timothy the Talking Cat's autobiography:
Fbba jr fnj gur Juvgr Pyvssf bs Qbire be ng yrnfg gung'f jung jr nffhzrq gurl jrer ohg rirelobql ryfr jnf fubhgvat "VPR ORET!" Orsber lbh pbhyq fubhg "zna gur yvsr obngf" gur fuvc jnf fvaxvat naq Pryvar Qvba jnf fvatvat naq rirelguvat jnf orpbzvat irel pbashfvat.
(19) YAKETY-YAK. Here's some art by an Ursula Vernon admirer:
(20) OLD GAME. NPR tells how "For Mongolia's Ice Shooters, Warmer Winters Mean A Shorter Sports Season".
On a bright Sunday afternoon in early March, the Tamir River in the steppes of Mongola becomes a bowling alley. Two dozen Mongolian herdsmen have gathered to play musun shagai, known as "ice shooting." Right now, the ice on the river is perfect. Clear and smooth. The players are cheerful and focused.

Their goal? To send a small copper puck called a zakh down a 93-yard stretch of ice and knock over several cow ankle bones, painted red, none bigger than a golf ball, at the other end. Extra points for hitting the biggest target, made of cow skin.

Together, the targets form a line of tiny red dots that are difficult to see, let alone hit. When that happens, players know because the spectators raise a boisterous cheer.

…This competition, originally scheduled for mid-March, was bumped up by two weeks. "The river was already melting," Gurvantamir said.
(21) IRON ART. Lots of photos accompany NPR's feature "The Beauty And The Power Of African Blacksmiths".
In the fictional world of Marvel's Black Panther, the Afro-futurist utopia of Wakanda has a secret, almost magical resource: a metal called vibranium. Its mythic ability to store energy elevated vibranium to a central role in the fictional nation's culture and the metal became part of Wakandan technology, fashion and ceremony.

Of course vibranium isn't real. But one metal has held a similarly mythic role for over 2,000 years in many cultures across the African continent: iron.

African blacksmiths have been crafting agricultural tools, musical instruments, weapons and symbols of power and prestige out of the raw material for ages. "Striking Iron: The Art of African Blacksmiths," a new exhibit at the National Museum of African Art in Washington, D.C. showcases Africa's rich history of ironworking through 225 tools, weapons and adornments from over 100 ethnic groups across Africa.
(22) SMOKE GETS IN YOUR EYES. "SpaceX capsule suffers 'anomaly' during tests in Florida".
SpaceX has confirmed that its Crew Dragon capsule suffered an "anomaly" during routine engine tests in Florida.

A US Air Force spokesperson told local press the incident, at Cape Canaveral Air Force Station, had been contained and no-one had been injured.

An unmanned Crew Dragon successfully flew for the first time last month.

This latest incident, however, could delay plans to launch a manned mission to the International Space Station later this year.

Not since the end of the Space Shuttle programme in 2011 has the US been able to send its own astronauts into orbit. It has had to rely instead on Russia and its Soyuz spacecraft.
(23) A 'STAN LEE' MOMENT. Daniel Dern asks:
Wanna get caught up on the Avengers: Endgame related comics… or just overload your eyeballs and brain in general?

Try a month of the Marvel Unlimited streaming comic service for $4.99 (normall $9.99/month, jumps to that if you don't cancel). ~ 25,000 digitized Marvel comics (ranging from from-the-beginning-of-time through at-least-six-months-old).

Best on, sigh, a tablet that can view a comic full size, like the non-cheap iPad Pro 12.9. (which is why I bought one a year or so ago).
(24) AFTER SHAKESPEARE. This is far beyond what prompted Independence Day's Wil Smith to demand, "What's that smell?" "Nathan Lane Cleans Up Broadway's Biggest Pile of Dead Bodies in 'Gary: a Sequel to Titus Andronicus'".
Even before the lushly designed curtain rises on Taylor Mac's Gary: A Sequel to Titus Andronicus, which opens Sunday night on Broadway (at the Booth Theatre, to Aug. 4), the fluids start shooting forth.

A woman appears and begins to spurt blood from her slashed neck. The blood flies out sporadically, and this looks a little precarious if you are in the front two rows. The woman, inevitably raspy of voice given her injury, muses on the nature of sequels and revenge.

Then the curtain rises on one of the great stage designs of this Broadway season. The sight of hundreds of human bodies immediately confronts the audience….

In this banqueting hall turned charnel house, there is the prosaically named Gary (Nathan Lane), a former clown now turned laborer, here to do some tidying up of bodies before the inauguration of a new leader the next day. "Bit more of them than I was expecting," he says of the bodies. His voice is Cockney. Lane—orbiting in his brilliant way from shy to showman, naughty schoolboy to moral fulcrum—at first seems like a mischief-maker, bored on the job and up for fun.

The fourth wall stays permeable throughout; the actors stare out at us, puzzled at our applause….
(25) DERAILERS. ScreenRant shares "10 Superhero Deleted Scenes That Could Have Changed Everything."
Deleted scenes in movies are fun to watch but they are even more fun to watch when they are from superhero films. Instead of arguing over which Universe you enjoy more, DC or Marvel, sit back and watch these deleted scenes and let us know what you think in the comments below. Let's take a look at Screen Rant's video, ten Superhero Deleted Scenes That Could Have Changed Everything. And we have the plot holes from some of your favorite movies including the X-Men series, Marvel's Iron Man, the Hugh Jackman film Logan, Batman V Superman: Dawn of Justice plus many more.
[Thanks to JJ, Cat Eldridge, Chip Hitchcock, Martin Morse Wooster, John King Tarpinian, World Weary, Daniel Dern, Mike Kennedy, Daniel Dern, Carl Slaughter, and Andrew Porter for some of these stories. Title credit goes to File 770 contributing editor of the day Rob Thornton.]