(1) THE CITY WITH TWO NAMES TWICE. N. K. Jemisin will join W. Kamau Bell, host of CNN series United Shades of America (and her cousin) on June 16 for a discussion of sci-fi, Afrofuturism, and her most recent novel The City We Became. The event is hosted by the New York Public Library. Hyperallergic has the story: "A POC-Centered Vision of NYC From NK Jemisin, Celebrated Sci-Fi Author".
…Next Tuesday (June 16), Jemisin will join comedian W. Kamau Bell for a discussion of sci-fi, Afrofuturism, and her most recent novel, The City We Became, presented by the New York Public Library. The novel, which brings her unique brand of speculative fiction a little closer to earth, is set in a version of New York City where the future is threatened by an ancient evil that seeks to divide and destroy its community by capitalizing on its differences (sound familiar?). The City We Became imagines cities as living, sentient organisms that take shape as individual human avatars. New York and its five boroughs are embodied as mainly Black and brown folks (Staten Island and the nefarious Enemy that threatens the city are not insignificantly imagined as white women).

At a moment when New York City is slowly beginning to reopen amid the ongoing coronavirus pandemic, while simultaneously considering numerous pieces of legislation that could combat pervasive police brutality against Black people, Jemisin's POC-centered speculations about the future of this city feel especially timely.

Where: Online, via NYPL
When: June 16, 8–9pm EDT
See the NYPL event page for more information.
(2) FREE READS. John Joseph Adams has made three of Lightspeed's People Of Colo(U)R Destroy Special Issues available as free downloads.
(3) THE HEART OF YOUR WEEKEND. Essence of Wonder with Gadi Evron will host several of the "Hugo Finalists for Best Novella and Best Novelette 2020" on its June 13 program, including Seanan McGuire, Sarah Gailey, Sarah Pinsker, Siobhan Carroll, and Amal El-Mohtar. Facilitating the discussions will be Vincent Docherty and Karen Castelletti.
The episode will also feature a Sara Felix Tiara Giveaway and "Tammy Coxen's Mixology Show Corner."
(4) STOKERCON UK: STRIKE TWO. StokerCon UK has postponed again, having decided its new August dates are no longer tenable. New dates forthcoming.
As per previous communications, like all of you we have been closely monitoring the NHS and UK Government guidelines as they have evolved over the past weeks and months, and the situation with regard to COVID-19 is still extremely changeable.

We have done everything we can to try to continue with StokerCon UK in August but, unfortunately, this is still a fast-changing situation and, with the worldwide situation and the current government guidelines as they stand now, we are left with no choice but to postpone the convention once again as we feel it would be irresponsible to push ahead and put anyone's health at risk, apart from the obvious issues with social distancing, travel etc. Safety has to be the paramount concern for all involved.

We will advise new dates in the next week, as we're currently finalising details of this with the hotels and will advise plans moving forward for everyone who has already signed-up to attend. We understand how disappointing this will be to many of you, and share that disappointment, but we want to make sure our members are safe, and postponing will be the best way to try and achieve that.
(5) THE SUN GIVES ABUSER PAGE ONE. Right after J.K. Rowling published an essay defending her views on gender and sex, in which she revealed she is the survivor of domestic abuse in her first marriage, UK tabloid The Sun tracked down her former husband for a front-page interview. The Guardian covered the response: "JK Rowling: UK domestic abuse adviser writes to Sun editor".
The government's lead adviser on domestic abuse has written to the editor of the Sun to condemn the newspaper's decision to publish a front page interview with JK Rowling's first husband, under the headline: "I slapped JK and I'm not sorry."

In the letter seen by the Guardian, Nicole Jacobs, the independent domestic abuse commissioner, said it was "unacceptable that the Sun has chosen to repeat and magnify the voice of someone who openly admits to violence against a partner".

Jacobs joined a chorus of voices speaking out against the newspaper, which described the remarks by Rowling's ex as a "sick taunt" against the Harry Potter creator.

"The media can play a vital role in shining a light on this issue and bringing it out of the shadows, but articles such as this one instead feed the shame that so many survivors will feel every day, minimising their experiences and allowing perpetrators to continue to abuse without fear of consequence," Jacobs wrote to Victoria Newton, who was appointed the Sun's editor in February.
(6) WRITERS OFFERED INSURANCE PROGRAM. The Book Industry Health Insurance Partnership, a coalition of 10 organizations that includes SFWA, has partnered with Lighthouse Insurance Group Solutions to "provide its members with a choice of health insurance options, including ACA-compliant major medical, Medicare/supplements, short-term policies, vision, dental, critical care, supplemental coverage, as well as small group/Health Reimbursement Arrangements."
The Authors Guild noted in a recent press release that the coalition also includes the American Booksellers Association, American Society for Indexing, Book Industry Study Group, Graphic Artists Guild, Independent Book Publishers Association, Novelists Inc., and Western Writers of America.
(7) ANIMATED, BUT NOT REANIMATED. NPR's Glen Weldon finds light in an apocalypse: "'Kipo And The Age Of Wonderbeasts' Returns, Weirder And Warmer Than Ever".
No, I hear you: Now doesn't seem the ideal moment to Netflix-and-chill with an animated series about the last vestiges of humanity struggling to survive.

I mean, imagine the pitch meeting:

"The future.

"Cities lie in ruin.

"The surface of the earth is overgrown with plant life — and with overgrown animals: mutated beasts, 300 feet tall, that stomp across the land hunting for prey.

"Which is to say: for humans, who, now firmly at the bottom of the food chain, have retreated to vast underground burrows to protect themselves."

It all sounds … pretty bleak, I get that. Depressing, even. Like if you mashed up The Walking Dead with the popular anime series Attack on Titan, in which gruesome giants gobble up humanity's last survivors like so many chocolate-covered cherries.

And I haven't even mentioned the violent gangs of mutant, human-sized animals who've staked out their own territories, making the Earth's surface a deadly place for the few humans who still live there.

And yet?

Netflix's Kipo and the Age of the Wonderbeasts, which returns for a second season Friday, June 12, manages to be anything but bleak and depressing. It's bright and sunny, colorful and funny, and … then, there are those tunes.
(8) O'NEIL OBIT. Comic book writer Denny O'Neil died June 11 at the age of 81. Games Radar's tribute is here.
…O'Neil was best known for his work on Batman, which included writing Batman, Detective Comics, and Batman: Legends of the Dark Knight, as well as editing DC's Batman titles from 1986 to 2000. He, editor Julius Schwartz, and artist Neal Adams are credited for guiding the Dark Knight back to his darker roots after a period of campiness brought on by the success of the 1960s Batman TV series….
(9) MEDIA BIRTHDAY.
June 12, 1956 — X Minus One's "If You Was A Moklin" was aired for the first time. Written by Murray Leinster (published in Galaxy, September 1951) who would win a number of Hugos in his career (L.A. Con III awarded him a Retro Hugo Novelette for "First Contact", published in Astounding May 1945; NY Con II would give him Best Novelette for "Exploration Team", published in Astounding March 1956; and he's up this year for a Retro Hugo Novella for "Trog", published in Astounding Science Fiction, June 1944.) This story is about a planet that has a strange imitative trait it shows in producing its offspring. Or so it seems. Adapted as usual by Ernest Kinoy. The cast was Joe Julian, Patricia Weil, Karl Weber and Ralph Camargo. You can listen to hear it here.
(10) TODAY'S BIRTHDAYS.
[Compiled by Cat Eldridge and John Hertz.]
Born June 12, 1856 – Georges Le Faure. Among a dozen popular swashbuckling novels, War Under Water against Germany; The Extraordinary Adventures of a Russian Scientist (with Henry de Graffigny, 4 vols.; tr. in 2 vols. 2009) with an explosive that could destroy the world, a Space-ship faster than light, visits to other planets, aliens. Verne was first but not alone. (Died 1953) [JH]
Born June 12, 1914 – Frank Kelly. Two novels, half a dozen shorter stories, from this pioneer. "Light Bender" was in the June 1931 Wonder Stories – he was 15! Later a speechwriter for Harry Truman; vice-president, Center for the Study of Democratic Institutions. "My Interplanetary Teens" in the June 1947 Atlantic. Fiction outside our field in The New Yorker and Esquire. First Fandom Hall of Fame. (Died 2010) [JH]
Born June 12, 1914 — William Lundigan. Col. Edward McCauley in the Fifties serial Men into Space which lasted for thirty-eight episodes. He really didn't do any other SF acting other than showIng up once on Science Fiction Theater. (Died 1975.) (CE)
Born June 12, 1927 — Henry Slesar. He had but one genre novel,Twenty Million Miles to Earth, but starting in the Fifties and for nearly a half century, he would write one hundred sixty short stories of a genre nature, with his first short story, "The Brat" being published in Imaginative Tales in September 1955. He also wrote scripts for television — CBS Radio Mystery Theater (which, yes, did SF), Tales Of The Unexpected, the revival version of the Twilight Zone, Batman, The Man from U.N.C.L.E., and genre adjacent, lots of scripts for Alfred Hitchcock Presents. (Died 2002.) (CE)
Born June 12, 1940 — Mary A. Turzillo, 80. She won the Nebula Award for Best Novelette for her "Mars is No Place for Children" story, published in Science Fiction Age. Her first novel, An Old Fashioned Martian Girl was serialized in Analog, and a revised version, Mars Girls was released. Her first collection to polish her SWJ creds is named Your cat & other space aliens. Mars Girls which I highly recommend is available from the usual digital suspects. (CE)
Born June 12, 1945 — James Stevens-Arce, 75. Encyclopedia of Science Fiction says that "James Stevens-Arce, is perhaps the first Puerto Rican to publish sf, and the most prolific." He has but one novel, Soulsaver which won thePremio UPC de Ciencia Ficción, and a double handful of short stories which do appear to have made to the digital realm.(CE)
Born June 12, 1946 – Sue Anderson. Fannish musicals with Mark Keller, performed at 1970s Boskones: Rivets, Rivets Redux, Mik Ado about Nothing (note Gilbert & Sullivan allusion), The Decomposers. George Flynn, Anne McCaffrey, Elliot Shorter are gone, but Chip Hitchcock was in some or all and I'm counting on him to explain what really happened. Three short stories (one posthumously in Dark Horizons 50), and this cover with Stevan Arnold for Vertex. (Died 2004) [JH]
Born June 12, 1948 – Etienne Sándorfi. Hungarian hyperrealist painter. It was said that he painted like an assassin; also that, working at night, he went to bed each day later than the day before, puzzling his daughters. Ten interiors for Omni. The Wayback Machine has this interview; see some of his paintings here (Madeleine), here (nature morte organes). (Died 2007) [JH]
Born June 12, 1948 — Len Wein. Writer and editor best known for co-creating (with Bernie Wrightson) Swamp Thing and co-creating Wolverine (with Roy Thomas and John Romita Sr.) and for helping revive the the X-Men. He edited Watchmen which must have been interesting. He's a member of the Will Eisner Award Hall of Fame. (Died 2017.) (CE)
Born June 12, 1955 — Stephen Pagel, 65. Editor with Nicola Griffith of the genre anthologies, Bending the Landscape: Science Fiction, Bending the Landscape: Fantasy, and Bending the Landscape: Horror. (CE)
Born June 12, 1963 – Franz Miklis. Austrian artist active for decades in fanart (see here and here) and otherwise (see here and here). His Website is here. [JH]
Born June 12, 1970 – Claudia Gray. A score of novels, some in the Star Wars universe; a few shorter stories; translated into Dutch, French, German, Portuguese. Her Website is here ("Bianca, Tess, Nadia, Skye, Marguerite, and Noemi aren't that much like me. For example, they all have better hair"; also "Read as much as you can…. Read the stuff you love. Read the stuff you never thought you'd love"). [JH]
(11) LEND ME YOUR EARS. This item went under the hammer today at Heritage Auctions: "The Mouse Factory 'The Mystery of Mickey's Ears Revealed'". It was bid up to $800 when I looked.
The Mouse Factory "The Mystery of Mickey's Ears Revealed" Illustration by Ward Kimball Original Art (Walt Disney, c. 1970s). Walt Disney like to say, "I only hope that we don't lose sight of one thing – that it was all started by a mouse." Mickey's trademark ears have been a source of conversation since the famous mouse was born in 1928. Created by Walt Disney and Ub Iwerks, Mickey is characterized as a cheerful and mischievous "little guy" with ears that move strangely. In the early 1970s, Disney Legend Inductee and one of "Walt's Nine Old Men", Ward Kimball (1914 – 2002) attempted to clear up the matter and explain the mystery of Mickey's ears on the television show, The Mouse Factory. In this lot is a rare illustration by Kimball showing Mickey in front and side views with an explanation on how his ears move independently as he moves his head.
(12) BE SEATED. In "Episode 29: Omphalistic Hugosity" of Two Chairs Talking (no relation to Arthur "Two Sheds" Jackson), former Aussiecon chairs David Grigg and Perry Middlemiss talk about the shorter fiction nominees for the 2020 Hugo Awards, and then take the Hugo Time Machine back to 1962, when Stranger in a Strange Land won Best Novel.
(13) PIED-À-TERRE. If people don't feel so much like squeeing over Harry Potter this week, who can blame them? This is still a remarkable place, as the photos show: "You can stay in a massive 'Harry Potter'-themed Airbnb with 8 bedrooms that'll transport you right to Hogwarts".
Loma Homes translated the magic of "Harry Potter" into an epic new rental just 30 minutes away from The Wizarding World of Harry Potter at Universal Orlando.

The Wizard's Way villa has eight themed bedrooms with 10 beds, five bathrooms, and dozens of book and movie Easter eggs that fans of the franchise will love.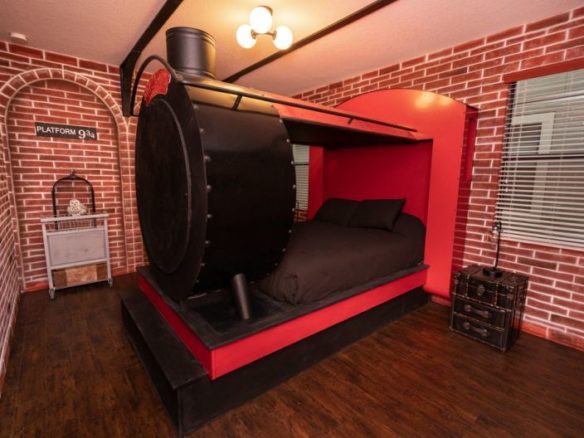 (14) AVATAR. [Item by Cliff.] This video demonstrates a digital avatar created by the company founded by an ex-colleague of mine.
This demo showcases a cutting edge end-to-end virtual assistant prototy[e developed by Pinscreen. The entire Avatar runs on the cloud and is streamed directly onto a web browser. This demo highlights a real-time facial AI-synthesis technology based on paGAN II, cutting edge NLP, voice recognition, and speech synthesis. None of the conversation is scripted.
(15) MURDER(BOT) SHE WROTE. Camestros Felapton has many kind (but non-spoilery) words to say about Martha Wells' new novel: "Murderbot: Network Effect".
I sort of gave up reviewing Murderbot a few novellas ago. There is a sense that actually the plot really doesn't matter and the simplest explanation of an instalment is that its a Murderbot story and the reader either knows the formula or doesn't and if they don't then see earlier reviews. However, that belies how much I enjoy each and every one of Martha Wells's brilliant episodes of Murderbot's continuing adventures.

The essence of the formula is the juxtaposition of this incredibly vulnerable highly competent killing machine. Murderbot has been shot and blasted and zapped but the struggles with their own sense of self and connections with other people pulls you in….
(16) BOSE-EINSTEIN CONDENSATE, THE NEW CHILL SMOOTHIE. Slashdot reports "Scientists Have Made Bose-Einstein Condensates in Space for the First Time". And what the heck is that, you ask…
On board the International Space Station since May 2018 is a mini-fridge-size facility called the Cold Atom Lab (CAL), capable of chilling atoms in a vacuum down to temperatures one ten billionth of a degree above absolute zero. It is, for all intents and purposes, one of the coldest spots in the known universe. And according to a new study published in Nature, scientists have just used it to create a rare state of matter for the first time ever in space. From a report:

Bose-Einstein condensates, sometimes called the fifth state of matter, are gaseous clouds of atoms that stop behaving like individual atoms and start to behave like a collective. BECs, as they're often called, were first predicted by Albert Einstein and Satyendra Nath Bose over 95 years ago, but they were first observed in the lab by scientists just 25 years ago. The general idea when making a BEC is to inject atoms (in the case of CAL, rubidium and potassium) into an ultra-cold chamber to slow them down. A magnetic trap is then created in the chamber with an electrified coil, which is used along with lasers and other tools to move the atoms into a dense cloud. At this point the atoms "kind of blur into one another," says David Aveline, a physicist at NASA's Jet Propulsion Laboratory, and the lead author of the new study.
(17) VIDEO OF THE DAY. "Creative Writing Advice From Neil Gaiman" on YouTube is a 2015 compiilation by Nicola Monaghan of excerpts from speeches Gaiman has given on writing.
[Thanks to Cliff, Mike Kennedy, Andrew Porter, JJ, Chip Hitchcock, John King Tarpinian, Martin Morse Wooster, John Hertz, Cat Eldridge, Daniel Dern, and Michael Toman for some of these stories. Title credit belongs to File 770 contributing editor of the day Bill.]