(1) CASUALTY OF INTOLERANCE. Al Davison's writeup about being harassed on the street in his hometown of Coventry comes recommended by James Bacon with the note: "New Britain — bigots empowered — comic artist and martial arts expert Al Davison racially abused. His view and experience must be read. A decent man doesn't want to live here anymore and fears for those who are kind to him. It's not good."
WHY I DON'T WANT TO LIVE HERE: Sunday night I'm almost home, it's started raining, I'm rushing because my immune system sucks, I only have to smell rain and I get ill. Two men on the other side of the road shout 'Fu**in' islamist cripple! One adds, 'takin our fu**in' benefits', while the other shouts, 'What happened, didn't your fu**in' suicide vest do the job properly?'

They get a bit ahead walking backwards so they can keep looking at me, the older of the two, puts his hand two his mouth and laughs 'Sorry mate, thought you were a P*ki, Sorry, 'And what if I was', I shout', still looking ahead, and not at them. The other responds with, 'why you sayin' sorry, he's still a fu**in' scroungin' cripple." They start chanting 'scrounger', and and literally dance off down the road, like a couple of teenagers, the youngest was in his thirties, the other around fifty. Morons. I have a beard and wear a hat, that makes me an islamist! I know I am more than capable of defending myself, I've survived numerous physical attacks, but many aren't equiped to defend themselves the way I am. 'WE SHOULDN'T FU**KING HAVE TOO! …
(2) PRIME TIME. The CBC has the story: "Justin Trudeau joins Canadian superheroes for Marvel Comics cover".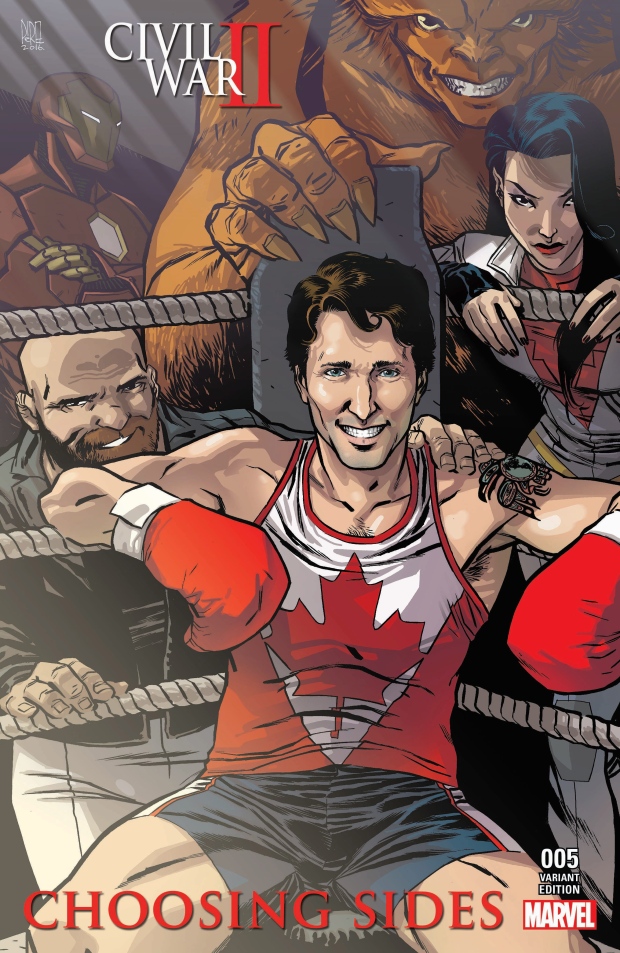 Make way, Liberal cabinet: Prime Minister Justin Trudeau will have another all-Canadian crew in his corner as he suits up for his latest feature role — comic book character.

Trudeau will grace the variant cover of issue No. 5 of Marvel's "Civil War II: Choosing Sides," due out Aug. 31.

Trudeau is depicted smiling, sitting relaxed in the boxing ring sporting a Maple Leaf-emblazoned tank, black shorts and red boxing gloves. Standing behind him are Puck, Sasquatch and Aurora, who are members of Canadian superhero squad Alpha Flight. In the left corner, Iron Man is seen with his arms crossed.

"I didn't want to do a stuffy cover — just like a suit and tie — put his likeness on the cover and call it a day," said award-winning Toronto-based cartoonist Ramon Perez.

"I wanted to kind of evoke a little bit of what's different about him than other people in power right now. You don't see (U.S. President Barack) Obama strutting around in boxing gear, doing push-ups in commercials or whatnot. Just throwing him in his gear and making him almost like an everyday person was kind of fun."

The variant cover featuring Trudeau will be an alternative to the main cover in circulation showcasing Aurora, Puck, Sasquatch and Nick Fury.

Trudeau follows in the prime ministerial footsteps of his late father, Pierre, who graced the pages of "Uncanny X-Men" in 1979. [Volume 120]
(3) VICE VERSA SQUAD. Camestros Felapton reviews "Batman versus Superman: Or Is it Vice Versa".
I finally watched Batman versus Superman: Dawn of Justice. This was the Extended Cut and at least one review I've read suggest that the extra 30 minutes makes the film substantially better. Ah. Hmm. I didn't see the theatrical version but either that was a huge mess of a film or the extra 30 minutes made the central problem far worse. This was a film that needed editing or some sort of substantial re-jigging. Perhaps what hit the theatres was a failed attempt at that?

Beyond this point there are spoilers aplenty – so don't read on if you don't want to discover who the alter-ego of Superman is or what house Batman lives in [HINT: its an anagram of Mayne Wanor].
(4) GAIMAN'S NEXT. "Neil Gaiman Delves Deep Into Norse Myths for New Book" announced the New York Times.
Mr. Gaiman's forthcoming book "Norse Mythology," which Norton will publish next February, is an almost novelistic retelling of famous myths about the gods of Asgard. The book will explore the nine Norse worlds, which are populated by elves, fire demons, the Vanir gods, humans, dwarves, giants and the dead. There are ice giants and elves, familiar deities like Thor, Odin (the wise and occasionally vengeful highest god) and Loki (the giant trickster), and a frightening doomsday scenario, Ragnarok, where the gods fight a fire giant with a flaming sword in an apocalyptic, world-ending battle.
Gaiman joked about his posed photo accompanying the article.
I look at the photo & see a really brilliant tree, with a decorative author, so noone knows the tree wrote the book: https://t.co/IuqOKcNyh0

— Neil Gaiman (@neilhimself) June 29, 2016
@neilhimself The tree's prose is usually so wooden, though. Hopefully you got it it to branch out, and it will flower under your tutelage.

— John Scalzi (@scalzi) June 29, 2016
(5) THE FIRST. Petréa Mitchell noted in comments that The Atlantic has an article on the adoption of word processors by writers which includes anecdotes about Jerry Pournelle and Isaac Asimov, and some general comments on the effect of word processors on sf writing.
Robinson Meyer: "Who was the first author to write a novel on a word processor?" You cast that question as what drove you to write this book. Is there something close to a definitive answer for it?

Matthew Kirschenbaum: We can't know with absolute certainty, I don't think, but there are a couple of different answers.

If we think of a word processor or a computer as something close to what we understand today—essentially a typewriter connected to a TV set—there are a couple of contenders from the mid- to late-1970s. Notably Jerry Pournelle, who was a science fiction author. He is probably the first person to sit and compose at a "typewriter" connected to a "TV screen"—to compose there, to edit, and revise there, and then to send copy to his publisher. That was probably a novella called Spirals.

If we move back a little bit further, there's an interesting story about a writer named John Hersey, the novelist and journalist. He did the famous book Hiroshima. He was at Yale in the early 1970s, so maybe about five years before Pournelle, and he worked on one of the mainframe systems there. He didn't compose the draft of the novel he was working on at the keyboard, but he did edit it, and use the computer to typeset camera-ready copy.

So those are two candidates.

And yet neither of them is Kirschenbaum's choice…
(6) MEANWHILE, BACK IN THE 21ST CENTURY. Tobias Buckell has a post on "How to collaborate on fiction in 2016 using pair programming, Skype, and Google Docs".
I just finished a new collaboration. It's a short story of nearly 10,000 words that will be in Bridging Infinity (you can pre-order here), edited by Johnathan Strahan "The latest volume in the Hugo award-winning Infinity Project series, showcasing all-original hard science fiction stories from the leading voices in genre fiction."

The writer I collaborated with was Karen Lord, who currently lives in Barbados (author of Galaxy Games, Redemption in Indigo, you're reading her, right?).
(7) NO POWER. Kim Lao argues "Why You Should Aim for 100 Rejections a Year" at Lithub.
I asked her what her secret was, and she said something that would change my professional life as a writer: "Collect rejections. Set rejection goals. I know someone who shoots for one hundred rejections in a year, because if you work that hard to get so many rejections, you're sure to get a few acceptances, too."

This small piece of advice struck a deep chord in my fragile creative ego. My vulnerable ego only wants to be loved and accepted, to have my words ring out from a loudspeaker in Times Square while a neon ticker scrolls the text across a skyscraper, but it's a big old coward….
(8) LOST SERIES AND VANISHED VISUALIZATIONS. Suvudu will make you nostalgic for a TV show you likely have never heard of before: "'Out of the Unknown': The BBC Sci-Fi Series Americans Should Have Seen".
The Guardian's Phelim O'Neill just published a rather nice review of the long gone BBC science-fiction and horror anthology program "Out of the Unknown". While I've never seen it myself, from what O'Neill wrote, it sounds like it was a real doozy. Consisting of four seasons aired on BBC 2 from 1965 to 1971, "Out of the Unknown" adapted literary works by the likes of Isaac Asimov, Ray Bradbury, and J.G. Ballard.

Out of the 49 episodes filmed, only around 20 or so remain. As "Doctor Who" fans are already aware, it was standard procedure for the BBC to delete old episodes of what was at one time deemed disposable entertainment. Coincidentally, one of the lost episodes of "Out of the Uknown" actually featured Doctor Who's arch nemeses: The Daleks.
(9) ISHER IN AMERICA. Jeb Kinnison, who thinks File 770 readers will be intrigued by the sf aspects of this post, is honestly not optimistic very many will agree with his political comments — "The Justice is Too Damn High! – Gawker, The High Cost of Litigation, and The Weapons Shops of Isher".
Gawker filed for Chapter 11 bankruptcy to avoid paying the bond which would otherwise be necessary to appeal the $140 million judgment against them in the Hulk Hogan sex tape lawsuit. (It's a good thing I don't have to explain that sentence to a time traveler from the last century — would take a long time.) There have been plenty of stories and hot takes on it, so I'll reach back to discuss what the real problem is — the cost of justice is too damn high. ….

Today's United States resembles the Empire of Isher more than a little — a relatively prosperous population, but with layer upon layer of accreted law, regulation, and bureaucracy, with ideals of justice corrupted in practice so that only the wealthiest can afford government-sanctioned courts…. The impunity with which Gawker operated for years while stepping on the privacy rights of people for profit is just one symptom of the inability to get justice at a reasonable price. The simmering resentments of citizens made unknowing scofflaws while going about their lives and the increasing regulatory overhead to start and run a small business are slowing growth and damaging the careers of young people who have been trained to ask permission before trying anything new….
(10) KELLY OBIT. Peter David took note of the passing of a behind-the-scenes figure: Lorna Kelley, RIP.
The chances are spectacular that you have not heard of Lorna Kelly. For the vast majority of you, there is no reason that you would have. Lorna was an auctioneer who worked for Sotheby's for a time–one of the first female fine arts auctioneers in the world–and she recently died of a stroke at the age of 70.

The reason that the David family knew her was because every year for over a decade, she was the auctioneer at the Broadway Bears charity auction sponsored by Broadway Cares/Equity Fights AIDS. Every year she would coax and cajole individuals into bidding ridiculous amounts of money for bears that had been lovingly costumed in exact replicas of Broadway character outfits. But that was hardly the extent of her life. She treated AIDS patients in Calcutta working with Mother Teresa. According to the NY Times, "She also traveled to Senegal, where she vaccinated thousands of children. In Cairo, she ministered to impoverished residents of a vast garbage dump; she likewise served the poor in Jordan, Gaza and the Bronx." To say she led a well-rounded life is to understate it, and we were privileged to have met her and spent time with her.
(11) TODAY'S BIRTHDAY BOYS
Born June 29, 1911 – Bernard Hermann
Born June 29, 1920 – Ray Harryhausen
And did they ever work together? I'm glad you asked – Internet Movie Database shows Hermann did the music for Mysterious Island and Jason and the Argonauts, two films for which Harryhausen created the special visual effects.
(12) GUILLERMO DEL TORO. Another film available to fans and collectors.
Criterion's Pan's Labyrinth 10th anniversary edition! And more news to come soon! pic.twitter.com/GWpToRoiqN

— Guillermo del Toro (@RealGDT) June 27, 2016
Slashfilm covers the news: "Pan's Labyrinth Criterion Collection Release Announced".
The 2006 film is often looked at as the filmmaker's best work, and understandably so. Most of del Toro's films have plenty of heart, horror, and beauty, but Pan's Labyrinth, narratively and dramatically speaking, it is his most satisfying work. Good luck trying not to tear up during Ofelia's (Ivana Baquero) heartbreaking journey.
(13) STRUGATSKY ADAPTATION. In the film of Roadside Picnic, Matthew Goode takes top billing.
The Good Wife and Downton Abbey alum Matthew Goode is set as the lead in WGN America's alien saga pilot Roadside Picnic, based on the famous novel by top Soviet/Russian science fiction writers Arkady and Boris Strugatsky.

Written by Transcendence scribe Jack Paglen, with Terminator Genisys and Game Of Thrones helmer Alan Taylor attached to direct and Neal Moritz producing, Roadside Picnic explores a near-future world where aliens have come and gone, leaving humankind to explore the wondrous and dangerous mysteries left behind. The story also explores the social ramifications of their visit, as seen through the eyes of Red (Goode), a veteran "stalker" who has made it his mission to illegally venture into the once inhabited zone and scavenge the abandoned remains of the alien culture.
(14) MST3K. Ceridwen Christensen may leave you green with envy: "I Attended the MST3K Reunion Show, and It Was Everything I Wanted It to Be" (B&N Sci-Fi & Fantasy Blog.)
Last night at the State Theatre in Minneapolis, I had the absolute pleasure to experience the Mystery Science Theater 3000 reunion show, hosted by Rifftrax, purveyors of downloadable movie-mocking commentary tracks, a company founded by several alums of the show. It also featured members of Cinematic Titanic, likewise the brainchild of ex-MST3K cast members. Last night, they got the band back together, uniting writers and actors from several eras of the show, both past and future. It was a celebration of the fact that Joel Hodgson, the original creator, recently wrapped the most successful film and video Kickstarter of all time: a successful bid to revive the show after more than 16 years off the air; squee. Hodgson riffed on a short with the new lead, Jonah Ray. I think I actually hurt my throat laughing….
(15) DAVID D. LEVINE COMING TO LA. Shades & Shadows 17 will be at Bearded Lady's Mystic Museum in Burbank, CA on July 16. Doors at 7:30 p.m. Readings begin at 8:00 p.m. $10.
It's summer. Everything is on fire, melting, or exploding. Everybody is one power outage away from convincing themselves we've entered the world of Mad Max.

Which, hey, isn't far off from what we're offering. Leave reality behind for a while. Come see what we have on tap as we bring in our mix of award winning authors and emerging voices in the literary scene! It's a genre experience like no other!

Featuring: PAUL TREMBLAY, STEPHEN GRAHAM JONES, VESTA VAINGLORIA, DAVID D. LEVINE, GLEN HIRSHBERG, +1 TBA!
(16) HELP FRAN EVANS. Karen Willson alerted me that contributions are requested to the Fran Evans Assistance Fund (on GoFundMe) to help a longtime LASFSian.
This fundraiser is for a friend of mine, Fran Evans.  Fran just had brain surgery and can't work.

She says that "the money would be used to "pay my bills/rent for the next couple of months while I recovery from having holes drilled in my head.  Whatever moneys I normally get go to my rent, this would help pay the difference and other bills.  Not many, I'm pretty frugal.   I have no credit cards.  If I can't pay by check or debit – it doesn't happen.  Water, for the moment, is free.

"I don't smoke or drink or go shopping.  My idea of a big splurge is a used paperback on Amazon.  I just want  couple of months to heal without any worries about money.  The doctors said about two months before my balance begins to come back online.  I seem to spend a lot of time resting or sleeping.  Gee, wonder why.

"I'd like to get $2,000. to $2,500.  But whatever I can get would be nice."

Fran has worked many years in the film industry and the Bob Burns Halloween show. Folks at conventions will remember her for her backstage help at many events.

Your assistance will mean a lot to Fran.  Thank you for thinking about it!
(17) PROFESSIONAL PREFERENCES. Sarah A. Hoyt advocates for writing in "First Person, Singular".
1- The main reason I like first person singular is that for a moment it tricks you into that space behind the eyes of another person, relieving the loneliness of that narrative voice that can only ever describe your own life.

This is a universal and enduring quality.  I've had teachers tell me — and to an extent they're right — that first person is "less believable" because you KNOW you haven't done those things.

To which I counter that WELL done, with the right balance of external activity and internal dialogue, with just enough of a "touch of nature makes the whole world kin" i.e. of physical sensation that the readers, too, have experienced, it can make you feel it is happening/happened to you.
(18) TIME IN A BOTTLE. At Examined Worlds, Ethan Mills discusses the philosophical questions within the classic sf novel: "At War with Time: The Forever War by Joe Haldeman".
In addition to the emotional scars of returning soldiers, the time dilation speaks to the feeling of aging while the world moves on around you.  This is something I feel acutely as an aging college professor constantly encountering fresh crops of young whipper-snappers with their new fangled cultural references and ways of being!  The time dilation reminds us that we are all at war with time, which is of course relative to the observer's position.  It's also by far the most interesting aspect of the book and allows Haldeman to write the history of the next 1,000 years.

Suffice to say there are some ruminations on this war and war in general.  Why are they fighting?  Why can't they learn more about the alien Taurans?  How is the war the cornerstone of the economy?  Does the war make it possible for the government to control most aspects of society?

The philosophical questions are more implied than pedantically presented.  You don't get anything quite like the classroom scenes of Starship Troopers.  I honestly would have liked a little more explicit philosophy to chew on.
(19) YOUTH REACT. James Davis Nicoll tells me his second post on Young People Read Old SF goes live 9:00 a.m. Thursday.
(20) HUGO CONTENDER. Lisa Goldstein reviews "Short Story: 'Space Raptor Butt Invasion'" for inferior4+1. The last line is the most surprising part of her post:
I have no idea why this story was on the Rabid Puppies' slate.
I believe a lot of readers here could explain it.
(21) SUCCESSFUL COUP IN BRITAIN. The Evening Harold has scooped the mainstream media with its report "Lord Vetinari takes control of the UK" (via Ansible Links.):
The UK is under new leadership this morning following a coup by the Patrician of Ankh-Morpork, Lord Havelock Vetinari…..
[Thanks to Karen Willson, Petréa Mitchell, John King Tarpinian, Taral Wayne, and David K.M. Klaus for some of these stories. Title credit goes to File 770 contributing editor of the day Bruce Baugh.]