The International Board on Books for Young People (IBBY) has named author Jacqueline Woodson (USA) and illustrator Albertine (Switzerland) winners of the 2020 Hans Christian Andersen Awards.
Given every other year by IBBY, the awards recognize lifelong achievement and are presented to an author and an illustrator whose complete works have made an important, lasting contribution to children's literature.
As author, Jacqueline Woodson has a prolific body of writing from picture books to young adult literature, all of which feature lyrical language, powerful characters, and an abiding sense of hope. As illustrator, Albertine creates books with multiple levels of interpretation, with drawings made with infinite precision that are lively and full of humour. 
The criteria used to assess the nominations included "the aesthetic and literary quality as well as the freshness and innovation of each nominee's work; the ability to see the child's point of view and to stretch their curiosity; and the continuing relevance of the work to children and young people." The Award is based on the entire body of work.
IBBY National sections submitted 34 author nominees and 36 illustrator nominees. The jury deliberated each nominee, carefully and thoroughly assessing each candidate while maintaining discussions related to the criteria.
The Author's Award has been given since 1956, and the Illustrator's Award since 1966. The winners each receive a gold medal and a diploma.
2020 Hans Christian Andersen Award Winners
Jacqueline Woodson
She made her debut as an author in 1990 with Last Summer With Maizon, the first book in a trilogy about a friendship between two girls. In the same year she also published The Dear One, a story about teen pregnancy. Her thirty-three books and thirteen short stories range in subjects from foster care to interracial relationships, from drug abuse to the witness protection programme, but all share the common features of lyrical language, powerful characters, and an abiding sense of hope. In 2014, her autobiographical work Brown Girl Dreaming was the winnerof the National Book Award and Coretta Scott King Award and is a Newbery Honor book. It is the centrepiece of her oeuvre: her first-hand experiences of how African-Americans were treated differently in the North and South, where her own path to becoming a writer is woven in with her life experiences. Jacqueline Woodson was a Finalist for the 2016 Hans Christian Andersen Award and won the Astrid Lindgren Memorial Award in 2018. After serving as Young People's Poet Laureate from 2015-17 she was named National Ambassador for Young People's Literature for 2018-19.
Albertine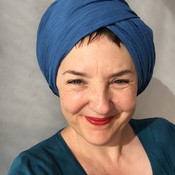 Among her most important books for children are the titles: La rumeur de Venise (The Venice rumour, 2009), which was selected for the 2010 IBBY Honour List; Les Oiseaux (Little bird, 2011); Les Gratte-Ciel (Sky high, 2011); and Ligne 135 (Line 135, 2012). Her book, Mon tout petit (My little one, 2015), an endless embrace between mother and child that unwinds in a flipbook, was selected for the 2016 IBBY Honour List; it won the 2016 Bologna Ragazzi Award and won the Green Island Award at the Nami Island Concours in 2017. She was a Finalist for the 2018 Hans Christian Andersen Award and her book, Les Oiseaux, was included in the list of books highlighted by the Andersen Jury as an outstanding work.
Bookbird profiles of the winners and shortlist can be viewed here.
[Based on a press release.]