(1) HWA WORLD OF HORROR INTERVIEW SERIES. The Horror Writers Association is running a worldwide interview series in August. Alan Baxter launched it with "World of Horror: Introduction to International Horror Month 2023":
It has long been recognised that the USA is the main focus of attention when it comes to horror fiction. If that hasn't been noticed by people in North America, it most certainly has by everyone outside the country. But there is a growing interest in horror set beyond America's shores, and for stories written by authors from other countries and other cultures…
Here's an example of the many interesting responses, from "World of Horror: Interview with Austrian Spencer":
What was it about the horror genre that drew you to it?

It's the most honest of the genres—it asks its readers to understand their own capabilities for violence, fear, loathing, and our need to overcome them or embrace them. Horror writers ask the questions we all shy away from—because the commitment to face those emotions is too personal. We don't address those situations daily, so it forces us to learn. Plus—I love turning on that cold hard place inside of me and destroying, clinically, that which I have built.

There's probably a lot to work on in therapy in that admission.
These are the links to the rest of the series as of today, with more to come.
(2) MEDICAL UPDATE. Martha Wells is currently in the middle of treatment for breast cancer, which she's been blogging about on Dreamwidth. She's had one surgery and will have a second one in the next week. She'll also be undergoing radiation treatment for a month. Prognosis is good, however, her husband Troyce wrote in a comment here.
(3) 103 YEARS OF RAY BRADBURY. The Bradbury 100 Podcast will follow its time-honored tradition of doing a live episode on Ray Bradbury's birthday. Tomorrow — August 22 — is the 103rd anniversary of Ray's birth. Just drop by this page, and catch the live stream: https://www.facebook.com/bradburymedia/
They'll be taking you back 70 years to 1953 – one of the biggest years of Ray's life!
(4) IT IS YOUR DESTINY. The Guardian's Philip Ball comes up with many answers to the question "Should we colonise other planets?"
…Let's go with that, and assume something like Musk's big fat rocket can get us there. What might life in Mars City be like? Advocates for off-world colonies love to show images like those in the physicist and space activist Gerard O'Neill's 1977 book The High Frontier: Human Colonies in Space – an orderly, utopian American suburbia of chic apartments and parks, simply transplanted elsewhere in the solar system. Science fiction, on the other hand, is full of grim outposts on bleak, frozen planets, and savage prison or mining colonies. If history is any guide, frontier settlements are no picnic, and certainly not the kind of places that nurture harmonious, tolerant societies. If you want to know what to expect from colonies established by "billionauts" such as Musk or Jeff Bezos, perhaps ask their employees in Amazon warehouses or the Twitter offices….
(5) A WRITER CAN CHANGE HIS MIND. In case you wondered: "Why Stephen King Retired In 2002 (& Why He Came Back)" at ScreenRant.
In 2002, Stephen King told the Los Angeles Times (via People) he was going to retire from writing once he finished five more books he had lined up and work on a limited series for ABC (Rose Red, which isn't based on a book by King but was scripted by him). King told the Times he was "done writing books", explaining that it gets to a point where "you get to the edges of a room and you can go back and go where you've been" so you end up recycling stuff. King admitted to seeing this in his own work, explaining that when people read his recently published novel, From a Buick Eight, were going to think about his 1983 novel Christine, about a car possessed by malevolent supernatural forces. King added that he would retire then as he was still on top of his game, but this "retirement" didn't last long, and he has continued to write a variety of stories….
That wasn't the only reason. You can find out the rest at the link.
(6) WHAT DOES THE FOX SAY? We don't know. Ursula Vernon's language lesson was interrupted.
(7) TODAY'S BIRTHDAYS.
[Compiled by Cat Eldridge.]
Born August 21, 1872 — Aubrey Beardsley. Best remembered for his often highly erotic art, ISFDB lists him as having a genre novel, The Story of Venus and Tannhäuser, which bears one of the longest subtitles I've encountered ("The story of Venus and Tannhäuser in which is set forth an exact account of the manner of State held by Madam Venus, Goddess and Meretrix under the famous Hörselberg, and containing the Adventures of Tannhäuser in that Place, his Repentance, his Journeying to Rome, and Return to the Loving Mountain"). He has two genre novellas as well, "Catullus: Carmen Cl." and "Under the Hill". And yes, he was just twenty-five when he died of tuberculosis. (Died 1898.)
Born August 21, 1888 — Miriam Allen deFord. Although it is said that she started writing SF when Boucher became editor of The Magazine of Fantasy & Science Fiction, she only published five of her eighteen late Forties through Fifties works there. One published there, "Mary Celestial", was written with Boucher. And one, "A Death in the Family", was adapted in Night Gallery's second season. Best remembered as a mystery writer. I see no indication that she's in print in any manner these days for her SF (but three of her mysteries are available from the usual suspects) though she had two SF collections, Elsewhere, Elsewhen, Elsehow and Xenogenesis. (Died 1975.)
Born August 21, 1911 — Anthony Boucher. I'm reading Rocket to the Morgue which the folks at Penzler Publishers sent me. Really great read. Oh and The Case of The Crumpled Knave, one of his superb mysteries, is quite good as well. If you can find a copy, The Compleat Boucher: The Complete Short Science Fiction and Fantasy of Anthony Boucher is a most excellent read. The Case of The Crumpled Knave, The Compleat Werewolf and Other Stories of Fantasy and Science Fiction are available digitally and a lot are more at the usual suspects. (Died 1968.)
Born August 21, 1943 — Lucius Shepard. Life During Wartime is one seriously weird novel. And his World Fantasy Award winning The Jaguar Hunter is freaking amazing as are all his short collections. He won the Astounding Award for Best New Writer. I don't remember reading "Barnacle Bill the Spacer" which won a Best Novella Hugo at ConFrancisco. (Died 2014.)
Born August 21, 1927 — Arthur Thomson. Fanzine writer and editor and prolific artist known as ATom. Artist for the well known Hyphen zine, he won the Trans-Atlantic Fan Fund in 1964 and visited the States. He was nominated five times for the Hugo Award for Best Fan Artist, but never won. After Thomson won the 2000 Rotsler Award, it was decided not to present the Rotsler posthumously again. (Died 1990.)
Born August 21, 1938 — Ted Pedersen. Writer and producer. As a screenwriter, he wrote a number of scripts for Jason of Star Command and Flash Gordon. He wrote for a lot, and I do mean a lot of animated series such as Teenage Mutant Ninja Turtles, Stargate: Infinity and Batman: The Animated Series ("Be a Clown"). (Died 2010.)
Born August 21, 1966 — Denise Mina, 57. Genre wise, she's best known for having written thirteen issues of Hellblazer. Her two runs were "Empathy is the Enemy" and "The Red Right Hand". ISFDB lists The Dead Hour as genre but it's very much not. Excellent novel but think rather in the vein of Ian Rankin's Rebus novels.
(8) BLADE CO-CREATOR MARV WOLFMAN RETURNS TO MARVEL COMICS HORROR. Marvel Comics welcomes back legendary writer Marv Wolfman as he teams up with artist David Cutler in What If…? Dark: Tomb Of Dracula #1, a tale that sees Blade transformed by Dracula. For more information, visit Marvel.com.
Wolfman redefined comic book horror storytelling in his groundbreaking run of The Tomb of Dracula where he introduced Dracula to the Marvel Universe and co-created Blade and the daughter of Dracula, Lilith Drake. Now decades later, he'll revisit his mythology-molding work with a new What If…? story that asks the question, "WHAT IF…the legendary Dracula transformed BLADE the vampire slayer…into a vampire?!"

"In 1972 I was a fledgling comics writer who mostly wrote short 2 to 8 page 'monster' stories when Editor Roy Thomas asked if I'd like to write Tomb of Dracula, my very first series for Marvel, and the book that would jump-start my career," Wolfman recollected. "So it is a real thrill now that 50-plus years later Marvel asked me to once again dive into that pool with this very special What If…? story, and to bring back that great cast of characters that artist Gene Colan and I created so many years ago. Thank you, Marvel, for giving me the chance to play with old friends one last time."
(9) I SWEAR THAT IT'S ALL TRUE. José Pablo Iriarte remembers childhood 50 years ago.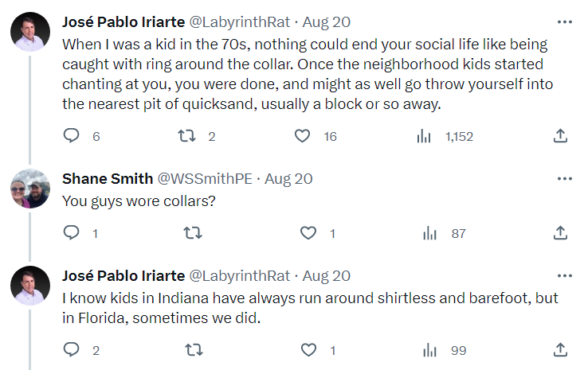 (10) CHEESE SCANNERS LIVE IN VAIN. [Item by Daniel Dern.] "Microchips in the Parmigiano and Other Ways Europeans Are Fighting Fake Food" at MSN.com.
… Now, makers of Parmigiano-Reggiano, as the original parmesan cheese is officially called, are slapping the microchips on their 90-pound cheese wheels as part of an endless cat-and-mouse game between makers of authentic and fake products….

Other European food producers are also going to ever greater lengths to protect their hallowed brand names against knockoffs. Guaranteeing food authenticity is big business in the European Union and more than 3,500 EU products have received protected status in addition to Italy's Parmigiano, including Greek feta cheese, French Champagne and Italian Parma raw ham.

The market is worth almost €80 billion annually, equivalent to $87 billion, according to an EU study published in 2020. The market has grown considerably in recent years, in part due to the addition of new products to the list, according to food industry analysts.

Because the protected products command premium prices, in some cases double those of similar but unprotected products, the market in Europe and farther afield is awash with fakes. Estimates put the market for knockoff products at about the same size as that for the originals….
(11) POSTHUMOUS FAME. The New York Times continues its series of obituaries for people whose deaths went unreported in the paper at the time: "Overlooked No More: Robert M. Budd, Whose Newsstand Was Unlike Any Other".
…It was the height of the Civil War, and a young Robert M. Budd was hitching a ride from a Union Army encampment in Northern Virginia to his home in Washington, D.C. Boarding a wagon, he found that it was carrying federal soldiers — some wounded, others dead.

Robert was brave. Not only was he risking getting shot in a theater of war, but, because he was Black, he was also in danger of being kidnapped and enslaved. But he had accepted those risks to earn some money: selling newspapers to the troops as a newsboy.

Some soldiers, he found, were willing to pay more for older issues carrying stories about battles they had fought in — $3, for example, for a paper that carried reports of the second Battle of Bull Run, in August 1862, rather than the typical price of three cents.

And with that discovery, a business idea was born.

Later moving to New York, Budd, in the early 1880s, opened a newsstand in Manhattan, where for a time he was recognized as the sole purveyor of old newspapers and magazines, also called back numbers. The New York Sun in 1895 described him as "the only man in America in the back number newspaper business" (though some book stores also had a few old papers on hand).

Stairs next to his newsstand, in Greeley Square, led to a tunnellike gaslit basement, which, as The Brooklyn Daily Eagle wrote, Budd filled with "the world's largest collection of old newspapers" as well as magazines, sensational dime novels and theater programs. Budd became known as the Back Number King or, more often, Back Number Budd, which was how he signed his checks….
(12) ICE AGED. Smithsonian Magazine has Ötzi's ancestry report: "Famed 5,300-Year-Old Alps Iceman Was a Balding Middle-Aged Man With Dark Skin and Eyes".
…The study also used comparisons with other ancient individuals' DNA to suggest that the Iceman is descended, in large part, from the Anatolian agriculturalists who first brought farming to Europe about 9,000 years ago, through what is now Turkey into Greece and the Balkan Peninsula. Ötzi's genes show little mixing with the hunter-gatherer populations already living in Europe during that time, suggesting that his community was small and relatively isolated in their beautiful but remote alpine environment….
[Thanks to Chris Barkley, Michael Toman, Cat Eldridge, SF Concatenation's Jonathan Cowie, Daniel Dern, Steven French, Mike Kennedy, Andrew Porter, and John King Tarpinian for some of these stories. Title credit belongs to File 770 contributing editor of the day Daniel Dern.]