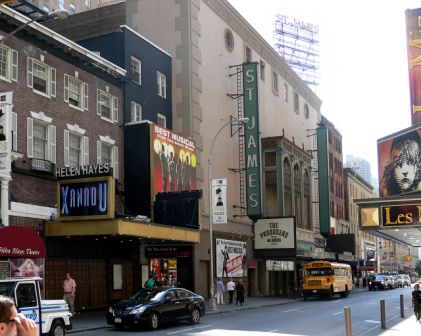 By James H. Burns: There is no bar to the East of the St. James Theatre on Broadway.
At least, not the one in Birdman.
The bar is actually a few blocks away. Through the magic of filmmaking (that old canard), and the surrealism of this movie, many things are out of place —
Or in a new place, anyway, as the drums keep beating.
44th Street, where so much of Birdman takes place, is one of the New York boulevards I know best —
So the film held moments of a personal joy for me, that may not necessarily be there for others.
But there are certainly enough science fiction and fantasy tropes in the movie to make it a worthwhile viewing experiment for any genre enthusiast.
(And there's at least one extraordinary sequence, towards the end, that I realized, may have always been one of my heart's secret desires!)
There's one more intriguing note, without giving away any spoilers to this Oscar-winning movie that seems to have infuriated so many.
At one point, we're in front of the Holy Cross School–in real life, on 43rd just across 8th Avenue, towards 9th. For over a decade, beginning in the early 2000s, the Catholic school's gymnasium was the scene of several collectables and nostalgia shows (featuring many pulps, comics and movie ephemera), run first by Gary Lyons, and the next series of shows, promoted by Brendan Faulkner and Frank Oviatt.
Both obviously, and covertly, Birdman abounds with such landmarks.
Those real, and of the neverwas.