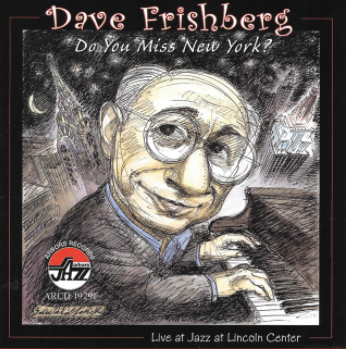 By Daniel Dern: Songwriter, singer and pianist Dave Frishberg has passed away at 88, leaving behind him many sad fans but also many wonderful songs and records of them.
Frishberg was, to lots of us, best known for his song "My Attorney Bernie" (here, performed on Johnny Carson's The Tonight Show).
And while perhaps not known as the writer (I only just learned this) of well-known-to-a-generation, songs for Schoolhouse Rock including "I'm Just A Bill" and (with Bob Dorough) "Conjunction Junction".
I had the pleasure of seeing Frishberg perform, up close, at least once, here in Boston, and even snagged an autograph on one of his CDs. I'll leave the bio/career details to the various obits, like in The Hill and New York Times .
SF-adjacently, I was thinking about Dave Frishberg within the past few weeks, in musing about movie theme and related songs and the artists perhaps most well known because they wrote them, writing, like Randy Newman, for Toy Story's "You've Got A Friend in Me" and Monsters, Inc.'s "If I Didn't Have You" (although I'm not sure if this was the theme song), which quickly brought my mental song index to "Brenda Starr" (co-written with Johnny Mandel, audio just above "Brenda Starr" here), written for but (sadly) not used for the 1989 movie starring Brooke Shields and Timothy Dalton.
Also, "Jaws," intended for Goldfinger, according to his introduction to the song (intro and song both on Do You Miss New York, and Spotify) — although, as a friend notes, Jaws is a Bond baddie in The Spy Who Loved Me (1977) and Moonraker (1979) — Oddjob is the danger-hat-hurling goon in Goldfinger. A quick re-listen to the song (found, with a little patience, on Spotify — I really need to aggregate and alphabetize my CDs, not to mention put them onto a computer), shows the lyrics include a "fin flashing…tail slashing" reference, which suggests "Jaws" actually was intended/hoped for Spielberg's movie of the same name.
Frishberg wrote dozens of other wonderful songs, including "Peel Me A Grape," "I'm Hip," "Get Me Some Z's," and "Van Lingle Mungo", whose lyrics consist almost entirely of names of baseball players. (Which always makes me think of Dave Van Ronk singing "Garden State Romp" (second song on this clip, starting around 3:15), of New Jersey town names, and John Hartford's "Tater Tate And Alan Munde" bluegrass greats names song (first song on this concert, also on Hartford's award-winning Mark Twang album.)
Frishberg also loved classic jazz/show music — here's the Frank Loesser medley from his album Can't Take You Nowhere.
Here's a 2017 interview from Fresh Air (done by Ray Manzarek aggregating interviews done by Terri Gross) and here's a 1996 print interview with Phillip D. Atteberry, from The Mississippi Rag. And two of his albums are available (free, if your library offers access) through Hoopla:
Want to hear more Dave Frishberg? Spotify and YouTube (and presumably others) have a fair selection of his stuff — but they come up short on others, like "Brenda Starr." I can pop my CDs into my CD player; the rest of you will have to search harder. It's worth it.