(1) WITH THANKS. John Wiswell, Nebula winner for "Open House on Haunted Hill," has made his touching "Nebula Awards 2021 Acceptance Speech" a free post on his Patreon.
…Saying that, there's one other author I cannot end this speech without thanking. It's a little gauche, but I hope they're listening.

Because my story, "Open House on Haunted Hill," was rejected several times before Diabolical Plots gave it a chance. And in my career my various stories were rejected over 800 times before I won this award tonight. And that's why I hope this author is listening.

You, who think you're not a good enough writer because you don't write like someone else.

You, who haven't finished a draft because your project seems too quirky or too daunting.

You, who are dispirited after eating so many rejection emails.

You, who are going to write the things that will make me glad I'm alive to read them.

What the field needs is for you to be different, and to be true to your imagination….
(2) GOMEZ Q&A. In "A Point of Pride: Interview with Jewelle Gomez", the Horror Writers Association blog continues its Pride Month series.
Do you make a conscious effort to include LGBTQ material in your writing and if so, what do you want to portray?

Because my life as a lesbian/feminist of colour is my context I don't have to remind myself to include Queer material. That's where I begin. There are, of course, other types of characters in my writing but my experience is centralised. I have a Queer social and political circle and they are easily represented in my work. For so long women, lesbians and people of colour were told our stories weren't important, other (white) people wouldn't be interested in them. Now we know that was just another way to dominate our experience. I long for the day that non-Queer writers and non-Black writers feel sensitive enough to do the research and include authentic characters in their work who don't look like them.
(3) KIRK AT WORK. Thomas Parker revisits the history-making calendar at Black Gate: "First Impressions: Tim Kirk's 1975 Tolkien Calendar".
How does the old saying go? "You never get a second chance to make a first impression." It's often true that the first encounter has an ineradicable effect, whether the meeting is with a person, a work of art, or a world. It's certainly true in my case; I had my first and, in some ways, most decisive encounter with Middle-earth before I ever read a word of The Lord of the Rings. My first view of that magical place came through the paintings of Tim Kirk, in the 1975 J.R.R. Tolkien Calendar, and that gorgeous, pastel-colored vision of the Shire and its environs is the one that has stayed with me. Almost half a century later, Kirk's interpretation still lies at the bottom of all my imaginings of Tolkien's world.
(4) CASTING THE MCU. [Item by Martin Morse Wooster.] I listened to this podcast Leonard and Jessie Maltin did with casting director Sarah Finn – "Maltin on Movies: Sarah Finn" Finn has cast every role in every film and TV series on Disney+ in the MCU, so she has a lot of inside knowledge. Among her goals is to find actors who enjoy playing superheroes and like working with each other. She also discusses why it was a gamble to cast Robert Downey, Jr. as Iron Man and why Vin Diesel was cast as Groot because of his voice work in The Iron Giant.
She also reveals Dwayne Johnson's secret for success: he is genuinely a nice guy who even volunteered to do the dishes after a casting call!
Finn also discusses her work as casting director on The Mandalorian and her work for Oliver Stone, including the gamble of having Eli Wallach play a substantial role at age 95 on Wall Street: Money Never Sleeps.
This was a very informative podcast.
(5) ONE SHOT. "Elizabeth Olsen Says WandaVision Won't Have a Second Season: 'It Is a Limited Series'" reports Yahoo!
Elizabeth Olsen has weighed in on the future of WandaVision – and sadly, fans shouldn't expect there to be a second season.

"No, that's easy for me to answer. It is a limited series. It's a fully beginning, middle, end, and that's it kind of thing," she told PEOPLE in January ahead of the Disney+ show's premiere.

During a recent virtual chat with Kaley Cuoco for Variety's Actors on Actors series, Olsen once again echoed her comments about the series likely not returning for season 2….
(6) PRO TIP. Tade Thompson triages his email:
(7) GRANTS AVAILABLE. The Ladies of Horror Fiction review site are offering nine 2021 LOHF Writers Grants. Applications must be submitted by August 31.
Nine recipients will receive the LOHF Writers Grant in the amount of $100. The Ladies of Horror Fiction team will announce the recipients of the LOHF Writers Grant on September 15, 2021.

The LOHF Writers Grant is inclusive to all women (cis and trans) and non-binary femmes who have reasonably demonstrated a commitment to writing in the horror genre. All grant provided funds must be used in a manner that will help develop the applicant's career.
The grants are funded by Steve Stred, Laurel Hightower, Ben Walker, S.H. Cooper, Sonora Taylor, and several anonymous donors.
(8) TEN FOR THE PRICE OF FIVE. Two entries from James Davis Nicoll from the pages of Tor.com:
"Five SFF Characters You Should Never, Ever Date".
Science fiction and fantasy are rich in characters who deserve (and sometimes find) rewarding personal relationships. There are also characters that other characters should never, ever date. Ever. Here are five fictional characters from whom all prospective love interests should run screaming…
"Five SF Books About Living in Exile".
Few calamities sting like being driven from the land one once called home. Exile is therefore a rich source of plots for authors seeking some dramatic event to motivate their characters. You might want to consider the following five books, each of which features protagonists (not all of them human) forced to leave their homes….
(9) CORA ON CONAN. Cora Buhlert's latest Retro Review is of one of the less known Conan stories that was not published in Howard's lifetime: "Retro Review: 'The God in the Bowl' by Robert E. Howard or Conan Does Agatha Christie".
…Unlike the two previous stories, "The God in the Bowl" remained unpublished during Howard's lifetime and appeared for the first time in the September 1952 issue of the short-lived magazine Space Science Fiction. Why on Earth editor Lester del Rey decided that a Conan story was a good fit for a magazine that otherwise published such Astounding stalwarts as George O. Smith, Clifford D. Simak and Murray Leinster will probably forever remain a mystery.

As for why I decided to review this particular Conan story rather than some of the better known adventures of our favourite Cimmerian adventurer (which I may eventually do), part of the reason is that the story just came up in a conversation I had with Bobby Derie on Twitter. Besides, I have been reading my way through the Del Rey Robert E. Howard editions of late and realised that there are a lot of layers to those stories that I missed when I read them the first time around as a teenager.
(10) INSIDER WADING. The next Essence of Wonder With Gadi Evron will be abouts "Future of the HUGO, ASTOUNDING and LODESTAR Awards: Worldcon Insiders Discuss the History and Trends". Register at the link.
Three Worldcon insiders, Tammy Coxen, Nicholas Whyte, and Vincent Docherty will join Gadi and Karen to discuss the Hugo, Astounding, and Lodestar awards, their history, and current trends.

Like last year, we will be interviewing category nominees in the next few months, with this show as the opening segment.
(11) GAME WRITING ARCHIVE. Eatonverse tweets highlights of the UC Riverside's Eaton Collection of Science Fiction and Fantasy. Today's rarity is from Marc Laidlaw —
(12) HERE THEY COME AGAIN. Those pesky aliens.Invasion launches on October 22 on Apple TV+.
(13) MEMORY LANE.
1971 — Fifty years ago at Noreascon 1 which had Robert Silverberg as its Toastmaster, The Magazine of Fantasy & Science Fiction won the Hugo for Best Professional Magazine. It was its third such Hugo win in a row, and seventh to that date.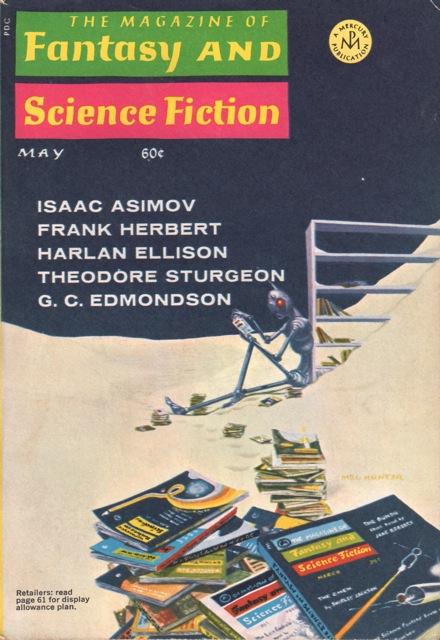 (14) TODAY'S BIRTHDAYS.
[Compiled by Cat Eldridge and John Hertz.]
Born June 9, 1911 – J. Francis McComas.  With Raymond Healy (1907-1997) edited the pioneering and still excellent anthology Adventures in Time and Space – and got Random House to publish it.  Thus although not having planted the crops, he knew to harvest: they also serve who only sit and edit.  With Anthony Boucher (1911-1969) founded The Magazine of Fantasy and Science Fiction, the best thing to happen among us since Astounding.  Half a dozen stories of his own.  Afterward his widow Annette (1911-1994) edited The Eureka Years; see it too.  (Died 1978) [JH]
Born June 9, 1925 – Leo R. Summers.  Twenty covers for Fantastic, eight for Amazing, six for Analog; six hundred interiors.  Here is a Fantastic cover; here is one for Analog; here is an interior for H.B. Fyfe's "Star Chamber" from Amazing.  A fruitful career.  (Died 1985) [JH]
Born June 9, 1925 — Keith Laumer. I remember his Bolo series fondly and read quite a bit of it. Can't say which novels at this point though Bolo definitely and Last Command almost certainly. The Imperium and Retief series were also very enjoyable though the latter is the only one I'd re-read at this point. The usual suspects  have decent though not complete ebooks listings for him, heavy on the Imperium and Retief series and they've just added a decent Bolo collection too. (Died 1993.) (CE)
Born June 9, 1930 — Lin Carter. He is best known for his work in the 1970s as editor of the Ballantine Adult Fantasy series. As a writer, His first professional publication was the short story "Masters of the Metropolis", co-written with Randall Garrett, in The Magazine of Fantasy and Science Fiction, April 1957. He would be a prolific writer, average as much as six novels a year. In addition, he was influential as a critic of the fantasy genre and an early historian of the genre. He wrote far too much for me to say I've sampled everything he did but I'm fond of his Castillo, Great Imperium and Zarkon series. All great popcorn literature! (Died 1988.) (CE) 
Born June 9, 1931 – Joanie Winston.  Vital spark of Star Trek fandom; co-founder of the first Trek convention, got Gene Roddenberry to attend; co-organized the next four; became a sought-after guest herself.  Reported in The Making of the Trek Conventions, or How to Throw a Party for 12,000 of Your Most Intimate Friends, got it published by Doubleday and Playboy.  Appreciation by OGH here.  Quite capable of playing poker at a 200-fan relaxacon rather than bask in glory at a Trek megacon the same weekend.  (Died 2008) [JH]
Born June 9, 1934 — Donald Duck, 87. He made his first appearance in "The Wise Little Hen" on June 9th, 1934. In this cartoon as voiced by Clarence Nash, Donald and his friend, Peter Pig (also voiced by Nash), lie their way out of helping the titular little hen tend to her corn. Donald Duck was the joint creation of Dick Lundy, Fred Spencer, Carl Barks, Jack King and Jack Hannah though Walt Disney often would like you to forget that. You can watch it here. (CE)
Born June 9, 1943 – Joe Haldeman, age 78.  Two dozen novels, eighty shorter stories; ninety published poems.  Seven Hugos, five Nebulas; three Rhyslings; Tiptree (as it then was); Skylark.  Edited Nebula Awards 17.  Pegasus Award for Best Space Opera Song. SFWA (Science Fiction & Fantasy Writers of America) Grand Master.  Science Fiction Hall of Fame.  Guest of Honor at – among others – Windycon I and 20, Disclave 21, Beneluxcon 7, ConFiction the 48th Worldcon.  Wide range has its virtues; he's told how one story sold at a penny a word and five years later was adapted for television at five times as much; also "I don't have to say Uh-oh, I'd better get back to that novel again; I can always write a poem or something."  [JH]
Born June 9, 1954 — Gregory Maguire, 67. He is the author of Wicked: The Life and Times of the Wicked Witch of the West based off of course the Oz Mythos, Confessions of an Ugly Stepsister retelling the tale of Cinderella and Mirror, Mirror, a revisionist retelling of the Snow White tale which is really excellent. Well you get the idea. He's damn good at this revisionist storytelling. (CE) 
Born June 9, 1963 — David Koepp, 58. Screenwriter for some of the most successful SF films ever done: Jurassic  Park (co-written with Michael Crichton), The Lost World: Jurassic Park, War of The Worlds and, yes, it made lots of money, Indiana Jones and the Kingdom of the Crystal Skull. He won a Hugo for Jurassic Park which won Best Dramatic Presentation at ConAdian. (CE)
Born June 9, 1966 – Christian McGuire, age 55.  Co-chaired eight Loscons.  Chaired Westercon 63, Conucopia the 7th NASFiC (N. Am. SF Con, held when the Worldcon is overseas), L.A.con IV the 64th Worldcon.  A founder of Gallifrey One; chaired or co-chaired its first 12 years.  Fan Guest of Honor at Baycon 2002, Westercon 51, Capricon 29, Loscon 36.  Evans-Freehafer Award (L.A. Science Fantasy Soc.; service).  [JH]
Born June 9, 1967 – Dave McCarty, age 54.  Chaired three Capricons.  Chaired the 70th Worldcon, Chicon 7, which by our custom means the seventh Worldcon in the same town with continuity from the same community.  No one else has managed this, or come close; the nearest have been Noreascon Four (62nd Worldcon), L.A.con IV (64th), and Aussiecon 4 (68th). Also served as Hugo Awards Administrator, and on the World SF Society's Mark Protection Committee, two of our least conspicuous and most demanding tasks.  Fan Guest of Honor at Windycon 28, Capricon 38.  [JH]
Born June 9, 1981 — Natalie Portman, 40. Surprisingly her first genre role was as Taffy Dale in Mars Attacks!, not as Padme in The Phantom Menace. She'd repeat that role in Attack of The Clones and Revenge of The Sith. She'd next play Evey in V for Vendetta. And she played Jane Foster twice, first in Thor: The Dark World and then in Avengers: Endgame. She'll reprise the role in Thor: Love and Thunder in which she'll play both Jane Foster and Thor. That I've got to see. (CE) 
(15) PET SHOP. "'DC League of Super-Pets' Cast: Kevin Hart, Keanu Reeves, More Join Dwayne Johnson" reports Deadline.
The cast for the upcoming animated movie, DC League of Super-Pets, includes Dwayne Johnson as Krypto and Kevin Hart as Ace. The cast also features Kate McKinnon, John Krasinski, Vanessa Bayer, Natasha Lyonne, Diego Luna, and Keanu Reeves. The movie will be released May 20, 2022.
(16) LIGHTS ON LANGFORD. Cora Buhlert continues her Fanzine Spotlight by interviewing David Langford about his famed newzine: "Fanzine Spotlight: Ansible".
Who are the people behind your site or zine?

In theory it's just me. In practice I couldn't keep going without all the correspondents who send obituaries, interesting news snippets, more obituaries, convention news, too many obituaries, and contributions to such regular departments as As Others See Us and Thog's Masterclass. The first collects notably patronizing or ignorant comments on the SF genre from the mainstream media, with special attention to authors who write science fiction but prefer to pretend they don't (Margaret Atwood once explained that SF was "talking squids in outer space" and since she didn't write /that/ she had to be innocent of SF contamination). Thog's Masterclass is for embarrassingly or comically bad sentences in published fiction, not always SF — as well as the usual genre suspects, the Masterclass has showcased such luminaries as Agatha Christie, Vladimir Nabokov and Sean Penn.
(17) TAKES TWO TO TANGO. Galactic Journey's Gideon Marcus tells the good and the bad news about the latest (in 1966) US space mission: "[June 8, 1966] Pyrrhic Victory (the flight of Gemini 9) – Galactic Journey".
…Scheduled for May 17, 1966, Gemini 9 was supposed to be the first real all-up test of the two-seat spacecraft. Astronauts Tom Stafford (veteran of Gemini 6) and Gene Cernan would dock with an Agena and conduct a spacewalk. If successful, this would demonstrate all of the techniques and training necessary for a trip to the Moon.

The first bit of bad luck involved the Agena docking adapter. Shortly after liftoff on the 17th, one of the booster engines gimballed off center and propelled rocket and Agena into the Atlantic ocean. The two astronauts, bolted into their Gemini capsule for a launch intended for just a few minutes after, had to abort their mission.

Luckily, NASA had a back-up: the Augmented Target Docking Adapter (ADTA). The ADTA was basically an Agena without the engine. A Gemini could practice docking with it, but the ADTA can't be used as an orbital booster for practice of the manuever that Apollo will employ when it breaks orbit to head for the Moon.

ADTA went up on June 1, no problem. But just seconds before launch, the Gemini 9 computer refused navigational updates from the Cape. The launch window was missed, and once again, Tom and Gene were forced to scrub. Stafford got the nickname "Prince of the Pad."…
(18) CULINARY FAME IS FLEETING. The New Yorker's Jason Siegel and Maeve Dunigan take up the tongs as "A Food Critic Reviews the Swedish Chef's New Restaurant".
When I heard that the Swedish Chef from "The Muppet Show" was opening a Chelsea location of his celebrated bistro, Dorg Schnorfblorp Horganblorps, I was skeptical. I'm always hesitant to believe the hype surrounding celebrity chefs, especially when they're made of felt. While the city was abuzz, calling Mr. Muppet the new Jean-Georges Vongerichten, I was certain that this newcomer was nothing more than a passing fad, a Swedish Salt Bae. But, after such a tough year for restaurants, I was curious about how this mustachioed madman's gimmick had sustained its popularity. Eventually, I decided that I had to go see for myself—could the Swedish Chef's bites ever live up to his bark, or bork?

Dorg Schnorfblorp Horganblorps has been open for only three months but already has a wait list that extends to the end of the year. I was amazed that anyone could get a reservation at all, considering that the restaurant's Web site contains no helpful links or information, only a gif of a turkey being chased by the chef wielding a tennis racquet, captioned, "Birdy gerdy floopin."…
(19) WHO THAWS THERE? Mike Wehner reports "Scientists revived a creature that was frozen in ice for 24,000 years" at Yahoo!
It sounds like the plot from a cheese science fiction movie: Scientists unearth something that's been buried in the frozen ground of the Arctic for tens of thousands of years and decide to warm it up a bit. The creature stirs as its cells slowly wake up from their long stasis. As time passes, the animal wakes up, having time-traveled 24,000 years thanks to its body's ability to shut itself down once temperatures reached a certain low. It sounds too incredible to be true, but it is.

In a new paper published in Current Biology, researchers reveal their discovery of a microscopic animal frozen in the Arctic permafrost for an estimated 24,000 years. The creature, which would have lived in water during its previous life, was revived as the soil thawed. The discovery is incredibly important not just for the ongoing study of creatures found frozen in time here on Earth.

The tiny creature is called a bdelloid rotifer. These multicellular animals live in aquatic environments and have a reputation for being particularly hardy when it comes to frigid temperatures. They are obviously capable of surviving the process of being frozen and then thawed, and they're not the only tiny animal to have this ability….
(20) HAVE AN APPLE, DEARIE. Atlas Obscura would like you to "Meet the Appalachian Apple Hunter Who Rescued 1,000 'Lost' Varieties". Daniel Dern sent the link with two comments: "1: I don't know whether any of these are better at keeping doctor away. 2: Have they been tested for 'putting people to deep-sleep'?"
AS TOM BROWN LEADS A pair of young, aspiring homesteaders through his home apple orchard in Clemmons, North Carolina, he gestures at clusters of maturing trees. A retired chemical engineer, the 79 year old lists varieties and pauses to tell occasional stories. Unfamiliar names such as Black Winesap, Candy Stripe, Royal Lemon, Rabun Bald, Yellow Bellflower, and Night Dropper pair with tales that seem plucked from pomological lore.

Take the Junaluska apple. Legend has it the variety was standardized by Cherokee Indians in the Smoky Mountains more than two centuries ago and named after its greatest patron, an early-19th-century chief. Old-time orchardists say the apple was once a Southern favorite, but disappeared around 1900. Brown started hunting for it in 2001 after discovering references in an Antebellum-era orchard catalog from Franklin, North Carolina….
(21) TEFLON CRUELLA. The New York Times speculates about "The Surprising Evolution of Cruella De Vil":
From a calm socialite, she morphed into an unhinged puppy kidnapper and then a vindictive glamourpuss. Why don't we hate her?
And for dessert, here's a Cruella parody video.
(22) CAN YOU MAKE A WALL OF TEXT? The Lego Typewriter has some moving parts that simulate a real typewriter but, no, you can't produce copy with it. At the link is a video of the assembled 2000+ piece project.
(23) BREAKING INTO THE MCU. [Item by Martin Morse Wooster.] In "The Marvel Character Tutorial" on Screen Rant, Ryan George plays Marvel screenwriter "Richard Lambo," who says if you are trying to sell a screenplay to Marvel, make sure he or she has plenty of abs (four will do, but a six-pack is best) and leave plenty of room for snark!
(24) VIDEO OF THE DAY. In "Honest Game Trailers: Returnal," Fandom Games says that Sony's new game puts you "in a Gigeresque sci-fi setting" where your goal is "to kill all the wildlife" in a game so depressing that Sony should "just throw away the game and have someone come over and kick you in the scrotum" to achieve the same painful effect. (Or "slamming your face into a brick wall" is mentioned at another place, if the first option isn't available.)
[Thanks to John Hertz, Mike Kennedy, Andrew Porter, Martin Morse Wooster, James Davis Nicoll, Daniel Dern, Gadi Evron, Cora Buhlert, JJ, Michael Toman, John King Tarpinian, and Cat Eldridge for some of these stories. Title credit belongs to contributing editor of the day Niall McAuley.]