Today, on International Women's Day, the 2021 Inductees to the National Women's Hall of Fame were announced. They include sff author Octavia Butler and NASA mathematician Katherine Johnson, both inducted posthumously.
The full list of 2021 inductees is:
Octavia Butler, Author
Judy Chicago, Artist
Rebecca Halstead, Brigadier General, Ret., Motivational Speaker
Mia Hamm, Olympic Athlete, Philanthropist
Joy Harjo, Poet
Emily Howland, Activist, Educator
Katherine Johnson, NASA Mathematician
Indra Nooyi, Business Executive
Michelle Obama, Author, Former First Lady
The National Women's Hall of Fame will celebrate the inclusion of these extraordinary women into the Hall at the biennial in-person induction ceremony on October 2, 2021 at the NWHF's new home, the recently revitalized 1844 Seneca Knitting Mill building (if the Covid-19 situation permits). In addition, the NWHF will host a live virtual streaming of the ceremony, which will be free to the public.
Octavia Butler
(1947–2006)
In 1995, renowned author Octavia E. Butler became the first science-fiction writer, and one of the first Black women, to receive a MacArthur "Genius" Fellowship grant. The author of several award-winning novels including Parable of the Sower, a New York Times 1993 Notable Book of the Year, and recently a New York Times Bestseller, Butler was acclaimed for her lean prose, strong protagonists, and acute social observations in stories that range from the distant past to the near future. Sales of her books have increased enormously since her death in 2006, as the issues she addresses in her Afrofuturistic, feminist novels have become more obviously relevant. Her life and works have been highly influential in science fiction, the literary world and popular culture, especially for people of color and marginalized communities. Scholars note that Butler's choice to write from the point of view of characters in these communities expanded the science fiction genre to reflect the experiences of disenfranchised people.
Katherine Johnson
(1918–2020)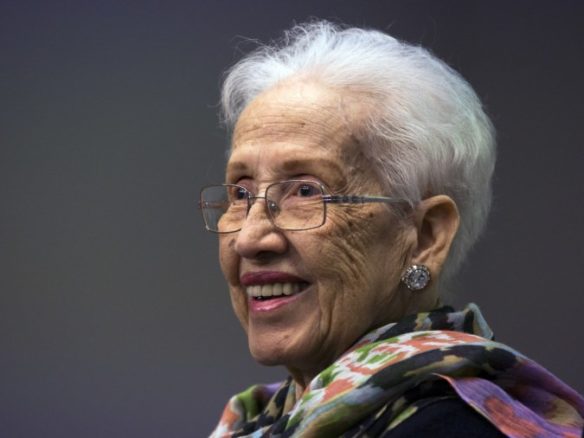 NASA mathematician, pioneer in racial and gender equality, and contributor to one of our nation's first triumphs in human spaceflight, Katherine Johnson is remembered as one of America's most inspirational figures. In 1939, two years after graduating from the historically Black university West Virginia State University, Johnson was one of three Black students handpicked to integrate West Virginia University's graduate school. This was just the beginning of a career full of firsts for her. Johnson went on to work at what is today known as NASA's Langley Research Center in Hampton, VA, and was a key mathematician whose calculations of orbital mechanics were critical to the success of the first and subsequent U.S. crew spaceflights. After 33 years at Langley, she retired but was nowhere near leaving the spotlight. In 2015, President Barack Obama awarded her the Presidential Medal of Freedom, and in 2019, a bipartisan team of Senators awarded her the Congressional Gold Medal of Honor–two of America's highest civilian honors. In 2016 she was portrayed by actor Taraji P. Henson as the lead character in the critically acclaimed film Hidden Figures. After her death in 2020 at the age of 101, Johnson's legacy was described by former NASA Administrator, Maj. Gen. Charles Bolden: "Katherine's legacy is a big part of the reason that my fellow astronauts and I were able to get to space… it's a big part of the reason that today there is space for women and African Americans in the leadership of our nation, including the White House."
[Via Amazing Stories.]