By Lee Weinstein: One would have to look hard and long to find someone somewhere today who hasn't heard of The Three Stooges. Their images are iconic and their comedies are never off the air. But few today realize that they came out of a sub-genre of film comedies that had their heyday in the 1930's and 1940's. They are virtually the sole survivors of an entire genre of comedy short subjects, featuring various stars, and produced by a number of different studios including Columbia, RKO, Hal Roach, Educational Pictures, and others. They typically ran for about 18 minutes on two reels of film, and therefore were often known as "two-reelers." Typically shown in movie theaters before the main attraction, often along with movie serial chapters, cartoons and newsreels, they were an important part of the program, sometimes even advertised on the theater marquee.
While most of these non-Stooge series have been virtually forgotten, there are a few exceptions. Laurel and Hardy made about 40 sound shorts before going into feature films, and the Our Gang (aka Little Rascals) comedies, 132 in all, have managed to survive in a limited way.
Some well-known comic actors starred in a few. W.C. Fields made five short sound comedies between 1930 and 1933. Buster Keaton made 24 sound shorts between 1934 and 1941 for Educational Pictures. Of course, these are footnotes in the careers of men far better remembered for their feature films.
Of the majority of the stars, few today know of Charley Chase, Leon Erroll, Andy Clyde, Edgar Kennedy, Vera Vague, and many others, who were quite popular in their day.
I became acquainted with them from a Philadelphia-based children's TV show when I was about ten or eleven in a segment called "The Big Rascals." I didn't encounter them again until the era of videotape and DVD rentals, and YouTube.
They were in a real sense the forerunners of modern situation comedies, although unlike them, they were purely character-driven. For example, the Three Stooges retained their distinctive personalities from one film to the next while the situations varied quite a bit. They might be mechanics in one episode, plumbers in another, and Civil War soldiers in a third, while still being themselves. The same mostly holds true for the other stars.
One exception is the RKO series starring Edgar Kennedy which was closer to an actual sitcom. These 103 shorts were produced on a regular basis for 17 years, from 1931 to 1948. Bald, middle-aged and grouchy, Kennedy lived with his obnoxious brother-in-law, always called "Brother," and his interfering mother-in-law, "Mother." The situation remained fairly consistent, although the supporting actors sometimes underwent a change. Several actresses portrayed his wife at different times but "Mother" was always portrayed by Dot Farley. Two actors portrayed "Brother." Kennedy's forte was the "slow burn" as he would get increasingly frustrated by the circumstances, finally wiping his hand over his face in exasperation.
Hal Roach studios, which produced the Laurel and Hardy and Our Gang (aka The Little Rascals) comedies, produced other series as well. One series that still holds up well is the one featuring Thelma Todd (1906-1935), possibly best remembered from the Marx Brothers feature films Monkey Business and Horse Feathers. She was initially paired by Roach with fellow comedienne Zasu Pitts (1894-1963) in an attempt to create a female version of Laurel and Hardy. While not Laurel and Hardy, they are still quite funny. There were occasional guest appearances by such actors as Spanky McFarland, Sterling Halloway, Billy Gilbert, and others. After 17 episodes, Pitts left Hal Roach in 1933 for feature films in other studios and Todd was subsequently paired up with Patsy Kelly for an additional 21 episodes. Whereas Pitts played an often befuddled victim, to Todd's straight woman character, Kelly was more of her cynical, wisecracking sidekick. While also quite amusing, the untimely death of Todd in 1935 sadly put an end to the series.
Hal Roach Studio's biggest star, however, after Laurel and Hardy, was Charley Chase (1893-1940). He was not only a comic actor, but also a writer and director under his real name, Charles Parrott. In his films he appeared as a dapper-looking gentleman with slicked-down hair, dark mustache, and wire-rimmed glasses, who always seemed to be getting himself into embarrassing predicaments. In "The Pip from Pittsburgh," when he is fixed up on a blind date, he makes himself look like a slob, hoping to get out of it. Then, to his great embarrassment, he meets his date, who turns out to be the beautiful Thelma Todd. In one of his funniest shorts, however, "The Heckler," he played a loud, obnoxious baseball fan. It was later remade as "The Noisemaker" with Shemp Howard in the starring role.
Chase starred in 79 short comedies between 1929 and 1940 and had a hand in directing and writing numerous others. When Roach went to feature films, Chase changed studios and migrated to Columbia where he continued a successful career.
Harry Langdon, another former vaudevillian, made the transition from the silents to sound in 1929 and went on to star in 43 shorts, ending in 1945. His character was that of a helpless innocent, which he had originally developed in Vaudeville, and used successfully in silent films, but arguably less so in his talkies. Later in the sound era he later created a second persona as a henpecked husband.
Leon Erroll (1881-1951) was a versatile Australian-American comedian who starred in some 98 two-reelers between 1933 and 1951. Most were released through RKO, although he did a few for Columbia and Paramount. Already 52 at the start of the series, he was a short, balding man who was and a good physical comedian who could still do his famous rubber-legged impression of a drunk from earlier days. His comedies often involved his getting into trouble with a jealous wife, getting drunk, hiding from his boss, and other misunderstandings.
Andy Clyde (1892-1967), a Scottish-born American comedian, was one of the most prolific rivals, having starred in some 146 short comedies between 1929 and 1956. He started with Mack Sennett and later went to Educational Pictures and finally Columbia. Although he started out as a young man, he always portrayed his "old man" character in his short comedies and elsewhere. As he aged he needed less makeup, and as one critic put it, "grew into his character." Afterward he would occasionally appear as a character actor on tv series.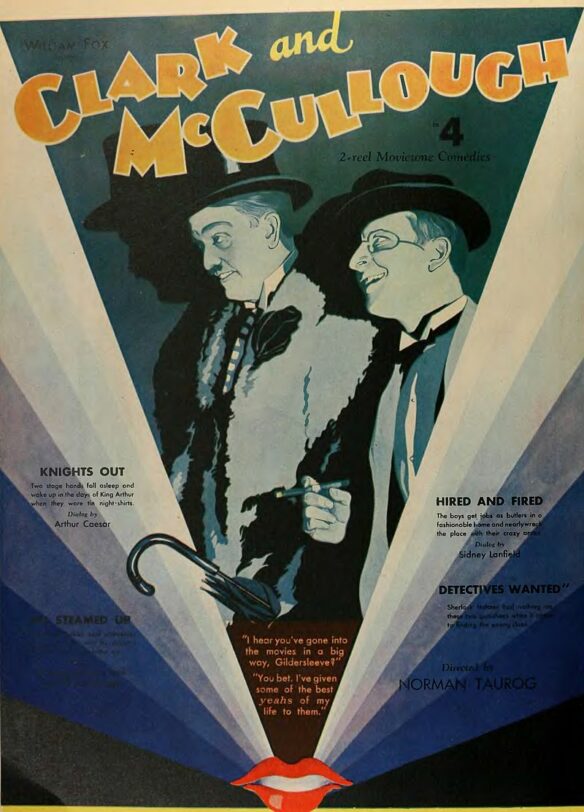 A short series which started at Fox studios featured the antics of vaudevillians Clark and McCullough. Bobby Clark was a fast-talking, cigar-smoking, nonsense-spouting guy with painted-on eyeglasses who has been compared to Groucho Marx. His partner, Paul McCullough, was his quieter sidekick who assisted him in the mayhem. It is rumored that McCullough was the comic at the beginning of their career, but Clark eventually became the dominant force. The one surviving Fox film seems to bear this out. Sadly, the rest have been lost. But the pair went on to make 21 shorts for RKO between 1931 and 1935, until the tragic death of McCullough. Fast-paced and surreal, they provided a different approach to comedy.
Vera Vague, a character created by comedienne Barbara Jo Allen, starred in a series of 16 short comedies between 1943 and 1952 for Columbia. A late-comer to the genre, she was hired by Jules White, who directed many of the Stooges comedies. Her character is usually described as a somewhat shrill, dowdy-looking spinster. Unlike most of the stars of these shorts, who mostly came out of vaudeville and the silents, she came out of radio, where she had created the character. A couple of the shorts were nominated for Oscars.
Shemp Howard, before he rejoined the Three Stooges after Curly's stroke, starred in his own series of nine two reelers for Columbia between 1944-1946.
Columbia, in the 1940's and 1950's, also provided a home for other vaudevillians, including El Brendel, who portrayed a rather befuddled Swedish character. Others were Gil Lamb, Harry Von Zell (the announcer for Burns and Allen), Joe de Rita (who eventually became a Stooge), Hugh Herbert, and others in the twilight of their careers. Columbia's shorts were low-budget, but had a stable of actors, writers, and directors that gave their product a consistent quality.
With the advent of television the two-reel comedies were superseded in the early 1950's and actual sitcoms took the stage. However, ironically, it was also television that gave the Three Stooges the boost to their popularity that kept their films alive for generations to come.
Why did the Stooge shorts survive, but not the others? Possibly, the shorts of the various other comics were comparatively more sedate. The Stooges took slapstick and cartoon violence to a level not seen in other two-reelers. They were over-the-top. Another factor might be that they were a threesome, whereas the others were either solo acts or twosomes.
In 1991, as a tribute to these forgotten short comedies, Rob Reiner and Christopher Guest created a half hour "mockumentary" TV series in which Reiner introduced the "rediscovered" films of the fictitious comedy team of Morton and Hayes. Chick Morton (Kevin Pollak) and Eddie Hayes (Bob Amaral) portrayed an Abbott and Costello-like duo, supposedly active in the late 1930's and early 1940's. Six episodes were aired on CBS in July and August of that year. The shows were quite clever, even if they lacked the humor of what they were parodying.
A book on the subject, The Great Movie Shorts by film critic Leonard Maltin, was published in 1972.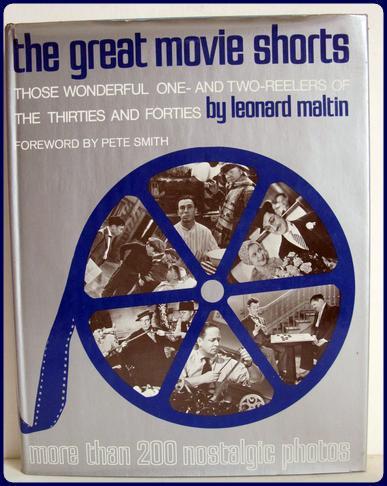 As for the films themselves, beside infrequent airings as filler on Turner Classic Movies, a number have surfaced on YouTube, and some have even been resurrected on DVDs.
For those interested, it would be worthwhile to search them out.