(1) F&SF COVER REVEAL. The Magazine of Fantasy & Science Fiction's March/April 2022 cover art is by Mondolithic Studios, illustrating "Dancing Litle Marionettes" by Megan Beadle.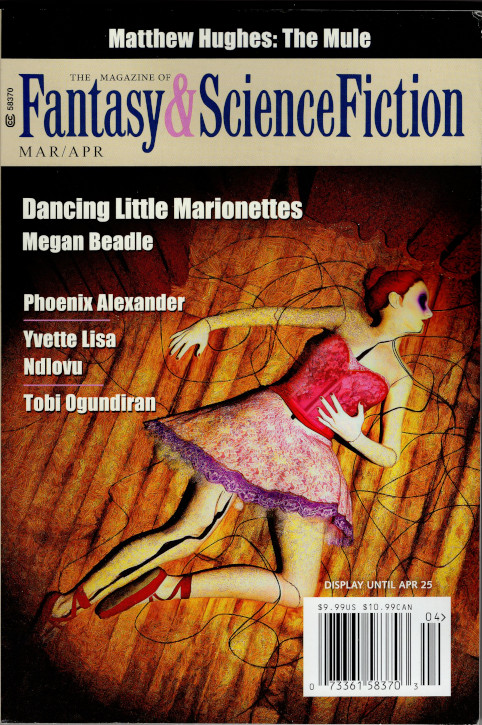 (2) LUCKY SEVEN. Martha Wells discusses "The Nebula Nomination Decline" at My Flying Lizard Circus. By dropping out she actually pulled two extra finalists onto the ballot.
So Fugitive Telemetry did have a Nebula finalist spot for Best Novella, which after a phone conversation and email with Jeffe Kennedy, the president of SFWA, I decided to decline. Basically because The Murderbot Diaries has had three Nebula finalist spots and two Nebula wins (for Best Novella and Best Novel) in the past four years. (Plus the four Hugos.) So it just seemed like someone else could use this nomination better than I could.

Jeffe had to check and see what would happen if I declined (it's not like the Hugo longlist where if someone drops out everybody just moves up one). If it just meant there was going to be four novellas on the ballot instead of five, I would have kept the nomination. So when she told me there was a three way tie for sixth place so if I dropped out, three more novellas would be on the ballot, that seemed like a really good deal. 🙂
(3) BY GEORGE! [Item by Martin Morse Wooster.] In the Washington Post, John Kelly reports on predictions British writer W.L. George made in 1922 about life a century in his future. Kelly finds George was accurate in predicting improvements in transportation and communications, but he also thought people in 2022 would live on pills and homes would have papier-mache walls which would be peeled off it they got dirty. "W.L. George's 1922 predictions of the future have stood the test of time".
… George felt the world wouldn't change as much between 1922 and 2022 as it had between 1822 and 1922. "[The] world today would surprise President Jefferson much more, I suspect, than the world of 2022 would surprise the little girl who sells candies at Grand Central Station. For Jefferson knew nothing of railroads, telephones, automobiles, aeroplanes, gramophones, movies, radium, etc."

He began with technology. Planes would replace both steamships and long-distance trains. Trucks would probably replace freight trains. Communications technologies such as the telephone would go "wireless." Wrote George: "the people of the year 2022 will probably never see a wire outlined against the sky."…
(4) FRANKE STILL WITH US. Austrian scientist, artist, and SF writer Herbert W. Franke, age 95, suddenly appeared on Twitter yesterday. A major science fiction writer in the German language, he was a guest of honor at the 1970 Worldcon. He also is a computer graphics pioneer.
Enthusiasts of both SF and computer art responded with well over a hundred messages of welcome.
His career on Twitter is just getting started. Here's his follow-up message:
Why now?
The Internet Science Fiction Database says he's been busy over the past seven decades or so. The SF Encyclopedia can fill you in about his career here.
(5) MY ONLY HOPE. "Obi-Wan Kenobi" begins streaming on Disney+ on May 25.
The story begins 10 years after the dramatic events of "Star Wars: Revenge of the Sith" where Obi-Wan Kenobi faced his greatest defeat—the downfall and corruption of his best friend and Jedi apprentice, Anakin Skywalker, who turned to the dark side as evil Sith Lord Darth Vader. The series stars Ewan McGregor, reprising his role as the iconic Jedi Master, and also marks the return of Hayden Christensen in the role of Darth Vader. Joining the cast are Moses Ingram, Joel Edgerton, Bonnie Piesse, Kumail Nanjiani, Indira Varma, Rupert Friend, O'Shea Jackson Jr., Sung Kang, Simone Kessell and Benny Safdie.
(6) WHO IS NUMBER ONE? The only show to answer that question,"Star Trek: Strange New Worlds" starts streaming on Paramount+ on May 5.
STAR TREK: STRANGE NEW WORLDS is based on the years Captain Christopher Pike manned the helm of the U.S.S. Enterprise. The series will feature fan favorites from season two of STAR TREK: DISCOVERY: Anson Mount as Captain Christopher Pike, Rebecca Romijn as Number One and Ethan Peck as Science Officer Spock.
(7) EARLY WITHDRAWAL PENALTY. "Black Panther director Ryan Coogler arrested after being mistaken for bank robber" reports the Guardian.
Black Panther director Ryan Coogler was mistaken for a bank robber and arrested after trying to withdraw money from his bank account. Coogler confirmed the incident, which happened in January, to Variety after TMZ first reported it.

According to a police report obtained by TMZ, Coogler, who is currently filming the Black Panther sequel Black Panther: Wakanda Forever in Atlanta, Georgia, entered a bank in the city and handed the cashier a note reading: "I would like to withdraw $12,000 cash from my checking account. Please do the money count somewhere else. I'd like to be discreet."

The transaction triggered an alarm, according to the report, and bank staff called the police. Coogler and two other people with him were arrested, and later released.

Coogler told Variety: "This situation should never have happened … However, Bank of America worked with me and addressed it to my satisfaction and we have moved on."
(8) TRAVELER FROM AN ANTIQUE LAND. Fanac.org is doing another Fan History Zoom on March 19. To RSVP, send a note to [email protected].
Traveling Ghiants, Fan Funds from the Days of Mimeo to the Days of Zoom

with Geri Sullivan (m), Lesleigh Luttrell, Justin Ackroyd and Suzle Tompkins

Date: March 19, 2022
Time: 4pm EDT, 1pm PDT, 8pm London, 7am AEDT (Melbourne)

Fan Funds evolved to bring together in person fans from different regions who only knew each other long distance, and on paper. In these days of virtual conventions, we still long for connection. Our panel are Fan Fund winners all, representing TAFF- the Transatlantic Fan Fund, DUFF – the Down Under Fan Fund, and GUFF – the Get-Up-and-Over Fan Fund (or the Going Under Fan Fund). In addition to the travel part of being a Fan Fund winner, there's an entire administration and fundraising side that most of us don't even think of. Join us to hear from those in the know how Fan Funds have changed, their secret rules, and the impact of plagues and modern society on this traditional fannish charity. Expect some traveler's tales too!

To RSVP, or find out more about the series, please send a note to [email protected].
(9) GROWING OLD IS NOT FOR SISSIES. [Item by Mike Kennedy.] Gizmodo's James Whitbrook contrasts the approach that Star Wars and Star Trek movies have taken toward aging actors playing aging characters. Does one let characters age along with the actors, or does one fire up the computer networks and plaster CGI versions of youth over various visages? "Star Trek and Star Wars' Different Approaches to De-Aging Tech".
There's a moment in the climax of Star Trek: Picard's season two premiere when Q, the omnipotent bane of Jean-Luc's life, appears in the latter's humble French estate. He has had, like so many returning figures of classic pop culture of late, the process of time smoothed out by CG, to give us a semblance of the Q we once knew all those years ago. But, he realizes: Jean-Luc Picard has gotten old. So why shouldn't he?

"Oh dear, you're a bit older than I imagined," Q jokes. "Let me catch up." In a trademark click of his fingers, and a bright flash of light, the CG-enhanced Q becomes just regular old contemporary John de Lancie. It's a perfect way to bring Q and Picard together again, decades after they last crossed paths in the finale of The Next Generation—but it's also emblematic of an approach contemporary Star Trek is taking to its aging heroes….
(10) ODDLY IT HAS NO BIKE PATH. But who needs a bike path when your bike can fly? "'E.T. Park' in Porter Ranch could become official" – the LA Times has details.
A City Council committee on Tuesday backed a proposal to rename Porter Ridge Park as E.T. Park. The proposal now goes to the full council.

Director Steven Spielberg sought out the tract-house setting of the Valley for "E.T." because it reminded him of the Phoenix suburb where he grew up, The Times reported in 1985 .

The Porter Ranch park is featured in a scene in which a group that includes E.T. and Elliott, the boy who befriends the alien, escapes federal agents. One of the park's climbing structures — a caterpillar with big eyes — can be seen in the film.

Other San Fernando Valley locales featured in the movie include White Oak Avenue in Granada Hills, where Elliott, E.T. and others escape on bikes, and a Tujunga residence, where Elliott and his family live.

City Councilmen John Lee and Bob Blumenfield, who represent Valley neighborhoods, introduced the motion to change the park's name.

"I think the whole community refers to it as E.T Park, and this is just making it official," Lee said at Tuesday's committee meeting. "Mr. Spielberg has given us the permission to use it, that name."…
(11) KOURITS OBIT. Ukranian fan Leonid Kourits died of a stroke reports Marcia Kelly Illingworth on Facebook. He attended several Worldcons and UK Eastercons. Borys Sydiuk says he was the organizer of the first truly international SF convention in the USSR in the Koblevo, Nikolaev region in 1988. David Langford's amusing encounter with Kourits at the 1997 World Fantasy Con is described in Cloud Chamber 79.
(12) STEWART BEVAN (1948-2022) Actor Stewart Bevan, who appeared on Doctor Who and Blake's 7, has died reports the Guardian. Other genre credits include the horror films Burke & Hare and The Flesh and Blood Show (both 1972), and The Ghoul (1975)…
… He featured in the long-running series Doctor Who, in 1973's The Green Death, remembered fondly by viewers as "the one with the giant maggots". The departure of popular companion Jo Grant (Katy Manning) called for someone special to lure her away from third Doctor, Jon Pertwee, and to this end the charismatic Welsh eco-warrior Professor Clifford Jones was conceived.

Michael Briant, the director, was having trouble casting this part but was reluctant to interview Bevan because he was Manning's fiance at the time. He finally relented and discovered that Bevan was exactly what he was looking for: handsome and with the requisite crusading zeal and lightness of touch.

Bevan's obvious rapport with Manning also helped to make her departure one of the series' most memorably tear-jerking. Bevan himself was an empathic anti-capitalist vegetarian, guitar player and writer of poetry – all of which contributed to making Jones a believable character….
(13) CONRAD JANIS (1928-2022) The actor who played Mindy's father in Mork & Mindy, Conrad Janis, died March 1 at the age of 94. The New York Times tribute is here. He also was a KAOS agent on Get Smart and a space station resident on Quark.
(14) MEDIA BIRTHDAY.
1976 — [Item by Cat Eldridge] Forty-four years ago this weekend, The Amazing Captain Nemo aired. It was based quite loosely off Twenty Thousand Leagues Under the Sea. It was written by way too many screenwriters which included Robert Bloch. Scripts by committee in my opinion rarely work. (Your opinion may of course differ.) Robert Bloch and his fellow writers fleshed producer Irwin Allen's premise that after a century of being in suspended animation, Nemo is revived in modern times for new adventures. It was intended as the pilot for a new series which didn't happen, another project by Irwin Allen widely considered as an attempt to follow-up on the success of his Voyage to the Bottom of the Sea series.
It had a very large cast but in my opinion the only performer that you need to know about is José Ferrer as Captain Nemo. He made a rather magnificent if hammy one. Of course, a few years later he get to chew on scenery again in Dune where plays Padishah Emperor Shaddam IV.
It was aired over three nights with Bloch largely responsible for the finale. Later the miniseries would get condensed, rather choppily, into a film called The Return of Captain Nemo which generated one of the best review comments: "Best line in the film was when Hallick says Captain Nemo was a figure of fiction, and Ferrer says that Jules Verne was a biographer as well as a science fiction writer. From there get set for some ham a la mode."
It was not particularly well received by either critics or the audience reviewers at Rotten Tomatoes with the latter giving a very bad twenty percent rating.
Let's give IGN the final word: "If one comes to an Irwin Allen-produced adventure seeking a thoughtful, challenging film, they've come to wrong place."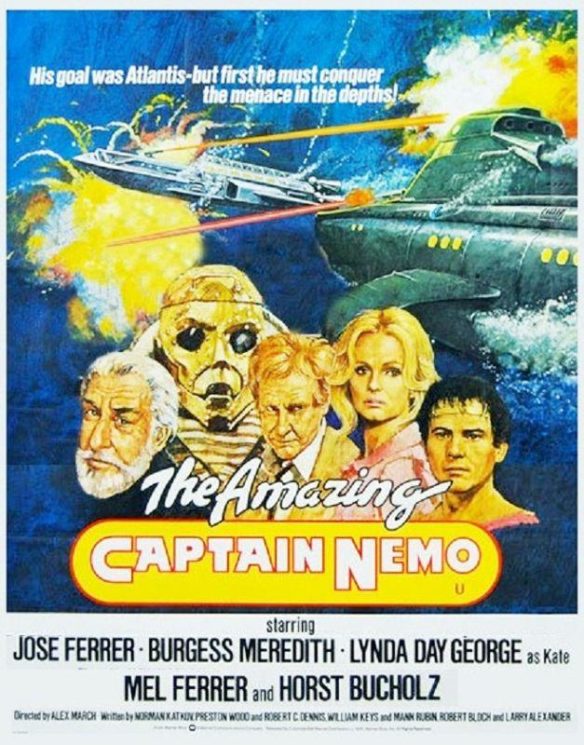 (15) TODAY'S BIRTHDAYS.
[Compiled by Cat Eldridge.]
Born March 9, 1918 — Mickey Spillane. His first job was writing stories for Funnies Inc. including Batman, Captain America, Captain Marvel and Superman. Do note these were text stories, not scripts for comics. Other than those, ISFDB lists him as writing three genre short stories: "The Veiled Woman" (co-written with Howard Browne), "The Girl Behind the Hedge" and "Grave Matter" (co-written with Max Allan Collins).  Has anyone read these? (Died 2006.)
Born March 9, 1939 — Pat Ellington. She was married to Dick Ellington, who edited and published the FIJAGH fanzine. They met in New York as fans in the Fifties. After they moved to California, she was a contributor to Femizine, a fanzine put out by the hoax fan Joan W. Carr.  (Died 2011.)
Born March 9, 1940 — Raul Julia. Damn, another one who died far too early. If we count Sesame Street as genre as we should, his appearance as Rafael there was his first genre role. Yeah, I'm stretching it somewhat but not that much as Muppets are genre, aren't they?  Ok, how about as Aram Fingal in Overdrawn at the Memory Bank, a RSL production off the John Varley short story? That better?  He later starred in Frankenstein Unbound as Victor Frankenstein as well. His last role released while he was still living was in the superb Addams Family Values as Gomez Addams reprising the role he'd had in The Addams Family. (Died 1994.)
Born March 9, 1945 — Robert Calvert. Lyricist for Hawkwind, a band that's at least genre adjacent. And Simon R. Green frequently mentioned them in his Nightside series by having a diner in the Nightside called the Hawk's Wind Bar & Grille. Calvert was a close friend of Michael Moorcock.  He wrote SF poetry which you read about here. (Died 1988.)
Born March 9, 1955 — Pat Murphy, 67. I think that her most brilliant work is The City, Not Long After which I've read myriad times. If you've not read this novel, do so now. The Max Merriwell series is excellent and Murphy's 'explanation' of the authorial attributions is fascinating. The Nebula winning Falling Woman by her is an amazing read as well. Her "Rachael in Love" story won the Theodore Sturgeon Memorial Award and was nominated for Best Novelette at Nolacon II. She won a World Fantasy Award for her "Bones" novella which got her a Hugo nomination at Chicon V. Her space opera version of The Hobbit, There and Back Again, is I've been reminded, a great deal of fun. She's reasonably well stocked at the usual suspects.
Born March 9, 1965 — Brom, 57. Artist and writer whose best work I think is Krampus: The Yule Lord and The Child Thief. The Art of Brom is a very good look at his art. He's listed as having provided some of the art design used on Galaxy Quest.  His latest, Slewfoot: A Tale of Bewitchery, riffs off witchcraft in colonial New England.
Born March 9, 1959 — Mark Carwardine, 63. In 2009, he penned Last Chance to See: In the Footsteps of Douglas Adams. This is the sequel to Last Chance to See, the 1989 BBC radio documentary series and book which he did with Douglas Adams. In 2009, he also worked with with Stephen Fry on a follow-up to the original Last Chance to See. This also called Last Chance to See. 
Born March 9, 1978 — Hannu Rajaniemi, 44. Author of the Jean le Flambeur series which consists of The Quantum Thief, The Fractal Prince and The Causal Angel. Damn if I can summarize them. They remind me a bit of Alastair Reynolds' Prefect novels, somewhat of Ian Mcdonald's Mars novels as well. Layers of weirdness upon fascinating weirdness. Quite fascinating as I said. And well worth the reading time. 
(16) COMICS SECTION.
(17) LEAPBUSTER. SYFY Wire reveals that "NBC Quantum Leap reboot casts Ernie Hudson".
An OG member of the Ghostbusters crew is making his way into the world of Quantum Leap. Per Deadline, NBC's upcoming reboot of the classic sci-fi series has tapped Ernie Hudson, best known for portraying Winston Zeddemore in the Ghostbusters film franchise (he recently reprised the spirit-fighting hero in Jason Reitman's Afterlife), for a key role in the pilot episode.

This is the second bit of major casting news in the last few days after Raymond Lee was cast to lead the revival as Dr. Ben Seong last Friday. Hudson is set to play Herbert "Magic" Williams, a Vietnam War vet and seasoned leader of the Quantum Leap time travel project. "Using a bit of politicking and his military know-how to keep the Pentagon at bay, Magic buys the team some time to rescue Ben, but expects answers once he's back," reads the synopsis of the character provided by Deadline….
(18) MORE HAPPIER TIMES. [Item by Jonathan Cowie.] Another pic from a time long ago in a place far, far away… During the 2006 Eurocon in Kyiv some local members of the SF community provided domestic hospitality.
Seen here (from left) a Romanian fan, Imants Belogrivs (of the Eurocon Award-winning Hekate publisher in Riga, Latvia), a Latvian fan(?), Martin Untals (Latvia), Jean-Pierre Laigle (France), Jonathan Cowie (SF2 Concatenation), Sergei Lussarenko (former Ukrainian SF author now living in Minsk and apparently a Putin supporter.) Photo by Roberto Quaglia (Italian fan and occasional author).
(19) WISDOM FROM MY INTERNET. Declann Finn will be blessing Upstream Reviews with his recommendations for "The Dragon Awards, 2022". In his first post there is one and only one science fiction novel on his radar screen.
…To begin with, we're not not nominating anyone who already has an award. Most of those who have won already have the attitude of "Oh, I don't need more dust collectors." We're leaving out Big Name Authors. Frankly, if you're Jim Butcher or a Baen author, you don't need our help. If we don't have any other viable alternative, then yes, then BNAs are applicable….

Best Science Fiction Novel

White Ops— to my knowledge, this is the only eligible science fiction work that Upstream Reviews has covered. More will be added to the nominations as we go along….
And who is the author of White Ops? It's Declann Finn!
(20) VISIT TO A SMALL PLANET. Bloody Disgusting has learned that the "Predator Prequel Movie 'Prey' Will Be Set in the Great Plains in 1719".
… From 20th Century Studios, the return of the Predator franchise is directed by Dan Trachtenberg (10 Cloverfield Lane), and it's positioned as a prequel to the original that will tell the tale of the Predator's first journey to our planet. Amber Midthunder ("Legion") stars as a Comanche woman who goes against gender norms and traditions to become a warrior….

"It goes back to what made the original Predator movie work," producer John Davis previously told Collider. "It's the ingenuity of a human being who won't give up, who's able to observe and interpret, basically being able to beat a stronger, more powerful, well-armed force."

As for tone, Davis reveals that "[Prey] has more akin to The Revenant than it does any film in the Predator canon," further adding: "You'll know what I mean once you see it."…
(21) COOL DISCOVERY. "At the Bottom of an Icy Sea, One of History's Great Wrecks Is Found": the New York Times tells how Endurance, Ernest Shackleton's ship, lost in 1915, was found in the waters off Antarctica.
The wreck of Endurance has been found in the Antarctic, 106 years after the historic ship was crushed in pack ice and sank during an expedition by the explorer Ernest Shackleton.

A team of adventurers, marine archaeologists and technicians located the wreck at the bottom of the Weddell Sea, east of the Antarctic Peninsula, using undersea drones. Battling sea ice and freezing temperatures, the team had been searching for more than two weeks in a 150-square-mile area around where the ship went down in 1915.

Endurance, a 144-foot, three-masted wooden ship, holds a revered place in polar history because it spawned one of the greatest survival stories in the annals of exploration. Its location, nearly 10,000 feet down in waters that are among the iciest on Earth, placed it among the most celebrated shipwrecks that had not been found.

…Shackleton never made it to the pole or beyond, but his leadership in rescuing all his crew and his exploits, which included an 800-mile open-boat journey across the treacherous Southern Ocean to the island of South Georgia, made him a hero in Britain.

Shackleton was tripped up by the Weddell's notoriously thick, long-lasting sea ice, which results from a circular current that keeps much ice within it. In early January 1915 Endurance became stuck less than 100 miles from its destination and drifted with the ice for more than 10 months as the ice slowly crushed it….
(22) IN BLOOM AGAIN. Deadline reveals "'Bloom County' Animated Series From Berkeley Breathed In Works At Fox".
…Bloom County first appeared in student newspaper The Daily Texan before becoming nationally syndicated in the Washington Post. It ran between 1980-1989, and Breathed brought it back on Facebook in 2015.

Breathed said, "At the end of Alien, we watched cuddly Sigourney Weaver go down for a long peaceful snooze in cryogenic hyper-sleep after getting chased around by a saliva-spewing maniac, only to be wakened decades later into a world stuffed with far worse. Fox and I have done the identical thing to Opus and the rest of the Bloom County gang, may they forgive us."
The Hollywood Reporter's story adds:
…In 2015, Breathed started posting new Bloom County strips on Facebook, a move that was at least somewhat inspired by the presidential campaign of Donald Trump, who Breathed regularly mocked in the strip during its original run. "He is the reverse canary in America's gilded gold mine: When Donald Trump gets up from the dead and starts singing, you know you've reached toxic air," Breathed said at Comic-Con in 2016. "He signifies something that I didn't want to be left out of.
(23) WHEN MONTANA HAD AN OCEAN. Yahoo! declares "Octopus ancestors lived before era of dinosaurs, study shows".
Scientists have found the oldest known ancestor of octopuses – an approximately 330 million-year-old fossil unearthed in Montana.

The researchers concluded the ancient creature lived millions of years earlier than previously believed, meaning that octopuses originated before the era of dinosaurs….

The creature, a vampyropod, was likely the ancestor of both modern octopuses and vampire squid, a confusingly named marine critter that's much closer to an octopus than a squid. Previously, the "oldest known definitive" vampyropod was from around 240 million years ago, the authors said.

The scientists named the fossil Syllipsimopodi bideni, after President Joe Biden.

Whether or not having an ancient octopus — or vampire squid — bearing your name is actually a compliment, the scientists say they intended admiration for the president's science and research priorities.
[Thanks to Andrew Porter, Michael Toman, Cat Eldridge, Gordon Van Gelder, Bill Higgins, Cora Buhlert, SF Concatenation's Jonathan Cowie, Chris Barkley, Cat Eldridge, Mike Kennedy, Martin Morse Wooster, JJ, and John King Tarpinian for some of these stories. Title credit belongs to File 770 contributing editor of the day Daniel "Hard drivin'" Dern.]