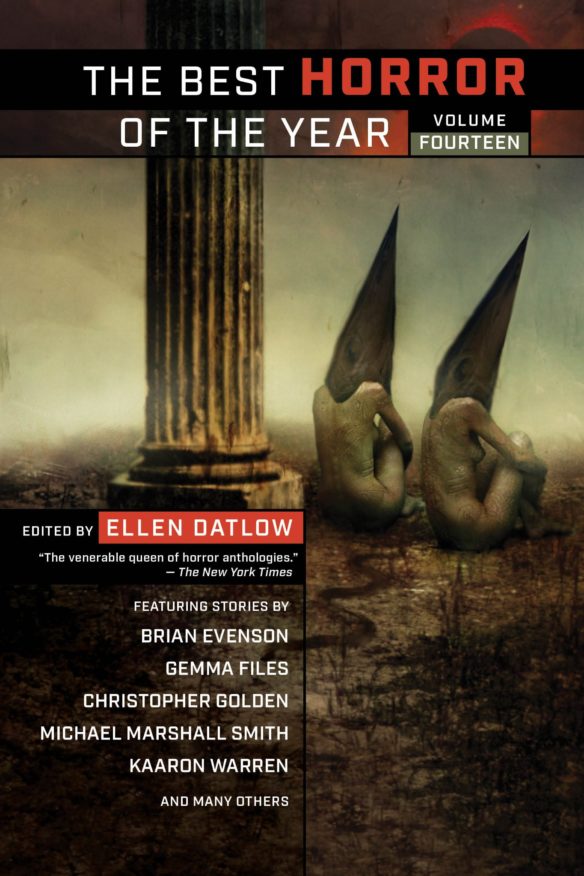 Editor Ellen Datlow has unveiled the cover for The Best Horror of the Year volume Fourteen.
With each passing year, science, technology, and the march of time shine light into the craggy corners of the universe, making the fears of an earlier generation seem quaint. But this light creates its own shadows. The Best Horror of the Year chronicles these shifting shadows. It is a catalog of terror, fear, and unpleasantness as articulated by today's most challenging and exciting writers.
It will be released October 4. Available for pre-order at many outlets, links on the official publisher page here.
Summation of the Year 2021—Ellen Datlow
Redwater — Simon Bestwick
Caker's Man — Matthew Holness
Black Leg — Glen Hirshberg
The Offering — Michael Marshall Smith
Fox Girl — Lee Murray
Shuck — G. V. Anderson
The Hunt at Rotherdam — A. C. Wise
Dancing Sober in the Dust — Steve Toase
The God Bag — Christopher Golden
The Strathantine Imps — Steve Duffy
The Quizmasters — Gerard McKeown
All Those Lost Days — Brian Evenson
"Elephant Subjected to the Predations of a Mentalist" – Dir. B.S. Stockton, 1921
And "Ol' Will's Birthday Bash and Dither Family Reunion" – Dir. Various, 1952.
Three Sisters Bog — Eóin Murphy
The Steering Wheel Club — Kaaron Warren                                     
The King of Stones — Simon Strantzas
Stolen Property — Sarah Lamparelli
Shards — Ian Rogers
Chit Chit — Steve Toase
Poor Butcher-Bird — Gemma Files
Trap — Carly Holmes
I'll Be Gone By Then — Eric LaRocca
Jack-in-the-Box — Robin Furth
Tiptoe — Laird Barron
Honorable Mentions
About the Authors
Acknowledgment of Copyright
About the Editor