(1) GORINSKY OUT AT EREWHON. Erewhon Books announced today that its founder, Liz Gorinsky, is stepping down as Publisher.
We are grateful for Liz's incredible work and vision as our Publisher and Founder, and we wish Liz the very best in all future endeavors.

Senior Editor Sarah Guan will continue to guide Erewhon's editorial program while leading the expansion of the editorial team in coming months.

Cassandra Farrin, (Director of Publishing and Production) and Martin Cahill (Marketing and Publicity Manager) will continue in their roles.

Erewhon Books would like to take this time to recognize several new additions to the team:

Viengsamai Fetters (they/them) has joined the team as our new Editorial Assistant.

Kasie Griffitts (she/her) has joined as our new Sales Associate.
Gorinsky tweeted:
Gorinsky also tweeted today:
(2) WRITER BEWARE HAS MOVED. Victoria Strauss explains the reason there is "A New Home For the Writer Beware Blog".
… After many years on the Blogger platform, we have finally transitioned to WordPress, which offers much greater flexibility in terms of design, control, and ease of use.

We also have a new, easy to remember web address: writerbeware.blog.

I've been dissatisfied with Blogger for a while now. I'm not a web developer, but I'm not helpless, either; I maintain the Writer Beware website on the SFWA site, and I built and maintain two additional websites, my own and another for an organization my husband is part of. But every time I thought about moving to a new platform, the size of the challenge just seemed too daunting. How would I transfer hundreds of posts, not to mention the thousands of comments and images that go with them? What about all the non-working inbound links the move would create? Links wouldn't be a problem if I just started fresh on a brand-new WordPress site–but then the blog would exist on two platforms, with two different web addresses. And what about WB's thousands of followers and subscribers?

The turning point came last summer, when the only email subscription widget supported by Blogger discontinued service. If people couldn't subscribe to the WB blog, there was just no reason to remain on Blogger….
(3) RESISTANCE. Eugen Bacon discusses the process of "Finding Me: Towards Self-Actualization in Writing" at the SFWA Blog.
I read Maurice Broaddus's "Black Joy and Afrofuturism for Young Readers," which heartens us to be present, fully and joyfully, not just for ourselves but for our children, our new adults, and our future generations. He dares that we find unapology for being, that ours becomes an everyday commitment to a joyful resistance against carefully charted devices of oppression.

That reading nudged an inward gaze at my own writing, and I saw its trajectory:
Please, let me…
I am Black…
I am here.
(4) SANDERSON KICKSTARTER. Checked the ticker on the Brandon Sanderson Kickstarter today. It is still spinning like mad, and flew past $31,759,250 while I was copying the number. Still nine days to go: "Surprise! Four Secret Novels by Brandon Sanderson by Dragonsteel Entertainment".
(5) TAFF ITINERARY TENTATIVELY JELLING. Michael J. "Orange Mike" Lowrey will finally get his Trans-Atlantic Fan Fund trip this year. This is what he's mapped out so far:
It looks like (unlike the "lost voyage" of 2020) Spain will not be part of my 2020/2022 TAFF delegate voyage. So:

Starting at the Eurocon/Luxcon, popping over to Poland for visits in a couple of places (Warsaw and Silesia), to England for Eastercon/Reclamation, from there to visit Sverifans in Uppsala and Malmö. If I haven't overstayed my welcome in the U.K., I could return from Sweden and spend a few days in the U.K., maybe actually SEE Scotland and Scotfen in their native habitat? I don't HAVE to be back in the States until 6 a.m. May 2….
(6) AIDING UKRAINE. Sales of Building a Better Future, edited by David Flin, will help raise money for charity. Contributing author Alex Wallace explains: "I am proud to say that a group of online alternate history fans (myself included) came together to put together an anthology, Building a Better Future, all proceeds of which go the British charity Disaster Emergency Commission's Ukraine Humanitarian Aid Appeal. My short story Our Lady of Guidance, is among the stories therein."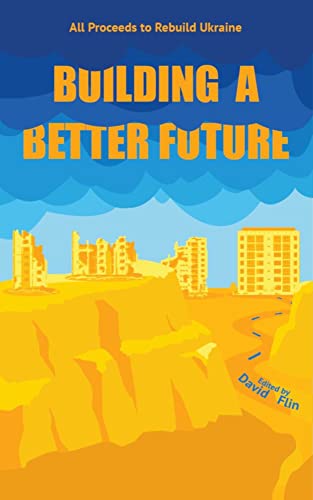 Following the start of the tragic events in Ukraine, a group of historical writers on an Internet forum discussed what they could do to help. The feeling of helplessness in the face of the man-made tragedy was palpable. We considered many options, each less practical than the previous one.

Then, someone had an idea. We were writers. We should write a book, an anthology, with proceeds going to help with the rebuilding of Ukraine.

From that, things flowed quickly. The theme of rebuilding became adopted: "Building a Better Future."

That's what you're holding in your hands. The product of a group of historical writers trying to do something to help the people of Ukraine.
(7) WHAT WAS YOUR NEXT IDEA? James Davis Nicoll ticks off "Five SFF Stories In Which the Best-Laid Plans Are Thwarted" at Tor.com.
Who among us has not been betrayed by the failure of a simple plan that should have worked? One sets out to collect firewood, only to be suddenly concussed; one tries to kill time with a round of cards, only to crush four of one's own phalanges; one seeks the comfort of restful sleep, only wake with a mysterious deep incision down one's abdomen. It's not just me—this seems to be a perverse tendency of the universe: I see it in the news and I see it in what I read. Consider these five SFF tales in which plans are thwarted, foiled, and frustrated by circumstance…
(8) STAR TREK, THE NEXT REGENERATION. Another fun read, this time about how the sausage gets made: "'Is This a Joke?' How a Classic 'Star Trek' Episode Broke the Rules of the Franchise" in The Hollywood Reporter.
… Unfortunately, Braga was largely on his own when it came to the second most difficult thing about writing the episode: The briefing room scene. Here, Geordi (LeVar Burton) explains to his shipmates that they are caught in a very Trek-ian "temporal causality loop." Ironically, Braga found himself in a time loop of his own, rewriting the scene over and over again.

"It was my first big 'technobabble' scene, so it couldn't just sound cool. It had to sound plausible. It had to resolve all the clues that had been accumulating," says Braga. "In addition to all the explaining, you have to bring your own voice to it, too. You try to pepper in some cool or shocking moments, like when Picard asks how long we have been in the loop and Geordi responds with something like 'it could be years.' But Piller had me rewrite that scene so many times. I remember over Christmas break of that year, I was working on that scene."…
(9) I CAN TELL BY YOUR OUTFIT. At CrimeReads Matthew Lyons recommends horror novels set in the American West: "Black Sunset: New Essential Horror Reads from the American West".
…Stories about the American West have always been rife with scares and horrors sure to delight and repulse even the most hardened of horror fans, from pulpy matinee fare like Billy the Kid Vs. Dracula to literary classics like Blood Meridian, but by taking what works and leaving what doesn't, writers today are riding into the sunset with some of the most breathtaking and terrifying fiction in recent memory….
(10) WILLIAM A. JOHNSON (1956-2022.) Writing as Bill Johnson, he won a Hugo Award in 1998 for his novella, "We Will Drink a Fish Together" which was also a Nebula nominee. His stories were published in The Year's Best Science Fiction several times. The family obituary is here.
(11) MEDIA BIRTHDAY.
1995 – [Item by Cat Eldridge.] Twenty-seven years ago on FOX, the Sliders series first aired on this evening. Created by Tracy Tormé and Robert K. Weiss, it would air on that network for three years before moving to Sci Fi for another two years. As a consequence of that it was first produced in Vancouver before being finally being so done in Los Angeles.
Befitting a cross-time series, it had an expansive cast led by the brothers of Jerry and Charlie O'Connell along with Cleavant Derricks, Sabrina Lloyd, John Rhys-Davies, Kari Wuhrer, Robert Floyd and Tembi Locke with Derricks being the only cast member to stay with the series throughout its entire run.
There has also been gossip among Martin fans that this series was inspired by George R.R. Martin's 1992 ABC pilot Doorways but everyone involved said that was not true.
So how was the reception at the time? Not good. The Los Angeles Time was typical when it said "Now comes 'Sliders,' a banal bore of a mishmash adventure series starring Jerry O'Connell as a genius grad student named Quinn Mallory, who discovers a way to visit parallel Earths by whooshing himself through a space portal known as a 'wormhole.' It beats studying."
It does get a rather excellent sixty-four percent rating among audience reviewers at Rotten Tomatoes.
(12) TODAY'S BIRTHDAYS.
[Compiled by Cat Eldridge.]
Born March 22, 1911 — Raymond Z. Gallun. An early SF pulp writer who helped the genre to become popular. "Old Faithful" published in Astounding (December 1934) was his first story and led to a series of that name. "The Menace from Mercury," a story published in the Summer 1932 issue of Wonder Stories Quarterly, was penned from a suggestion by Futurian John Michel and is considered famous among fans. His first published novel, People Minus X, didn't appeared until 1957, followed by The Planet Strappers four years later. You can get all of his fiction at the usual suspects. (Died 1994.)
Born March 22, 1930 — Stephen Sondheim. Several of his works were of a fantastical nature including Into The Woods which mines deeply both Brothers Grimm and Charles Perrault for its source material. And there's Sweeney Todd: The Demon Barber of Fleet Street which is damn fun even if it isn't genre. (Died 2021.)
Born March 22, 1931 — William Shatner, 91. Happy Birthday Bill! Ok that was short. We all know he was Captain Kirk, but how many of us watched him as Jeff Cable on the rather fun Barbary Coast series? I did. It was really, really bad acting on his part though. Or that he was The Storyteller in children's series called A Twist of The Tale? I was I surprised to discover that T.J. Hooker ran for ninety episodes!
Born March 22, 1946 — Rudy Rucker, 76. He's certainly best known for the Ware Tetralogy, the first two of which, Software and Wetware, each won the Philip K. Dick Award. Though not genre, I do recommend As Above, So Below: A Novel of Peter Bruegel.
Born March 22, 1950 — Mary Tamm. She's remembered for her role as Romana as the Companion to the Fourth Doctor in "The Key to Time" storyline. It seemed liked she was there longer only because another actress, Lalla Ward, played her in the following season and she looked a lot like her. Ward was soon to be married to Tom Baker. She also appears briefly in the 20th Anniversary special The Five Doctors through the reuse of footage from the uncompleted story Shada that Douglas Adams wrote. Tamm had only one other genre gig as Ginny in the "Luau" story part of the Tales That Witness Madness film. (Died 2012.)
Born March 22, 1969 — Alex Irvine, 53. I strongly recommend One King, One Soldier, his offbeat Arthurian novel, and The Narrows, about a WW II Detroit golem factory where fantasy tropes get a severe trouncing. A Scattering of Jades, which won a International Horror Guild Award, is well worth reading. He also wrote The Vertigo Encyclopedia which was an in-house project so, as he told me back then, DC delivered him one copy of every Vertigo title they had sitting in the warehouse which was a lot. For research purposes, of course. It came in a very, very large crate. And he's written a fair number of comics, major and minor houses alike. His newest novel, Anthropocene Rag, sounds very intriguing. Has anyone read it?
(13) HE SAYS IT'S BUNK. "Hugh Who? Grant dismisses reports he will be the next Doctor" reports the Guardian.
… Grant had played the Doctor in a Comic Relief special in 1999. He was offered the role in 2004, but turned it down.

Whittaker announced in 2021 that she would not play the Doctor again after three special episodes due to air later this year, meaning a vacancy has arisen.

However, in response to a Guardian article about his potential new role, Grant tweeted: "Nothing against Dr W but I'm not. No idea where the story came from."…
Filers were not shocked to learn that a news item that first appeared in the Mirror was cracked.
(14) THE GIRL WHO WASN'T WEDNESDAY. Entertainment Weekly reports "Christina Ricci joins Addams Family show Wednesday as new character".
Immortal souls (and mortal ones too), rejoice! Christina Ricci has joined the cast of Wednesday, Netflix's upcoming live-action series based on the beloved Addams Family character.

The actress, who played Wednesday Addams in the 1991 Addams Family film and its 1993 sequel, will portray an "exciting new character" this time around — in other words, not a grown-up Wednesday. Details are being kept under wraps, though we know Ricci will be a series regular….
(15) PORTAL OPENING AT PRIME. SlashFilm's B.J. Colangelo marks her calendar: "J.K. Simmons-Led Sci-Fi Series Night Sky Sets May Release Date On Prime Video".
After spending the last two years mostly staring at the same four walls and continuing to carve out a perfect bottom-shaped dent in my living room couch, there are few things that sound more appealing than getting the opportunity to explore the limitless possibilities of time and space. Starring J.K. Simmons and Sissy Spacek, Prime Video's "Night Sky" (formerly known as "Lightyears") features the duo as Franklin and Irene York, a couple who discover a passageway in their backyard that leads to a distant planet. The Yorks have enjoyed their secret for years, but when a mysterious young man (Chai Hansen of "The Newsreader" fame) arrives out of nowhere, the Yorks realize that their unexplainable passageway may be part of an even bigger mystery than they ever thought fathomable.

The new eight-part series will hit the Prime Video streaming platform globally on Friday, May 20, 2022. All eight episodes will be available simultaneously, so we can all spend our weekend binging J.K. Simmons and Sissy Spacek's adventures through time and space….
(16) CONTINUED NEXT UNIVERSE. Guardian reviewer Charles Bramesco shares his mixed verdict on Michelle Yeoh's new movie: "Everything Everywhere All At Once review – ambitious, exhausting trip to the multiverse".
… Evelyn Wang (Michelle Yeoh, unstoppable), a Chinese American immigrant/laundromat owner/last hope for all existence, slingshots between realities with the raw kinetic energy of a boulder launched by a trebuchet. Sometimes, she need only open a door to find herself in another iteration of her life, or walk backward through bushes, or tap the Bluetooth-earpiece-looking gizmos an ally gives her. …
(17) ON STAGE. [Item by Martin Morse Wooster.] In the Financial Times behind a paywall, Suzi Feay reviews After The End by Dennis Kelly, a post-apocalyptic play performed at the Stratford East Theatre ("After The End" – Stratford East) through March 26.
"Very strong language, nudity…violence and sexual violence"–since there are only two characters in Dennis Kelly's After The End, the caveats constitute spoilers. Louise regains consciousness after a nuclear explosion to find herself safe in an underground bunker belonging to Mark, a work colleague. Outside, she was popular and ambitious, and he was the office dolt: dull, friendless, and pedantic. No one more sociable would have built a fallout shelter to begin with. They have two weeks to ensure each other before it's safe to emerge.

Sweary Louise (a pugnacious Amaka Okafor) has never checked her social privilege; being forced to get along with someone she has hitherto despised may prove character-building. Mark (Nick Blood), thrilled at his unexpected access to the office princess, chivalrously takes the top bunk but his obsequiousness turns sour over a fraught game of Dungeons and Dragons. Locked within four oppressive walls, their makeshift alliance of hobbit and elf disintegrates into a battle for control.
(18) SOUTH BY SOUTHWEST. Jeff Foust reviews "Space films at SXSW" for The Space Review.
…This year's SXSW saw space make its way into the film festival as well. Several films screened at SXSW had links to space, from documentaries to movies that took some inspiration from spaceflight.

The most prominent of those movies was Apollo 10½: A Space Age Childhood, directed by Richard Linklater (Before Sunrise, Boyhood, Dazed and Confused, among others.) The movie is a semi-autobiographical account of Linklater's own childhood in Houston, not far from NASA's Manned Spacecraft Center (now Johnson Space Center) in the summer of 1969. The film uses rotoscope animation, like some of Linklater's previous movies, making it appear like some hybrid of reality and imagination….
(19) C'EST OINK. ToughPigs asks "Did 'Muppets TV' Save The Muppets?"
…In 2005 French comedian Sébastien Cauet and French television network TF1 made a deal with The Walt Disney Company which would allow Cauet to write and produce his own version of The Muppet Show, as well as supply the voice of Kermit the Frog for the series. Rather than send the puppeteers to France, the puppets themselves were instead packed up and shipped off, and a team of French puppeteers would perform them instead, later being dubbed by voice actors.

Yeah. They made that. And not just a one episode thing, this abomination lasted TEN EPISODES! That's way more than the three that Little Muppet Monsters got on the air!

Thanks to YouTube, we have a few clips of Muppets TV available, which I'll admit I oddly enjoyed, even though I don't speak the language (besides saying Bonjour and singing the theme song to 'Madeline')….
(12) VIDEO OF THE DAY. [Item by Martin Morse Wooster.] In "Honest Game Trailers: Horizon Forbidden West," Fandom Games, in a spoiler-filled episode, says that gamers have to complete "the usual Excel sheet of objectives" for a game that's ultimately "a child's fantasy about robot dinosaurs." "At least they get robots in their apocalypse," the narrator complains. "What do we get? Twitter!"
[Thanks to Andrew Porter, Michael Toman, Cat Eldridge, Will R., Michael J. "Orange Mike" Lowrey, Cathy Green, Steven French, Mike Kennedy, Martin Morse Wooster, JJ, and John King Tarpinian for some of these stories. Title credit belongs to File 770 contributing editor of the day Peer.]