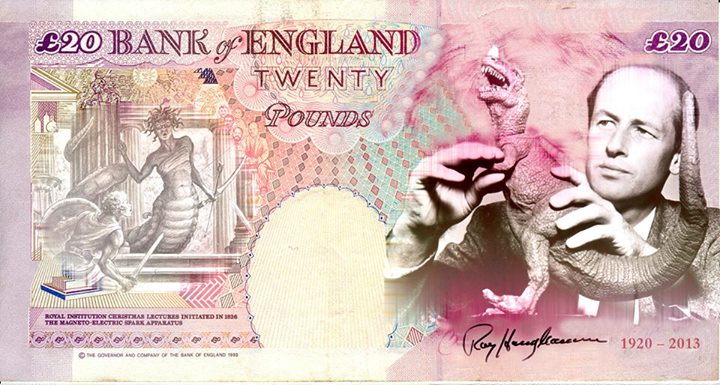 Is this a real thing? Not a hack like drawing Spock ears on a Canadian $5 bill?
Yes and no. Ray Harryhausen is one of many "eligible characters" on the Bank of England's longlist of nominees to have their image on the new £20 banknote expected to enter circulation in 2020. This mockup was tweeted by his foundation to celebrate.
During a two-month public nomination period which closed yesterday, 29,701 nominations were made, covering 592 eligible visual artists.
A lot of people in the film industry are on the list (Stanley Kubrick, Sylvia Anderson, Alfred Hitchcock and Richard Attenborough among them) as well as a few genre artists like Arthur Rackham and Mervyn Peake.
The Bank of England's Banknote Advisory Committee will now consider all eligible nominations and, together with input from public focus groups, produce a shortlist of 3-5 names. These will then go to the Governor for a final decision.
If Harryhausen happens to be selected, that will make him the first LASFS member to appear on a financial instrument worth more than an Egobuck — a bill with Jules Verne on one side and Forry Ackerman on the other, given as a reward for service to the club in the 1960s.