(1) 2023 HELIOSPHERE GOHS. Congratulations to Sharon Lee and Steve Miller! Next year's Heliosphere guests.
(2) TOUR OF THE RINGS. "Simu Liu will not sign 'offensive' Shang-Chi comic books at upcoming event" reports Yahoo!
"Shang-Chi and the Legend of the Ten Rings" star Simu Liu is set to attend The ACE Experience at comic convention Awesome Con alongside his co-stars Meng'er Zhang and Florian Munteanu, but fans must take note of some rules put in place for the signing event.

According to an ACE announcement, Liu, Zhang and Munteanu will be available for celebrity photo ops and in-person autographs on June 4 at Awesome Con at the Walter E. Washington Convention Center in Washington, D.C. The announcement also noted, however, that the actors would not be signing any comic books deemed offensive, particularly Marvel Comics' original "Shang-Chi" run from 1974-83.

"Simu Liu will not sign any Master of Kung Fu comics or other comics deemed offensive," the note read. "All autographs from Simu will be signed in English only."…
(3) RACING WITH THE HEADLINES. In "The Big Idea: Gareth L. Powell" at Whatever, author Powell spotlights the risks of writing five-minutes-into-the-future stories.
…Near-future fiction is a tightrope act, a game played with the audience. It's a way of looking at the world, reflecting it through a prism to make the everyday extraordinary and the future relevant to the reader. But it's a risky undertaking. If you assume it takes 18 months to write and publish a novel, world events may have rendered the entire premise of the book obsolete before it hits the shelves. No other literature has such a potentially short shelf life….
(4) WORLD ENOUGH AND TIME. Do you have to master the rules before you can break them? Or if it's your own rule, can you decide a story you want to tell is worth setting a preference aside? Whichever. Whatever! John Scalzi discusses a choice he made in writing his new novel: "Kaiju, Here and Now" at Stone Soup.
…The first thing is that, generally speaking, I don't write in present time. I write most of my science fiction taking place hundreds, or even a thousand or more years in the future, and that has some advantages. For example, you can develop an entire civilization under different conditions than the one that currently exists; you can hand wave over hundreds or possibly thousands of years of technological evolution and just posit that certain things and certain technology exist…. 
(5) BISHOP TO KING FOUR. [Item by SF Concatenation's Jonathan Cowie.] On B Beeb Ceeb Radio 4 yesterday was the Bishop Interviews in which the Archbishop of Canterbury, Justin Welby, interviews notable people. (One of the benefits of the SARS-CoV-2 pandemic has been the proliferation of Zoom use which, of course, has been picked up by the media including Auntie.)

This week the Bishop interviewed horror and fantastical horror writer Stephen King. Both the Bishop and King had had alcohol abuse in their lives and both dealt with the question of what is evil. A fascinating interview: The Archbishop Interviews: Stephen King.
King's written more than 60 novels, hundreds of short stories, and has sold hundreds of millions of books worldwide. Described as the "King of Horror", he became a household name with novels such as Carrie, The Shining, and Misery. Those and countless others have been adapted for the big screen, including The Shawshank Redemption and The Green Mile, providing some of the most captivating moments in cinema history.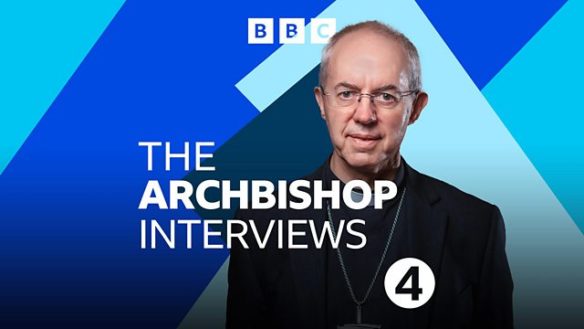 (6) ESSAY – TERRI WINDLING. [By Cat Eldridge.] Let's talk about Terri Windling. The most epic of her undertakings was the Year's Best Fantasy & Horror which started life as Year's Best Fantasy. She edited the fantasy side and Ellen Datlow did the horror side. The very first edition won a World Fantasy Award, one of four such Awards that the series would get out of the fifteen editions she was responsible for with Datlow. One of the volumes, the thirteenth, picked her up a Stoker as well.
Her first World Fantasy Award though was for Elsewhere, the initial volume in an anthology series she edited with Mark Arnold.
The ever so excellent Wood Wife earned a Mythopoeic Fantasy Award for Adult Literature. There was supposed to a sequel but it never happened.
And although none won any Awards, I'd be remiss to not note a number of other works by her starting with The Old Oak Wood Series illustrated by Wendy Froud. For a taste of this series, read this charming essay, she wrote for Green Man a generation back. "Excerpt from The Old Oak Chronicles: Interviews with Famous Personages by Professor Arnel Rootmuster (Royal Library Press; Old Oak Wood, 2008)"
She also created and edited most of the amazing Borderland series and the Snow White, Blood Red series, with Ellen Datlow which is stellar reading indeed .
She's also an editor with more titles to her name than I can fit here. She edited the Fairy Tale series with writer such as Steven Brust, Pamela Dean, Charles de Lint, Tanith Lee, Patricia C. Wrede, Jane Yolen, and others.
All in all, an amazing individual.
(7) TODAY'S BIRTHDAYS.
[Compiled by Cat Eldridge.]
Born March 28, 1918 — Robert J. Serling. Brother of that Serling. Author of several associational works including Something's Alive on the Titanic and Air Force One Is Haunted. He wrote "Ghost Writer" published in Twilight Zone: 19 Original Stories on the 50th Anniversary.  (Died 2010.)
Born March 28, 1922 — A. Bertram Chandler. Did you ever hear of popcorn literature? Well the Australian-tinged space opera that was the universe that of John Grimes was such. A very good starter place is the Baen Books omnibus of To The Galactic Rim which contains three novels and seven stories. If there's a counter-part to him, it'd be I think Dominic Flandry who appeared in Anderson's Technic History series. (My opinion.) Oh, and I've revisited both to see if the Suck Fairy had dropped by. She hadn't. (Died 1984.)
Born March 28, 1932 — Ron Soble. He played Wyatt Earp in the Trek episode, " Spectre of The Gun".  During his career, he showed up on a huge number of genre series that included Mission: Impossible, The Six Million Dollar Man, Shazam, Planet of The Apes, Fantasy Island, Salvage 1 and Knight Rider. His last genre role, weirdly enough, was playing Pablo Picasso in Pterodactyl Woman from Beverly Hills. (Died 2002.)
Born March 28, 1942 — Mike Newell, 80. Director whose genre work Includes The Awakening, Photographing Fairies (amazing story, stellar film), Harry Potter and the Goblet of Fire (popcorn film — less filling, mostly tasty), Prince of Persia: The Sands of Time and two episodes of The Young Indiana Jones Chronicles, to wit "Masks of Evil" and "The Perils of Cupid".
Born March 28, 1946 — Julia Jarman, 76. Author of a  children's book series I like a lot, of which I'll single out Time-Travelling Cat And The Egyptian Goddess, The Time-Travelling Cat and the Tudor Treasure and The Time-Travelling cat and the Viking Terror as the ones I like the best. There's more to that series but those are my favorites. I see no indication that the cats are available from the usual suspects alas. 
Born March 28, 1960 — Chris Barrie, 62. He's Lara Croft's butler Hillary in the most excellent original Tomb Raider franchise film. He also shows up on Red Dwarf for twelve series as Arnold Rimmer, a series I've never quite grokked. He's also one of the principal voice actors on Splitting Image which is not quite genre adjacent but oh-so-fun.
Born March 28, 1972 — Nick Frost, 50. Yes, he really is named Nick Frost as he was born Nicholas John Frost. Befitting that, he was cast as Santa Claus in two Twelfth Doctor stories, "Death in Heaven" and "Last Christmas". He's done far more genre acting that I can retell here starting with the Spaced series and Shaun of The Dead (he's close friends with Simon Pegg) to the superb Snow White and The Huntsman. He's currently Gus in the Truth Seekers, a sort of low-budget comic ghost hunter series 
(8) COMICS SECTION.
Hi and Lois isn't sff, however, I can't pass up the opportunity to include Daniel Dern's annotations. Read the strip, then come back.
Mort Walker created both Hi and Lois and Beetle Bailey; according to the Wikipedia. Lois was Beetle's sister. He also created, among others, Sam's Strip, which is about characters who know they're in a comic strip (IIRC, mostly taking place "backstage"). There was a nice reprint collection of this ~10 years ago. Walker also did the interesting and informative book, The Lexicon of Comicana.
(9) RACKHAM REMEMBERED. "Wonder, Hungry Wolves, and the Whimsy of Resilience: Arthur Rackham's Haunting 1920 Illustrations for Irish Fairy Tales" – The Marginalian's Maria Popova offers "a lyrical reminder that our terror and our tenderness spring from the same source."
… In 1920, in the middle of Ireland's guerrilla war for independence, weeks before Bloody Sunday, a book both very new and very old appeared and swiftly disappeared into eager hands — a lyrical, lighthearted, yet poignant retelling of ancient Irish myths by the Irish poet and novelist James Stephens.

The ten stories in his Irish Fairy Tales (public library | public domain) transported readers away from the world of bloodshed and heartache, into another, where the worst and the best of the human spirit entwine in something else, transcending the human plane….
(10) USE YOUR VOICE, LUKE. Variety explains "How Ukrainian Company Respeecher De-Aged Mark Hamill's Voice for 'Boba Fett' and 'The Mandalorian'".
…And how exactly did they pull it off?

Alex Serdiuk, the company's co-founder and co-CEO spoke with Variety from Kyiv, just days before Russian bombs fell on the city, about how Respeecher was used on both "The Book of Boba Fett" and "The Mandalorian." Explains Serdiuk, "We heard recordings from 30 to 40 years ago, and those recordings were not good."

The main challenge for the team was to be able to squeeze imperfect data, something that sounded very rigid and have it mixed to make it sound like something had been recorded recently.

The solution lay in the archives. Serdiuk and his team pulled recordings of Hamill from old ADR sessions, video games and old audiobook recordings from the period. With the cleaner audio fed into the ReSpeecher app, Hamill's younger voice was then artificially created….
(11) MOTHERLESS CHARACTERS. "Why Mother's Day was no cause to celebrate for creator of Thunderbirds" – the Guardian tells why.
… He had found worldwide success, delighting generations of fans with 18 series and four feature films, which included Space: 1999 and Captain Scarlet. But Anderson had never got over the death of Lionel, his older brother, a handsome and heroic pilot who had died during the second world war; he also never recovered from the shock of hearing their mother, Debbie, say: "Why was it Lionel? It should have been you."…
(12) HALF AND HALF. The New Yorker has a concise review of Richard Linklater's movie "Apollo 10 ½".
…Linklater tells the tall tale with a hallucinatory near-realism that emerges from rotoscoped images, animated atop live-action video, and from the meticulous catalogue of family life and sixties pop culture that Stan offers as a background—which nearly takes over the film….
(13) PRO TIP. Cat Rambo lights the way.
[Thanks to John King Tarpinian, Andrew Porter, Michael Toman, Daniel Dern, Steven French, Cat Eldridge, Mike Kennedy, Martin Morse Wooster, and JJ for some of these stories. Title credit belongs to File 770 contributing editor of the day Jake.]