The 2017 Gaylactic Spectrum Award winner in the Best Novel category was announced at Gaylaxicon 2018 in May 2018.
Only the novel award was announced. The Best Short Fiction and Best "Other Works" categories have been rolled over into the next judging cycle.
The last time the Short Fiction and Other Works awards were given were in 2010 (for material published in 2008 and 2009). After that it was initially announced that those two categories would be given every other year, but announcements in later years have indicated that a lack of volunteer judges have interfered with the ability to evaluate those categories, and after 2010 only the Best Novel category has had an announced winner and short list.
A handout listing the Best Novel winner, short list recommendations, ISBN numbers, publishers, and a short writeup of each is available here [PDF file].
WINNER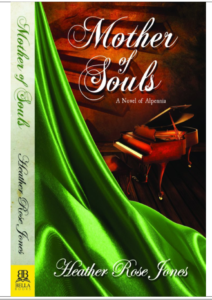 Mother of Souls – Heather Rose Jones (Bella Books)
This is the third "Alpennia" novel, set in a small kingdom in an alternate version of Europe during the period 1823-1825. Mother of Souls centers around two new characters. Seraphina Talarico is of Ethiopian descent (but born in Rome); she is able to "see" the flow of magic but unable to work magic herself. Luzie Valorin is an Alpennian widow; she is an aspiring composer who is somehow able to raise magical "flow" through the music she plays and composes. The major heroines of the previous two novels (Daughter of Mystery and The Mystic Marriage – both Spectrum Recommended titles) also appear in this novel.

Alpennia is being dragged unwillingly into the wider European theater of action. It is suffering the effects of sorcerous weather-magic developed by forces unknown for reasons not connected with Alpennia itself. Amidst the international turmoil and magical dangers, Seraphina and Luzie explore the complementary nature of their "gifts" as well as their developing feelings for each other.

Heather Rose Jones is an acknowledged magistra of lesbian historical romance. She has an unerring knack at giving her readers a real "feel" for the time periods of her stories and novels – in this case, post-Napoleonic Europe. Her skill is such that you can use allusions in the storyline to pretty much figure out where the fictional Alpennia is located; and her PhD in linguistics has enabled her to develop names and terminology appropriate for that little kingdom tucked away in a corner of the Alps. Her skill as a writer has woven all this into the storyline itself; the action, adventure, and romance aren't bogged down by long passages of tiresome exposition. And, on top of all this, she provides a unique exploration of the magical/mystical qualities of various artforms, such as music, painting, religious ceremony, and architecture.
SHORT LIST
The Big Lie – Julie Mayhew (Candlewick Press)
Cocktails at Seven, Apocalypse at Eight: The Derby Cavendish Stories – Don Bassingthwaite (ChiZine Publications)
Fallow – Jordan L. Hawk (Widdershins Press)
Hexbreaker/Hexmaker – Jordan L. Hawk (Widdershins Press)
Lily – Michael Thomas Ford (Lethe Press)
Malachite – Kirby Crow (Bonecamp Press)
Maze-Born Trouble – Ginn Hale (Blind Eye Books)
Night Terrors – J. A. Pitt (WordFire Press)
2017 Best Novel Other Nominees
(The "other nominees" list is the rest of the eligible books that were considered.)
The Abyss Surrounds Us by Emily Skrutskie (North Star Editions)
An Accident of Stars by Foz Meadows (Angry Robot Press)
All Good Children by Dayna Ingram (Lethe Press)
Ayala Storme 1: Storm In a Teacup by Emmie Mears (Anam-Charaid)
Ayala Storme 2: Any Port In a Storm by Emmie Mears (Anam-Charaid)
Ayala Storme 3: Taken By Storm by Emmie Mears (Anam-Charaid)
Ayala Storme 4: Eye of the Storm by Emmie Mears (Anam-Charaid)
Black Angel by Kyell Gold (Sofawolf Press)
The Book of the Unnamed Midwife by Meg Elison (47North)
Brobots by Trevor Barton (self published)
City of Refuge by Starhawk (Califia Press)
Ephemera by Jude McLaughlin (self published)
Everfair: A Novel by Nisi Shawl (Tor Books)
False Hearts by Laura Lam (Tor Books)
Finding Hekate by Kellie Doherty (Desert Palm Press)
Of Fire & Stars by Audrey Coulthurst (Balzer + Bray)
Oath Bound by Melissa Scott & Jo Graham (Crossroads)
A Red-Rose Chain by Seanan McGuire (DAW Books)
Schrodinger's City by Matthew Buscemi (Fuzzy Hedgehog Press)
A Taste of Honey by Kai Ashante Wilson (Tor.com)
Too Like the Lightning by Ada Palmer (Tor Books)
The Werewolf and His Boy by Warren Rochelle (Samhain Publishing)
[Thanks to Heather Rose Jones for the story.]