(1) NEW YEAR'S WHO. "Doctor Who's special time loop trailer teases huge Dalek moment" – Digital Spy introduces the clip. BEWARE SPOILERS.
The New Year's Day special 'Eve of the Daleks' will see Jodie Whittaker's Doctor getting stuck in a time loop with Yasmin Khan (Mandip Gill), Dan Lewis (John Bishop) and a group of deadly Daleks.

The episode also features Aisling Bea and Adjani Salmon in the roles of Sarah and Nick as they get ready to celebrate the start of the new year….
(2) TRANSPORT OF DELIGHT. Julian Yap and Fran Wilde begin weekly publication of The Sunday Morning Transport in January, delivering speculative fiction using a newsletter platform. Subscribe for one free story a month, or become a paid subscriber and get a story every week.
Subscribing to Sunday Morning Transport means bringing a a new speculative short story connection to your inbox every week, fifty weeks a year.

Sunday Morning Transport readers are makers, thinkers, scientists, artists, authors, dreamers. With a single speculative short story each Sunday, we connect across space and time. We deliver, right to your inbox: a moment of whimsy; a deep dive into an unknown world; a single illuminating transformation; a vibrant community of readers and writers built around the best new speculative stories each week.

Free subscribers receive one story a month. Paid subscribers receive one story each week, fifty weeks a year. For paid subscribers, there's more: the opportunity to join in a conversation about story, to ask questions, and to help build a year's worth of moments with authors including Max Gladstone, Karen Lord, Elwin Cotman, Kij Johnson, Kat Howard, Elsa Sjunnesson, Kathleen Jennings, Katherine Addison, Juan Martinez, E.C. Myers, Maureen McHugh, Tessa Gratton, Sarah Pinsker, Michael Swanwick, Brian Slattery, Malka Older, and many more.

Subscribe now, and get ready for your Sunday Morning Transport starting in January 2022.
(3) BUILDING A HUGO CATEGORY. Ira Alexandre has launched a discussion on Twitter by asking: For purposes of a Game Hugo, what does it mean for a game to be "in the fields of science fiction, fantasy, or related subjects"? Thread starts here.
(4) A BAD WORD. Frell from Farscape is my favorite genre swear word, says Cat Eldridge. "Smeg and the art of sci-fi swearing" at Kerrang!
…For a long old time, the quickest way to get taken out of libraries or complained about by parents was to include swearing. This led sci-fi creators to come up with new alternatives to the usual suspects, both to evade censorship and emphasise the 'otherness' of the worlds in which their tales took place (if a movie was set 10,000 years in the future and started with someone calling someone else a shithead, that would just seem plain silly).

Bill The Galactic Hero by Harry Harrison is a terrific book, a laugh-out-loud funny anti-war satire with a hidden gut-punch of an ending. A bleakly hilarious look at the futility of war and the cruelty with which people can treat one another, it's a book that should be read by as many people as possible – ideally when they are about 12. During the title character's ascension through the ranks of the Space Troopers, there's plenty of effing and jeffing, except Harry opts for his own coinage, 'bowb', instead of the curses we all know and love.

As with a lot of made-up swear words, 'bowb' is kind of all-purpose – the phrases "Don't give me any of your bowb!", "Get over here, you stupid bowb!" and "What is this, "Bowb Your Buddy Week?" suggest it can be substituted in easily enough for 'shit', 'bastard', 'asshole' and 'fuck'….
(5) IN TIMES TO COME NEXT WEEK. Nicholas Whyte tries the thought experiment of anticipating next year with the help of films and stories that treat 2022 as history: "2022 according to science fiction, in novels and films" at From the Heart of Europe. Some of these sources aren't very helpful!
Time Runner (1993)

What's it about? Mark Hamill, unsuccessfully attempting to fight off an alien invasion of Earth in 2022, somehow gets sent thirty years back in time to try and prevent it all from happening. He tangles with a corrupt politician who is destined to become the collaborationist president of the world, and ends up assisting at his own birth.

Is 2022 really going to be like that? Actually most of the film is set in 1992, apart from the very beginning and occasional flashforwards. As of now, we don't (yet) have a President of Earth; as for the alien invasion, we will have to wait and see….
(6) FANZINES IN THE FAMILY TREE. Andrew Porter tells why the Gothamist report is sff-related: "Patti Smith Receives Key To New York City: 'I Wish I Could Give NYC The Key To Me'". It has to do with the photo accompanying the article.
In his last weeks as mayor, Bill de Blasio has been bestowing Keys to New York City to a number of figures, including legendary music producer Clive Davis (who helped stage the ultimately Mother Nature-interrupted "Homecoming" concert in Central Park), and Senate Majority Leader Chuck Schumer for his indefatigable support for the city. On his last Monday in office, de Blasio honored one of his favorite artists, the "punk rock laureate," Patti Smith….
Note Lenny Kaye in the photo behind her. Lenny was a teenage science fiction fan, active in science fiction fandom and publishing a fanzine, Here's an article about his SF fanzine collection: "The Tattooed Dragon Meets The Wolfman: Lenny Kaye's Science Fiction Fanzines", a 2014 Thought Catalog post.
(7) TAKE BIXELSTRASSE TO I-95. Gwen C. Katz tweeted her interpretation of the history that shaped Worldcon's administrative culture. Thread starts here.
(8) THE PRESTIGE. Catherine Lundoff followed-up the Katz thread with her thoughts about the Hugo Awards. Thread starts here. Lundoff evidently is focused on book-length work, since publishers of finalists like Uncanny, Clarkesworld, and Beneath Ceaseless Skies, for example, aren't operating with "deep pockets."
(9) END OF WATCH. At Vox: "NASA will let the ISS disintegrate into the atmosphere. Here's why". When hasn't been specified, but "NASA has only technically certified the station's hardware until 2028."
The International Space Station brings together astronauts from around the world to collaborate on cutting-edge research, and some have called it humanity's greatest achievement. But after two decades in orbit, the ISS will shut down, and a crop of several new space stations will take its place. While these new stations will make it easier for more humans to visit space, they're also bound to create new political and economic tensions.

NASA is scaling back its presence in low-Earth orbit as the government focuses on sending humans back to the moon and, eventually, to Mars. As part of that transition, the space agency wants to rent out facilities for its astronauts on new space stations run by private companies. When these stations are ready, NASA will guide the ISS into the atmosphere, where it will burn up and disintegrate. At that point, anyone hoping to work in space will have to choose among several different outposts. That means countries won't just be using these new stations to strengthen their own national space programs, but as lucrative business ventures, too….
(10) MEMORY LANE.
1893 — [Item by Cat Eldridge.] One hundred twenty-eight years ago, The Memoirs of Sherlock Holmes was first published by G. Newnes Ltd. sometime late in 1893 with an actual publication date listed as 1894. It was the second collection following The Adventures of Sherlock Holmes, and like the first it was illustrated by Sidney Paget. This hardcover edition has two hundred seventy-nine pages comprising twelve stories. The stories were previously published in the Strand Magazine.
Doyle had determined that these would be the last Holmes stories, and intended to kill off the character in "The Final Problem", but a decade later a new series, The Return of Sherlock Holmes, would begin in the aftermath of "The Final Problem", in which it is revealed that Holmes actually survived.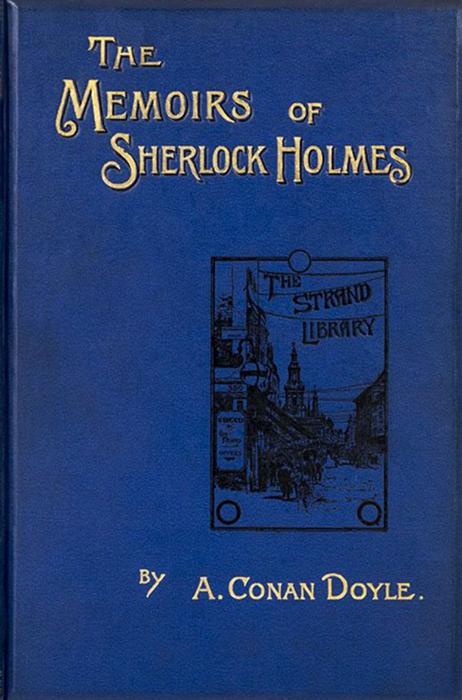 (11) TODAY'S BIRTHDAYS.
[Compiled by Cat Eldridge.]
Born December 27, 1938 — Jean Hale. If you've watched Sixties genre television, you've likely seen her as she showed up on My Favorite Martian, In Like Flint (at least genre adjacent), Alfred Hitchcock Presents, My Brother the Angel, Wild, Wild West, Batman and Tarzan. (Died 2021.)
Born December 27, 1951 — Robbie Bourget, 70. She started out as an Ottawa-area fan, where she became involved in a local Who club and the OSFS before moving to LA and becoming deeply involved in LASFS. She's been a key member of many a Worldcon and Who convention over the years. She was the co-DUFF winner with Marty Cantor for Aussiecon 2. She moved to London in the late Nineties.
Born December 27, 1960 — Maryam d'Abo, 61. She's best known as Kara Milovy in The Living Daylights. Her first genre role was her screen debut in the very low-budget SF horror film Xtro, an Alien rip-off. She was Ta'Ra in Something Is Out There, a miniseries that was well received and but got piss poor ratings. Did you know there was a live Mowgli: The New Adventures of the Jungle Book series? I didn't. She was Elaine Bendel, a recurring role, in it.
Born December 27, 1977 — Sinead Keenan, 44. She's in the Eleventh Doctor story, "The End of Time" as Addams but her full face make-up guarantees that you won't recognize her. If you want to see her, she's a Who fan in The Five(ish) Doctors Reboot. Her final Who work is a Big Finish audio drama, Iterations of I, a Fifth Doctor story. And she played Nina Pickering, a werewolf, in Being Human for quite a long time.
Born December 27, 1987 — Lily Cole, 34. Been awhile since I found a Who performer and so let's have another one now. She played The Siren in the Eleventh Doctor story, "The Curse of The Black Spot". She's also in some obscure film called Star Wars: The Last Jedi as a character named Lovey. And she shows up in the important role of Valentina in The Imaginarium of Doctor Parnassus. Not mention she's in Snow White and The Huntsman as Greta, a great film indeed.
Born December 27, 1995 — Timothée Chalamet, 26. First SF role was as the young Tom Cooper in the well received Interstellar. His only other genre role was Zac in One & Two before he played Paul Atreides in Director Denis Villeneuve's Dune.
(12) COMICS SECTION.
The Far Side shows something by the side of the road – a little too big for a hubcap, I'm thinking.
The Argyle Sweater spots the moment an undercover operator's cover is blown.
(13) IS SF ABOUT THE PRESENT OR FUTURE? Star Trek shouldn't be gloomy insists Reason Magazine's Eric Studer: "Even if Modern Star Trek Doesn't Think So, the World Is Getting Better".
For decades, various incarnations of Star Trek have offered mostly positive visions for the future of humanity—one in which we've set aside petty, earthbound squabbles in favor of boldly seeking out new worlds (and, of course, finding the occasional conflict).

But the first three seasons of Star Trek: Discovery (Paramount+), the seventh television series in the long-running franchise, have too often seemed tied down by storylines that might have more in common with real-world politics of the 21st century rather than the unbridled optimism that was such an important part of Star Trek creator Gene Roddenberry's original conception for the show. Discovery is highly serialized, more focused on a single calamity than a larger sense of exploration, and with far more internally focused characters who care more about their own interests than in a larger plan for society.

As a result, Star Trek now seeks to reinforce the trepidation and existential doubt that is a hallmark of our modern culture. Instead of showing the potential of what humanity can become, Discovery seems to reflect more on what the feelings of the human condition are today…
(14) INVADER FROM MARS. Space.com celebrates an anniversary: "On This Day in Space! Dec. 27, 1984: Famed Allan Hills Mars meteorite found in Antarctica".
On Dec. 27, 1984, one of the most famous Mars meteorites was found in Antarctica.

…Weighing in at just over 4 lbs., this space rock is considered to be one of the oldest Martian meteorites ever found on Earth. Scientists estimate that it crystallized from molten rock more than 4 billion years ago, when Mars still had liquid water on its surface. It also has been the source of controversy about the search for life on Mars that continues to this day.
(15) NOT JUST ANY KIND OF HORROR. The new episode of the Rite Gud podcast features an interview with John Langan on cosmic horror. And also about the horror of dealing with the publishing industry.
Bram Stoker Award-winning author John Langan joins us to talk about cosmic horror, his novel The Fisherman, upstate New York, how much money writers make (none), and how hard it is to get published when you're a little too literary for the genre crowd but a little too genre for the literary crowd. Special appearance by Langan's wiener dog/beagle.
(16) OPENING OUT OF TOWN. "Terry Gilliam's Disputed Sondheim Show Finds a Home" – the New York Times knows its address.
For weeks, a question hung over London theater: What would happen to Stephen Sondheim's "Into the Woods"?

On Nov. 1, the Old Vic theater canceled a revival of the musical, co-directed by Terry Gilliam, after a dispute in which the renowned director was accused of endorsing transphobic views and playing down the MeToo movement. That left the production in limbo and London's theater world wondering if anyone would dare to take it on.

Now, there is an answer. On Aug. 19, 2022, Gilliam's "Into the Woods" will debut at the Theater Royal in Bath, 115 miles from London. The show will run through Sep. 10, 2022, the theater said in a statement….
(17) CRITICAL COMPONENT. DUST presents a short film about a young robot with a defective part, trying to find their way in the world.
(18) A BETTER PLAN. "Tesla agrees to stop letting drivers play video games in moving cars" says the New York Times.
Tesla has agreed to modify software in its cars to prevent drivers and passengers from playing video games on the dashboard screens while vehicle are in motion, a federal safety regulator said on Thursday.

The agreement came a day after the National Highway Traffic Safety Administration opened a formal investigation of the game feature, which is known as Passenger Play. The investigation was announced after The New York Times reported this month on the potential safety risks the games posed….
(19) VIDEO OF THE DAY. Alasdair Beckett-King's parodies are news to me but not to his quarter of a million YouTube subscribers. Here's a sample.
As the first person ever to spoof Doctor Who, I decided not to bother doing an impression of 13 different actors, and just wore a jaunty hat instead.
[Thanks to John King Tarpinian, Andrew Porter, Michael Toman, N., Bill, Raquel S. Benedict, Jeffrey Smith, Nicholas Whyte, Cat Eldridge, Mike Kennedy, Martin Morse Wooster, and JJ for some of these stories. Title credit belongs to File 770 contributing editor of the day Rob Thornton.]