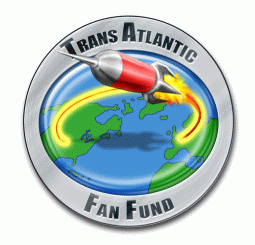 Beginning December 15, you can help decide which European fan is going to attend the 2022 Worldcon in Chicago as the Trans-Atlantic Fan Fund delegate.
The candidates are: Anders Holmström (Sweden), Fia Karlsson (Sweden), Miko?aj Kowalewski (Poland), and Julie Faith McMurray (UK).
Each has been nominated by five other fans to travel to Chicon 8, the 80th World Science Fiction Convention, being held next year in Chicago from September 1-5. Then the winner will assume their duties as the next European administrator of TAFF.
Voting commences December 15, 2021 and closes April 18, 2022. These dates coincide with DisCon III in Washington DC and Reclamation (Eastercon) in London, respectively. When the race opens you will be able to read their platforms on David Langford's TAFF site. This is also the place to go to learn more about TAFF, to read the rules for voting, to make the necessary monetary donation needed for voting, and to cast your vote.
For more information, contact Johan Anglemark, European Administrator ([email protected]) or Geri Sullivan, North American Administrator ([email protected]).