[Frank Catalano initially wrote this as a third-person news story for File 770 but I thought he should have a byline, too.]
By Frank Catalano. Norwescon 45 celebrated the life and career of the longtime Seattle-area author Greg Bear at its SeaTac, Washington convention over Easter weekend. The panel, "Polymath: The Works and Impact of Greg Bear," took a wide-ranging view of the accomplishments of Bear, who died in November 2022 at the age of 71 following complications from surgery.
Panelists included Mark Teppo (collaborator with Bear, Neal Stephenson and others on The Mongoliad project), Brenda Cooper (writer and futurist), Frank Catalano (secretary of SFWA when Bear was the organization's president) and moderator Brooks Peck (writer and pop culture curator who knew Bear through their work with Seattle's Museum of Pop Culture and the Science Fiction Museum and Hall of Fame).
The panel was joined by Astrid Anderson Bear, who provided additional reminiscences and perspective about her husband — from how he initially became involved with Microsoft co-founder Paul Allen's Science Fiction Museum, to the challenges faced by Catalano in helping the Bears hang a large (fake) T-Rex bust in the two-story atrium of their home.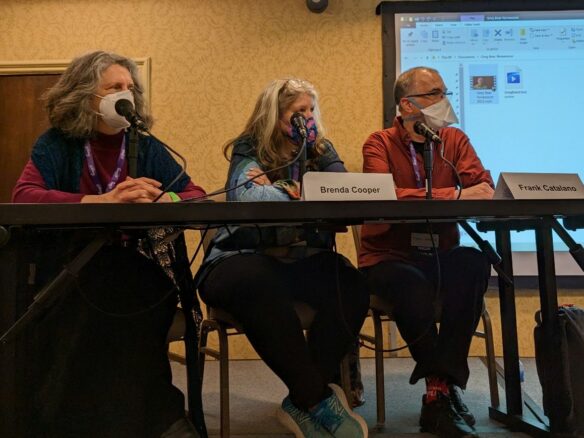 Teppo and Cooper emphasized how open Bear was to other writers, no matter what their level of accomplishment or celebrity, and how he and Astrid would host Clarion West parties for the workshop's students every summer at their home.
Panelists and audience members also mentioned Bear's writing forays into the Star Trek, Star Wars and Halo universes, with one audience member crediting Bear's Halo novels for getting his video game-playing son to start reading.
David Brin, who provided a video tribute, said that the thing that he'll miss most about Bear "is his booming laugh."
"Greg was an artist, and a collector, but he didn't let anything keep him from being a true science fiction author," Brin said. "He had to write. And he was an explorer — as good a storyteller as Poul and Karen Anderson, his parents-in-law, and as good an explorer of ideas as Fred Pohl."
Brin accompanied his tribute with a photo from the 1984 Hugo Awards, where Bear won for Blood Music, adding, "Poul and Karen out in the audience nodded and said, 'Okay, he'll do.'"
Brin also noted the one time he and Bear were collaborators (along with Gregory Benford) on the second Foundation trilogy based on the initial books by Isaac Asimov. "Greg was the one who truly captured Isaac's voice," Brin said. "Greg was devoted to the story and the character."
Bear was also remembered for his influence and efforts outside of speculation fiction.
Journalist Knute Berger, who spearheaded the Washington State Centennial Time Capsule project in 1989, said he approached Bear to be on the advisory board "and he was all-in on helping me conceive the project." In a written remembrance read aloud during the session, Berger said they were loading the container for the capsule, set to remain sealed until 2389, when, "I looked at my finger and it was smeared with blood from a paper cut. 'Congratulations!' Greg shouted. 'You'll be cloned!'"
"Greg devoted a great deal of time and energy," Berger wrote. "He really believed in the promise of the project and took joy in going through the intellectual exercises of trying to ensure its future. He and Astrid were just a delight to work with."
The Norwescon panel closed with the reading of a quote from a 2017 podcast produced by the tech news site GeekWire. In it, Bear expressed how pleased he was with his first 50 years as a science-fiction writer.
"I don't think any writer is ever happy with the attention we get, but I have very few complaints," Bear said. "My books have been read by the people I read when I was a teenager, and that just knocked my socks off when I found that out."
[Thanks to Frank Catalano for contributing this story.]