(1) BANKS WITHDRAWAL. Orbit Books is significantly expanding its Iain M. Banks project, and as a result the original publication date is off: "An update regarding THE CULTURE: NOTES AND DRAWINGS by Iain M. Banks and Ken MacLeod".
We are pleased to share an exciting publication update with everyone who has been looking forward to the release of The Culture: Notes and Drawings by Iain M. Banks and Ken MacLeod.

As fans of Iain M. Banks' vastly popular Culture series will be aware, Iain painstakingly designed every element of the Culture's universe long before the novels were first published. From ships to weapons, language to nomenclature, flora to fauna, the whole of the Culture existed in the form of intricate sketches, notes, tables and charts, many years ahead of its appearance in fiction.

This archival material provides a fascinating insight into Iain's extraordinary mind. It was originally due to be published as a single volume, accompanied by text from the award-winning Ken MacLeod, who was a close friend of Iain's. However, to ensure that Iain's exceptionally detailed drawings can be appreciated in their original format and scale, we are delighted to announce that the material will now be published as two separate editions.

The first release will be a beautiful, full-colour, large-format landscape artbook called The Culture: The Drawings, which will present Iain's drawings exactly as he intended them to be seen.

Following this, we will publish a Culture companion book that celebrates the world of the Culture through Iain's own writing. With accompanying text from Ken MacLeod, it will include an extensive selection of Iain's notes, tables and charts relating to the Culture universe, as well as extracts from the novels.

Given these changes in our publication plans, we are now cancelling the single edition entitled The Culture: Notes and Drawings that was scheduled for 14th October 2021. We'd like to say a huge thank you to everyone who had pre-ordered this single edition, and we'll soon be announcing the release dates for the two new publications mentioned above
(2) HANG UP NOW. In the Washington Post, Mark Buchanan says we should stop making attempts to contact aliens through SETI or similar programs because of the strong possibility that the aliens will overpower us through their superior technology. "Contacting aliens could end all life on earth. Let's stop trying."
…The search for aliens has reached a stage of technological sophistication and associated risk that it needs strict regulation at national and international levels. Without oversight, even one person — with access to powerful transmitting technology — could take actions affecting the future of the entire planet.

That's because any aliens we ultimately encounter will likely be far more technologically advanced than we are, for a simple reason: Most stars in our galaxy are much older than the sun. If civilizations arise fairly frequently on some planets, then there ought to be many civilizations in our galaxy millions of years more advanced than our own. Many of these would likely have taken significant steps to begin exploring and possibly colonizing the galaxy….
(3) PKD. Walker Caplan asks "Is Elon Musk a Philip K. Dick fan?" at Literary Hub.
One of the perks of the digital age is that we have unprecedented access to the thoughts of incredibly powerful people. Never before have we been able to intimately experience the president's thoughts on Coke or Cher's thoughts on . . . Coke. Even Chrissy Teigen can't leave Twitter for more than a few weeks; there's a sense we might be equal-opportunity addicted. This is fun, sometimes, but also often leads to a powerful person tweeting out something that makes very little sense and then everyone else analyzing it. (Just look at the last four years.) I am part of the problem, because one of Elon Musk's recent tweets raises a lot of questions I can't stop myself from asking.

At 4:13 AM yesterday, Musk tweeted this:
(4) ANOTHER OPENING OF ANOTHER SHOW. In the LA area, "Mt. Wilson Observatory Is Reopening To Public After 'Near-Death Experience' With Bobcat Fire".
It's been a rough year for the Mount Wilson Observatory.

First, the COVID-19 pandemic forced it to shut its doors to the public last spring.

Then, in September, flames from the massive Bobcat Fire came within just a few feet of the station, and threatened to destroy its historic array of telescopes and other astronomy equipment. A crowdfunding campaign was later launched to help repair damage.

Next Tuesday, the legendary observatory, which was founded in 1904, is making a comeback — and will reopen its gates to the public.

Sam Hale, chairman of the observatory's board of trustees, said volunteers have been working tirelessly to maintain the station and its trove of sensitive instruments, despite the challenges of the past year.

"It has been very difficult for us," Hale said. "First, the pandemic, then the Bobcat Fire — all in one year — was a real near-death experience. But people are feeling absolutely exhilarated."

The gates will be open from 10 a.m. to 5 p.m. through the summer, according to the observatory's website. Stargazers will also have an opportunity to book reservations to use the observatory's 60- and 100-inch telescopes in the evening.
(5) NEWEST TAFF EBOOK. David Langford's latest addition to the selection of free ebook downloads at the unofficial Trans-Atlantic Fan Fund site is a volume of Forties fan fiction, The Road to Fame by D.R. (Donald Raymond) Smith (25,000 words). Dave explains – "This is an interesting curio rather than one of those huge and newly researched compilations that I like to brag about, and as noted on the page there have been three previous print editions, but it has a certain weird mash-up charm."
This early example of UK fan fiction – in the modern sense of stories that make free with other authors' characters – was written in the 1940s and first published as a collected edition in 1953. There have been multiple reprints but no previous ebook.

The expedition team led by cranky Professor Challenger in Arthur Conan Doyle's The Lost World here joins assorted characters from other fantastic fiction – including the works of Edgar Rice Burroughs (John Carter of Mars and Tarzan), John W. Campbell, E.E. "Doc" Smith (the Skylark and Lensman series), H.G. Wells and several others – on a quest for literary immortality. The perils en route are reminiscent of the much earlier The Pilgrim's Progress and the somewhat later The Enchanted Duplicator:

"On the journey you will have to face such obstacles as the Impassable Precipice of Public Ridicule, the high passes of the Mountains of Contempt through which howls the High Wind of Carping Criticism, the Bog of Apathy in the lowlands beyond, and the vast waterless Plain of Mediocrity where hunt the Wild Wolves of Fierce Competition."
(6) MICHELLE ZELLICH OBIT. Conrunner and member of the Archon board Michelle Zellich died June 9. The Archon team shared the sad news on Facebook:
Archon is incredibly saddened to say one of our longest serving Board and Committee members, Michelle Zellich, passed away Wednesday, June 9th. On behalf of the Board of Directors, Archon Convention Committee, Staff, and Volunteers, and the greater St. Louis (and national) fandom family, I wish to express our deepest condolences to Rich Zellich and the rest of their families on this devastating loss.

Michelle has been on the Archon Board of Directors since at least 1993 and has been an Archon icon for much longer. She ran the masquerade at Archon 10 (1986), 11, and 13, ran programming for Archon 15-18, and was Pro Liaison for Archon 19 & 20. She was co-chair for Archon 13, and was chair for Archon 12 and 21-30. Michelle was also the co-chair for Archon 31/TuckerCon which was the 9th NASFiC.

Michelle and Rich were Fan Guests of Honor for Archon 32 as a celebration of their efforts, but she wasn't yet done with us. After a well-deserved year off, Michelle ran the Art Show for Archon 33-42 before her health forced her to step back from running a department.

It was fun at Archon 32 to watch Michelle walk around not knowing what to do with her "free time" and without her binder full of convention information. She was not used to not having to handle something, answer a question, or talk to the Gateway Center about an issue.

We will miss Michelle, her warm smile, her genuine affection for all of you who loved Archon, and her love of all things Donald Duck. I'm sure Wilson "Bob" Tucker was waiting for Michelle and had a shot ready. Smooth!

Goodbye Michelle and thanks for everything you did for Archon, the St. Louis area fandom, and the greater science fiction and fantasy world.
(7) DAMARIS HAYMAN (1929-2021). Damaris Hayman, noted for her many comedy performances, died June 3 at the age of 91. The Guardian's tribute spotlighted this bit of genre fame:
…Her best television role came in the 1971 Doctor Who serial The Daemons, one of the most fondly remembered adventures featuring the third Doctor, Jon Pertwee. As Miss Hawthorne, the white witch of the village of Devil's End (in reality Aldbourne, Wiltshire) she gamely stands up to Roger Delgado's villainous Master and whacks a homicidal Morris dancer on the head with her handbag (rendering him unconscious due to her always carrying a crystal ball around in it). The character was popular enough for her to recreate the role in a 2017 direct-to-DVD sequel series from Reeltime Pictures, The White Witch of Devil's End….
(8) BEN ROBERTS (1950-2021). Actor Ben Roberts, best known for his role on The Bill, died June 7 reports The Guardian, which also noted his genre work: .
…He was also seen as a villain in Tales of Sherwood (1989), but frequently had to convince Doctor Who fans that he was not the Ben Roberts who reportedly appeared uncredited as a Dalek trooper in the 1984 story Resurrection of the Daleks.

His later screen appearances [included] working with the director Tim Burton on Miss Peregrine's Home for Peculiar Children (2016)….
(9) BANES OBIT. Actress Lisa Banes, whose many movie and TV appearances included The Orville, died June 14 at the age of 65 ten days after being hit by a motor scooter in a New York crosswalk.
"I am deeply saddened at the news of Lisa Banes' passing," wrote Seth MacFarlane. "We had the good fortune to work with her on The Orville this past year. Her stage presence, magnetism, skill and talent were matched only by her unwavering kindness and graciousness toward all of us. A tremendous loss…"
(10) MOSES GINSBERG (1935-2021). Called an "unconventional filmmaker" by the New York Times, Moses Ginsberg died May 23. His two notable films involved "the meltdown of a psychiatrist"and "a press aide in a Nixon-like administration who becomes a murderous werewolf."
…He followed "Coming Apart" in 1973 with another low-budget film: "The Werewolf of Washington," a campy political parody inspired by the classic horror film "The Wolf Man" (1941), which terrified Mr. Ginsberg as a boy, and by President Richard M. Nixon, who terrified him as a man.

In Mr. Ginsberg's film, released more than a year into the Watergate scandal, Dean Stockwell plays an assistant White House press secretary who turns into a werewolf at inopportune moments and murders characters based on Katharine Graham, the publisher of The Washington Post, and Martha Mitchell, the outspoken wife of Attorney General John N. Mitchell….
(11) MEDIA BIRTHDAY.
June 1991 – On this month in 1991, Ian MacDonald's King of Morning, Queen of Day was first published. It would win the the Philip K. Dick Award for best original science fiction paperback published in the U.S. in 1992, and it would win the Grand Prix de l'Imaginaire Award for its French translation in the same year. It had but one physical printing in English in paperback but was printed in French and German hardcopy editions. It's currently available at all the usual digital suspects.
(12) TODAY'S BIRTHDAYS.
[Compiled by Cat Eldridge.]
Born June 15, 1910 — Harold Lawlor. April 1942 saw "The Eternal Priestess" published in Fantastic Adventures, his first sale. His first story for Weird Tales was "Specter in the Steel", May 1943. Over the next decade, twenty-nine stories by him would appear in Weird Tales. "Mayaya's Little Green Men" in Weird Tales, November 1946 is of interest as it's considered the earliest genre appearance of that  phrase. Alas, I don't believe his stories were ever collected and published. (Died 1992.)
Born June 15, 1939 — Brian Jacques. British author who surprisingly is not on the ISFDB list today. Writer of the exceedingly popular Redwall series of novels and also of the Castaways of the Flying Dutchman series. He also wrote two collections of Alan Garner style fiction, Seven Strange and Ghostly Tales and The Ribbajack & Other Curious Yarns. (Died 2012.)
Born June 15, 1941 — Neal Adams, 80. Comic book artist who worked for both DC and Marvel. Among his achievements was the creation with writer Dennis O'Neil of Ra's al Ghul. I'm a DC fan so I can't speak for his work on Marvel but he did amazing work on Deadman, Batman, Green Lantern and Green Arrow. All of this work is now available on the DC Universe app.  It should be noted he was instrumental in the efforts that resulted in Superman creators Jerry Siegel and Joe Shuster receiving long overdue credit and  financial remuneration from DC. 
Born June 15, 1942 — Sondra Marshak, 79. Author of multiple Trek novels including The Price of the Phoenix and The Fate of the Phoenix, both co-written with Myrna Culbreath. She also wrote, again with Myrna Culbreath, Shatner: Where No Man…: The Authorized Biography of William Shatner which of course naturally lists Shatner as the third co-author. She also wrote the fandom reference book Star Trek Lives! which was co-written with Jacqueline Lichtenberg, and television producer Joan Winston. She was an important early promoter of Star Trek fan culture, and a publisher of fan fiction.
Born June 15, 1947 — David S Garnett, 74. Not to be confused with the David Garnett without an S. Author of the Bikini Planet novels (Stargonauts, Bikini Planet and Space Wasters) which should be taken as seriously as the names suggests. Revived with the blessing of Michael Moorcock a new version of New Worlds as an anthology this time. Last work was writing Warhammer novels.
Born June 15, 1960 — Sabrina Vourvoulias, 61. Thai-born author, an American citizen from birth brought up in Guatemala, but here since her teens. Her novel, Ink, deals with immigrants who are tattooed with biometric implants that are used to keep track of them no matter where they are. I'm assuming that the "Skin in the Game" story which appeared first on Tor.com is set in the future. Fair guess that "The Ways of Walls and Words" which also appeared on Tor.com is also set there. The Readercon 25 panel she was on, "East, West and Everything Between: A Roundtable on Latin@ Speculative Fiction" is available from  the usual suspects, as is all of her fiction. 
Born June 15, 1963 — Mark Morris, 58. English author known for his horror novels, although he has also written several novels based on Doctor Who and Torchwood. Given his horror background, these tend to be darker than many similar novels are, I recommend Forever Autumn and Bay of the Dead if you like a good chill. 
Born June 15, 1973 — Neil Patrick Harris, 48. His first genre role was not Carl Jenkins in Starships Troopers, but rather Billy Johnson in Purple People Eater, an SF comedy best forgotten I suspect. Post-Starship Troopers, I've got him voicing Barry Allen / The Flash in Justice League: The New Frontier and Dick Grayson / Nightwing in Batman: Under the Red Hood. He also voiced Peter Parker and her superhero alias in Spider-Man: The New Animated Series. Finally he's Count Olaf in A Series of Unfortunate Events which he also produces. 
(13) COMICS SECTION.
The D&D player's in Jason's game (at FoxTrot) are almost cautious enough.
(14) NINETIES COLLECTIBLES. [Item by Mike Kennedy.] The Toy Zone's article "The '90s Toys That Are Now Worth a Fortune" includes an interactive table of valuable toys. I'm sure it's unnecessary to tell you that market fluctuations and condition of the item will make the large majority of toys worth far less than the prices quoted herein.
Key Findings
The most expensive 1990s toy sold is a Rainbow The Chameleon Beanie Baby from 1997 ($50,000).
Nine of the top 10 most valuable '90s toys are Beanie Babies.
The only top 10 toy not to be a Beanie Baby is a copy of Goldeneye 007 for Nintendo 64 ($14,999).
The most expensive action figure is Scratch from Teenage Mutant Ninja Turtles by Playmates ($5,850).
(15) INDY FIVE. Location shooting for the fifth Indiana Jones movie has drawn the attention of the Scottish press: "Pictures show motorbikes speeding down Highland road for scene in new Indiana Jones film".
… The plot of the new 'Indiana Jones 5' has been kept tightly under wraps.

But these photos of stunt actors racing on motorbikes through the village of Glencoe, western Scotland, give a first insight into the secret plot of the new film.

Two stunt workers can be seen racing each other on motorbikes which appear to be from the World War Two era, behind a vehicle with a large camera rig.

A third, unidentified rider, can then be seen joining the two, riding what looks like a Harley Davidson motorbike, appearing to give the actors directions.

…There were no sightings of star of the franchise Harrison Ford, who has been seen in several locations across the UK in his classic Indiana Jones attire.
(16) INDY ONE. And looking back at the original, the New York Times tells "Four Secrets About 'Raiders of the Lost Ark'".
1. Spielberg's commitment to practical effects was anything but practical.

Black-and-white serials like "Tarzan" and "Jungle Jim" couldn't electrify their thrills with C.G.I. Neither would "Raiders." The film's set pieces, from locations to traps, are temples of old Hollywood craftsmanship. Indy's seaplane departure, the snowbound Nepalese saloon and the plummeting cliffs of Cairo were all handmade matte paintings. On average, a matte painting has only a few seconds before the audience catches on to the trick. Yet, the sprawling warehouse in the film's final shot had to command the screen for nearly half a minute and took the artist Michael Pangrazio three months to complete. For the opening boulder chase, Spielberg commissioned a 12-foot fiberglass and plaster rock mounted at the top of a 40-yard track. Even at a mere 300 pounds — mere, that is, relative to 80 tons of genuine granite — the fake behemoth shattered the prop stalagmites in its path and they had to be replaced between each take. And the boulder might have crushed the star Harrison Ford if he hadn't outrun it all 10 times. "He was lucky," Spielberg said in American Cinematographer magazine, "and I was an idiot for letting him try it."
(17) THE DAYS OF YOUR PULP LIFE. Simon & Schuster will bring out "The Sci-Fi Art of Virgil Finlay Wall Calendar 2022" in August.
Virgil Finlay was an American pulp fantasy, science fiction and horror illustrator. While he worked in a range of media, from gouache to oils, Finlay specialized in detailed pen-and-ink drawings accomplished with abundant stippling, cross-hatching, and scratchboard techniques. This calendar showcases 12 such intricate and atmospheric line pen and ink drawings in all their glory. Informative text accompanies each work and the datepad features previous and next month's views.
(18) JUST STEPPED OUT. "Hawking's office acquired for the nation" announced Science Museum Group.
… A treasure trove of archive papers and personal objects belonging to the late Professor Stephen Hawking – from personalised wheelchairs and scientific bets signed with Hawking's thumbprint to his seminal papers on theoretical physics and his scripts from The Simpsons – have been acquired by the Science Museum Group and Cambridge University Library….

Selected highlights from Hawking's office will go on public view for the first time in a new display at the Science Museum in early 2022. Later next year, global audiences will be able to explore hundreds of remarkable items from Hawking's working life when this significant acquisition is catalogued, photographed and published to the Science Museum Group's popular online collection.
(19) FLY BY JOVE. "Mushballs and a Great Blue Spot: What Lies Beneath Jupiter's Pretty Clouds" – the New York Times discusses an array of photos taken by NASA's Juno probe.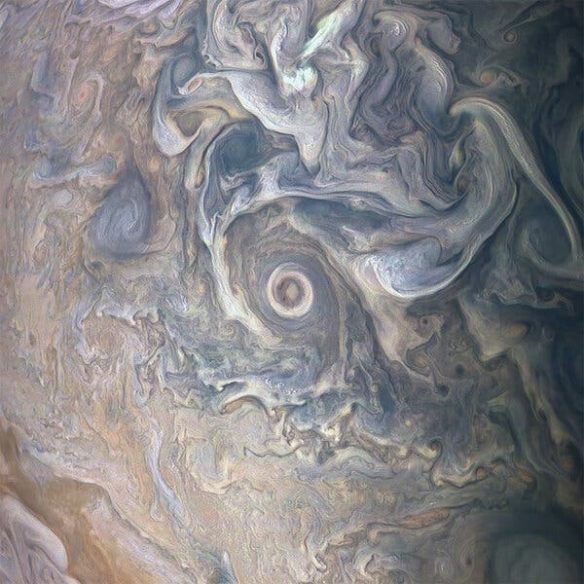 For something that was to have been done and thrown away three years ago, NASA's Juno spacecraft has a busy schedule ahead exploring Jupiter and its big moons.

The spacecraft entered orbit around Jupiter on July 4, 2016, and has survived bombardment from intense radiation at the largest of the solar system's planets. It is now finishing its primary mission, but NASA has granted it a four-year extension and 42 more orbits. Last week, it zipped past Ganymede, Jupiter's largest moon.

"Basically, we designed and built an armored tank," said Scott J. Bolton of the Southwest Research Institute in San Antonio, who is the mission's principal investigator. "And it's worked."

Jupiter is essentially a big ball of mostly hydrogen, but it has turned out to be a pretty complicated ball. The mission's discoveries include lightning higher up than thought possible, rings of stable storms at the north and south poles, and winds extending so deep into the interior that they might push around the planet's magnetic fields.

"I think this has been a revelation," said David J. Stevenson, a professor of planetary science at the California Institute of Technology and a co-investigator on the mission.

Juno's highly elliptical path, pitched up at almost a 90-degree angle to the orbits of Jupiter's moons, passes over the planet's north and south poles. On each orbit, Juno swoops in, reaching a top speed of 130,000 miles per hour as it passes within a few thousand miles of Jupiter's clouds….
Juno also has or will visit Jovian moons Ganymede, Io and Europa.
…At Europa, JunoCam will be pointed at the dividing line between day and night. In recent years, observations by the Hubble Space Telescope have indicated eruptions of water vapor from the ocean breaking through the icy surface. The hope is that JunoCam might fortuitously capture a water plume, backlit by sunlight…
(20) VIDEO OF THE DAY. [Item by Martin Morse Wooster.] In "Honest Trailers: Cruella" on YouTube, the Screen Junkies say that Cruella is in the mode of "quasi-redemptive villain origin stories" similar to the prequels for Darth Vader, Norman Bates, the Joker, the Wizard of Oz, the apes from the Planet of the Apes, and the Minions, but Cruella is a "vil-quil" that is "the world's first reimagined satirical coming-of-age revenge heist comedy drama" that's basically "an excuse for two fashionistas to dress-fight one another." But how does Cruella manage to have a chase scene in 1970s London with a car with a right-hand drive?
[Thanks to John King Tarpinian, Cat Eldridge, Mike Kennedy, Will R., Darrah Chavey, Fred Brooks, Andrew Porter, Martin Morse Wooster, JJ, and Michael Toman for some of these stories. Title credit belongs to contributing editor of the day Daniel Dern.]