(1) 'TIS THE SEASON. It's time now for yard signs to sprout on neighborhood lawns as Brianna Wu's campaign stands up for the September 4 primary.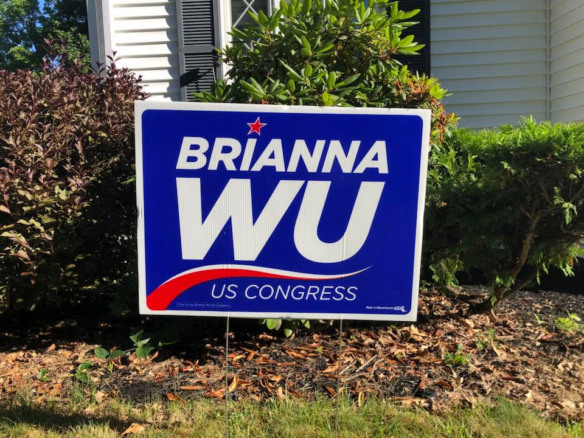 (2) SMALL PLEASURES. N.K. Jemisin is right about that —
I never met Harlan Ellison and have no particular memories of him to share, but it gives me all kinds of petty pleasure to see that he's out-trending that skidmark of humanity, Milo Y (as of this tweet). And from what I hear of Harlan, it would give him petty pleasure, too.

— N. K. Jemisin (@nkjemisin) June 29, 2018
(3) MATTHEW KRESSEL. Scott Edelman entreats you to share BBQ brosket with Matthew Kressel in episode 70 of his Eating the Fantastic podcast.
This episode's guest is Matthew Kressel, whose short story "The Last Novelist (or A Dead Lizard in the Yard)" was one of the finalists this year. He was a previous finalist twice before in the same category for "The Sounds of Old Earth" in 2014 and "The Meeker and the All-Seeing Eye" in 2015. His short stories have appeared in Lightspeed, Tor.com, Clarkesworld, Analog, Interzone, and many others, as well as in anthologies such as Mad Hatters and March Hares, Cyber World, The People of the Book, and more. His novel, King of Shards, was praised by NPR as being "majestic, resonant, reality-twisting madness."

He was also nominated for a World Fantasy Award for his work editing the speculative fiction magazine Sybil's Garage, and is the co-host—along with former Eating the Fantastic guest Ellen Datlow—of the Fantastic Fiction reading series held at the KGB Bar.

Our dinner Friday night that weekend was at Pork & Beans, which has been voted best BBQ in Pittsburgh.

We discussed the story of his accepted by an editor within an hour and then praised by Joyce Carol Oates, the ways in which famed editor Alice Turner was the catalyst which helped turn him into a writer, why after publishing only short stories for 10 years he eventually published a novel, how comments from his Altered Fluid writing workshop helped make his Nebula-nominated "The Sounds of Old Earth" a better story, why a writing self-help book made him swear off those kinds of self-help books, the secrets to having a happy, heathy writing career, why he's grown to be OK with reading bad reviews, what he learned from reading slush at Sybil's Garage, and much more
(4) FINNEGAN BEGIN AGAIN. Fatherly tells how "You Can Now Get Drunk Like Captain Kirk From 'Star Trek'".
This week, Silver Screen Bottling Co. announced an "official" James T. Kirk Straight Bourbon Whiskey. You can't order this in a bar, yet, but you can pre-order a bottle right here, where they're also selling signature glasses, and showing the whiskey next to cigars, even though Kirk never really smoked. (Except for that one time he was in a space prison in Star Trek VI.)

If you don't want to order Star Trek whiskey online, the James T. Kirk Straight Bourbon Whiskey will also be on sale at San Diego Comic-Con, starting on July 19. At that point, Silver Screen Bottling Co. will announce other Star Trek-themed spirits.
Tell us…have you reserved your bottle yet? #JamesTKirkBourbon https://t.co/Kn1CzdiAXM pic.twitter.com/NJf3MhWT1a

— Silver Screen Bottling Co. (@SilverScreenCo) June 27, 2018
(5) GORTON OBIT. Bob Gorton, former chairman of Pulpcon, passed away on May 31. Mike Chomko wrote a brief tribute.
A retired mathematics professor at the University of Dayton, Bob was known for his dry sense of humor. He served as an important bridge between the lengthy term of Rusty Hevelin as Pulpcon chairman and the founding of PulpFest in 2009. A quiet man, Bob was the winner of the Lamont Award in 2002, presented at Pulpcon 31 in Dayton, Ohio. He will be missed.
(6) TODAY IN HISTORY
June 29, 1979 — Moonraker premiered on this day theatrically
(7) TODAY'S BIRTHDAYS
Born June 29 – Sharon Lawrence, 57. Amelia Earhart in Star Trek: Voyager, Maxima in the animated Superman series, and Vivian Cates in Wolf Lake, a short lived werewolves among us series.
Born June 29, 1920 – Ray Harryhausen.
Steve Vertlieb invites you to hop over to The Thunder Child and read his "Ray Harryhausen Tribute".
Ray Harryhausen remains one of the most revered figures in fantasy/sci-fi motion picture history. Born June 29th, 1920, Ray was not only a childhood hero, but became a dear and cherished friend of nearly fifty years duration. His work in films inspired and influenced generations of film makers, and garnered him a special Academy Award, presented by Tom Hanks, for a lifetime of cinematic achievement. Steven Spielberg joyously proclaimed that his own inspiration for directing "Jurassic Park" was the pioneering special effects work of Harryhausen. Published after his death several years ago, here is a celebration and loving remembrance of the life and work of cinematic master, and special effects genius, Ray Harryhausen. It is also the tender story of a very special man, as well as an often remarkable personal friendship. I love you, Ray. You filled my dreams, my life, and my world with your wondrous creatures.

Ray would have turned 98 years young had he lived. In remembrance of this wonderful soul, here is my affectionate tribute to my friend of nearly fifty years, and boyhood hero of interminable recollection and duration…the incomparable Stop Motion genius, and Oscar honored special effects pioneer, Ray Harryhausen. Journey with me now to a "Land Beyond Beyond" where dreams were born, Cyclopian creatures thundered across a primeval landscape, mythological dragons roared in awe struck wonder, and magical stallions ascended above the clouds…Once Upon A Time.
(8) COMICS SECTION.
(9) FARCE FIELD. Steven Levy in WIRED profiles Palmer Luckey, founder of Anduril Technologies, which aims to install a virtual surveillance system on the U.S.-Mexico border. "Inside Palmer Luckey's Bid to Build a Border Wall".
…Palmer Luckey—yes, that Palmer Luckey, the 25-year-old entrepreneur who founded the virtual reality company Oculus, sold it to Facebook, and then left Facebook in a haze of political controversy—hands me a Samsung Gear VR headset. Slipping it over my eyes, I am instantly immersed in a digital world that simulates the exact view I had just been enjoying in real life. In the virtual valley below is a glowing green square with text that reads PERSON 98%. Luckey directs me to tilt my head downward, toward the box, and suddenly an image pops up over the VR rendering. A human is making his way through the rugged sagebrush, a scene captured by cameras on a tower behind me. To his right I see another green box, this one labeled ANIMAL 86%. Zooming in on it brings up a photo of a calf, grazing a bit outside its usual range.

The system I'm trying out is Luckey's solution to how the US should detect unauthorized border crossings. It merges VR with surveillance tools to create a digital wall that is not a barrier so much as a web of all-seeing eyes, with intelligence to know what it sees. Luckey's company, Anduril Industries, is pitching its technology to the Department of Homeland Security as a complement to—or substitute for—much of President Trump's promised physical wall along the border with Mexico.

Anduril is barely a year old, and the trespassing I'd witnessed was part of an informal test on a rancher's private land. The company has installed three portable, 32-foot towers packed with radar, communications antennae, and a laser-­enhanced camera—the first implementation of a system Anduril is calling Lattice. It can detect and identify motion within about a 2-mile radius. The person I saw in my headset was an Anduril technician dispatched to the valley via ATV to demonstrate how the system works; he was about a mile away….

…Middle-earth buffs will recognize Anduril as the enchanted blade that was Aragorn's go-to lethal weapon…"All of us are Lord of the Rings fans, so it was a pretty fun name,' Luckey says. 'Also, I have Anduril the sword hanging on my wall.  (Luckey procured a collector's version, not the original movie prop.)…
Another fannish connection:  Anduril Industries has hired former MythBusters co-host Jamie Hyneman to develop an "autonomous firefighting machine' called Sentry designed to put out California wildfires.  Hyneman, Levy reports, 'built one of the fiercest battlebots in Robot Wars history."
(10) THE STARS HIS DESTINATION. His facial expression is disturbingly like that of  Autopilot in the movie Airplane! — "Floating robot Cimon sent to International Space Station".
An experimental robot with an animated cartoon face has been sent to the International Space Station (ISS) on board a SpaceX Falcon 9 rocket.

Dubbed Cimon (Crew Interactive Mobile Companion), the device is intended as an "an AI-based assistant for astronauts".

Cimon weighs 5kg but in zero gravity it will float move around thanks to 14 internal fans.

It is an attempt to find out whether robots and astronauts can collaborate.

To this end, Cimon is equipped with microphones and cameras that help it recognise Alexander Gerst, the German astronaut with whom it will work.
(11) SAFETY FIRST. Adweek tells why "This Lovable Aardman Animation Is a Cautionary Tale and a 'Dam' Good Lesson".
Dammy, a Canadian beaver, learns vital safety lessons in this tuneful Aardman-animated video from Ontario Power Generation.

Our anthropomorphized hero—his big, flat tail jutting out from the seat of his pants—loves to fish from a rowboat, and dreams of landing "the big one." Alas, his quest takes him perilously near a massive hydroelectric dam.

"Don't ignore that warning sign, your life could be on the line," croons Canadian folk and bluegrass singer Ken Whiteley on the campfire-song soundtrack he helped compose.

Hey, listen to the lyrics and steer clear of those turbines because the fur could really fly! Of course, Dammy dodges the whammy by the skin of his teeth.
(12) OUR FOREFATHERS, AND FOREMOTHERS. "Partaaaaay like it's the 60's. The 1860s, that is," says Mike Kennedy. "This is cosplay like you've never seen before."
An episode of the Vice video series, American Conventions, takes you inside the annual meeting of the Association of Lincoln Presenters in Freeport IL—which features more than a score of Abraham Lincolns, over a dozen Mary Todd Lincolns, and multiple other period costumers. Each of them seems dedicated to not just dressing the part, but being the part. The 12 minute video is interrupted by two short commercial breaks, but may should be worth your time. And, the ghods know we could use more people in this world with the ethics of Honest Abe (or at least those of his best nature; all people are flawed in some way). The video host—Darlene Demorizi—even gets into the spirit as she dresses as Lincoln and makes a heartfelt toast to the gathered crowd.
(13) ORGANIC INVENTORY OF ENCELADUS. Behind the paywall at Nature: "Macromolecular organic compounds from the depths of Enceladus".
Saturn's moon Enceladus harbours a global water ocean1, which lies under an ice crust and above a rocky core2. Through warm cracks in the crust3 a cryo-volcanic plume ejects ice grains and vapour into space4,5,6,7 that contain materials originating from the ocean8,9. Hydrothermal activity is suspected to occur deep inside the porous core10,11,12, powered by tidal dissipation13. So far, only simple organic compounds with molecular masses mostly below 50 atomic mass units have been observed in plume material6,14,15. Here we report observations of emitted ice grains containing concentrated and complex macromolecular organic material with molecular masses above 200 atomic mass units. The data constrain the macromolecular structure of organics detected in the ice grains and suggest the presence of a thin organic-rich film on top of the oceanic water table, where organic nucleation cores generated by the bursting of bubbles allow the probing of Enceladus' organic inventory in enhanced concentrations.

The popular science version of this story is free on BBC: "Saturn moon a step closer to hosting life".

Scientists have found complex carbon-based molecules in the waters of Saturn's moon Enceladus.

Compounds like this have only previously been found on Earth, and in some meteorites.

They are thought to have formed in reactions between water and warm rock at the base of the moon's subsurface ocean.

Though not a sign of life, their presence suggests Enceladus could play host to living organisms.

The discovery came from data gathered by the Cassini spacecraft….
(14) A WORLDWIDE REACH. Jeff VanderMeer shares his appreciation for "The International Covers of The Southern Reach Trilogy". See the images at the link.
Ever since FSG Originals came out with the now-classic Southern Reach covers, there has been what seems like an ongoing competition to create amazing original art and design for other editions, from the somber grace of the original UK hardcovers to, well, the neon color of the UK paperbacks, which riffed off of FSG's gutsy X hardcover design. An incredible amount of creativity has gone into these other editions. It's hard to pick a favorite, but the Turkish, South Korean, and Spanish covers (Pablo Delcan!) are right up there. Not to mention the lovely Hungarian cut-out covers and a Ukrainian Brutalist Rubic's Cube with a tiny cute bunny clinging to one of its levels.
(15) YOUTH WANTS TO KNOW. Yahoo! Entertainment listens in while "Mark Hamill and Chris Evans Discuss Whether a Lightsaber Could Break Captain America's Shield".
Mark Hamill and Chris Evans have answered a question that kids everywhere want to know: if Luke Skywalker and Captain America got into a fight, could Luke's lightsaber break through Cap's vibranium shield?
In the #MarvelUniverse– NO
In the #StarWarsUniverse– Luke wouldn't fight a hero, but if asked to do so, he could cut it into a million little pieces. https://t.co/9fHurwhBNl

— Mark Hamill (@HamillHimself) June 27, 2018
(16) INFINITY WAR IMPROVED. Carl Slaughter declares this is "Probably the best How It Should Have Ended episode yet."
[Thanks to John King Tarpinian, Cat Eldridge, JJ, Jonathan Cowie, Chip Hitchcock, Carl Slaughter, Mike Kennedy, Martin Morse Wooster, Allan Maurer, and Andrew Porter for some of these stories. Title credit belongs to File 770 contributing editor of the day Anna Nimmhaus.]