(1) MEAN STREETS. I Write Like says it analyzes a sample of your writing and determines the author you most write like. I pasted in a paragraph from my "Fourth of Sierra Madre" article and was very happy to be told —
(2) POUNDING THE KEYBOARD. Chuck Tingle's encouraging words for those taking up the NaNoWriMo challenge.
(3) DRONE PROBLEMS. The LA Times tracks how many times "Illegal drones ground water-dropping helicopters at critical moment in Maria fire battle ".
…The interruption of the aerial firefighting underscores growing concerns about how drones can bring added dangers to pilots battling major fires.

According to the National Interagency Fire Center, aerial firefighting efforts have been shut down at least nine times this year because of drone use, and at least 20 drone incursions have hindered firefighting capabilities nationwide from January through October. A report shared with The Times showed that of those 20 incursions, five were in California.

While the unmanned aerial vehicles are small, drones can wreak incredible havoc. A collision with a wing, engine or any part of a larger aircraft can cause severe damage.

"A bird collision with a plane can cause a plane to go down," said Jessica Gardetto, a spokesperson for the National Interagency Fire Center. "These are hard plastic items."
(4) WAKING UP THE WOKE. "Barack Obama Calls Out Woke Culture And Twitter Outrage: 'That's Not Activism'" – Huffington Post has the story.
"This idea of purity, and you're never compromised, and you're always politically woke and all that stuff. You should get over that quickly," he said. "The world is messy. There are ambiguities. People who do really good stuff have flaws." 

Obama also called out what he perceived as a "danger" among younger people.

"There is this sense sometimes of 'the way of me making change is to be as judgmental as possible about other people, and that's enough,'" he said, then offered an example: 

"Like if I tweet or hashtag about how you didn't do something right or used the wrong verb. Then, I can sit back and feel pretty good about myself because, 'Man, you see how woke I was? I called you out.' I'm gonna get on TV. Watch my show. Watch 'Grown-ish.' You know, that's not activism. That's not bringing about change. If all you're doing is casting stones, you're probably not going to get that far."
(5) NYRSF READINGS. In honor of Guy Fawkes Day, the New York Review of Science Fiction Reading Series offers two brilliant speculative fiction writers who will make sure you will remember, remember, the Fifth of November — Robert V.S. Redick and Gay Partington Terry. Event takes place Tuesday, November 5 beginning at 7:00 p.m. in The Brooklyn Commons at 388 Atlantic Avenue in Brooklyn, NY.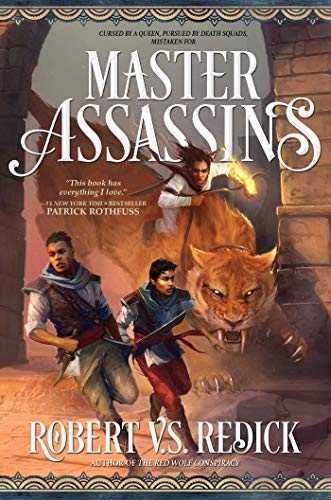 Robert V.S. Redick's fantasy novel Master Assassins, an (anti-) war epic, was a finalist for the 2018 Booknest Award for Best Novel, and was described by Daryl Gregory as "A blazingly smart thrill-ride of an adventure." He is also the author of the critically-acclaimed nautical epic fantasy series The Chathrand Voyage Quartet. His debut novel, The Red Wolf Conspiracy, received a special commendation by the 2010 Crawford Award Committee and was translated into five languages.

Robert teaches speculative fiction writing in the Stonecoast MFA Program in Freeport, Maine, and works as a freelance editor and book coach. He has worked for international development and environmental justice organizations for many years, including Oxfam, Friends of the Earth and the Center for International Forestry Research. He has lived in Indonesia (where he wrote Master Assassins), Colombia, Argentina, London and rural France. He's also worked as a baker, horse handler, translator and stage critic. He now lives in Western Massachusetts with his family.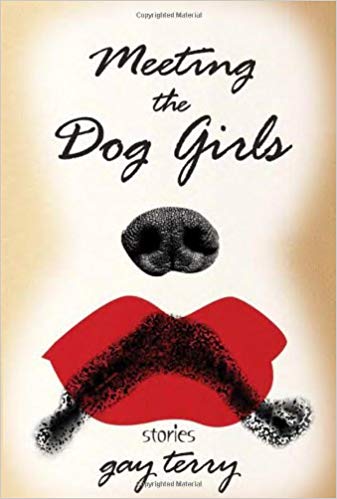 Gay Partington Terry grew up in northern Appalachia but has lived in NYC ever since. She wrote screenplays for "Toxic Avenger," and stories for anthologies, magazines, and ezines (Asimov's, Full Spectrum, Why New Yorkers Smoke…). She's the author of two books, Meeting the Dog Girls and Life, Death, and Beyond Smiggle's Bottom.

Gay has been a waitress, factory worker, welfare worker, magician's assistant, and catalogued tribal arts for a gallery. She does tai chi and is mentored by five grandchildren.
(6) BIG BANG COROLLARY. John Scalzi has posted a free short story related to his freshly finished trilogy: "And Now, A New Short Story: The Origin of the Flow".
…I mentioned yesterday, when I wrote about writing The Last Emperox, my upcoming novel, that I sometimes write reference pieces for myself so I can give some context to myself about what I'm writing. Those pieces usually are never seen by others, but they're useful for me, and they make a better book for everyone else.

This is one of those pieces. In the book, humans get around space via "The Flow" — a "metacosmological multidimensional space" that's not of this universe but lets people get around in it at multiples of the speed of light. I decided I needed to give The Flow an origin story, as well as understand how people discovered it, so I wrote this piece for myself, which I am sharing with you now….
(7) TODAY'S BIRTHDAYS.
[Compiled by Cat Eldridge.]
Born November 2, 1902 — John P. Fulton, A.S.C. A special effects supervisor and cinematographer.  He's the man who parted the Red Sea in The Ten Commandments. Neat trick that. Genre wise, we can first find him in 1931 on Frankenstein in a career that'll stretch through The Mummy, The Invisible Man, The Bride of Frankenstein and I Married a Monster from Outer Space to name a few of the films he worked on. (Died 1966.)
Born November 2, 1913 — Burt Lancaster. Certainly being Dr. Paul Moreau on The Island of Doctor Moreau was his most genre-ish role but I like him as General James Mattoon Scott in Seven Days in May. And, of course, he's really great as Moonlight Graham in Field of Dreams. (Died 1994.)
Born November 2, 1924 — Michi Kobi. She was Dr. Hideko Murata in Twelve to the Moon, half of as a double feature with either Battle in Outer Space or 13 Ghosts. Unless you consider her doing voices on Courage the Cowardly Dog, an early Oughts animated series, to be genre, this is her only SF work. (Died 2016.)
Born November 2, 1927 — Steve Ditko. Illustrator who began his career working in the studio of Joe Simon and Jack Kirby during which he began his long association with Charlton Comics and which led to his creating the Captain Atom character. Did I mention DC absorbed that company as it did so many others? Now he's best known as the artist and co-creator, with Stan Lee, of Spider-Man and Doctor Strange. For Charlton and also DC itself, including a complete redesign of Blue Beetle, and creating or co-creating The Question, The Creeper, Shade the Changing Man, and Hawk and Dove.  He been inducted into the Jack Kirby Hall of Fame and into the Will Eisner Award Hall of Fame. (Died 2018.)
Born November 2, 1941 — ?Ed Gorman. He'd be here if only for writing the script for the  Batman: I, Werewolf series in which Batman meets a werewolf. Very cool. More straight SFF is his Star Precinct trilogy with Kevin Randle which is quite excellent, and I'm fond of his short fiction which fortunately is showing up in digital form at the usual spots. (Died 2016.)
Born November 2, 1942 — Carol Resnick, 77. Wife of that Resnick who credited her according to several sources with being a co-writer on many of his novels. (Does he do this in the actual novels?) He also credited her as being a co-author on two movie scripts that they've sold, based on his novels Santiago and The Widowmaker. And she's responsible for the costumes in which she and Mike appeared in five Worldcon masquerades in the Seventies, winning awards four times.
Born November 2, 1942 — Stefanie Powers,77. April Dancer, the lead in The Girl from U.N.C.L.E. which lasted just one season. Did you know Fleming contributed concepts to this series and The Man from U.N.C.L.E. as well?  She would play Shalon in the crossover that started on The Six-Million Man and concluded on The Six-Million Woman called "The Return of Bigfoot". 
Born November 2, 1949 — ?Lois McMaster Bujold, 70. First let's note she's won the Hugo Award for best novel four times, matching Robert A. Heinlein's record, not counting his Retro Hugo. Quite impressive that. Bujold's works largely comprises three separate book series: the Vorkosigan Saga, the Chalion series, and the Sharing Knife series. She joined the Central Ohio Science Fiction Society, and co-published with Lillian Stewart Carl StarDate, a Trek fanzine in which a story of hers appeared under the byline Lois McMaster.
Born November 2, 1980 — ?Brittany Ishibashi, 39. Ishibashi played Karai in Teenage Mutant Ninja Turtles: Out of the Shadows, the sequel to Teenage Mutant Ninja Turtles. She's currently portrays Tina Minoru on Runaways, streaming on Hulu. And she was Maggie Zeddmore in the Ghostfacers webseries. 
(8) JOIN THE JOURNEY. Galactic Journey's Gideon Marcus will steer their time machine to a series of Southern California destinations to present these live events in November and December. Marcus says, "They are free (at least, we don't charge, and only LosCon has a door fee) so if you're in the neighborhood, please stop on by!" Here's the list:
Talking about the Women Pioneers of Space Science at a great dark sky site
Loscon, Los Angeles, Dec. 1, 1:00 PM
"Crest of a New Wave", discussing 1964 in science fact and fiction
Talking about "What Science Fiction got wrong…and right!"
"The First Moon Race", talking about the troubles and ultimate triumph of Project Ranger.
Once more, talking about the Women Pioneers of Space Science at another great dark sky site.
(9) MARTIAN HOPS. Behind a paywall in the October 26 Financial Times, Edwin Heathcote reviews an exhibit on living on Mars that is at Britain's Design Museum (designmuseum.org) through February 23.
Another room is devoted to off-world agriculture, with terraria and complex hydroponic closed-loop systems, though it all depends on either transporting water from Earth or finding and extracting some of the ice at the Martian poles.  Architect Xavier de Kesteller from Hasell suggests a circular economy is a matter of life and death on Mars–the extreme self-reliance necessary for a Martian mission, the need to recycle everything, might promote better use of our resources on Earth.

It all ends with an intriguing installation by Alexandra Daisy Ginsberg about a Mars 'wilding,' populating the planet not with people but with plants, presented through a series of screens and a gaming engine which maps the development of the fauna over millennia.
(10) MONSTER MASHER. NPR introduces readers to "Rick Baker, The Monster Maker Of Hollywood".
An American Werewolf in London. The zombies from Michael Jackson's "Thriller." Bela Lugosi's Dracula from Ed Wood. The dark fairy Maleficent.

They're all the work of Rick Baker, who created some of the most memorable movie monsters and creatures of the last four decades. Baker is retired now, having won seven Oscars for makeup. But he's chronicled his long career in a new two-volume illustrated book titled Metamorphosis.

In the LA enclave Toluca Lake, Baker answers the door to his house-turned-studio wearing a t-shirt that says "I'd Rather Be Making Monsters." Inside, the building is packed with gorilla skull casts, monster sculptures, masks of gruesome victims. There's a mysterious room that looks from a distance like Dr. Frankenstein's laboratory. ("Uh, that's a room you probably shouldn't go in," Baker says, with a wink.)

His massive book documents his long career, starting when he was a 10-year-old kid making monster masks in his bedroom. His parents encouraged his passion, which included his fascination with the 1931 Frankenstein movie starring Boris Karloff.
(11) IT ALL ADDS UP. Popular Mechanics advises "Use Math to Survive the Zombie Apocalypse".
Put away the chainsaw. Stow your machete. The best zombie-fighting tool in your arsenal may be … math?

Just in time for Halloween, mathematicians at the University of Sheffield in the U.K. have modeled different scenarios that may occur in the event of a zombie apocalypse. The math the team used to model these scary scenarios is a type of modeling scientists rely on to predict and prevent the spread of infectious diseases like measles.

"These models allow us to explain real-world data, make predictions about future disease outbreaks or control measures, and to gain a deeper understanding of the natural environment," mathematician Alex Best of the University of Sheffield said in a statement.
(12) ADDAMS FAMILY ORIGINS. Long Island Press profiled "Charles Addams: The Long Island Macabre Master Who Created The Addams Family".
…In 1931, he enrolled in Manhattan's Grand Central School of Art. He set his sights on The New Yorker magazine. The next year he sold them his first spot sketch for $7.50. In 1933, the magazine bought the first of many drawings.

After his father died that year, he went to work for True Detective magazine. He relished retouching and removing the blood from the pictures of corpses.

In 1935, he joined the New Yorker staff. America was transfixed by the dark, shadowy Frankenstein and Dracula films, which likely inspired Addams to create his signature subjects: a slinky, pale, black-gowned vixen and her weird-looking clan in front of a dilapidated, haunted-looking Victorian mansion. Unlike movie monsters, Addams' characters had an eerie yet healthy sense of humor.

The New Yorker started running his immediately recognizable Addams Family artwork that year. In 1942, his first anthology of drawings was published.
(13) 404SKI. NPR reports a "New Russian Law Gives Government Sweeping Power Over Internet".
A Russian law has taken effect that, in theory, would allow the Russian government to cut off the country's Internet from the rest of the world.

The "sovereign Internet law," as the government calls it, greatly enhances the Kremlin's control over the Web. It was passed earlier this year and allows Russia's government to cut off the Internet completely or from traffic outside Russia "in an emergency," as the BBC reported. But some of the applications could be more subtle, like the ability to block a single post.

It requires Internet service providers to install software that can "track, filter, and reroute internet traffic," as Human Rights Watch stated. Such technology allows the state telecommunications watchdog "to independently and extrajudicially block access to content that the government deems a threat."

The equipment would conduct what's known as "deep packet inspection," an advanced way to filter network traffic.

Such widespread control is alarming to human rights groups, which fear it could be used to silence dissent.

"Now the government can directly censor content or even turn Russia's Internet into a closed system without telling the public what they are doing or why," Rachel Denber, Human Rights Watch's deputy Europe and Central Asia director, said in a statement. "This jeopardizes the right of people in Russia to free speech and freedom of information online."
(14) IN THE STARS. The Cut collected proof from Instagram showing that "Celebrities Really Went All Out on Halloween". A bit heavy on Kardhasians, sure, but without this post I would never have seen LeBron James perfectly attired as Edward Scissorhands,
[Thanks to JJ, Cat Eldridge, Martin Morse Wooster, John King Tarpinian, Mike Kennedy, Chip Hitchcock, Olav Rokne, and Andrew Porter for some of these stories. Title credit goes to File 770's collaborating contributing editors of the day Jon Meltzer, Soon Lee, and Xtifr.]