(1) RHINO RACES SANTA. Jim Mowatt ran a 5K on Christmas Day as part of his campaign to Save the Rhino.
It's Christmas Day in Ayr and Carrie and I are celebrating this festival of wine, beer, pigs in blankets and Christmas pud. by popping down to Rozelle Park to run the 5k parkrun. Just to make it that bit more interesting I'll be wearing a rhino costume.

I got a great reception when I arrived, with a mighty cheer from all the lovely folks assembled near the start. There were several santas, some dogs and a couple of running buggys amongst the crowd. The run director tried to give her pre run briefing but stumbled a little. "Sorry folks," she said, "I was distracted by the rhino."

… If anyone gets the urge to donate to Save The Rhino then please visit the page http://virginmoneygiving.com/jimmowatt and donate whatever you feel you can afford.
(2) CHRISTMAS MIRACLE. "50 Page Fridays: Connie Willis" at Suvudu.
Every Friday, we here @ Del Rey Spectra will place a 50 page excerpt of a selected title on Suvudu. Whether it is science fiction, epic fantasy, alternate history, horror, urban fantasy, paranormal, the possibilities are endless.

This week, just in time for the holidays, we're featuring the first 50 pages of Connie Willis' MIRACLES AND OTHER CHRISTMAS STORIES. Read what the stories are all about and enjoy the excerpt.

This enchanting treasury includes: "Miracle," in which a young woman's carefully devised plans to find romance go awry when her guardian angel shows her the true meaning of love
"In Coppelius's Toyshop," where a jaded narcissist finds himself trapped in a crowded toy store at Christmastime
"Epiphany," in which three modern-day wisemen embark on a quest unlike any they've ever experienced
"Inn," where a choir singer gives shelter to a homeless man and his pregnant wife-only to learn later that there's much more to the couple than meets the eye

And more…
(3) UNSUSPECTED STAR WARRIORS. "13 Actors You Didn't Realize Were in the Star Wars Movies" at Esquire – illustrative photos at the site.
Brian Blessed

Character: Rogur Nass

Appeared in: Star Wars Episode I: The Phantom Menace

Best known outside of Star Wars for: "GORDON'S ALIVE!" That is to say, Flash Gordon and shouting a lot.
Not convinced about that "Best Known" for Blessed. What about Young Arthur, Augustus Caesar in I, Claudius, or Northumberland in Henry V?
(4) A MISSED OPPORTUNITY: Martin Morse Wooster writes, "Thanks for posting Carol for Another Christmas.  I enjoyed it, and Sterling Hayden was great and Peter Sellers brilliant but…. ….this show is super liberal. It really is. Maybe if you headlined it, 'THE FILM THE SAD PUPPIES DON'T WANT YOU TO SEE' you'd get HUNDREDS of comments."
(5) BEFORE MICROSOFT WAS RICH. The Digital Antiquarian's post "A Pirate's Life for me, Part 1: Don't Copy That Floppy!" reproduces an open letter from Bill Gates that will surely bring a nostalgic tear to the eye.
February 3, 1976

An Open Letter to Hobbyists

To me, the most critical thing in the hobby market right now is the lack of good software courses, books, and software itself. Without good software and an owner who understands programming, a hobby computer is wasted. Will quality software be written for the hobby market?

Almost a year ago, Paul Allen and myself, expecting the hobby market to expand, hired Monte Davidoff and developed Altair BASIC. Though the initial work took only two months, the three of us have spent most of the last year documenting, improving, and adding features to BASIC. Now we have 4 K, 8 K, Extended, ROM, and Disk BASIC. The value of the computer time we have used exceeds $40,000.

The feedback we have gotten from the hundreds of people who say they are using BASIC has all been positive. Two surprising things are apparent, however: 1) most of these "users" never bought BASIC (less than 10 percent of all Altair owners have bought BASIC), and 2) the amount of royalties we have received from sales to hobbyists makes the time spent on Altair BASIC worth less than $2 per hour.
(6) THAT WAS THEN, THIS IS NOW. "IBM's Supercomputer Watson Evolves" at Omni.
Watson has become something of a celebrity, perhaps the first artificially intelligent celebrity, making appearances at notable events such as the Tribeca Film Festival. Lauri Saft is director at IBM Watson Ecosystem. Since Watson, the supercomputer, never makes public appearances, Saft had been asked to speak on his behalf, for a program of talks loosely based on the theme of "imagination." Saft wears her hair in a wavy blond bob and tends to dress in black. "Film and artists and creative people and narratives—that is the essence of what Watson handles best," she said, mid-fest. "Words and language and sentiment and ideas, right? That's what Watson does for a living." Perhaps one day, Watson will be running a film studio.

The essential question is, what exactly is Watson? Watson is a question-answering computer system capable of answering questions posed in natural language, developed in IBM's DeepQA project by a research team led by principal investigator David Ferrucci. Watson's name comes from IBM's first CEO and industrialist Thomas J. Watson. The computer system was specifically developed to answer questions on the quiz show Jeopardy! In 2011, Watson competed on Jeopardy! against former winners Brad Rutter and Ken Jennings, and received the first place prize of $1 million.
(7) HOIST THE JOLLY ROGER. And then there are Space Pirates! From "Tom Corbett Space Cadet Push-Outs"  at Dreams of Space – Books and Ephemera.
I try every year to have a Christmas posting. Sometimes it is something Christmas related and others it is a toy for my readers. This is one of the most beautiful punch-out or push-out books I know of. Even though it is not children's non-fiction it evokes the early 1950s vision of space. Plus everyone needs some toy rayguns and other gear for their own space cosplay over the holidays. Enjoy!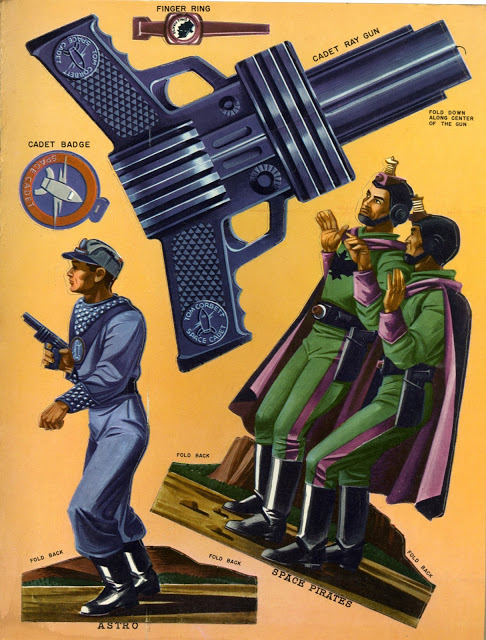 (8) HE WAS THERE. Jack Robins, the last surviving Futurian from the Wollheim side of the divide, says they were much nicer fellows than described by all those nasty fanhistorians. See "The Futurians – A Personal Experience" in The National Fantasy Fan for December 2015. (The issue is not online yet, but eventually will show up here at eFanzines.)
I believe I am the last living member of the Wollheim group of Futurians. But as a science fictionist, I am also a modern type of Futurian who is confident that mankind has a future, that global warming will be resolved before the tipping point (where temperatures keep rising out of control), that new sources of energy, such as Fusion, will become prevalent; and that new forms of space propulsion will be developed so that a trip to Mars would take only a week or two, not months.

PART ONE — THE ISA

I read the article by David Williams and was appalled at his description of the Futurians. David Kyle and I are the only Futurians left alive and neither he nor I would have associated with the Futurians of David's description. He described them as a mean-spirited group intent only on disrupting other organ-izations. That was not my experience at all.

The first thing I learned was that they were a very active group. One of the members, Don Wollheim, told me that some months back they wanted to prove that the future of mail delivery was that it could be sent by rocket. They tied some letters to a rocket, sent it up at the border of anoth-er city and collected the mail. "So what did you do with the mail?" I asked. "Whatever letters weren't burned we mailed in the nearest mail box," was the reply. I read later that the police warned them against any further rocket demonstrations.
(9) RECOMMENDED SHORT. Redheadedfemme urges all to watch Hybrids. The blurb on the YouTube site reads —
Enjoy this fantastic Sci-Fi short film by the talented Patrick Kalyn! In the wake of an alien infestation, an ex-special forces soldier's daughter is killed in an alien attack. Seeking revenge, she leads a team deep into alien territory to a quarantined lab. Soon, she discovers the aliens aren't alien at all, but a failed government experiment to create a bio-hybrid soldier. She must then expose the governments cover-up and save the last standing city in the quarantined zone from falling.
(10) A DOUBTER. Vox Day responded to yesterday's puppy post by George R.R. Martin on Vox Popoli.
Is it a Christmas miracle? Has Mr. Martin's heart grown three sizes? It is an inspiration, is it not?

For my part, I will certainly pledge that when the time comes to make the recommendations for Rabid Puppies 2, there will not be a single reference to CHORFS and ASPS, to Puppykickers, or even to SJWs. There will be no negativity nor will any nominations be urged for the purposes of inspiring rapid cranial expansion; any head-exploding that happens to take place in response to the RP2 recommendations will be entirely unintended on my part.

I trust that all of the responses to those recommendations, by Mr. Martin and others, will be similarly restrained.
(11) TWO MORE GEORGE CLAYTON JOHNSON OBITS. Many appreciations have been posted since Johnson died earlier today.
Johnson was a longtime advocate for the legalization of marijuana and in his later years wrote comic books and was a frequent guest at sci-fi and comics conventions. He co-created the comic book series "Deepest Dimension Terror Anthology" with cartoonist and author Jay Allen Sanford.

"He had a special place in his heart for all of his fans, who sustained him and gave him a forum to share thoughts at a million miles a second," his son said.

In a 2003 interview for the Archive of American Television, Johnson said, "I want to be remembered as a person who early on in his life took control of his life and set goals. When people gave me a lined paper, I wrote the other way. When people expect some certain behavior from me, I will frustrate their expectations."

Although not widely known outside of science-fiction circles, Johnson was revered among fans of the genre for his work, which also included collaborating with Ray Bradbury on the 1962, Oscar-nominated, animated short film "Icarus Montgolfier Wright."

A popular figure at science-fiction conventions for decades, the soft-spoken but friendly author was instantly recognizable for his long, flowing white hair and beard, as well as what might best be described as his hippie attire.
And here is the tribute to Johnson now on display at Mystery & Imagination Bookshop in Glendale.
(12) XMAS PASSINGS. In addition to George Clayton Johnson (2015), notables who passed away on Christmas Day include James Brown (2006), Dean Martin (1995), Charlie Chaplin (1977), and W.C. Fields (1946).
(13) STAR WARS CHARACTER INSPIRED BY TEACHER. "'Star Wars' Character Based on Late Pali High English Teacher, Abrams Tells Palisadian-Post":
Director J. J. Abrams, a Pacific Palisades resident and graduate of Palisades Charter High School, revealed to his hometown newspaper the Palisadian-Post that he based one of the characters in his box office record-breaking 'Star Wars: The Force Awakens' on… [Rose] Gilbert, who was known to her students as 'Mama G'… When she announced her retirement in 2013 at the age of 94, Gilbert was the oldest full-time teacher in the Los Angeles Unified School District and one of the oldest in the country.
David Feldman (author of the Imponderables books) says he took her classes, too.
And I wonder if any of the Hollander brothers did – LASFS members who also attended Pali High while she was on faculty.
[Thanks to redheadedfemme, Will R., and John King Tarpinian for some of these stories. Title credit goes to File 770 contributing editor of the day redheadedfemme.]