(1) MANDO ABOUT TOWN. Yahoo! Entertainment says people have seen "A Mandalorian and Baby Yoda spotted speeding through Los Angeles streets".
For several weeks, a masked Mandalorian and his Baby Yoda has been zooming around the streets of Los Angeles, spreading some good cheer during the pandemic.

…The man behind the homemade mask is comedian Tim Brehmer, who told NBC he's out of work and his goal was simply to make people laugh during a tough time.

"This whole thing got started because I'm a big box of stupid and I love making people laugh," he told NBC. "…with some people with depression, a pill can help, with some people therapy can help, with me, this is my therapy."
(2) FANTASY FORERUNNER. In "Why George MacDonald Matters" at the Los Angeles Review of Books, Timothy Larsen gives an introduction to the great Victorian fantasist who was a major influence on the Inklings.
…MacDonald's grandmother decided that the musical interests of one of her sons were becoming idolatrous and so she threw his violin into the fire. Likewise, MacDonald's own father confiscated a copy of a novel by Sir Walter Scott that the future author had managed to get his youthful hands on.

George MacDonald is a central figure in the generation that changed all this. One possible way for children to escape from relentlessly didactic and moralizing literature was to find a portal into fairyland. When MacDonald's mother died, his father remarried. The family patriarch also mellowed with age and regretted his Puritanical decision regarding the Waverly novel. As a young adult, MacDonald insured that his little half-sister, Bella, received a copy of Grimms' Fairy Tales.

In 1858, George MacDonald published his novel, Phantastes. He called it "a sort of fairy tale for grown people." On his twenty-first birthday, Anodos is transported into his fairyland….
(3) RANSOMWARE. Essence of Wonder with Gadi Evron hosts "Ransomware Negotiators: Professionals Talk" on Saturday, January 23 at 3 p.m. US Eastern. Register for the Zoom session at the link.
Ransomware gangs demand millions, from millions of victims. Then there are specialized negotiators that talk to them on behalf of organizations. In this episode, Gadi and Karen will host two such masters, Christoph Fischer and Moty Cristal, who will share their experience with incident response, negotiation, and communication with criminal organizations.
(4) FIRESIGN THEATRE. In an interview with two surviving members of the troupe, Wisconsin Public Radio recalls "How The Firesign Theatre Predicted The Future".
…And the Firesigns did not shy away from social commentary. Their work predicted the downfall of the Soviet Union, the undoing of a president, the computer revolution, and a modern-day plague.

Ossman puts it this way: "I think at heart, although we loved mystery, we were really science fiction writers in that big genre, it holds everybody from futurists to fantasists to surrealists. Over the course of our entire career, we developed all kinds of worlds and characters and universes. I mean, it was fantasy combined with science fiction, combined with comments about what was going on at that moment."

The Firesign Theatre has just released their first new record in 35 years — "Dope Humor of the Seventies." It's a two-disc set that includes 83 minutes of freeform radio mayhem, and madness from 1970 to 1972….
(5) SOME REALLY SMALL BITES. ASU's Center for Science and the Imagination's series Science Fiction TV Small Bite presents "short films from talented creators that invite us to explore a range of possible futures." The next one on February 4 features a short sf film about genetically engineered mosquitoes followed by a discussion. Register here.
Our latest Small Bite is Akoota, a science fiction film about genetically engineered mosquitoes and social control written and directed by Dilman Dila. We'll screen the 20-minute film, and then have a conversation with Dilman, an award-winning filmmaker, speculative fiction author, and storyteller based in Uganda, and Andrew Maynard, director of the Risk Innovation Lab at Arizona State University, professor and associate dean in the College of Global Futures, and author of the books Films from the Future and Future Rising.

We'll also feature a segment on future cuisine by Corey S. Pressman, an educator, anthropologist, poet, and member of CSI's Imaginary College.

This virtual event is free and open to everyone. Register today!
(6) YOU'RE NOT FROM AROUND HERE, ARE YOU. It's like one of those Ancestry.com DNA searches that finds you a whole new set of parents. James Davis Nicoll discusses "Classic SF in Which Humans Come From 'Beyond the Stars'".
Ursula K. Le Guin: The Hainish Stories

Ages ago, humans evolved on Hain. The Hainish exuberantly settled a large number of worlds in our galactic neighbourhood before apparently abandoning interstellar travel for long enough that worlds like Earth forgot they were Hainish colonies. When a new era of interstellar contact began, terrestrial humans discovered worlds already occupied by their cousins.

On the plus side, even though time and evolution—or alternatively, an ancient Hainish fad for genetic engineering—led to considerable diversity between the various branches of humanity, the communications gap is still less than that which exists between any group of humans and the truly alien entities found elsewhere, such as on Vaster than Empires and More Slow's World 4470. On the minus side, human vices manifest in diverse native forms on each world: thus, the interstellar civil disorders seen in Rocannon's World, the political strife featured in The Dispossessed, and brutal exploitation in The Word for World is Forest.
(7) GODFALLSTALK. [Item by Martin Morse Wooster.] In "Honest Game Trailers: Godfall," Fandom Games says that Godfall is the sort of low-imagination game for times when "you just want to hit a bunch of guys with a big sword until they fall over" and has characters so generic they look like "sketches from a fifth-grader's science notebook."
This episode dropped today. It is dedicated to Brad Venable, long time voice for Honest Game Trailers, who died on January 7 at 43.
(8) CONSTANTINE (1956-2021). David Barnett has written an excellent appreciation of the late Storm Constantine for The Guardian: "'A force to be reckoned with'– fantasy world pays tribute to Storm Constantine".
… Constantine was never less than wildly enthusiastic about all her books, including the three of mine that Immanion published. If her imprint had started as a way to get her own work back into print, it quickly evolved into a personal mission to bring books to readers that the mainstream publishers often overlooked.

Donna Scott, now a writer, editor and standup comedian, was assigned by Storm to edit Hinterland. "It's no exaggeration to say she changed my life. She was so encouraging and supportive to new writers, and fan fiction writers, which is rare among writers held in similar esteem," said Scott. "The heart of fantasy literature is going to ache from the loss of Storm. Not only was she one of the most powerfully unique and creative voices we had, but also a welcoming friend to new talent.
(9) MEDIA BIRTHDAY.
January 19, 1990 — Tremors premiered in theaters. It was directed by Ron Underwood, and produced by Gale Anne Hurd, Brent Maddock, and S. S. Wilson, and written by Maddock, Wilson, and Underwood off the story by Brent Maddock, S. S. Wilson and Ron Underwood. It starred Kevin Bacon, Fred Ward, Finn Carter, Michael Gross and Reba McEntire. Five direct-to-video sequels followed, plus a series. The first film was well-received by critics for its story, special effects and acting alike, it currently has an eighty-six percent rating among audience reviewers at Rotten Tomatoes. Later films and the series are more varied in their audience ratings. (CE)
January 19, 2016 — DC's Legends Of Tomorrow premiered.  It was developed by Greg Berlanti, Marc Guggenheim, Andrew Kreisberg, and Phil Klemmer, who are also executive producers along with Sarah Schechter and Chris Fedak; Klemmer and Fedak serve as showrunners. The cast is is sprawling but Rip Hunter (portrayed by Arthur Darvill of Doctor Who fame) was at the centre for the first few seasons. The time travel, multiverse premise, and it's now been renewed for a sixth season, allows for everything from Greek Mythology to Jonah Hex to show up. It holds a rating among audience reviewers at Rotten Tomatoes of seventy percent. (CE)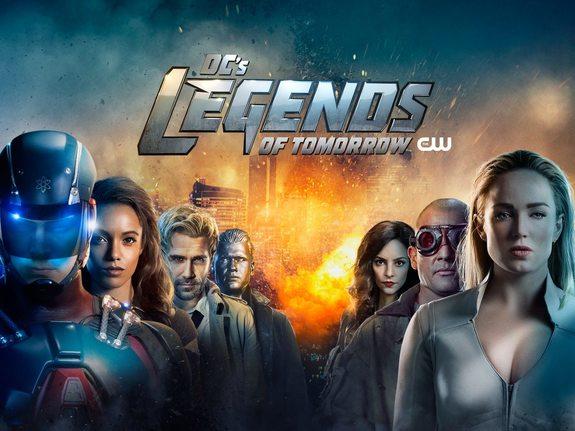 (10) TODAY'S BIRTHDAYS.
[Compiled by Cat Eldridge and John Hertz.]
Born January 19, 1924 — Dean Fredericks. Actor best known for his portrayal of the comic strip character Steve Canyon in the television series of the same name which aired from 1958–1959 on NBC. His first genre role is in Them! followed by appearances in The Disembodied and the lead in The Phantom Planet which you can watch here. (Died 1999.) (CE)
Born January 19, 1925 — Charles Aidman. He makes the Birthday Honors for having the recurring role of Jeremy Pike on The Wild Wild West, playing him four times. Other SFF appearances include Destination Space, The Invaders, Twilight Zone, Mission: Impossible and Kolchak the Night Stalker to name but a few of them. (Died 1993.) (CE)
Born January 19, 1934 — Audrey Dalton, 77. I've first got visiting the SFF genre in the Fifties monster flick The Monster That Challenged the World where she was Gail MacKenzie. She'll make three more SFF appearances in Voyage to the Bottom of the Sea, The Wild Wild West and The Girl from U.N.C.L.E. before retiring in her late Forties from acting. (CE)
Born January 19, 1940 — Mike Reid. He's a curious case as he's been in a number of SFF roles, usually uncredited, starting with a First Doctor story, "The War Machines" and including one-offs for The Saint, The Champions and Department S. He is credited as playing Frank Butcher in Doctor Who: Dimensions in Time which you can watch here. (Died 2007.) (CE)
Born January 19, 1956 — Geena Davis, 65. Her first genre was as Veronica "Ronnie" Quaife In The Fly reboot followed by her widely remembered roles as Barbara Maitland in Beetlejuice and Valerie Gail In Earth Girls Are Easy. She also plays Morgan Adams in the box office bomb Cutthroat Island before getting the choice plum of Mrs. Eleanor Little in the Stuart Little franchise. She has a lead role in Marjorie Prime, a film tackling memory loss in Alzheimer's victims some fifty years by creating holographic projections of deceased family members that sounds really creepy. Who's seen it? Her major series role to date is as Regan MacNeil on The Exorcist, a ten episode FOX sequel to the film. (CE)
Born January 19, 1962 — Paul McCrane, 59. Emil Antonowsky in RoboCop whose death there is surely an homage to the Toxic Avenger. A year later, he'd be Deputy Bill Briggs in the remake of The Blob, and he played Leonard Morris Betts in the "Leonard Betts" episode of the X-Files. (CE)
(11) COMICS SECTION.
Lio warns us about a new reason for alien abductions.
"Spaceman Spiff" (Calvin) learns that evading alien Zarches is much like evading your parents at Calvin & Hobbes.
The Far Side tells how an alien invasion will be stopped.
(12) DC UNIVERSE INFINITE. A.V. Club describes DC's new plan: "DC launches DC Universe Infinite with massive library of comics".
With its movies and TV shows moving to HBO Max, DC Comics is taking its remaining assets (the comics, guys, it's the comics) over to a brand-new platform. DC Universe Infinite launches this Thursday, January 21, and boasts over 25,000 comic books and graphic novels—including several frequently-requested titles that weren't available on the previous app, like Grant Morrison's Batman: Arkham Asylum and Brian Azzarello's Joker. Described as a "premium digital comic book service and community," DC Universe Infinite will offer a library of the largest collection of DC Comics anywhere, with plans to "continuously add selections from DC's iconic labels, Vertigo, DC Black Label and Milestone Media." New comic books will be available on the platform six months after release. The platform is available directly online, as well as on iOS and Android devices. Subscriptions cost $7.99 a month or $74.99 per year, billed annually.
(13) PROVING AUTHENTICITY. The Huntington's article "Securing Election Results in 1640" shows how it was done old-school, with photos of the kind of specialized document involved.
…The need to ensure accurate reporting of election results is nothing new. In 17th-century England, local officials used documents called "indentures" to report the winning candidate in parliamentary elections.

The earliest use of the word "indenture" dates to the 1300s, when it described a feature of the document itself. Long before the widespread use of paper in the western world, scribes wrote contracts or deeds on parchment (treated animal skins). Then, as now, documents typically were executed by more than one party, so scribes wrote mirroring copies of the agreement on a single piece of parchment.

Using a pen knife, the scribe then sliced the parchment in two with vertical cuts that resulted in a pattern that looked like either jagged jack-o-lantern teeth fitted together or rolling, interlocking, scalloped edges. The word "indenture" derives from the Latin dentatum (toothed) because the cut along the top of each of the documents resembled teeth.

Parties would affix their wax seal to one copy of the indenture. If the contents of the document were ever disputed later, the parties could retrieve their copies and set them together. If the indents along the edges of the documents fit together like puzzle pieces, they knew neither of the halves had been forged. The indents served as a security measure….
(14) TITAN TALK. The American Museum of Natural History will livestream "Toxic Titan: Life on Saturn's Moon?" on January 27. Ticket purchase information at the link.
Saturn's largest moon, Titan, is unique in our solar system: below its thick organic haze layer, rivers of methane carve channels into an icy bedrock and flow into large hydrocarbon seas. Could this moon's lake-mottled surface and thick, organic rich atmosphere be an ideal setting for life as we do not know it?

Planetary scientist Sarah M. Hörst explores this question and all that's left to be discovered about our own home from studying a moon worlds away.
(15) I'LL TAKE DONOVAN'S BRAIN FOR $100. Daniel Dern says he's reminded of Niven's story "The Coldest Place." In "Superconducting Microprocessors? Turns Out They're Ultra-Efficient" – Slashdot reports an IEEE Spectrum news item:
Computers use a staggering amount of energy today. According to one recent estimate, data centers alone consume two percent of the world's electricity, a figure that's expected to climb to eight percent by the end of the decade. To buck that trend, though, perhaps the microprocessor, at the center of the computer universe, could be streamlined in entirely new ways.

One group of researchers in Japan have taken this idea to the limit, creating a superconducting microprocessor — one with zero electrical resistance. The new device, the first of its kind, is described in a study published last month in the IEEE Journal of Solid-State Circuits …
(16) RAMPANT MUPPETRY. Seems like every day brings a new selling point for Disney+ that I can't ignore. "Muppet Show coming to Disney Plus in February 2020" reports A.V. Club.
Oh, The Muppet Show! 15 seconds to curtain, The Muppet Show! Or, make that one month: Disney+ has announced that all of five seasons of Jim Henson's pioneering variety show will join its library February 19—the show's streaming debut, if you don't count all the YouTube rips we've been watching while waiting for the show to come to streaming.
And speaking of YouTube rips, how about Gilda Radner doing a G&S Pirates of Penzance bit on the original Muppets series?
[Thanks to Martin Morse Wooster, Lise Andreasen, Michael Toman, Andrew Porter, John Hertz, JJ, Mike Kennedy, Cat Eldridge, Daniel Dern, Darrah Chavey, and John King Tarpinian for some of these stories. Title credit goes to File 770 contributing editor of the day Daniel Dern.]