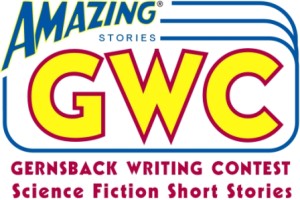 Amazing Stories' Steve Davidson has announced the finalists in the publication's inaugural Gernsback Writing Contest.
The top three finalists are:
Stuart Barton – Lost Phoenixes
Matthew Downer – Size of the Fight
Sean Monaghan – Penny of Tharsis Montes
These stories and the following seven finalists will be published on the Amazing Stories website and in the first Amazing Stories Bi-Annual anthology.
James Harper – A Clean Start
Vince Liberato – Parental Guidance Recommended
Jeremy Lichtman – Bob the Hipster Knight
Stephen Power – The Sounding Cataract
Alex Shvartsman – How Gaia and the Guardian Saved the World
Karen Skovmand – The Mesmerist
Trent Walters – Awake the Snorting Citizens With the Bell
The 73 contest entries were initially screened by Karen Anderson, Stephen Bianchini, R. Graeme Cameron, M. Christian, Judith K. Dial, Dianne Lynne Gardner, David Hardy, Jack Hillman, Michaele Jordan and Ann Stolinsky. Then the finalists were picked from the 18 entries they approved by Cat Rambo (SFWA President), Dave Creek, and Jack Clemons.
In addition to "certificates suitable for framing," the top three finalists will receive 6 cents per word prize money (up to $120.00 each), and when the anthology is released, all ten finalists will be paid 6 cents per word.