(1) WE MADE IT. As you surely already know, "Jeff Bezos just went to space and back" – CNN has the details.
Jeff Bezos, the world's richest man, went to space and back Tuesday morning on an 11-minute, supersonic joy ride aboard the rocket and capsule system developed by his space company, Blue Origin.

Riding alongside the multibillionaire were Bezos' brother, Mark Bezos; Wally Funk, an 82-year-old pilot and one of the "Mercury 13" women who trained to go to space in the 20th century but never got to fly; and an 18-year old recent high school graduate named Oliver Daemen who was Blue Origin's first paying customer and whose father, an investor, purchased his ticket.

Funk and Daemen became the oldest and youngest people, respectively, ever to travel to space. And this flight marked the first-ever crewed mission for Blue Origin's New Shepard suborbital space tourism rocket, which the company plans to use to take wealthy thrill seekers on high-flying joy rides in the months and years to come….
(2) THE REACTION. People found ways to have fun with today's headline story.
Jennifer Hawthorne noted, "There's a bunch of these on a similar theme on Twitter today."
(3) NEED FOR SPEED. [Item by Dann.] Leave it to the Banana Jr. 6000 to finally find out where Calvin went when he grew up: see Berkeley Breathed's Facebook page, That is not the most unusual thing I've typed this week. But it's close!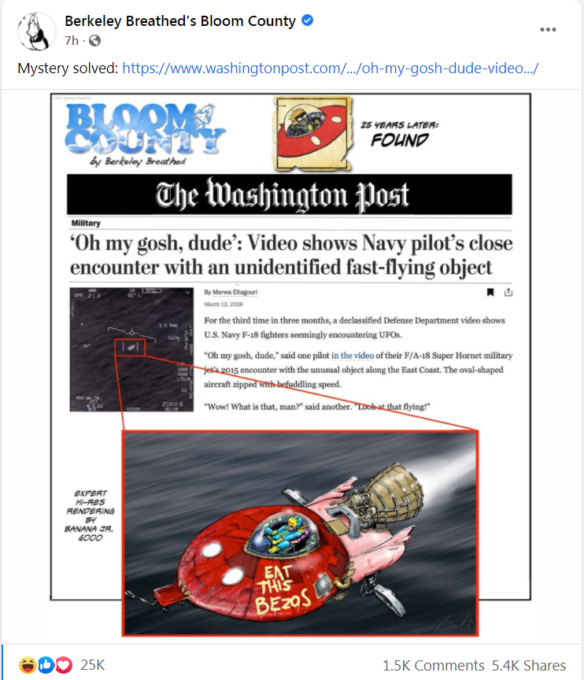 (4) HUGO VOTER PACKET. DisCon III notified members today they have made additions to the Hugo Voter Packet.
Since you've already downloaded some or all of the Hugo Awards Packet, we want to let you know that we have uploaded new or revised material in the following categories:
Best Novelette
Best Series
Best Editor, Short Form
Best Fancast
Best Video Game
Additionally, a portion of Sheila Williams' packet materials in Best Editor, Short Form, was blank, and we have uploaded the corrected documents. We sincerely apologize to Sheila for our error.
(5) PRO TIP. Every writer has bad days. That's Jane Yolen's message today on Facebook:
One book turned down, four poems rejected. That is how my day has started. But movement is all. Those poems, that book can now go to it next round. That book editor can be sent a new mss. There is no real downside to this.

Reminder: A Wrinkle in Time was rejected by 29 editors.

It took 20 years to sell my book with grandaughter,: Nana Dances. Coming out this month.

To Think That I Saw It On Market Street was rejected over 30 times and Suess was about to self-publish when Bennett Cerf began Random House,

Owl Moon was turned down by 5 editors as too quiet.

Sleeping Ugly was dumped by 13.

Smile, move on, and have the last laugh and the last dance with the SMART editor!
(6) PROJECT HAIL MARY NARRATOR SPEAKS. AudioFile features the narrator of Project Hail Mary in their short video "Behind the Mic with Ray Porter".
From his very own home studio located somewhere in outer space, narrator Ray Porter shares why he loved recording Project Hail Mary, the fantastical space opera from Andy Weir (The Martian). After listening to Ray's narration, you might feel the same way he does—sad the audiobook is over.
(7) WHY SPY. At CrimeReads, sf writer Alma Katsu interviews Owen Mathews about his novel Red Traitor. "Alma Katsu and Owen Matthews on Ideal Spies, Historical Fiction, and the Russia-West Divide".
Katsu: Was there something you felt was lacking in the genre that you wanted to correct? Something overlooked that deserved to be highlighted?

Matthews: Every writer needs his protagonist to have a secret, and for him to be hunted. And the world of spies gives you that plot structure on a plate—what greater secret is there than to be a spy, and what better chase is there than a spy hunt? As for wanting to correct a genre or highlight a point, I think every writer worth their salt writes because they think they can tell a story better, move movingly, more excitingly, than the next guy. I would add that most of the actual spies that I have known are actually far less interesting and lead much more boring lives than one would like to imagine, so that banal reality needs to be corrected with a heavy dose of fictional jeopardy.
(8) MORE GOOD STUFF. [Item by JJ.] One of the stories in John Joseph Adams' and Veronica Roth's Best American Science Fiction And Fantasy 2021 anthology came from the Take Us To A Better Place: Stories anthology which is available as a free download in both English and Spanish. Features stories by: Madeline Ashby, Hannah Lillith Assadi, Calvin Baker, Frank Bill, Yoon Ha Lee, Karen Lord, Mike McClelland, Achy Obejas, David A. Robertson & Selena Goulding, and Martha Wells
Unfortunately, you have to have an account with either Amazon/Kindle, Apple/iBooks, or B&N/Nook to get the free ebook, but there is also a PDF available.
(9) GRRM HITS THE ROAD. George R.R. Martin told Not A Blog readers about his trip "Back to the Midwest" to receive his honorary doctorate at Northwestern University (see his Graduation Speech on YouTube) and enjoy some other adventures. He also gave an interview to a local PBS station (linked from his post). Hopefully he was well-rested by the time he got home because —
…Of course, during my ten days on the road and away from the internet, the email piled up, and I found some eight hundred letters waiting for me on my return. Which may help explain why I am weeks late in making this post, but…
(10) SCARS OF A LIFETIME. At CBR.com, "Alan Moore's Daughter Explains His Anger at the Entertainment Industry".
Leah Moore, a writer and the daughter of comic book icon, Alan Moore, responded to the discussion of a recent Hollywood Reporter article about comic book writers not being fairly compensated financially for their work by noting that the things discussed in the article are part of the reason why her father is so angry at the entertainment industry.

Moore has been quite open over the years in defense of her famous father, as she dislikes the idea that his anger has been portrayed as though he is being unreasonable when she obviously feels that it is not, and articles like the Hollywood Reporter one let people in on just how messed up things can be for even the top comic book writers of the world like Alan Moore (for instance, the article cites complaints from Ed Brubaker and Ta-Nehisi Coates, two of the most successful comic book writers working today).
(11) MEMORY LANE.
Between 1956 and 1967, Robert Heinlein would win four Hugos for Best Novel. His first win would be for Double Star at NyCon II followed four years at Pittcon for Starship Troopers. Two years later at Chicon III, he'd get his third for Stranger in a Strange Land. His last of the four wins in the period, and indeed his last ever Hugo (not counting Retro Hugos of which he'd later win seven), would be at NyCon 3 for The Moon Is a Harsh Mistress.
(12) TODAY'S BIRTHDAYS.
[Compiled by Cat Eldridge.]
Born July 20, 1924 — Lola Albright. Though she's best remembered best known for playing the sultry singer Edie Hart, the girlfriend of private eye Peter Gunn, she did do some genre performances. She's Cathy Barrett, one of the leads in the Fifties film The Monolith Monsters, and television was her home in the Fifties and Sixties. She was on Tales of Tomorrow as Carol Williams in the "The Miraculous Serum" episode, Nancy Metcalfe on Rocket Squad in "The System" episode, repeated appearances on the various Alfred Hitchcock series, and even on The Man from U.N.C.L.E. in the episodes released as the feature length film The Helicopter Spies. She was Azalea. (Died 2017.)
Born July 20, 1930 — Sally Ann Howes, 91. Best remembered as being Truly Scrumptious on Chitty Chitty Bang Bang. She was nominated for the Tony Award for Best Lead Actress in a Musical for her performance in Brigadoon. And I'll note her playing Anna Leonowens In The King & I as Ricardo Montalbán played the lead role as that's genre as well.
Born July 20, 1931 — Donald Moffitt. Author of the Baroness thriller series, somewhat akin to Bond and Blaise, but not quite. Great popcorn literature. Some SF, two in his Mechanical Skyseries, Crescent in the Sky and A Gathering of Stars, another two in his Genesis Quest series, Genesis Quest and Second Genesis, plus several one-offs. (Died 2014.)
Born July 20, 1938 — Diana Rigg, née Dame Enid Diana Elizabeth Rigg. Emma Peel of course in The Avengers beside Patrick Macnee as John Steed. Best pairing ever. Played Sonya Winter in The Assassination Bureau followed by being Contessa Teresa "Tracy" Draco di Vicenzo Bond on On Her Majesty's Secret Service. By the Eighties, she's doing lighter fare such as being Lady Holiday in The Great Muppet Caper and Miss Hardbroom in The Worst Witch, not to mention The Evil Queen, Snow White's evil stepmother in Snow White. Next she would get a meaty role in Game of Thrones when she was Olenna Tyrell. Oh, and she showed up in Dr. Who during the Era of the Eleventh Doctor as Mrs. Winifred Gillyflower in the "The Crimson Horror" episode. (Died 2020.)
Born July 20, 1942 — Richard Delap. Canadain fanzine writer who wrote for Granfalloon and Yandro. He nominated for the Hugo Award for Best Fan Writer twice but lost to Harry Warner, Jr. at St.Louiscon, and Wilson Tucker at Heicon '70. He published Delap's F&SF Review. He co-edited The Essential Harlan Ellison. He died of AIDS complications just after it was published. (Died 1987.)
Born July 20, 1957 — Michael 'Mike' Gilbert. A fan artist in the late '60s in Locus and other fanzines as well as an author, and publishing professional. Locus notes his wife was the co-publisher of DAW Books, and Mike worked in both editorial and art capacities at DAW, and was one of their primary first readers. (Died 2000.)
Born July 20, 1959 — Martha Soukup, 62. The 1994 short film Override, directed by Danny Glover, was based on her short story "Over the Long Haul". It was his directorial debut. She has two collections, Collections Rosemary's Brain: And Other Tales of Wonder and The Arbitrary Placement of Walls, both published in the Nineties. She won a Nebula Award for Best Short Story for "A Defense of the Social Contracts". "The Story So Far' by her is available as the download sample at the usual suspects in Schimel's Things Invisible to See anthology if you'd liked to see how she is as a writer.
(13) COMICS SECTION.
The Far Side has a genre-adjacent airborne calamity.
Lio knows who this call is for.
(14) CLOSING TIME? In "Exterminate! Exterminate! Why it's time for Doctor Who to die", The Guardian's Martin Belam says Doctor Who looks tired.
…As someone who loved Tom Baker as the Doctor in the 70s, I have found the success of the 2005 revival wonderful to watch. But while Doctor Who looks better than it ever has – the sequences of the Cybermen marching through their battle cruiser towards the end of the last season were worth the price of admission alone – everything around it feels tired.

The ability to travel anywhere in time and space makes Doctor Who a series that could potentially tell a million brilliant different stories, and Chibnall's innovation of "the Timeless Child", meaning there are potentially dozens of guest star Doctors Who we have never met before, opens it up to go in new directions.

But it doesn't feel as if it is close to telling a million brilliant stories. It feels as if it is telling an increasingly self-absorbed meta-story about its own run, accompanied by a very vocal online fandom that isn't quite sure what it wants, but knows it doesn't want this.

Maybe the BBC needs to try something other than carrying on. A break. A feature film. A co-production deal. An anthology series featuring familiar characters from the Whoniverse who aren't the Doctor. Anything other than slowly grinding out another couple of series formatted as if it were still 2005….
(15) GORN TOON. Here's a piece by artist Jacob Paik (http://jpaikmedia.com/) of the Gorn captain from the Star Trek episode "Arena." (Click on image to see it completely.)
(16) RESISTANCE MAY BE THE POINT. Nature tells why "Massive DNA 'Borg' structures perplex scientists".
The Borg have landed — or, at least, researchers have discovered their counterparts here on Earth. Scientists analysing samples from muddy sites in the western United States have found novel DNA structures that seem to scavenge and 'assimilate' genes from microorganisms in their environment, much like the fictional Star Trek 'Borg' aliens who assimilate the knowledge and technology of other species.

These extra-long DNA strands, which the scientists named in honour of the aliens, join a diverse collection of genetic structures — circular plasmids, for example — known as extrachromosomal elements (ECEs). Most microbes have one or two chromosomes that encode their primary genetic blueprint. But they can host, and often share between them, many distinct ECEs. These carry non-essential but useful genes, such as those for antibiotic resistance.

Borgs are a previously unknown, unique and "absolutely fascinating" type of ECE, says Jill Banfield, a geomicrobiologist at the University of California, Berkeley. She and her colleagues describe their discovery of the structures in a preprint posted to the server bioRxiv1. The work is yet to be peer-reviewed….
(17) VON WITTING'S FB ACCOUNT DIES THE DEATH. Well-known European fan Wolf von Witting (who wrote a guest post for us in March, "Inexplicable Phenomena and How To Approach Them") announced to his mailing list that he has abandoned Facebook after the following experience:
On July 15th Facebook locked my account because of suspicious activity.

What I did, was trying to log in from Bucharest.

My Yahoo-mail service also noted an unexpected login and sent an alert to my other email accounts. I simply confirmed it was me by following the given instructions.

With Facebook it was not so smooth. Not even the link from my Yahoo account could open it. I read somebody's story about how difficult it was for him to get his account back, once it had been locked. I refuse to follow Facebook's complicated and intrusive demands to re-open my account.

Today I sent them my final message, which I doubt they will read. Same as all the other messages I sent. They have my email, so in theory they could be answering, were they not too big for their own good. The story of the other guy concluded with "They have all the power."

I disagree. I have the power not to associate with such poor totalitarian service. They can literally stuff the account where the sun doesn't shine. They have my blessing. I won't be using it any further. Ever.

My final message to Fb was as follows:

"Why do you have this function? It fills no purpose. No one appears to be reading it. No one answers. Nothing happens. I might as well talk to a dead fish. Why would I want to have back such bad and unreliable service? I thought about it and decided to not waste any more time with you. I am most certainly not going to jump through any of your hoops. Keep it! And do continue to saw off the branch you are sitting on. See where it gets you. You have my blessing. And this concludes our relationship."

(499 of 500 possible characters used)

In my opinion, Facebook is an evil entity. It is my duty to oppose a totalitarian attitude.

Their service has not only proven unreliable, but also damaging. An article in the next issue of CoClock will deal with my damage control measures.

In the end I only feel free of another oppressor, big brother (in the bad sense) and social vampire.

A huge thank you, to Yahoo mail, which has worked without problems for 25 years.

This is now the ONLY way to communicate with me.
(18) MUGGLE TECH. SYFY Wire introduces another season of a YouTube series aimed at film fans: "Could You Survive the Movies? Season 2 clip explores Harry Potter". If you lose your magic but still have science, maybe.
Merlin's pants! Could You Survive the Movies? is officially back for a second season and SYFY WIRE has an exclusive first look at the Harry Potter episode debuting later this week. Hosted by Vsauce3's Jake Roper, the YouTube Original series is basically MythBusters for die-hard cinephiles. Each episode tries to answer whether or not movie lovers would be able to live through the events of Hollywood's most iconic films.

In this week's magical installment, Jake plays a version of Mr. Potter, who loses all of his magical powers to a feared, Voldemort-esque dark wizard….
(19) AI ASTAIRE. Imagine what AI powered machines will be able to do in the next 5-10 years. (Boston Dynamics machines flawlessly and soulfully dancing in rhythm, video first posted in 2020).
(20) VIDEO OF THE DAY. [Item by Martin Morse Wooster.] In "Honest Trailers: Black Widow" on YouTube, the Screen Junkies say this film falls the familiar plot of "keeping important object X out of the hands of military leader Y by taking down massive airship Z." Plus Florence Pugh fans can see her morph from "the mischievous, braided-hair sister" in Little Women to the "mischievous, braided-hair sister in Little Women who has killed hundreds of people."
[Thanks to Michael Toman, John King Tarpinian, Cat Eldridge, Jennifer Hawthorne, Rich Lynch, Ben Bird Person, Wolf Von Witting, Dann, Mike Kennedy, Andrew Porter, Martin Morse Wooster, and JJ for some of these stories. Title credit belongs to contributing editor of the day Daniel Dern.]