(1) PENGUIN RANDOM HOUSE ASKS INTERNET ARCHIVE TO REMOVE MAUS. Chris Freeland, a librarian and Director of the Internet Archive's Open Libraries program, advocates for his work at ZDNet: "Librarian's lament: Digital books are not fireproof".
The disturbing trend of school boards and lawmakers banning books from libraries and public schools is accelerating across the country. In response, Jason Perlow made a strong case last week for what he calls a "Freedom Archive," a digital repository of banned books. Such an archive is the right antidote to book banning because, he contended, "You can't burn a digital book." The trouble is, you can.

A few days ago, Penguin Random House, the publisher of Maus, Art Spiegelman's Pulitzer Prize-winning graphic novel about the Holocaust, demanded that the Internet Archive remove the book from our lending library. Why? Because, in their words, "consumer interest in 'Maus' has soared" as the result of a Tennessee school board's decision to ban teaching the book. By its own admission, to maximize profits, a Goliath of the publishing industry is forbidding our non-profit library from lending a banned book to our patrons: a real live digital book-burning.

We are the library of last resort, where anyone can get access to books that may be controversial wherever they happen to live — an existing version of Perlow's proposed "Freedom Archive." Today, the Internet Archive lends a large selection of other banned books, including Animal Farm, Winnie the Pooh, The Call of the Wild, and the Junie B. Jones and Goosebumps children's book series. But all of these books are also in danger of being destroyed.

In the summer of 2020, four of the largest publishers in the U.S. — Penguin Random House among them — sued to force our library to destroy the more than 1.4 million digital books in our collection. In their pending lawsuit, the publishers are using copyright law as a battering ram to assert corporate control over the public good. In this instance, that means destroying freely available books and other materials that people rely on to become productive and discerning participants in the country's civic, economic, and social life….
(2) SUPER BOWL COMMERCIALS WITH A TOUCH OF SFF. Thanks to Cora Buhlert for flagging several of these in a comment yesterday on the "The Lord of the Rings: The Rings of Power – Teaser Trailer" post. Besides the ones I've embedded below, there's a "Planet Fitness – What's Gotten into Lindsay?" spot with a cameo and narration by William Shatner, and astronaut Matthew McConaughey headlining the "'The New Frontier' Salesforce Super Bowl Ad" ("while the others look to the metaverse and Mars, lets stay here and restore ours…").
Enter a new dimension of Strange. Watch the official trailer for Marvel Studios' Doctor Strange in the Multiverse of Madness. Only in theaters May 6. In Marvel Studios' "Doctor Strange in the Multiverse of Madness," the MCU unlocks the Multiverse and pushes its boundaries further than ever before. Journey into the unknown with Doctor Strange, who, with the help of mystical allies both old and new, traverses the mind-bending and dangerous alternate realities of the Multiverse to confront a mysterious new adversary.
See the all-new Big Game TV Spot for Marvel Studios' #MoonKnight ?, an Original series streaming March 30, only on Disney+. The story follows Steven Grant, a mild-mannered gift-shop employee, who becomes plagued with blackouts and memories of another life. Steven discovers he has dissociative identity disorder and shares a body with mercenary Marc Spector. As Steven/Marc's enemies converge upon them, they must navigate their complex identities while thrust into a deadly mystery among the powerful gods of Egypt.
In a competitive home buying market, Barbie was able to find and finance her dream house with some help from Rocket Homes??, Rocket Mortgage® and Anna Kendrick.
Retiring from Mount Olympus to Palm Springs, Zeus is underwhelmed by all earthly electric things and becomes a shell of his former self. But right when we think all hope is lost, his wife, Hera, introduces him to the all-electric BMW iX and helps mighty Zeus reclaim his spark.
(3) THE SIXTIES CONAN REDISCOVERY. At Galactic Journey, Cora Buhlert continues her overview of the Lancer Conan reprints with Conan the Warrior, which includes two of the best Conan stories "and no L. Sprague de Camp mucking about": "[February 14, 1967] Three Facets of Conan: Conan the Warrior by Robert E. Howard".
…Valeria is a marvellous character, a warrior woman who is Conan's equal in many ways. "Why won't men let me live a man's life?" Valeria laments at one point. "That's obvious," Conan replies with an appreciative look at Valeria's body. Robert E. Howard is usually considered a writer of masculine fiction and Conan is clearly a man's man, but I was pleasantly surprised by the variety and competence of the female characters in these stories. Not every women in these stories is as impressive as Valeria or Yasmina from "The People of the Black Circle", but they are all characters with personalities and lives of their own and every one of them is given a chance to shine….
(4) IT'S TIME FOR TRIVIA. Clarion West's third annual speculative fiction trivia night fundraiser welcomes anyone to join this celebration of all things speculative. The event takes place March 20 from 5:00 p.m.-7:30 p.m. Pacific. Purchase tickets here – most options are $15.
Quizmaster Seanan McGuire will host us on Sunday, March 20th at 5pm PT for a night of science fiction, fantasy, and horror-themed rivalry. We're also excited to welcome celebrity team captains Tananarive Due & Steven Barnes, A.T. Greenblatt, Greg & Astrid Bear, Cat Rambo, Andy Duncan, Brooks Peck, Julia Rios, and Curtis C. Chen!

Clarion West began running Speculative Fiction Trivia Night as an in-person fundraiser in 2019. It's been such a hit that we've kept it going online for our global community. We enjoy bringing everyone together for this annual event, keeping it easy to run (with lots of volunteer power), and low cost to join! Ticket sales support Clarion West, the time and efforts of our staff, and our wonderful quizmaster Seanan McGuire!

You can join as an individual and be placed on a team, bring your own team, or join a team led by one of our amazing celebrity team captains (these fill quickly)!

Learn more about Trivia Night, our Celebrity Team Captains, and other details here.
(5) HIDDEN GEMS. G.W. Thomas remembers the adventures of Thula, a little known 1970s sword and sorcery heroine by Pat McIntosh, whose stories only appeared in an obscure British fanzine and Lin Carter's Year's Best Fantasy collections: "The Adventures of Thula" at Dark Worlds Quarterly.
The Adventures of Thula was a series of five Sword & Sorcery tales featured in Lin Carter's The Year's Best Fantasy Stories 1-5. Pat McIntosh, the Scottish author of these tales, was a mystery to me. Her stories appeared first in John Martin's British fanzine Anduril but nowhere else. She was an obvious favorite of Lin's, along with other women writers such as Tanith Lee, C. J. Cherryh and Janet Fox. He called McIntosh "…a new British writer bound to go places in the years to come!"…
(6) NOPE TRAILER. "Jordan Peele's 'Nope' Trailer Sees a UFO Terrorize Keke Palmer, Daniel Kaluuya and Steven Yeun". Yahoo!'s preview explains, "One day, a UFO appears in the sky, causing all matter of chaos for those at the ranch and its neighboring town. In one eye-catching scene in the trailer, we see Kaluuya on horseback trying to outrun the UFO; in another, a gooey alien creature stalks its prey."
(7) IVAN REITMAN (1946-2022). A prolific Hollywood producer and director, Ivan Reitman died February 13 at the age of 75. He worked on many famous non-sf films, but the Ghostbusters movies were his best-known. As a producer or executive producer he had a hand in genre films Heavy Metal (1981), Spacehunters: Adventures in the Forbidden Zone (1983), Ghostbusters (1984), Ghostbusters II (1989), and the reboots Ghostbusters (2016) and Ghostbusters: Afterlife (2021), Space Jam (1996), Evolution (2001), A Babysitters Guide to Monster Hunting (2020), and also two animated TV series Mummies Alive (1997) and Alienators: Evolution Continues (2001), plus a recurring segment of the Atom TV series (2008).
The Guardian's Hadley Freeman found Ivan Reitman impressive: "I finally met Ivan Reitman three months ago – my Hollywood hero was a truly lovely man".
As the Guardian's official 80s movies correspondent, I talked to Reitman multiple times over the years, beginning with a phone interview for the last film he directed, 2014's Draft Day. When I contacted him again a few weeks later to ask if I could interview him for a book I was working on about 80s movies, he immediately agreed, and talked to me for over an hour, reminiscing about films people had been asking him to reminisce about for over 30 years. He never showed boredom or irritation. If I ever needed a quote, or just had a question, I could email him and he'd reply immediately. Does it really need saying that this kind of behaviour from a genuine Hollywood powerhouse is not exactly typical?
(8) MEDIA BIRTHDAY.
1964 — [Item by Cat Eldridge] "James Elwood: master programmer. In charge of Mark 502-741, commonly known as Agnes, the world's most advanced electronic computer. Machines are made by men for man's benefit and progress, but when man ceases to control the products of his ingenuity and imagination, he not only risks losing the benefit, but he takes a long and unpredictable step into… The Twilight Zone."
Fifty-eight years ago this evening, Twilight Zone's "From Agnes—With Love" episode first aired. The twentieth episode of Season Five, it tells the rather silly story of a meek computer programmer who has Agnes, the world's most advanced computer, loving him. And what ends she'll go to make sure no end else wins his hand.
It was directed by Richard Donner who went to fame by directing The Omen and the 1978 Superman. It was written by Bernard Cutner Schoenfeld who had done mostly crime noir before this including Phantom Lady and The Dark Lady though he did write the screenplay for The Space Children, a film currently holding a fourteen percent rating among audience reviewers at Rotten Tomatoes. You can see it here.
The cast of this series was: Wally Cox as James Elwood, Sue Randall as Millie, Raymond Bailey as Supervisor, Ralph Taeger as Walter Holmes, Don Keefer as Fred Danziger, Byron Kane as Assistant and Nan Peterson as A Secretary.
(9) TODAY'S BIRTHDAYS.
[Compiled by Cat Eldridge.]
(10) COMICS SECTION.
(11) TUBERS IN SPACE. Nerdist gives us fair warning when "Mr. Potato Head Joins STAR WARS with The Yamdalorian Toy". (See it at Hasbro.com.)
…Bring some space saga to your kid's toy chest with Hasbro's newest Star Wars plaything. This intergalactic version of Mr. Potato Head is ready to carry Grogu, in this case known as the Tot, everywhere he goes. Even in his stomach. The Yamdalorian features a 5-and-a-half inch body and comes with 14 parts to make him into the greatest bounty spud in the universe. That includes a Mandalorian helmet, armor, and cape. As well a base with feet, eyes, two arms, two ears, nose, and mustache. And his adopted son can also fit inside his pouch…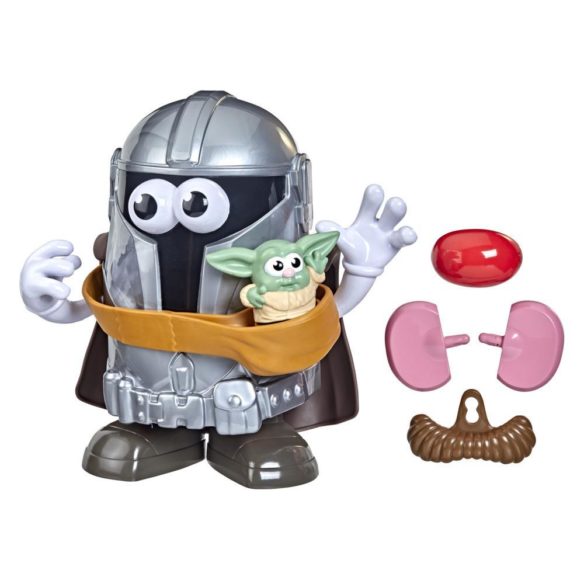 (12) FUN FACT. [Item by Sam Long.] I was looking up the word "god" in the Online Etymological Dictionary, and found that it could be derived from the Proto-Indo-European (PIE) word ghu-to, to pour a libation (as of bheer). Apparently fandom–or at least the fannish "h"–dates back five thousand years or more.
"Bloomin' idol o' egoboo,

Wot they call the ghreat ghod Ghu!

(Plucky lot she cared for idols when I gave her some corflu."
–On the Road to Fandalay
(13) IMPRISONED ALIENS. Some aliens may never be able to leave their world due to things like high gravity or self-generated orbital debris. Isaac Arthur considers "The Fermi Paradox: Imprisoned Planets".
(14) VIDEO OF THE DAY. As one commenter calls it, "The all-Boston crossover you never expected, but deserved." "Your Cousin From Boston (Dynamics)".
While working security at the Boston Dynamics robotics lab, Your Cousin From Boston gives a robot a Sam Adams. At least he brought a Wicked IPA Party Pack to share!
[Thanks to JJ, John King Tarpinian, Andrew Porter, Cora Buhlert, Bill, Sam Long, SF Concatenation's Jonathan Cowie, Michael Toman, Cat Eldridge, Mike Kennedy, and Martin Morse Wooster for some of these stories. Title credit belongs to File 770 contributing editor of the day Kevin Harkness.]