(1) WITH ADDED SHARKE. New Shadow Clarke juror Gary K. Wolfe gives his opening statement in "Conversations in a Noisy Room: Introducing Gary K. Wolfe".
I initially came to SF criticism through academia, where matters of grace and clarity are not always the highest priority. My earliest publications were in scholarly journals or with university presses, at a time when everyone seemed enamored of structuralism as a theoretical model. (A few years later, of course, we escaped that cage, only to find everyone equally enamored of post-structuralism.) It was essentially a grammar of analysis and taxonomy, modeled largely on the language of the social sciences, and to the extent that it was evaluative at all, it was mostly in passing. It was also a language marvelously well-suited to disguising thinness of thought.

Then I was invited to begin writing for a now defunct magazine, Fantasy Review, for a very different kind of audience.  What models I had for SF criticism consisted of those early volumes by Damon Knight, James Blish, and even Kingsley Amis, and the succession of remarkable reviewers in The Magazine of Fantasy and Science Fiction – Judith Merril, Joanna Russ, Algis Budrys, and others. Budrys became a kind of mentor in my shift toward real-world reviewing and criticism. We disagreed a lot, but he showed me that while my opinions might be worthwhile, they were a lot more worthwhile if they had solid reasoning behind them, and if they described a context for the works under discussion….
(2) BEST SERIES. Now that voting has opened for Hugo nominations, keep in mind JJ's tool: "Best Series Hugo: Eligible Series from 2017" and discussion thread.
To assist Hugo nominators, listed below are the series believed to be eligible as of this writing for the 2018 Best Series Hugo….
OTHER AIDS. JJ is also curating —
(3) BEST SERIES CAVILS. Martin P. advocates that voters impose additional criteria beyond the rules: "On the Hugo Award for Best Series"
…However, just because something can't be legislated doesn't mean it shouldn't be kept in mind while nominating and voting. The standard I intend to apply is that to be worthy of a Best Series Hugo, a story must be fully satisfying even if no other installments are ever published. This does not necessarily mean a story must be conclusively over. For instance, while I can certainly imagine new installments in the Vorkosigan Saga, last year's winner in the award's trial run (and if Lois McMaster Bujold wants to write them I'd happily read them), my enjoyment of the series will not be diminished if Gentleman Jole and the Red Queen is ultimately the final installment. But I don't think a series that is clearly incomplete is award-worthy, and I'm not inclined to grant credit for future work. Everybody can think of a series that started strong and then went off the rails. I'm not comfortable coming back in the future and saying "this received the Best Series Award but you need to ignore its conclusion". I don't even love new books getting a "Hugo-Nominated [or Hugo Winning] Series" stamp from their publisher when the Hugo electorate hasn't had a chance to read the book yet, although I recognize that marketers are going to pull that kind of thing regardless.

I do not intend to nominate any series that does not meet this criteria, and I urge others to do likewise. I will also likely rank any clearly incomplete series nominated below No Award, although I might consider a series whose final installment is published in 2018 before the voting deadline, as such a series would be ineligible for future nomination. And yes, I fully anticipate that I will rank something I quite like below No Award.

…While it might be difficult to find satisfactory completed series every year, N. K. Jemisin's exceptional Broken Earth trilogy is eligible for the 2018 Best Series Hugo. I'm nominating it. If you haven't read it, I highly encourage you to do so.
(4) THANKS BUT NO THANKS. Despite endorsements like Martin P's, author N.K. Jemisin, in "Hugo Nomination Rumination", wants Hugo voters to leave her trilogy out when nominating in the Best Series category.
As I've mentioned on social media, I only have two works eligible for awards nomination from 2017: The Stone Sky, and my Uncanny short story Henosis. Last year was tough, so I didn't get much writing done. I'm sure a lot of you can relate.

But since people have asked for my thoughts on this… Please, if you're going to nominate The Stone Sky in any form, do so in the Novel category, rather than nominating the whole Broken Earth trilogy for Series. I mean, I can't stop you from nominating it however you like — but let me point out, if you didn't know, that The Fifth Season and The Obelisk Gate have both won Hugos already. This is awesome, but in my eyes, it simply wouldn't be fair for those books to effectively get a second bite at the apple in the Series category. That this possibility exists has always been a potential problem of the category, IMO.

And here's the thing: I understand that some folks believe I'd have a better chance at scoring a third Hugo in the Series category. I'm super-grateful to those of you who think about stuff like this, but as someone who never expected to get even one Hugo… y'all, I'm okay either way. If TSS doesn't get nominated or win in the Novel category, and some other deserving work does win, then so be it. TSS is a New York Times and Locus bestseller and the series has been picked up for a TV show; I'm doin' all right by most other measures. I'm not going to pretend I wouldn't squee my head off if I won Hugo #3 at any point, but there won't be any tears in my beer if I lose, either. (If for no other reason than that I don't drink beer.)
(5) JUICY RUMORS. Been suffering from a lack of A Song of Ice and Fire and Game of Thrones gossip? Reddit's ASOIAF discussion group delivered a spicy serving today.
(6) YET ANOTHER STAR WARS SERIES.  With Thrones creators D&D's work on their HBO series ending, the pair have hooked up with Disney to make more Star Wars movies — "'Game of Thrones' Creators to Write, Produce New 'Star Wars' Series of Films".
"Game of Thrones" creators David Benioff and D.B. Weiss are going to write and produce a new series of "Star Wars" films, Disney announced on Tuesday.

The new series will be separate from the main episodic Skywalker saga that started with "Star Wars: A New Hope" and is slated to wrap up with 2019's "Star Wars: Episode IX." It will also exist independently from a Rian Johnson-helmed series that was announced last year.

"David and Dan are some of the best storytellers working today," said Kathleen Kennedy, president of Lucasfilm, in a statement. "Their command of complex characters, depth of story and richness of mythology will break new ground and boldly push Star Wars in ways I find incredibly exciting."

It also comes at a time of transition for Benioff and Weiss. "Game of Thrones," their sprawling fantasy epic, will end its run on HBO in 2019.
(7) KEEPING READER TRUST. Sandra M. Odell shares tips on "Building The Disabled World" at the SFWA Blog,
I love intricate, detailed worldbuilding; it's the backbone of science fiction and fantasy stories, even those set in the modern era.  Sadly, few things make me stop reading faster than the realization that a writer gave more thought to the description of a meal than they did to the how or why an accommodation for a character with disabilities came to be in a story. Inclusion and representation matter, and so do the supports that allow an individual with disabilities to interact with a writer's world. You don't need to include every last detail about the world on the page, but there should be enough detail and consistency in the presentation that I can trust that you know what you're talking about.

When creating a world where individuals with disabilities play a role, you should answer four basic questions…
(8) CLOVERFIELD. Netflix put up The Cloverfield Paradox on Sunday. The trailer —
Yahoo! Entertainment has a spoiler-filled discussion: "How Does 'The Cloverfield Paradox' Fit With the Other Two 'Cloverfield' Movies?"
One of the bigger developments of Super Bowl Sunday, aside from the game itself being outstanding, was the news that "The Cloverfield Paradox" (previously known as "The God Particle") would be surprise  dropping on Netflix right after the game. It was a genius move from a marketing standpoint — the number of folks who watched the movie Sunday night probably far exceeded what the movie would have done at the box office. But now that we've seen it, it's left a bunch of us scratching our heads.
Looper also has analysis (video) —
The Cloverfield movie-verse has now officially expanded into some wild new territory. Netflix surprised fans of the sci-fi film series by dropping the third installment, The Cloverfield Paradox, on Super Bowl Sunday without warning. Like the first two films, Cloverfield 3 offers a new perspective on why all of those giant monsters have appeared on Earth. If you haven't seen it yet, you might want to click away now because we're about to take a deep dive into outer space…
(9) CONAN UP THE AMAZON WITHOUT A PADDLE. According to Deadline, "Conan the Barbarian TV Series In Works At Amazon From Ryan Condal, Miguel Sapochnik & Warren Littlefield".
Amazon is developing drama series Conan, based on the books by Robert E. Howard, Deadline has learned. The project hails from Colony co-creator Ryan Condal, Game of Thrones director Miguel Sapochnik, Fargo and The Handmaid's Tale executive producer Warren Littlefield, Pathfinder Media and Endeavor Content.

Created and written by Condal, Conan retells the classic character's story via a return to his literary origins. Driven out of his tribal homelands, Conan wanders the mysterious and treacherous world of civilization where he searches for purpose in a place that rejects him as a mindless savage….
(10) TODAY'S BIRTHDAY BOY
Born February 6, 1947 – Eric Flint
(11) SALUTE TO THE BIRTHDAY BOY. At Black  Gate, Steven H Silver continues his series – "Birthday Reviews: Eric Flint's 'Portraits'":
"Portraits" first appeared in The Grantville Gazette, an online magazine tied to Flint's 1632 series, which allows various authors to discuss the setting and try their hand at fiction. When Baen decided to publish hard copies of some of the articles and stories, "Portraits" was reprinted as the first story in Grantville Gazette Volume I (2004) and provided the volume with its cover art. It was subsequently reprinted in Flint's collection Worlds.

"Portraits" tells the story of Anne Jefferson, an American nurse posing for the Flemish artist Pieter Paul Rubens. The story assumes knowledge of the 1632 situation and characters Flint introduced three years earlier. This is a story which relies on its published context to be fully appreciated.
(12) LISTEN UP. Marvel New Media and top podcast listening service Stitcher have released the trailer for Wolverine: The Long Night. The 10-episode series airs weekly beginning March 12, 2018 exclusively on Stitcher Premium. It will see a wide release across all podcast platforms in fall 2018.
Listen to the trailer for Wolverine: The Long Night" here: www.WolverinePodcast.com
The "Wolverine: The Long Night" story is a captivating hybrid of mystery and the larger-scale fantasy of the Marvel Universe. It follows agents Sally Pierce (Celia Keenan-Bolger) and Tad Marshall (Ato Essandoh) as they arrive in the fictional town of Burns, Alaska, to investigate a series of murders and quickly discover the town lives in fear of a serial killer. The agents team up with deputy Bobby Reid (Andrew Keenan-Bolger) to investigate their main suspect, Logan (Richard Armitage). Their search leads them on a fox hunt through the mysterious and corrupt town.
(13) FALCON HEAVY. It worked: "Elon Musk's Falcon Heavy rocket launches successfully". As of the time the BBC posted this article, two of the three first-stages were known to have detached and landed safely. They were still awaiting news of the third, which was making a sea landing.
It is designed to deliver a maximum payload to low-Earth orbit of 64 tonnes – the equivalent of putting five London double-decker buses in space.

Such performance is slightly more than double that of the world's next most powerful rocket, the Delta IV Heavy – but at one third of the cost, says Mr Musk.

For this experimental and uncertain mission, however, he decided on a much smaller and whimsical payload – his old cherry-red Tesla sports car.

A space-suited mannequin was strapped in the driver's seat, and the radio set to play David Bowie's classic hit Space Oddity on a loop.

…Two came back to touchdown zones on the Florida coast just south of Kennedy; the third booster was due to settle on a drone ship stationed several hundred kilometres out at sea.

During the launch, the video signal from the drone ship was lost, so the fate of the third booster is not yet clear.
(14) FRESH CYBERPUNK. Speculiction's Jesse Hudson finds a winner: "Review of Graft by Matt Hill"
Cyberpunk is now roughly forty years old.  With relevant works from writers like James Tiptree Jr. and John Brunner appearing in the 60s and 70s, it coalesced into a recognizable trend in the early 80s—the four decades since having seen a full exploration of the idea of 'cyberpunk' through hundreds of stories and books.  Thus, in 2016, how does a writer do something original with the form?  With its imagery and characters, settings and ideas well established, there is probably only one way: deliver unique prose combined with a competent package.  Matt Hill, in his 2016 Graft, does precisely this….
(15) SPEAKER TO ALIENS. At Quick Sip Reviews, Charles Payseur delivers "Quick Sips – Lightspeed #93″, reviews of four stories, including —
"Four-Point Affective Calibration" by Bogi Takács (1450 words)

No Spoilers: A person must undergo a special kind of mental exercise to calibrate a machine that might allow them to communicate with aliens. The piece dissects emotions and the supposed universality of certain "core" emotions, as well as looks at the idea of expectation, immigration, and appearance. Quick but dense with hope, fear, and the barriers of language.
Keywords: Aliens, Emotions, Transcript, Non-binary MC, Immigration, Communication
Review: For me, this story hinges on understanding and communication. The piece is framed as a transcript of a sort of mental calibration—part test, part measurement to set a baseline to allow the narrator to communicate with aliens. I many ways, though, I feel like the communication with the aliens isn't the most important relationship being explored. Or, I guess I mean, what I keep getting out of the story is that for the narrator, it's not communicating with the aliens that seems fraught or difficult—it's communicating with other humans. Because of the barriers that humans erect between each other in order to try and ease communication, but in practice make things much more difficult for many people, especially those who don't fit in well enough, for whom the burden of communication and understanding is always on appeasing the dominant voices, the dominant empathies. For the narrator, this seems another way that they have to grapple with ideas, "core" emotions, that they might not feel the same as others—because they are autistic, because they aren't a cisgender person. These things that people take for granted the narrator cannot, nor do they react to this central frustration in the ways that people expect, in ways that are expected of them. And it's a short but very complex and moving story about the hazards and difficulties of communicating, and of being understood. That there is this frantic kicking of thoughts, worries, fears, just under the surface of the narrator's thoughts, laid bare here by this test in the hopes that they'll be able to have this opportunity, to be allowed to have a conversation that excites them. It's a wonderful read!
(16) SHIMMER PROGRAM. Another Chinese story in translation is available at Clarkesworld.
#HighlightOfToday "The Power is Out", by A Que, translated by Elizabeth Hanlon. First published in English in Clarkesworld, Issue 137, February 2018.

Read the story in English here: https://t.co/PTOT1ySK70 pic.twitter.com/awPXzlbopv

— The Shimmer Program (@ShimmerProgram) February 5, 2018
(17) ANSWER WITH A QUESTION. Steven H Silver reports this was "a triple stumper" on today's Jeopardy!
(18) FOR SALE. Mel Hunter's original art "Lunar landscape," which appeared on the cover of the June 1960 issue of The Magazine of Fantasy and Science Fiction (with small painted rocket ships superimposed on the landscape), is offered by Illustration House. It is expected to bring $3,000-$4,000.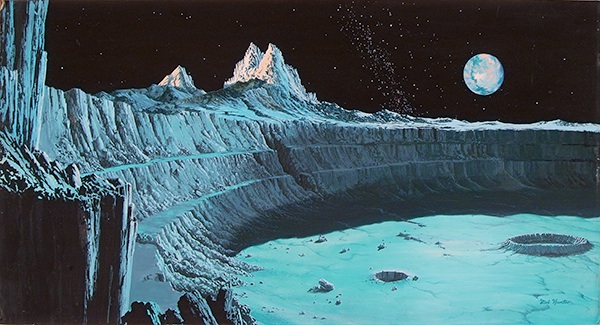 (19) VIDEO OF THE DAY. Nothing to do with sff whatsoever. Loved The Parking Lot Movie, recommend it highly. Here's the trailer —
[Thanks to John King Tarpinian, JJ, Cat Eldridge, Steven H Silver, Martin Morse Wooster, StephenfromOttawa, Chip Hitchcock, Carl Slaughter, Mark Hepworth, and Andrew Porter for some of these stories. Title credit goes to File 770 contributing editor of the day Dann.]