The Otherwise Award (originally called the Tiptree Award) has selected three new Fellows, children's fiction writer Cat Aquino, speculative fiction writer Naseem Jamnia, and speculative fiction writer and illustrator Dante Luiz.
---
Cat Aquino is a Filipino children's fiction writer, currently working on a young adult graphic novel titled Champion of the Rose. This graphic novel is a fantasy reimagining of the centuries-long Spanish colonization of the Philippines and South America. It features two main characters: Rey, a trans "indio" swordsman, and Rosa, a "mestiza" princess. Through the story of these characters, Cat will "explore how the intersections of race, class, trauma, and gender interact, neither favoring one identity pole over the other, to talk about how empires and governments restrict human lives, but can also be defied because of human choices and actions." Cat will use the fellowship to fund Dominique Duran, the illustrator of Champion of the Rose. Cat's work creates BIPOC-led, anti-colonial, and anti-monarchical narratives for young adults.
---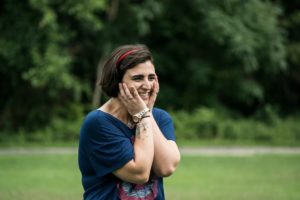 Naseem Jamnia is a speculative fiction writer whose work contains "unquestioned and undoubted queerness so deeply embedded in the worldbuilding that it can no longer be called queer, and gender is a central focus of that inclusion." For Naseem, queer genders are central to their fiction, even though their stories are seldom about queerness. The grant money will fund historical research on non-Western genders that exist outside the binary, needed for their debut novella The Bruising of Qilwa (Tachyon Publications 2022). In Naseem's novella, "the main character Firuz, an agender nonbinary trans person—who would not use those terms for themself, but rather, call themself a binoh, "one without type"—grapples with their responsibilities as a clinician and a magic user in a city overrun by refugees like them. Meanwhile, their younger brother, Parviz, a binary trans boy, is desperate to transition with the magic only Firuz can do in their new home. The issue here is not whether Parviz is actually a boy, or whether Firuz runs risk of being misgendered; the issue is while the city is in crisis, while an ethnic genocide of Firuz's people happens in the background, the rest of life continues on and demands Firuz's attention and time when they're stretched so thin." Naseem's work is "a promise of possibility" and a love letter to their queer, brown communities.
---
Dante Luiz is a Brazilian speculative fiction writer and illustrator. In the application, Dante wrote about wanting to "write flawed yet humane trans men who are adults, responsible for their actions, both the good and the bad" as a way to combat the inadequate and often infantilizing representations of transmasculine people. Dante's story "My Mother's Hand," which was part of the application as a writing sample, is a historical fantasy set in 19th century Desterro. Dante is currently working on a graphic novel, Thicker Than Blood, which follows a "trans man who does a Faustian deal with the devil to keep the ancestral land of the family who does not see him as the legitimate heir…." Overall, Dante is deeply invested in creating fully-rounded trans characters who find themselves in exciting speculative situations and spaces.
---
In addition to choosing three Fellows, the Fellowship Committee announced an honor list, which includes L.J. Phillips, Calvin Gimpelevich, A.L. Major, Nicole Martinez, and Eugen Bacon. These writers and artists are all doing exciting work in gender and speculative fiction.
Through the Fellowship program, the Otherwise Award encourages those who are striving to complete works and to imagine futures that might have been unimaginable when the Award began. Now in its seventh year, the Fellowship program seeks out new voices in the field, particularly from communities that have been historically underrepresented in science fiction and fantasy and by those who work in media other than traditional fiction.
Each Fellow will receive $500. The work produced as a result of this support will be recognized and promoted by the Otherwise Award.
No Otherwise Award Fellows were selected in 2021. The selection process took longer than usual in 2021. Rather than presenting 2021 Fellowships in 2022, the Otherwise Motherboard skipped a year, but provided the same number of Fellowships by providing three Fellowships in both 2020 and 2021, rather than their usual two.
Over time, the Fellowship program is creating a network of Fellows who can build connections, provide mutual support, and find opportunities for collaboration. This effort complements the ongoing work of the Award — that is, the celebration of speculative fiction that expands and explores gender by imagining otherwise in thought-provoking, nuanced, and unexpected ways. Donations to the fund for future Otherwise Fellowships are taken here.
The members of the 2022 selection committee for the Otherwise Fellowships were Aqdas Aftab (chair), Shreya Ila Anasuya, and Eleyna Sara Haroun. For more on the work of the latest Otherwise Fellows (and on the work of past Fellows), visit the Otherwise Award website at otherwiseaward.org.
There will be an Otherwise Award for work published in 2021, as well as in 2022. The 2021 jury is hard at work. Currently, recommendations for works that you think the 2022 jury should read are open.