(1) TOP TARDIS OWNER DECIDED AT BALLOT BOX. Radio Times counted 50,000 votes and the result was close — "Doctor Who fans vote David Tennant best Doctor, narrowly beating Jodie Whittaker".
…Both actors took 21 per cent of the overall poll vote with over 10,000 votes apiece, with Tennant squeaking ahead with just 100 extra votes in the final count. At other points, Whittaker had been leading the poll or was just below eventual third place winner Peter Capaldi, Whittaker's predecessor in the role (playing the Twelfth Doctor from 2013-2017) who claimed 18 per cent in the final count….
You can see a full breakdown of the votes and results below.
David Tennant 10518 / 21%
Jodie Whittaker 10423 / 21%
Peter Capaldi 8897 / 18%
Matt Smith 7637 / 16%
Tom Baker 3977 / 8%
William Hartnell 1983 / 4%
Paul McGann 1427 / 3%
Christopher Eccleston 1144 / 2%
Jon Pertwee 1038 / 2%
Patrick Troughton 915 / 2%
Sylvester McCoy 462 / 1%
Colin Baker 359 / 1%
Peter Davison 351 / 1%
(2) STAR CHOW. Sir Pat Stew and Mark Hamill (as Luke Skywalker) face off in a new commercial for Uber Eats.
(3) A COUPLE OF…WHAT? That's what they're trying to figure out. Disney+ dropped a trailer for WandaVision.
Welcome to WandaVision. Coming soon to Disney+. Marvel Studios' captivating new series "WandaVision" stars Elizabeth Olsen and Paul Bettany, and marks the first series from Marvel Studios streaming exclusively on Disney+. The series is a blend of classic television and the Marvel Cinematic Universe in which Wanda Maximoff and Vision—two super-powered beings living idealized suburban lives—begin to suspect that everything is not as it seems.
(4) OUTPOST. Skeptoid Media and The Outpost's title sponsor, Texas Tech, will host a new virtual popular science and entertainment convention, Outpost 2020, from October 23-25, 2020. Yoon Ha Lee will be one of the GoHs.
With an interdisciplinary focus on entertainment, science, literature and education, Outpost 2020 is what happens when a comic con meets a science fair and sets up shop at the intersection of science literacy and science fiction. In addition to social events, a screening of Science Friction and two full days of panels, The Outpost will feature a track of podcasts recording live, including Everyday Einsten, Grief Burrito, Monster Talk and more. Guests of honor include planetary scientist Tanya Harrison (Tanya of Mars); Locus winner Yoon Ha Lee (Machineries of Empire); actress Susan Egan (Steven Universe), and award-winning composer Brian Tyler (Avengers: Age of Ultron.)

The virtual format enables attendees to tune in from anywhere in the world and the event will be recorded for those who are unable to attend live via Crowdcast. To maximize accessibility, ticket prices are only $25, and a limited number of free tickets are available at registration.

Asteroid Awards. Outpost 2020 features the inaugural Asteroid Awards, recognizing the impact of entertainers, educators and scientists working to further an informed future by inspiring audiences with innovation and the power of narrative. Each award will come with a cash prize sponsored by Texas Tech or Skeptoid Media, and winners will be announced in an awards ceremony on October 24.
(5) BLEAK DEFINITION. Merriam-Webster's "Words We're Watching" today discusses "On 'Doomsurfing' and 'Doomscrolling'"]
What to Know

Doomscrolling and doomsurfing are new terms referring to the tendency to continue to surf or scroll through bad news, even though that news is saddening, disheartening, or depressing. Many people are finding themselves reading continuously bad news about COVID-19 without the ability to stop or step back….
(6) DUBLIN DOWNLOAD. [Item by Martin Morse Wooster, Designated Financial Times Reader.] In the September 18 Financial Times, Sarah Hemming writes about To Be A Machine (Version 1.0), a play at the Dublin Theatre Festival (dublintheatrefestival.ie) being performed until October 10 and adapted from Mark O'Connell's book about people who want to download their brains into computers.
Now the book is a play. And not only that–it's a play that mirrors its subject, inviting you to attend in person by sending in your disembodied self via video. To Be A Machine (Version 1.0), which opens (live-streamed shortly at Dublin Theatre Festival, features actor Jack Gleeson, playing the bemused O'Connell while around him 110 audience members flicker on multiple iPad screens.

The show was originally going to be more conventional, a piece with disembodied actors and a physical audience that explored the friction between the transhumanist desire to free ourselves from our bodies nd the fct live theatre depends on bodies in a room. Then the pandemic intervened. The solution seems curiously apt, playing with the idea of what theatre 'without the hindrance of the body' actually means.
(7) COBB OBIT. Ron Cobb, a former draughtsman with the Army Corps in Vietnam who became a famous cartoonist for the LA Free Press and went on to a career in Hollywood, died September 21. "Ron Cobb, Designer of the 'Alien' Ship and the 'Back to the Future' DeLorean, Dies at 83".
Ron Cobb, the underground cartoonist turned production designer who influenced the making of E.T. the Extra-Terrestrial and helped shape the worlds of Conan the Barbarian, Alien and Back to the Future, has died. He was 83.

Cobb died Monday — his birthday — of Lewy body dementia in Sydney, his wife of 48 years, Robin Love, reported.

Cobb brought to life several cantina creatures for Star Wars (1977) and came up with weaponry and sets for Conan the Barbarian (1982), the exterior and interior of the Nostromo ship in Alien (1978) and the earth colony complex in Aliens (1986) and the DeLorean time machine in Back to the Future (1985).

His prolific design work also included the breathing tanks and helmets in The Abyss (1989), the Omega Sector logo and the H bombs in True Lies (1990), the interior of the Mothership and the stranded tanker in Close Encounters of the Third Kind (1977) and the vehicles of The Last Starfighter (1984)….
Rick Sternbach said, "He was amazing to work with on The Last Starfighter. We know of his incredible skills as an artist, and I learned a great deal from him on that single film, but the thing that impressed me the most was his almost giddy enthusiasm for SF and tech."
Early in his career, Cobb designed some covers for Forry Ackerman's Famous Monsters. He even showed up for the first meeting in LASFS' original clubhouse in 1973.
(8) MEDIA ANNIVERSARY.
Fourteen years ago, the Worldcon Guest of Honor Speeches as edited by Mike Resnick and Joe Siclari was published by ISFiC Press. It would place second for Best Related Work to James Tiptree, Jr.: The Double Life of Alice B Sheldon by Julie Phillips at Nippon 2007. With an introductory essay by the editors, it collected a number, though not all, of the speeches made by Guests of Honor starting with the one by Frank R. Paul at the first Worldcon up to the one by Christopher Priest at Interaction. Some have been published elsewhere such as Philip José Farmer's which appeared as " Reap" first in Richard E. Geis' Science Fiction Review in November 1968. It had a press run of a thousand copies with a cover by Bob Eggleton who had won a Hugo for Best Professional Artist at L.A. Con III.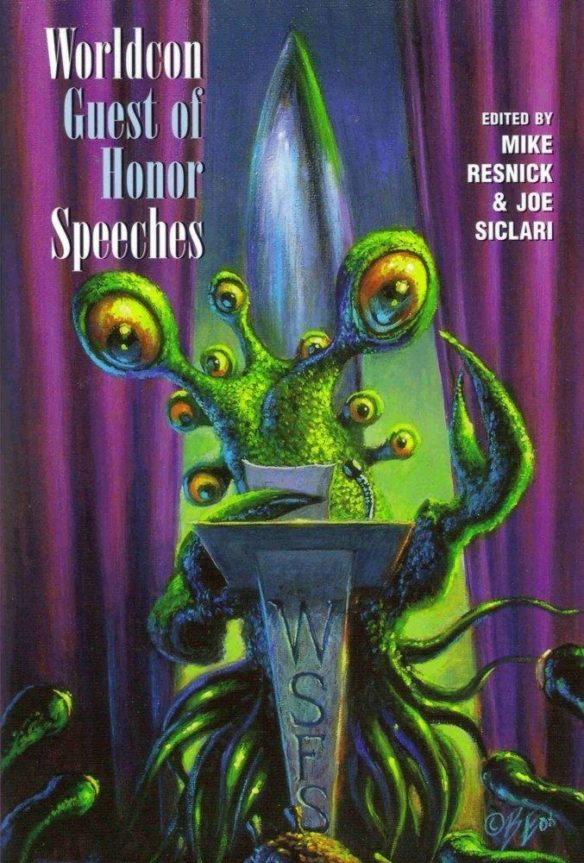 (9) TODAY'S BIRTHDAYS.
[Compiled by Cat Eldridge and John Hertz.]
Born September 21, 1840 – Thèrése Bentzon.  Essayist, journalist, novelist, translator.  Important in the history of e.g. abolitionism and feminism.  Translated Dickens and Twain.  For us, she tr. (and abridged and rewrote, alas) some of Haggard's Allan Quatermain in 1888 (and yes, J. Hetzel did it).  (Died 1907) [JH]
Born September 21, 1866 – H.G. Wells.  Two dozen novels, a hundred short stories, for us; many others, essays, even this which he illustrated himself.  Hardly kept his opinions out of his fiction; sold his birthright for a pot of message, said Chesterton; but The Time Machine, The War of the Worlds, The Invisible Man, at least, are classic.  (Died 1946) [JH]
Born September 21, 1912 – Rod Ruth.  Good at interiors, of which he did nearly two hundred; a few covers, like this for the Dec 41 Amazing.  Here is "Letter to the Editor" (note fictional date 24 Nov 10!) from the Feb 44 Fantastic.  Series, "Romance of the Elements"; here is Hydrogen.  Outside our field, here is a Julian May book; RR also drew The Toodles.  (Died 1987) [JH]
Born September 21, 1912 — Chuck Jones. Looney Tunes and Merrie Melodies creator (think Bugs Bunny). His work won three Oscars, and the Academy also gave him an honorary one in 1996.  (Died 2002.) (CE)
Born September 21, 1935 — Henry Gibson. I'm going confess upfront that I remember best him as a cast member of Rowan & Martin's Laugh-In. On regards his genre work, he showed up on the My Favorite Martian series as Homer P. Gibson, he was in Chitty Chitty Bang Bang as an uncredited dancer, in Bewitched twice, once as Napoleon Bonaparte, once as Tim O' Shanter, he was the voice of Wilbur in Charlotte's Web, in The Incredible Shrinking Woman as Dr. Eugene Nortz, and even in an episode of Star Trek: Deep Space Nine, the "Profit and Lace" episode to exact in which he was Nilva, a Ferengi. (Died 2009.) (CE) 
Born September 21, 1937 – Ron Cobb, 83.  Having worked on Sleeping Beauty he became a political cartoonist for the Los Angeles Free Press and The Mother Earth News.  In our field he did motion picture design work for Alien, Conan the Barbarian, The Last Starfighter, Star Wars; also Rocket Science Games.  Here is his cover for the Jul 59 F&SF.  Here is a ship he designed for Alien.  Artbook, Colorvision.  [JH]
Born September 21, 1947 — Nick Castle, 73. He co-wrote with director John Carpenter the scripts for Escape from New York and Escape from L.A., but he's best remembered for directing The Last Starfighter. He was Michael Myers in Halloween, a role he'd later reprise in, errr, Halloween.  His other interesting genre cred is performing the title song of Big Trouble in Little China as The Coup De Villes with Carpenter and Tommy Lee Wallace. (CE) 
Born September 21, 1947 — Stephen King, 73. I once saw him leaning up against a wall in Bangor outside his favorite breakfast spot nose deep in a paperback novel. I didn't approach him to see what he was reading so intently. That's how his native city treats him. Favorite by him? I'm not fond of his novels but I love his novellas and shorter fiction, so Different Seasons, Four Past Midnight and Skeleton Crew are my picks.  (CE)
Born September 21, 1950 — Bill Murray, 70. Scrooged is my favorite film by him by a long shot followed by the first Ghostbusters film as I remain ambivalent about the second Ghostbusters film. I'm also fond of his voicing of Clive the Badger in Fantastic Mr. Fox. (CE)
Born September 21, 1964 – Andy Duncan, 56.  Three dozen short stories; a sestina in Asimov's; essays, reviews in The Cambridge Companion to SF, Foundation, Locus, Nova Express (i.e. the fanzine, not the W. Burroughs book), NY Rev SF; interviewed in Intergalactic Medicine Show, Lightspeed, Strange Horizons.  One Sturgeon, one Nebula, three World Fantasy Awards.  [JH]
Born September 21, 1972 – Laurine Spehner, 48.  A dozen covers, three dozen interiors; a few short stories.  Here is The Year in Québécois SF, 1999 (2004) and here is 1994 (2014); here is Solaris 204 and here is 215 (all in French).  [JH]
Born September 21, 1983 – Cassandra Rose Clarke, 37.  A dozen novels, a score of shorter stories; a sestina in Liminality, half a dozen more poems.  John Clute says Star's End has "ethical complexity that marks the tale off from much space opera".  CRC ranks, low to high, We Have Always Lived in the Castle, Declare, Pale Fire.  [JH]
Born September 21, 1990 — Allison Scagliotti, 30. One of the primary cast of Warehouse 13, a show that I really, really loved. Her first genre role was as Jayna, one of the Wonder Twins, on the Smallville series. And she showed in a crossover episode of Eureka called appropriately "Crossing Over". Her last gig is as Camille Engelson on Stitchers which to my surprise got good ratings. (CE)
(10) COMICS SECTION.
(11) SUNDAY SUPPLEMENT. [Item by rcade.] The Sunday installment of the Mutts comic strip brings back a character not seen on the funny pages since the 1950s:
The catchphrase "Nov Schmoz Ka Pop?" identifies the Keebler Elf-looking fellow as the Little Hitchhiker, the creation of Gene Ahern in the Squirrel Cage comic strip that ran from 1936 to 1953. The absurd ride-thumbing character inspired Robert Crumb's iconic Mr. Natural from the underground comix era.

Mutts creator Patrick McDonnell is a fan of classic strips, sometimes bringing their characters into his own. Before the Little Hitchhiker, there was a 10-strip series in August featuring Popeye, Olive Oil and Sea Hag.
(12) CRAZY-EX NEXT. Rachel Bloom, first introduced to fans by her Hugo-nominated song about Ray Bradbury, has a new project: "Romantic Mystery Drama 'I'm In Love With The Dancer From My Bat Mitzvah' in Development at The CW".
A romantic mystery drama called I'm In Love With The Dancer From My Bat Mitzvah is in development at The CW, according to Deadline. The series comes from CBS Studios.

Ilana Wolpert (High School Musical: The Musical: The Series) will serve as creator, writer, and executive producer. Rachel Bloom (Robot Chicken) will also write and executive producer with Debbie Liebling signed on as an EP (PEN15).

The new series follows a young woman right before her college graduation who gets romantically rejected by her best friend. She soon becomes obsessed with a dancer from her bat mitzvah and convinces her friends to join her down a path of criminal conspiracy. The story is inspired by true events and explores the theme of what we tell ourselves in order to prevent dealing with the reality of a situation.

This is the next project for Crazy Ex-Girlfriend alums Wolpert and Bloom. The CW series ended in 2019.
(13) WITH A CAST OF LEGO. The Star Wars Holiday Special, famous for all the wrong reasons, is getting a second chance: "The Lego Star Wars Holiday Special To Premiere On Disney+"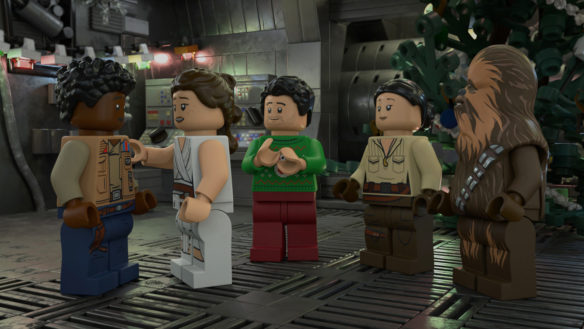 This November, The LEGO Star Wars Holiday Special, — which premieres on Life Day, November 17, 2020 on Disney+, — will reunite Rey, Finn, Poe, Chewie, Rose and all your favorite droids, from R2-D2 to BB-8, for a joyous feast on Life Day, the holiday first introduced in 1978's Star Wars Holiday Special. The new LEGO special is the first to debut on the streaming platform and will continue the rich longtime collaboration between Lucasfilm and the LEGO Group — playful adventures told in an endearingly irreverent way.

Set after the events of Star Wars: The Rise of Skywalker, Rey leaves her friends to prepare for Life Day as she embarks on a new adventure with BB-8 to gain a deeper knowledge of the Force. At a mysterious Jedi temple, Rey finds herself hurled into a cross-timeline adventure through beloved moments in Star Wars cinematic history, coming into contact with Luke Skywalker, Darth Vader, Yoda, Obi-Wan Kenobi and other iconic heroes and villains from all nine Skywalker saga films. But will she make it back in time for the Life Day feast and learn the true meaning of holiday spirit? You'll have to watch to find out!
(14) CANON, CAN OFF. [Item by Daniel Dern.] This "Walk'n'Cut" can opener from Tanga looks (to me) like Ultron's nephew, or something.
(15) VIDEO OF THE DAY. In "The Hobbit: An Unexpected Journey Pitch Meeting" on ScreenRant, Ryan George explains that the producers of the Hobbit movies turned one normal-sized book into three very long movies by padding the hell out of it and throwing in stuff that's completely unnecessary."
[Thanks to John King Tarpinian, JJ, Cat Eldridge, Daniel Dern, Michael Toman, Andrew Porter, Dann, John Hertz, Martin Morse Wooster, John A Arkansawyer, and Mike Kennedy for some of these stories. Title credit goes to File 770 contributing editor of the day Daniel Dern.]