(1) WFC ADDS GOH. World Fantasy Con 2022 has announced Iris Compiet is their Artist Guest of Honor.
Iris is an award-winning traditional artist and illustrator who makes her home in the Netherlands. Her client list includes Netflix, Magic the Gathering, and Harper Collins, among others. She's the illustrator of the Dark Crystal Bestiary, the Labyrinth Bestiary, and Faeries of the Faultlines, which offers her fans a glimpse into the world she created by the same name. To learn more about Iris, see her page on the WFC 2022 website, and follow the links to her website and social media.
(2) ATTENTION WESTERSMOFS. [Item by Kevin Standlee.] The Westercon Bylaws & Business page, including the minutes of the 2021 Westercon Business Meeting, current version of the Westercon Bylaws (including Standing Rules and Draft Agenda for 2022), and links to the video of the 2021 Westercon Business Meeting, are updated here: Bylaws & Business – Westercon. I thank Linda Deneroff and Lisa Hayes for their work creating the documents and recording the video.
(3) ORIGIN STORY. In "The Surprising History of the Comic Book", The Nation's J. Hoberman reviews Pulp Empire: The Secret History of Comic Book Imperialism by Paul S. Hirsch.
Blame the comic book. Cheap and transportable, a trove of infantile fantasy and psychosexual Pop Art, often spiced with egregious stereotypes and nativist aggression, this humble medium was for a time the United States' most ubiquitous cultural ambassador. Such is the thesis of Paul S. Hirsch's Pulp Empire: The Secret History of Comic Book Imperialism, an engaging account of the ways in which comics variously served or confounded official interests.

Vividly illustrated and enjoyably hyperbolic, Pulp Empire tells its tale as a kind of horror comic. Recounting the emergence of comic books during the Depression, Hirsch details how the medium was drafted during World War II to play its own modest part in defeating the Axis, then cues the scary music…
(4) MARVEL LOADS UP FOR FREE COMIC BOOK DAY. Marvel Comics will celebrate Free Comic Book Day on May 7 this year with three free one-shots. The third comic to be announced is Free Comic Book Day: Avengers/X-Men #1.
Packed with three stories, Free Comic Book Day: Avengers/X-Men will offer fans new and old an exciting entry point into some of Marvel's biggest upcoming stories and characters!

Free Comic Book Day: Avengers/X-Men #1 will also mark the exciting debut of a new hero that Marvel has big plans for this year! Meet BLOODLINE in an introduction story by writer Danny Lore and artist Karen Darboe!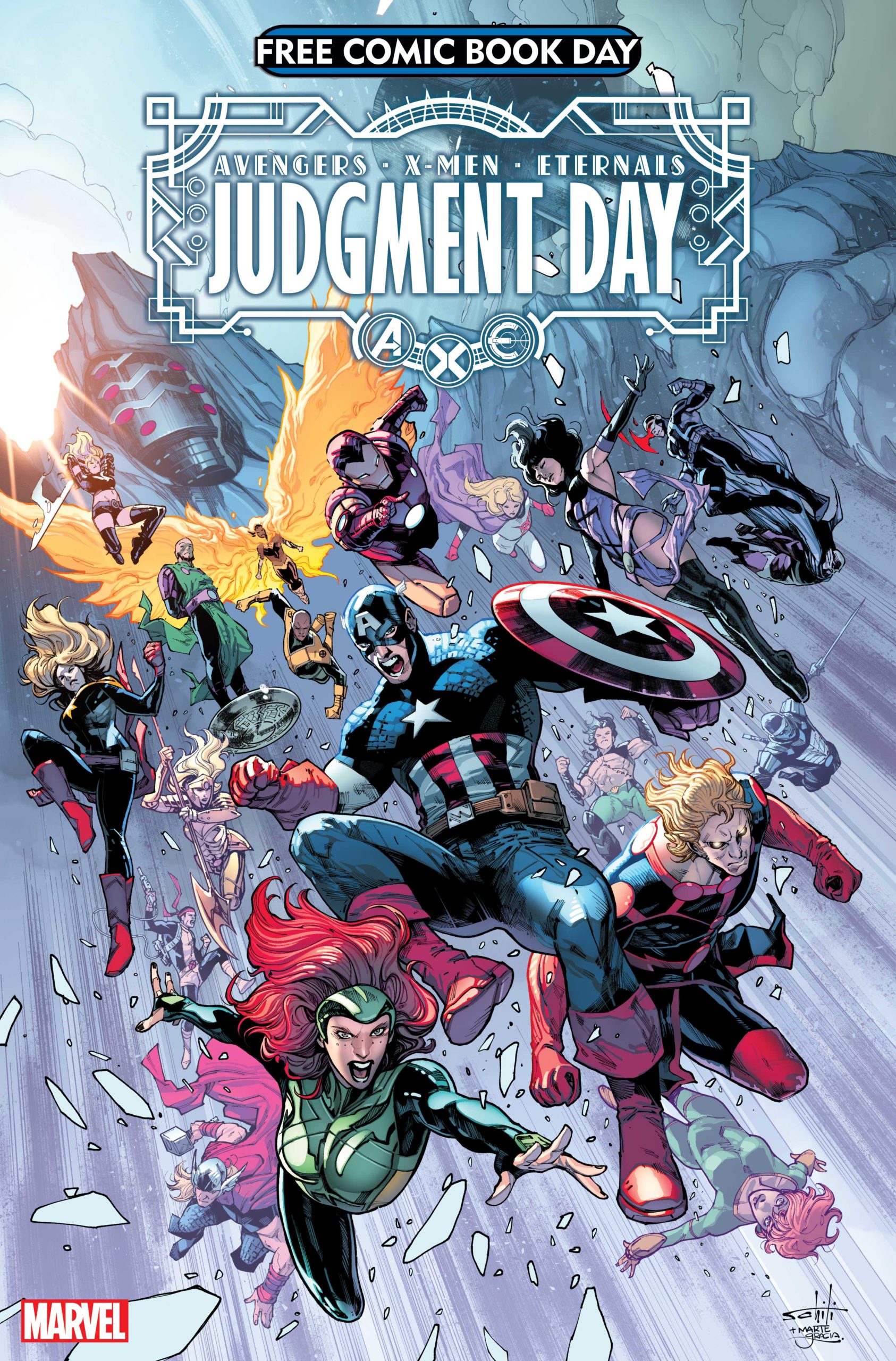 (5) EARTHSHAKING CELEBRATION. Sideshow is a sales site, but that doesn't necessarily mean you won't be interested in all the promotions they have planned for "Sideshow's Frank Frazetta Day 2022" on February 9.
Frank Frazetta was a legendary fantasy and science fiction artist who created some of the most iconic images in the 20th century. And on Wednesday, February 9, 2022 — Frank Frazetta's birthday! — Sideshow is going to celebrate his life and legacy with an exciting event day. Read on for the schedule, list of giveaways, and livestream details.

Frank Frazetta Day honors Frank Frazetta's many contributions to speculative fiction. There will be contests, games, and Sideshow Rewards. Plus, tune in for a special LIVE tour through the Frazetta Art Museum in Stroudsburg, Pennsylvania, led by Lori and Frank Frazetta Jr.
(6) PASSPORT TO FANTASY. "Tintin's world adventure: comic strip hero joins the Smurfs on new Belgian passport" – the Guardian has the story.
Trees, eagles, bears, turrets and towers: passport designs used to follow certain conventions. Not any more. From Monday, all new Belgian passports will feature Tintin, the Smurfs and other heroes of Belgian comic-strip art.

With a 34-page standard passport, Belgian travellers will be accompanied by Lucky Luke, Blake and Mortimer, and Bob and Bobette. Many images are from the original strips, such as the 1954 Tintin serial, Explorers on the Moon, where the intrepid boy reporter took his first steps on the lunar surface 15 years before Neil Armstrong. Others were specially designed for the passport, such as a Smurf contemplating a globe, with its knapsack and maps spread on the ground.

… "There is a little bit of Belgian humour here," Wouter Poels, a foreign ministry spokesman said. "It's always nice if you can link what is functionable to something that is enjoyable. But a passport is and remains an administrative document," he said referring to 48 new security features, such as barcodes, laser-engraved photographs and the polycarbonate ID page.

The passport scenes are inspired by travel and unsurprisingly avoid controversies, such as Tintin in the Congo, which is no longer sold in children's sections of bookstores in the UK over its racist stereotypes. Nor does Lucky Luke smoke a cigarette. The cowboy, created in 1947 by Maurice de Bevere, also known as Morris, quit in 1988….
(7) RICHARD DEAN STARR (1968-2022). Writer Richard Dean Starr, who wrote many media tie-ins, died of Covid on February 4.
He was named Special Projects Coordinator for Moonstone Books in 2007. Starr edited Tales of Zorro, the first anthology of original Zorro short fiction ever authorized by Zorro Productions, Inc. The second volume, More Tales of Zorro, was released in the summer of 2011. In 2016, Starr co-authored a comic book team-up featuring Kolchak: The Night Stalker and Dan Shamble, Zombie P.I. with New York Times bestselling author Kevin J. Anderson
(8) MEDIA BIRTHDAY.
1974 — [Item by Cat Eldridge] Forty-eight years ago this day, Zardoz premiered. It was written, produced, and directed by John Boorman of Excalibur fame who was nominated for a Hugo for that work at Chicon IV. It was produced by his company, John Boorman Productions Ltd. He had decided to make the film after his abortive attempt at dramatizing The Lord of the Rings. He wrote Zardoz with William (Bill) Stair, a long time collaborator.
It starred Sean Connery, Charlotte Rampling, Sara Kestelman and John Alderton. It was shot entirely in County Wicklow where Excalibur was produced, so most of the supporting cast and crew was Irish. Indeed many of the extras were played by members of Irish Travelling community. It was made on a shoestring budget of one point six million and made one point eight million at the Box Office, so it didn't even break even after marketing costs were figured in.
So how was the reception for it? Well it was nominated for a Hugo at Aussiecon though Young Frankenstein won that year. Flesh Gordon, yes Flesh Gordon, finished second ahead of it in the balloting.
Roger Ebert for the Chicago Sun-Times I think summed it up nicely when he said it was "a genuinely quirky movie, a trip into a future that seems ruled by a perpetually stoned set decorator". Though William Thomas of Empire Magazine was less kind: "You have to hand it to John Boorman. When he's brilliant, he's brilliant (Point Blank, Deliverance) but when he's terrible, he's really terrible." It currently holds a fifty-three percent rating among audience reviewers at Rotten Tomatoes.
It is not streaming for free anywhere but it's available for purchase just about everywhere from AppleTV to YouTube for the same price of three dollars and ninety-nine cents. 
(9) TODAY'S BIRTHDAYS.
[Compiled by Cat Eldridge.]
Born February 6, 1922 — Patrick Macnee. He was best known as the secret agent John Steed in The Avengers, a role he reprised in the New Avengers. Avoid the putrid Avengers film which he is not in at to peril of your soul. And your sense of decency. He made his genre debut as Young Jacob Marley in Scrooge. He then starred as Derek Longbow in Incense for the Damned. Next up is an uncredited role voicing Imperious Leader on the original Battlestar Galactica.  He played Captain John Good R.N. in King Solomon's Treasure based rather loosely on the H. Rider Haggard source material.  What else? Let's see… he shows up in The Howling as Dr. George Waggner. Next up for him is another toff named Sir Wilfred in Waxwork and its sequel. Yes, he wears a suit rather nicely. At least being Professor Plocostomos in Lobster Man from Mars is an open farce.  I hope it is. Let me note that he had a voice only role in the absolutely awful remake of The Avengers as Invisible Jones, a Ministry Agent. I do hope they paid him rather well. His last film work was genre, too, The Low Budget Time Machine, in which he started as Dr. Bernard. (Died 2015.)
Born February 6, 1925 — Patricia S. Warrick, 97. Academic who did a lot of Seventies anthologies with Martin Greenberg and Joseph D. Olander with such titles as Social Problems Through Science Fiction, American Government Through Science Fiction and Run to Starlight, Sports Through Science Fiction. She did write two books of a more serious nature by herself, The Cybernetic Imagination in Science Fiction and Mind in Motion: The Fiction of Philip K. Dick.
Born February 6, 1932 — Rip Torn. First genre work that comes to mind is of course RoboCop 3 and his Men in Black films. His first dip into our world comes as Dr. Nathan Bryce in The Man Who Fell to Earth. And he shows up in The Beastmaster as Maax. Actually if you count Alfred Hitchcock Presents, he's been a member of our community since his twenties. He also shows up on The Man from U.N.C.L.E. as well. (Died 2019.)
Born February 6, 1947 — Eric Flint, 75. I really like his Assiti Shards series, and the Heirs of Alexandria as well. Worth noting is that he is a co-founder and editor of the Baen Free Library.
(10) SUPERDOWNTIME. Defused showcases "40 Hysterical Comics Showing What Superheroes Do When They Are Not Out Saving The World" by artist Lucas Nascimento.
People who don't read comics and only watch superhero movies don't know what these heroes do when they are not saving the world from imminent destruction. I mean, don't get me wrong it wouldn't be a very interesting movie if we saw batman trying to keep up his persona and going g through his daily life. However, these heroes are not like us. How many of us can say that we made a whole persona out of our fear or that we are from an alien planet?

So it stands to reason that their daily problems wouldn't be as usual as normal people. And that is the idea behind these comics which the artist by the name Lucas Nascimento has brought us. Not only does he manage to capture the unique personalities of each hero but he also draws them in his own style which is spectacular. So buckle up and get ready to go on a wild ride. Just scroll below to take a look for yourself….
(11) A RINGING ENDORSEMENT. Rich Horton's had time to refine his thoughts about a novel he read a year ago: "Review: Piranesi, by Susanna Clarke".
… Piranesi bears almost no resemblance to Jonathan Strange and Mr Norrell. It is far shorter, It is set in what seems roughly the present day, not an alternate Regency. It is almost claustrophobic in setting (though strangely not despite being mostly set in a single building) and for much of the novel the main character is completely alone. For all that, it is as good as its predecessor…
(12) VERDANT READING. Paul Weimer analyzes the second book in The Green Man series: "Microreview [book]: The Green Man's Foe by Juliet McKenna" at Nerds of a Feather.
Being mortal, but also the son of an otherworldly being isn't all that it is cracked up to be. Ask Daniel Mackmain. After dealing with a threat to a wood and coming in contact with a very powerful supernatural entity, the titular Green Man, it is no wonder that his success in dealing with a rather nasty problem (that had some unfortunate consequences for him with the press and with the police) has resulted in the Green Man calling him on again.  At a new construction job site in the lovely Cotswolds, a mysterious figure seems to be influencing the local kids…and trying to get into the job site Daniel has been hired for. But what is he after? And why?

This is the second story of Daniel Mackmain, The Green Man's Foe….
(13) GAMING IN STYLE. In the Washington Post, Shannon Liao looks at how "companies such as XBox and Nintendo are now releasing products such as nail polish and eye shadow for gamers." "Tetris eyeshadow and Xbox nail polish: What's behind the latest beauty and gaming trend".
… While many of the most famous and recurring gaming partnerships, including fast food and energy drink brands, are aimed at men ages 18 to 30, the billion-dollar gaming and beauty industries have increasingly teamed up in recent years. Colorpop, a California-based cosmetics brand, worked with Nintendo's Animal Crossing franchise last January to release eyeshadow palettes and glittery gold gel reminiscent of the island's in-game currency, Bells. Xbox previously worked with Mac Cosmetics last October to create three Halloween looks, recreating characters from "Sea of Thieves," "Psychonauts" and "Halo."

"We're in this moment of really overcoming that idea of the gamer being just that one demographic, that preconceived notion of the gamer being in the basement, and usually a man, 18 to 30-something," said Marcos Waltenberg, global partnerships director at Xbox. "It's much more than that now. … We're now tasked with talking to a lot more people than we used to as a company, a few years ago."…
(14) SPEAKING OF METEORS. What's most important: What we are or what we feel we are? Chosen began running on Netflix on January 27, 2022.
(15) COINCIDENCE DAY. Just by coincidence, Lise Andreasen is taking a poll.
(16) VIDEO OF THE DAY. [Item by Chris Barkley.] The Cincinnati Pops Orchestra honors mater composer john Williams on this 90th Birthday, which is this coming Tuesday. The video of the Pops' performance of "Music of John Williams" is available through Monday, February 7 at 2:00 p.m.
Happy Birthday, John Williams! Pops Principal Guest Conductor Damon Gupton and the Pops treat us to a slice of John Williams' most beloved scores—just in time for his 90th birthday. Experience selections from Superman, Star Wars, E.T., Jaws, Witches of Eastwick and more by one of the greatest composers of our lifetime.
[Thanks to Martin Morse Wooster, JJ, John King Tarpinian, Chris Barkley, Lise Andreasen, Kevin Standlee, Andrew Porter, Michael Toman, Cat Eldridge, and Mike Kennedy for some of these stories. Title credit belongs to File 770 contributing editor of the day Danny Sichel.]