(1) THE VALUE IN EXPERIMENTING. Nino Cipri offers some sff writing pointers. Thread starts here.
(2) BABY FOOD. Beware spoilers – but not spoilage: 'The Mandalorian' Season 2: A Baby Yoda food diary") in the LA Times.
Babies have to eat — and Grogu is no different.

During the second season of "The Mandalorian," Grogu, long referred to by fans as Baby Yoda, has been shown eating everything from a froglike alien's eggs to fancy blue cookies. The popular Disney+ series could easily spawn a spinoff called "The Best Thing Baby Yoda Ever Ate."

As of the seventh episode of Season 2, titled "The Believer," Baby Yoda remains a captive of Moff Gideon and his Imperial forces. Hopefully, the Empire remembers to feed its prisoners, because Grogu is one hungry baby, if previous episodes are anything to go by.

Until Mando and Baby Yoda are reunited (and hopefully throw a celebratory feast), here's a look back at everything Baby Yoda has been seen eating during the show so far.
(3) DINO TIMES. The Los Angeles Public Library did an "Interview With an Author: David Gerrold" about his new novel Hella.
How did the novel evolve and change as you wrote and revised it? Are there any characters or scenes that were lost in the process that you wish had made it to the published version?

I had a first draft that sat on my computer for a couple of years. It wasn't bad, but it needed a polish. And the ending was unsatisfying. I offered it to Betsy Wollheim at DAW. I really admire her. She understands the genre better than most because she grew up in it. Her dad, Donald A. Wollheim, was one of the most underrated movers and shakers in the field. She suggested that I rethink the ending and I came up with a much stronger resolution, one that was a much better payoff. So I have to give her the credit for making Hella a better book.
(4) PRO TIP. In Isaac Asimov's autobiography In Memory Yet Green he discusses how he continued to write letters in the pages of science fiction magazines even after he became a professional.
I began to enjoy less the writing of letters.  Yet I did write them, and often quarreled with writers who objected to something or other in one of my stories–until I received a letter from the writer Nelson S. Bond (whom I met briefly at the World Convention in 1939, and never again), saying that now that I was a professional, I should stop slugging it out in fan columns.  I took that seriously and from the moment I received that letter, I stopped writing letters to the magazines, except for very occasional ones that did not involve fannish comments.  I have always been grateful to Bond for this word in season.
(5) TWO FIFTHS. Thanks to Jim Henley for this fine example of a File 770 trope – double fifths!
(6) ANOTHER FIVE. Speaking of the magic number, James Davis Nicoll knows "Five Novels About the World After the End of the World".
While nostalgia has had a place in tabletop roleplaying games ever since the field was old enough to have second editions—remember when tabletop roleplaying game nostalgia was new?—the recent Twilight 2000 Kickstarter is remarkable for the speed at which the project hit its funding goals: just seven minutes, a bit longer than it would take missiles launched from the Soviet Union to reach Britain.

First published in 1984, Twilight 2000 took as its background a mid-1990s Soviet-Chinese conflict that spiraled into a global war when East and West Germany tried to use Soviet distraction to reunify. By 2000 all sides are too exhausted to continue. Most campaigns begin as the war stumbles to a chaotic, exhausted halt.

T:2000 might seem to be an odd game to be nostalgic about. Perhaps it is a reflection of the Jason Mendoza principle: "Anytime I had a problem and I threw a Molotov cocktail, boom! Right away, I had a different problem." …
(7) CHINA'S COSPLAY RESTRICTIONS. "China cracks down on cleavage at cosplay convention" – CNN has the story.
Organizers of Asia's largest digital entertainment expo — where scantily clad models usually dress up as characters from comic books, movies and video games — say they will levy a fine of $800 on women who reveal "more than two centimeters of cleavage."

Men are not exempt from the crackdown on exposed flesh.

They will face the same penalty if they wear low-hanging pants or expose their underwear. If models are caught dancing in cages or around a pole they will be fined a whopping $1,600, as will anyone caught striking vulgar poses.

It's the latest example of what appears to be a government campaign for stricter morality in China.
A New York Times story on December 11 collected other examples in "Two soccer teams showed up to play. One lost because of hair dye" (repeated here by the South Florida Sun-Sentinel):
Under China's top leader, Xi Jinping, the Communist Party's creeping interference on the smallest details of Chinese life is being felt more and more. Censors have blurred the bejeweled earlobes of young male pop stars on television and the internet so that, in their mind, the piercings and jewelry don't set a bad example for boys. Women in costumes at a video game convention were told to raise their necklines.
(8) BATMAN '66 AND OTHER VINTAGE TV OPINIONS. [Item by Todd Mason.] From 1966: "At Issue; 65; What's Happening to Television?" This episode of the monthly series from National Educational Television makes its points, sometimes less tellingly than its creators think it does, but writer Morton Silverstein and some of those interviewed sure get their boots in on Batman, the ABC series, to a remarkable degree. Also, the blithe use of "drama" to refer only to anthology series that don't have a slant toward one established program category or another beyond that concept. Interesting to those who are students of popular culture and news medium self-justification.
"What's Happening to Television?" is the topic explored by no fewer than twenty-two top personalities allied to the television industry. This hour program in National Educational Television's "At Issue" series presents timely and critical observations on daily programs, news, TV ratings, government regulations and the role of advertising. "What's Happening to Television?" is analyzed by network executives, news commentators, advertising people, writers and critics. They comment on the growth of television, from its infant days to its present giant development, when more than 35 million Americans watch their sets for some 3 hours daily. "What's Happening to Television?" looks back into TV history, analyzing some of the early successes, commenting on present programs, and giving the viewer a glimpse of next fall's offerings. Some of the questions discussed include: Will television ever live up to its potential? What is the real purpose? Who determines which programs are dropped? What is the role of the program sponsors? Is the public interest being protected? Is educational television the answer to more worthy programs? What can the viewer do to control the quality of programs coming into the family living room? 
(9) GALANTER OBIT. Star Trek author Dave Galanter (1969-2020) died of cancer on December 12. Galanter has authored (or coauthored with collaborator Greg Brodeur) such Star Trek projects as Voyager: Battle Lines, the Next Generation duology Maximum Warp, The Original Series novels Crisis of Consciousness and Troublesome Minds, and numerous works of short Star Trek fiction.
(10) LE CARRE OBIT. The author of the George Smiley novels has fallen to pneumonia: "John le Carre, who probed murky world of spies, dies at 89" reports the AP News. He died December 12.
"John le Carre has passed at the age of 89. This terrible year has claimed a literary giant and a humanitarian spirit," tweeted novelist Stephen King. Margaret Atwood said: "Very sorry to hear this. His Smiley novels are key to understanding the mid-20th century."

…After university, which was interrupted by his father's bankruptcy, he taught at the prestigious boarding school Eton before joining the foreign service.

Officially a diplomat, he was in fact a "lowly" operative with the domestic intelligence service MI5 —he'd started as a student at Oxford — and then its overseas counterpart MI6, serving in Germany, on the Cold War front line, under the cover of second secretary at the British Embassy.

His first three novels were written while he was a spy, and his employers required him to publish under a pseudonym. He remained "le Carre" for his entire career. He said he chose the name — square in French — simply because he liked the vaguely mysterious, European sound of it….
(11) MEDIA BIRTHDAY.
December 13, 2002 — On this date in 2002, Star Trek: Nemesis premiered. It directed by Stuart Baird and produced by Rick Berman from the screenplay by John Logan as developed from the story by John Logan, Rick Berman and Brent Spiner. It was the fourth and final film to feature the Next Generation cast. It received decidedly mixed reviews, was a full-blown box disaster but currently has a decent fifty percent rating among audience reviewers at Rotten Tomatoes.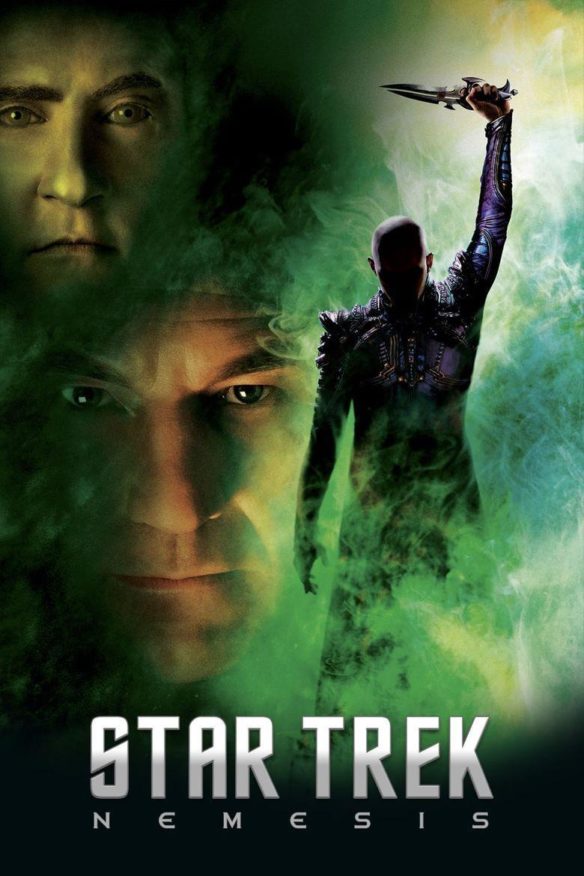 (12) TODAY'S BIRTHDAYS.
[Compiled by Cat Eldridge and John Hertz.]
Born December 13, 1909 – Alan Barclay.  Five novels, two dozen shorter stories; essays "Interplanetary Navigation" in New Worlds SF, "The Bow" in SF Adventures.  "The Scapegoat" is in New Worlds SF 105 which has this neato Sydney Jordan cover.  (Died 1991) [JH]
Born December 13, 1923 – Faith Jaques.  Six covers, eight interiors for us.  Here is Charlie and the Great Glass Elevator and here is an interior.  Here is "The Flirtation of Two Mice".  Outside our field I know her for this; and here are some Christmas Waits.  (Died 1997) [JH]
Born December 13, 1929 — Christopher Plummer, 91. Let's see… Does Rudyard Kipling in The Man Who Would Be King count? If not, The Return of the Pink Panther does. That was followed by Starcrash, a space opera I suspect hardly anyone saw which was also the case with Somewhere in Time.  Now Dreamscape was fun and well received.   Skipping now to General Chang in Star Trek: The Undiscovered Country. Opinions everyone? I know I've mixed feelings on Chang.  I see he's in Twelve Monkeys which I'm not a fan of and I've not seen The Imaginarium of Doctor Parnassus yet. (CE) 
Born December 13, 1940 – Ken Mitchell, age 80.  Co-founded the Saskatchewan Writers' Guild and the S Playwrights Center.  A novel, a shorter story, two covers for us (here is The Tomorrow Connection); six other novels, a dozen plays.  Retired from the Univ. Regina English Department, tours as a cowboy poet.  Order of Canada.  Saskatchewan Order of Merit.  [JH]
Born December 13, 1945 – Drew Mendelson, age 75.  Two novels, half a dozen shorter stories.  Maybe Cora Buhlert can explain why "Once I Built a Railroad" was translated as »Einst baute ich eine Eisenbahn« which means Once I built a railroad but Pilgrimage was translated as Die vergessenen Zonen der Stadt which isn't a bad title for it but doesn't mean Pilgrimage.  [JH]
Born December 13, 1949 — R.A. MacAvoy, 71. Winner of the Astounding Award for Best New Writer. I'm very, very fond of her Black Dragon series, Tea with the Black Dragon and Twisting the Rope. The only other thing I've read of hers is The Book of Kells so, do tell me about her other works. (CE) 
Born December 13, 1954 — Tamora Pierce, 66. Her first book series, The Song of the Lioness, took her character Alanna through the trials of training as a knight; it sold very well and was well received by readers. She would win in 2005 the Edward E. Smith Memorial Award for Imaginative Fiction, a rare honor indeed. (CE)
Born December 13, 1954 — Emma Bull, 66. Writer of three of the best genre novels ever, Bone Dance: A Fantasy for Technophiles, Finder: A Novel of The Borderlands and War for The Oaks. Will Shetterly, her husband and author of a lot of really cool genre works, decided to make a trailer which you can download if you want. Just ask me.  She's also been in in a number of neat bands, one that has genre significance that being Cat Laughing which has Stephen Brust, Adam Stemple, son of Jane Yolen, and John M. Ford either as musicians or lyricists. They came back together after a long hiatus at MiniCon 50. Again just ask me and I'll make this music available along with that of Flash Girls which she was also in. (CE) 
Born December 13, 1960 – José Eduardo Agalusa Alves da Cunha, age 60.  (Agalusa the maternal, Alves da Cunha the paternal surname, Portuguese style.)  Two novels for us: The Society of Reluctant Dreamers just appeared in English, 2019; The Book of Chameleons won the Independent Foreign Fiction prize); a dozen others, shorter stories, plays, poetry, journalism, radio.  Int'l Dublin Literary Award.  [JH]
Born December 13, 1969 — Tony Curran, 51. Vincent van Gogh in two Eleventh Doctor stories, "Vincent and the Doctor" and "The Pandorica Opens", the latter as a cameo. He's had vampire roles in Blade II as Priest and Underworld: Evolution as Markus, and was Lt. Delcourt in The Adventures of Tintin: The Secret of the Unicorn to name but a few of his myriad genre roles. (CE) 
Born December 13, 1978 – Lee Isserow, age 42.  A score of novels, a dozen shorter stories for us; screenwriting; and the terrifying ABAM project, which means – yes – A Book A Month.  Has read not only Breakfast of Champions but The Master and Margarita.  [JH]
Born December 13, 1984 — Amal El-Mohtar, 36. Canadian editor and writer. Winner of Hugo Awards for Best Short Story for "Seasons of Glass and Iron" at WorldCon 75 and  Best Novella for "This Is How You Lose the Time War" at CoNZealand (with Max Gladstone). (The latter got a BSFA and a Nebula as well.) She's also garnered a Nebula Award  for "Madeleine", a World Fantasy Award for "Pockets" and a World Fantasy Award for "Seasons of Glass and Iron". Impressive. She has edited the fantastic poetry quarterly Goblin Fruit magazine for the past four years. (CE) 
(13) COMICS SECTION.
In The Far Side, it looks like the coroner's office has already picked up this extra sized decedent.
And in another entry of The Far Side, they also walk dogs.
(14) IMAGINARY GIFT SHOP. [Item by Martin Morse Wooster.] The Washington Post had a short feature where they asked writers to "dream up the presents that they'd love to parcel out this year but don't exist." Ken Liu says he wants a phone-sized device he can point at tweeters to see whether they are arguing in good faith or just being a troll. Ted Chiang says he wished the Web had evolved into a subscription-based servie where people paid for sites they visited with money instead of personal data. "A guide to gifts that don't exist but should".
(15) THE ANSWER IS BOOKS. Of more practical use, "A gift guide for the fans of science fiction, fantasy and horror books in your life" by Silvia Moreno-Garcia and Lavie Tidhar in the Washington Post.
It's that time of the year when the nights grow long, the air grows cold, the festive lights go up and the year's best books lists are sprouting like mushrooms after the rain. But will any of them help you find that perfect book-gift for your friends who love science fiction, fantasy and horror? If not, we're here to help….
(16) THE HIGH AND THE MIGHTY. Camestros Felapton is highly entertaining with "My new pointless Star Wars theory".
The issue that had been bugging me was the inconsistent way of travelling between planets. In the films but also in The Mandalorian (less so in cartoons), characters fly in space ships between planets in two ways:
Using hyperspace as faster than light travel.
Using sub-light speed engines….
But now he has it all figured out!
(17) YES, VIRGINIA, THERE WAS A WRITER NAMED G. K. CHESTERTON? At CrimeReads, Olivia Rutigliano contends "Famed mystery writer G.K. Chesterton proudly, sincerely believed in Santa Claus".
… Chesterton's applied his penchant for logic in this article on "Santa Claus." Along with providing a short history of the figure of Santa Claus in popular culture (particularly his origins, as the gift-wielding St. Nicholas of Bari in Medieval iconography), Chesterton offered a simple proposition: that a child's ultimately ceasing to believe in Santa Claus, justified by the fact that Santa Claus is not real, is a precursor to that child's ceasing to believe in God. And this, Chesterton explained, was a terrible phenomenon.

And then he admitted a surprising detail: "I startled some honest Protestants lately by telling them that, though I am (unfortunately) no longer a child, I do most definitely believe in Santa Claus."

Elaborating on this decidedly 'hot take,' Chesterton stressed that he felt it was critical for children to believe in Santa Claus even after Santa Claus has been debunked as a real, flesh-and-blood man, because the Santa Claus that children know is ultimately a caricature of an actual saint; just because, Chesterton argued, he is not real to their eyes does not mean that he is not a genuine, spiritual entity….
(18) FIREFLY CHARACTER AS ILLUSTRATION OF PTSD. "SERENITY and Coping with Trauma" from Cinema Therapy on YouTube.
What happens when you're kidnapped from your family, tortured, and conditioned into being an assassin? You get River Tam. And also Alan, apparently. Therapist Jonathan Decker and filmmaker Alan Seawright discuss what we can learn about coping with trauma from Summer Glau's character River in Serenity and Firefly. They break down some of the symptoms of PTSD she exhibits, and some of the things that help her work through them and start healing. Even though most of us don't live in a sci-fi future with space ships, space zombies, and space cowboys (along with psychics and lots of other fun), we can still learn a thing or two about how to heal from and deal with the trauma we do face in real life.
(19) ZOOMING THROUGH FANHISTORY. Fanac.org is planning a series of Zoom Interactive Fan History Sessions.
For our first session, Rob Hansen is going to give us an historic tour of fannish Holborn, London. Rob is probably the most accomplished fan historian writing these days. As most of you know, he has written the history of British fandom, Then and has put together a number of books covering various aspects of British fandom. Find many of them here. Reserve the date: Saturday, December 19, 2020 at 11AM EDT.

Despite the pandemic, Rob has done video recordings around London, and with historic photos and live description will give us a tour that covers some household fannish names and places. He has worked with Edie [Stern] over the past several months to provide an interesting and fairly detailed coverage of London's fan heritage. This one-hour session is based on tours which Rob has given to individual fans and also developed as a group tour after the last London Worldcon. Even if you have been on one of these tours, you will find some fresh sights and insights. Of course, Rob will be live on Zoom with additional material and to answer questions.  Please send your RSVP to [email protected] as our Zoom service is limited to 100 participants.
(20) BEYOND INFINITY. Disney+ dropped a trailer for What if….? an alternate-universe animated series.
(21) MARTIANS AT THE NEW YORK TIMES. [Item by David Goldfarb.] The New York Times puzzle page has a game called "Letter Boxed", in which you make words out of letters arranged around a square. The idea is to use all the letters with as few words as possible: there is always a two-word solution. The two-word solution for Saturday 12/12 was "Visualizing – Grok".
(22) EDUCATE YOURSELF. Ursula Vernon ladles out more life experience. Thread starts here.
(23) RUN TO DAYLIGHT. SYFY Wire learned that "Spiders get thrown off spinning webs in zero-G…unless they have light".
It's one small step for insects, eight steps for spider-kind.

"Arachnauts" flown to the ISS have revealed their secret backup plan when they can't use gravity to figure out where they are when spinning their webs. Earth's gravity is what normally helps them make a web optimal for catching dinner—and position themselves in it. Lamps accidentally placed above the spider experiment showed that when the arachnids lose their orientation in microgravity, they use light to find their way again….  
(24) VIDEO OF THE DAY. In "Hulk (2003) Pitch Meeting" on Screen Rant, Ryan George says that people who watched the 2003 Hulk expecting that Hulk would smash things will be disappointed by the first 45 minutes, which consist of nothing but brooding and that few people will be excited by the scenes where Hulk beats up a Hulkified French poodle.
[Thanks to Jim Henley, David Goldfarb, Martin Morse Wooster, John Hertz, John King Tarpinian, Contrarius, JJ, Cat Eldridge, Michael Toman, Mike Kennedy, and Andrew Porter for some of these stories. Title credit goes to File 770 contributing editor of the day Bill.]