(1) AMAZING STORIES BUS STOP AD. Seen in New York City. Photo courtesy of von DImpleheimer.
(2) ON THE AIR. And the show is now with us. Steve Davidson's post "Amazing Stories TV Show Debuts" (BEWARE SPOILERS) delivers this assessment:
…All in all – production values are what you would expect, the story is in line with the target the show has always sought (families watching and sharing together) and the theme is marginally SFnal, (though time travel afficianados will have plenty to talk about) and my overall conclusions are: time was not wasted watching this episode and we ought to stick with the show to see how it develops.
(3) IAFA SAYS IT MUST MEET TO SURVIVE. International Association for the Fantastic in the Arts 41 will be held March 18-21, however, the organizers are making some new options available: "ICFA 41: COVID-19, Cancellations, and Credits/Refunds".
As a result of the ongoing uncertainty surrounding the news about COVID-19, the IAFA board would like to take this opportunity to issue an update on ICFA 41.

The conference will meet.

We have to meet certain guaranteed minimums for room occupancy, food and beverage expenditures, etc., specified in our contract with the hotel, or pay out of pocket. It is not an exaggeration to say that cancellation would jeopardize the very existence of the IAFA.

The first concern of the board members is members' safety and well-being. We urge IAFA members to proactively research COVID-19 and consult status reports through reputable sources such as the World Health Organization (https://www.who.int/), the US Centers for Disease Control and Prevention (https://www.cdc.gov/), and the Florida department of health (http://www.floridahealth.gov/), whose websites are continually updated. We would also advise checking for updates with your travel provider and travel insurer.

…Because of the extraordinary circumstances, we are crediting registration for those who cancel as a result of the outbreak. This credit must be used within 2 years. We will provide refunds to people from countries under travel restrictions. Because we are required to have final numbers for rooms and meals to the hotel a week before the conference, we will provide credits or refunds only to people who cancel by 5p EST on March 9, 2020.

…The board is discussing a number of ways to make it possible for people not able to attend physically but who wish to have their work included in some way to do so. We will make an official announcement before the March 9 deadline.
More details at the link.
(4) FRANK HERBERT ON CORONAVIRUS. Or so the people tweeting it around have captioned this rewritten chart —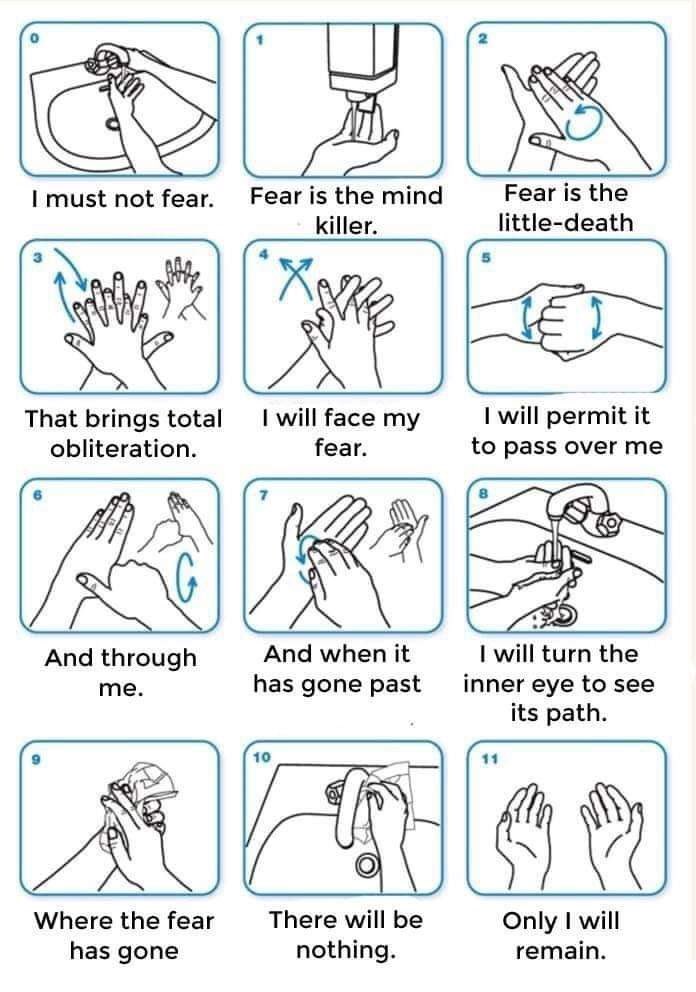 (5) PIXAR'S LATEST. Leonard Maltin applauds a new release: "Pixar Scores With Heartfelt 'Onward'".
Like the best Pixar and Disney animated films, this one supplies rooting interest in its heroes from the very start. We want them to succeed because we care about them and their quest. Who wouldn't want to be reunited with a loved one, especially when his absence has left a void in their lives?
(6) SLOW START. NPR's Glen Weldon reviews "'Onward': Timid Teen On A Mythic Quest For Elf-Assurance".
In the opening minutes of Disney/Pixar's Onward, we are met with various manifestations of loss.

There's the film's setting, a world where magic once flourished, and with it, pixies, unicorns, pegasi, elves, ogres, centaurs, mermaids — your standard-issue high-fantasy mythofaunic biome. But even here, in a gimmick the film leans into juuuuust enough, the Industrial Revolution arrived. As automation increased, magic faded. Elves still live in giant toadstools, but said toadstools are now rigidly apportioned into vast, Spielberg-suburban subdivisions and cul-de-sacs. Once-splendid unicorns have gone feral, raiding raid trash cans and hissing at passers-by like peculiarly horsey raccoons. If Middle-Earth had more strip-malls, it'd look something like this.

There's also the loss experienced by the elf-family at the film's center: mom Laurel (voiced by Julia Louis-Dreyfus) and her two sons — the younger, anxious Ian (voiced by Tom Holland) and his older, buff, RPG-obsessed brother Barley (Chris Pratt, squarely back in Andy Dwyer mode). It's Ian's 16th birthday, and he's given a gift left to him by his late father, who passed away when Ian was too young to remember him: A wizard's staff.

Finally, in these opening minutes, there's still another feeling of loss that manifests in the viewer — that of lost opportunity.

The jokes are glib and smarmy, the family dynamics achingly familiar, and as we follow Ian to high school, his every encounter and interaction feels less Disney/Pixar and more Disney Channel — which is to say, too sweet, too cornball, too affected, too faux-contemporary. The average very young child in the audience won't notice; the average parent will start checking the theater's exits.

But!

On or about the 20-minute mark — not coincidentally, upon the arrival of a manticore called Corey, voiced by Octavia Spencer — the film seems to discover what it is: A testament to the remarkable degree of emotional expressiveness that Pixar's character-animators can imbue into a story….
NPR hosts a 4-way discussion (audio, no transcript yet) here.
(7) PERSEVERANCE PLANS. BBC reports "Nasa 2020 robot rover to target Jezero 'lake' crater".
The American space agency (Nasa) says it will send its 2020 Mars rover to a location known as Jezero Crater.

Nasa believes the rocks in this nearly 50km-wide bowl could conceivably hold a record of ancient life on the planet.

Satellite images of Jezero point to river water having once cut through its rim and flowed via a delta system into a big lake.

It is the kind of environment that might just have supported microbes some 3.5-3.9 billion years ago.

This was a period when Mars was much warmer and wetter than it is today.

What is so special about Jezero?

Evidence for the past presence of a lake is obviously a draw, but Ken Farley, the Nasa project scientist on the mission, said the delta traces were also a major attraction.

"A delta is extremely good at preserving bio-signatures – any evidence of life that might have existed in the lake water, or at the interface of the sediment and the lake water, or possibly things that lived in the headwaters region that were swept in by the river and deposited in the delta," he told reporters.

Jezero's multiple rock types, including clays and carbonates, have high potential to preserve the organic molecules that would hint at life's bygone existence.
Narrated flythrough of planned route here.
(8) TODAY IN HISTORY.
March 6, 1936 — The "Income from Immigrants" episode of the Green Hornet radio show originated from WXYZ in Detroit. (It is also called "Ligget's Citizenship Racket".) The show was created by Fran Striker & George W. Trendle, and starred Al Hodge as the Green Hornet at this point, and Tokutaro Hayashi who had renamed Raymond Toyo by initial series director James Jewell. You can download the episode here.
March 6, 1938 — RKO first aired "The Bride of Death" with Orson Welles as The Shadow. Welles prior to his War of The Worlds broadcast would play the role for thirty three episodes in 1937 and 1938 with Blue Coal being the sponsor. You can download it here.
(9) TODAY'S BIRTHDAYS.
[Compiled by Cat Eldridge.]
Born March 6, 1918 — Marjii Ellers. Longtime L.A. fan active in the LASFS. Her offices in the LASFS included Registrar and Scribe. She is known as well for her costumes at cons. Indeed, she received a Lifetime Achievement Award in 1990 from the International Costumers Guild. An avid fanzine publisher and writer, some of the fanzines she edited were Masqueraders' Guide, More Lives Than One, Nexterday, One Equal Temper, Thousands of Thursdays, and Judges' Guide. (Died 1999.)
Born March 6, 1928 — William F. Nolan, 92. Author of the long running Logan's Run series (only the first was written with George Clayton Johnson). He started out in fandom in the Fifties publishing several zines including one dedicated to Bradbury. In May 2014, Nolan was presented with another Bram Stoker Award, for Superior Achievement in Nonfiction; this was for his collection about his late friend Ray Bradbury, called Nolan on Bradbury: Sixty Years of Writing about the Master of Science Fiction. He's done far too much writing-wise for me to sum it him up. 
Born March 6, 1930 — Allison Hayes. She was Nancy Fowler Archer, the lead role, in The Attack of The 50 Foot Woman. Her first SF role was the year as Grace Thomas in The Unearthly. She'd be Donna in The Crawling Hand shortly thereafter. She died at age forty-seven from the result of injuries sustained from early on Foxfire, a mid Fifties Western that's she's actually in. That she made three SF films while in severe pain is amazing. (Died 1977.)
Born March 6, 1937 — Edward L. Ferman, 83. Editor and publisher who's best known as the editor of The Magazine of Fantasy and Science Fiction from 1966 to 1991.  He also edited a zine I've not heard of, Venture Science Fiction Magazine, for two years 1969 – 1970). And, of course, he's edited myriad anthologies that were assembled from F&SF
Born March 6, 1942 — Dorothy Hoobler, 78. Author with her husband, Thomas Hoobler, of the Samurai Detective series which is at least genre adjacent. More interestingly, they wrote a biography of Mary Shelley and her family called The Monsters: Mary Shelley and the Curse of Frankenstein which sounds absolutely fascinating. Note to ISFDB: no, it's not a novel. Kindle has everything by them, alas Apple Books has only the biography.
Born March 6, 1957 — Ann VanderMeer, 63. Publisher and editor, and the second female editor of Weird Tales. As Fiction Editor of Weird Tales, she won a Hugo Award. In 2009 Weird Tales, edited by her and Stephen H. Segal, won a Hugo Award for Best Semiprozine. She is also the founder of The Silver Web magazine, a periodical devoted to experimental and avant-garde fantasy literature.
Born March 6, 1972 — K. J. Bishop, 48. Her first book, The Etched City, was nominated for a World Fantasy Award for Best Novel. It won the Ditmar Award.  She is a recipient of the Aurealis Award for best collection, That Book Your Mad Ancestor Wrote. Both works are available from the usual digital sources. 
Born March 6, 1979 — Rufus Hound, 41, Ok, I'll admit it was his name that got him here. He also on the good fortune to appear as Sam Swift in "The Woman Who Lived", easily one of the best Twelfth Doctor stories. He's also played Toad in the world premiere of the musical, The Wind In The Willows in Plymouth, Salford and Southampton, as written by Julian Fellowes. 
(10) COMICS SECTION.
(11) BIERYOGA. [Item by Mike Kennedy.] If Worldcon, SMOFcon, etc. are looking for a new way to encourage fans to exercise at the con… well, it seems like a good fit for much of fandom. That said, notice the source of the article. — Funny or Die claims "'Beer Yoga' Is A Real Thing That Exists, Namaste".
Although it's impossible to predict exactly what the future holds, there are a couple things that are pretty much guaranteed to happen with each new year. First, we're all going to make resolutions. Second, we're all going to abandon those resolutions.

One of the most common goals we make for ourselves when January rolls around is hitting the gym more often, and that's also one of the toughest things to stick with for more than a few months. Life gets in the way, gyms are far or expensive, and let's be honest — working out sucks. Yeah, yeah, you get a rush of endorphins and you feel good afterward, but actually dragging your butt there and the entire process of exercising leave much to be desired. However, this year might be the year things change.

If you're like everyone else on earth and struggle to hold fast to your New-Year-New-Me resolutions, look no further than Bieryoga….
(12) THE BINDING THAT TIES. NPR praises a documentary: "'The Booksellers' Speaks Volumes About Old Books And Those Who Love Them".
As we hurtle closer to a time when little kids will look up from their tablets to inquire, "What was a book, Mommy?" much as they now ask, "What's a record player?," it may cheer you to learn, from a charming new documentary about bookselling, that while the middle-aged tend to play on Kindles these days, millennials are to be seen in droves reading print books on the New York subway. They're probably also the ones ordering "vintage" turntables, and they may be driving the encouraging current renaissance of independent bookstores serving cappuccino on the side, to lure us back from Amazon.

The books being bought, sold and read there, though, are unlikely to be the kind found at the New York Book Fair in a gorgeous old building on the city's Upper East Side: ancient tomes, some with curled and peeling pages, others gorgeously illuminated. The handlers of those books are the subject of D.W. Young's beguiling film, The Booksellers, about the world of New York antiquarian book dealers. They're a vanishing breed who, with some exceptions, regard their work more as consuming passion than as career.
(13) CREDENTIAL CAPTURE. Here's a bizarre GIF – "Cat UFO Abduction".
(14) FROZEN TWO. "Destination Uranus! Rare chance to reach ice giants excites scientists". Tagline: A planetary alignment provides a window to visit Uranus and Neptune — but time is tight.
Momentum is building among planetary scientists to send a major mission to Uranus or Neptune — the most distant and least explored planets in the Solar System. Huge gaps remain in scientists' knowledge of the blueish planets, known as the ice giants, which have been visited only once by a space probe. But the pressure is on to organize a mission in the next decade, because scientists want to take advantage of an approaching planetary alignment that would cut travel time.
(15) DON'T PANIC, I'LL BE BACK. Science Alert "Japan Is Sending a Lander to a Martian Moon, And It'll Be Back by 2030".
Sending a mission to moons of Mars has been on the wish list for mission planners and space enthusiasts for quite some time. For the past few years, however, a team of Japanese Space Agency (JAXA) engineers and scientists have been working on putting such a mission together.

Now, JAXA announced this week that the Martian Moon eXploration (MMX) mission has been greenlighted to move forward, with the goal of launching an orbiter, lander — and possibly a rover — with sample return capability in 2024.

For the past three years, MMX has been in what JAXA calls a Pre-Project phase, which focuses on research and analysis for potential missions, such as simulating landings to improve spacecraft design. Now that the mission has been moved to the development phase, the focus will be on moving ahead with the development of mission hardware and software.
(16) TRAILER TIME. Dreamworks Animation dropped a trailer for Trolls World Tour. In theaters April 2020.
Anna Kendrick and Justin Timberlake return in an all-star sequel to DreamWorks Animation's 2016 musical hit: Trolls World Tour. In an adventure that will take them well beyond what they've known before, Poppy (Kendrick) and Branch (Timberlake) discover that they are but one of six different Troll tribes scattered over six different lands and devoted to six different kinds of music: Funk, Country, Techno, Classical, Pop and Rock. Their world is about to get a lot bigger and a whole lot louder.
[Thanks to John King Tarpinian, Mike Kennedy, Martin Morse Wooster, Chip Hitchcock, Cat Eldridge, Michael Tolan, JJ, and Andrew Porter for some of these stories. Title credit goes to File 770 contributing editor of the day Jeff Jones.]