(1) THE UPPER CRUST. Abigail Nussbaum, who read 86 books this year, says these are the best — "2021, A Year in Reading: Best Books of the Year" at Asking the Wrong Questions.
Under Honorable Mentions —
The Ministry for the Future by Kim Stanley Robinson – My review of this novel was decidedly mixed and frustrated, and as I wrote there, I found the actual experience of reading it rather challenging. But as I come to close out the year, I can't help but appreciate this effort, perhaps the first novel to not only address climate change but imagine how we might go about dealing with it, and what will be required to accomplish this. It's not a perfect novel, but it might be a necessary one.
(2) ATOP MOUNT TO BE VIEWED. Abigail Nussbaum did a separate "Best TV of 2021" post for Lawyers, Guns & Money.
…I take two lessons from the state of the TV medium in 2021. The first is that this was the year that taught us the difference between "expensive" and "good". So many shows came out the gate this year with stratospheric production values, huge names before and behind the camera, and stunning locations, but still felt as if little or no thought was given to creating coherent, satisfying stories. The Disney+ MCU shows are exhibit A of this phenomenon: five very different shows with unbelievable budgets and star-studded casts, none of which quite managed to stick the landing. But other streamers fell into the same trap. Apple TV+ produced an eight-episode adaptation of The Mosquito Coast that shot in the desert on the US-Mexican border and in picturesque locations in California and Mexico, but apparently no one involved considered that audiences might be put off if the central family didn't even reach the Mosquito Coast until the season finale. Netflix poured millions upon millions of dollars into comic books adaptations like Sweet Tooth and Jupiter's Legacy, while seeming to have skimped on the scripts. (To be fair, Jupiter's Legacy also looked like ass; I really hope there was some serious money-laundering going on because otherwise I just can't explain it.)
(3) CIRCLING THE SQUARE. It'll be a big deal again in Times Square tonight. Daily Kos explains the tradition: "Why do we drop a ball on New Year's Eve? It once saved lives, but now it's just fun".
… But why a giant ball? Where did this come from?

The short answer is that it's inspired by other giant balls whose function was to indicate time. I say "was", because the purpose of a "time ball" is now pragmatically obsolete, and almost all of these are gone. But one of the very earliest time balls, atop the Royal Observatory in Greenwich, England, has been dropped each and every day since 1833. It is raised halfway up its post a few minutes prior, to give notice, and then it is dropped at exactly the stroke of 1 P.M. Bongggg!
(4) CALMING THE DISCOURSE. [Item by Olav Rokne.] In an excellent, free Patreon post, Hugo-finalist fan writer Jason Sanford examines the troubling trend of targeted harassment campaigns against creators and pundits within the SFF genre, and asks how we as a community can do better. "Genre Grapevine on SF/F Abuse and Harassment Campaigns".
…I've been on the receiving end of these mass harassment and abuse campaigns. When you're subjected to harassment and abuse your world compresses to a single, painful point, like a black hole that traps you against your will. Nothing you say or do makes a difference. People can tell you the harassment and abuse is unjustified and that you did nothing wrong. But none of that matters.

Because in the end you are merely a convenient target for people who are deliberately refusing to see you as human….
(5) SAWYER Q&A. Host Mary Ito, previously with the CBC and TVOntario, interviews Robert J. Sawyer for The CRAM Podcast ~ Extraordinary Ideas Unleashed.
We all wonder about our future – post pandemic. And it's something sci-fi writer Robert Sawyer thinks about a lot. His writing has captivated audiences with explorations of alternate worlds. Hear what one of Canada's most fascinating big thinkers has to say about OUR world, and the transformation it's undergoing. His audio series "The Downloaded" about a metaphorical post pandemic world will be available Fall 2022 on Audible. Robert Sawyer's most recent book is "The Oppenheimer Alternative."
(6) FREE TAFF BOOK. Ah! Sweet Laney! The Writings of a Great Big Man is the latest addition to TAFF's library of free downloads. The reissue of Robert Lichtman's and Pat Virzis's compilation of Francis T. Laney's other fanwriting (i.e. not Ah! Sweet Idiocy!) That will be a very familiar name if you happen to have just read about 1940s LASFS in Bixelstrasse. The collection is available in multiple formats at the Trans-Atlantic Fan Fund's website, where they also hope you'll make a little donation to the fund.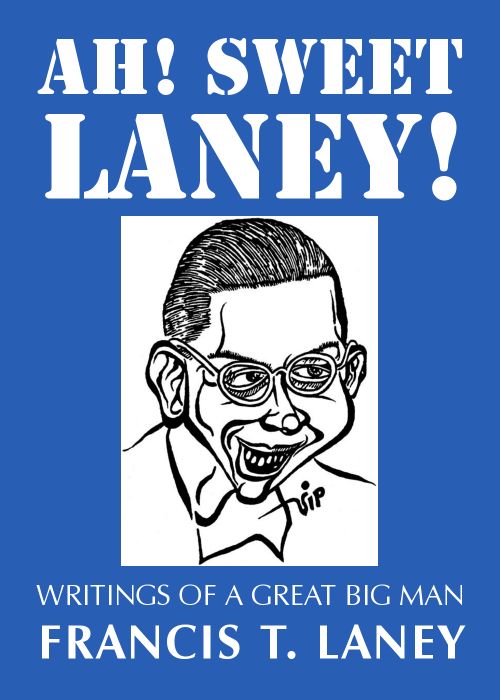 Though best remembered for his infamous 1948 memoir and polemic Ah! Sweet Idiocy! (also in the TAFF ebook library), Francis Towner Laney also published much other notable work in his own and others' fanzines. In addition to a generous helping of Laney's best writing other than Ah! Sweet Idiocy!, it includes a new introduction by Robert Lichtman and memoirs of "FTL" by Robert Bloch, Charles Burbee, Terry Carr and Jack Speer.

This first ebook edition is produced with the kind permission of Robert Lichtman and the welcome support of Pat Virzi, who provided the text in PDF format, now also available at Bill Burns's eFanzines.com. The PDF download button above gives this 10Mb PDF (with all print layout, artwork, photographs etc) rather than the usual quick-and-dirty conversion from ebook format.
(7) SLF NEEDS GRANT JURORS. The Speculative Literature Foundation announced on Facebook they need jurors to read applications for the A.C. Bose Grant.
Ideally, we're looking for people who are well read in science fiction, fantasy and horror, but we'd also like a mix of readers, writers, librarians, teachers, editors, etc. who are capable of judging literary quality in a work. The honorarium is $25.

Please note: We'd love to have South Asian and South Asian diaspora jurors for the AC Bose Grant, but it's not a requirement.

Please contact Catherine ([email protected]) for more information.
(8) NEW ZEALAND AWARD TAKING NOMINATIONS. SFFANZ News declares "Nominations for the 2022 Sir Julius Vogel awards Open". Guidelines at the link.
Sir Julius Vogel Award nominations for the 2021 calendar year are now open. The nomination period will close at 11:59pm on 31st March 2022. The SJV awards recognise excellence in science fiction, fantasy, or horror works created by New Zealanders and New Zealand residents, and first published or released in the 2021 calendar year. Anyone can make a nomination and it is free!
(9) TANGLED WEBS. [Item by Martin Morse Wooster.] This Spider-Man blooper reel dropped two days ago. I thought what was most interesting was how much of the Spider-Man: No Way Home sets were real and what was CGI.
(10) BETTY WHITE. Actress Betty White died today, a few weeks short of her hundredth birthday. The New York Times obituary is here: "Betty White, a TV Fixture for Seven Decades, Is Dead at 99". Although White performed a vast number of roles in her long career, only a few were genre. She was a Woman in Window encountered by the Dynamic Duo in Return to the Batcave (2003). She did voice work in several animated Christmas movies, and also on the Hercules TV series (1999), The Simpsons (as herself, 2007), The Lorax (2012), SpongeBob SquarePants (2016), and as a toy tiger named Bitey White in Toy Story 4.
Betty White, who created two of the most memorable characters in sitcom history, the nymphomaniacal Sue Ann Nivens on "The Mary Tyler Moore Show" and the sweet but dim Rose Nylund on "The Golden Girls" — and who capped her long career with a comeback that included a triumphant appearance as the host of "Saturday Night Live" at the age of 88 — died on Friday. She was 99.
(11) MEDIA BIRTHDAY.
1931 — [Item by Cat Eldridge.] Ninety years ago, Dr. Jekyll and Mr. Hyde, a horror film directed by Rouben Mamoulian premiered. The screenplay was by Samuel Hoffenstein and Percy Heath. It starred Starring Fredric March, Miriam Hopkins and Rose Hobart. It was a box office success making on piece three million on a budget of a million dollars. Critics loved it, and March won the award for Best Actor, sharing the award with Wallace Beery for The Champ. It has a most excellent eighty percent rating among audience reviewers at Rotten Tomatoes.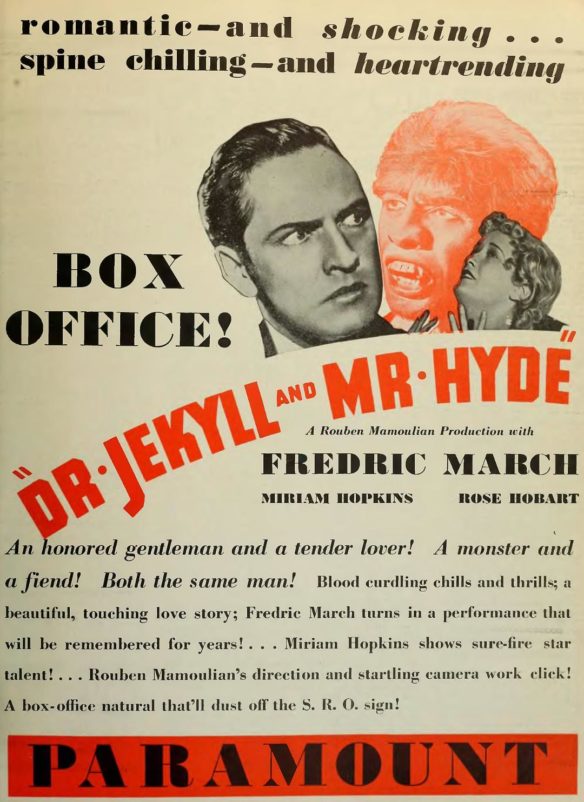 (12) TODAY'S BIRTHDAYS.
[Compiled by Cat Eldridge.]
Born December 31, 1937 — Anthony Hopkins, 84. I think one of his most impressive roles was as Richard in The Lion in Winter but we can't even call that genre adjacent, can we? Well, we can as it's alternate history. He was, during that period, also King Claudius in Hamlet. I'll say playing Ian McCandless in Freejack is his true genre role, and being Professor Abraham Van Helsing in Bram Stoker's Dracula is a plum of a genre role. It's a better role that he as Odin has the MCU film franchise. What else to note? What have I missed that I should note?
Born December 31, 1943 — Ben Kingsley, 78. Speaking of Kipling, he voiced Bagherra in the live action adaptation that Disney did of The Jungle Book. He was also in Iron Man 3 as Trevor Slattery, a casting not well received. He's The Hood in Thunderbirds (directed by Frakes btw), Charles Hatton in A Sound of Thunder and Merenkahre in Night at the Museum: Secret of the Tomb, the third of three great popcorn films.
Born December 31, 1945 — Connie Willis, 76. She has won eleven Hugo Awards and seven Nebula Awards for her work, a feat that impresses even me! Of her works, I'm most pleased by To Say Nothing of the Dog, Doomsday Book and Bellwether, an offbeat novel look at chaos theory. I've not read enough of her shorter work to give an informed opinion of it, so do tell me what's good there. She's very well stocked at the usual suspects and a number of her works qualify as Meredith moments.
Born December 31, 1949 — Ellen Datlow, 72. Let's start this Birthday note by saying I own a complete set of The Year's Best Fantasy & Horror which yes, I know it was titled The Year's Best Fantasy for the first year. And I still read stories from them from time to time. If that was all she had done, she'd have been one of our all-time anthologists but she also, again with Terri Windling, did the Fairy Tale and Mythic Fiction series, both of which I highly recommend. On her own, she has the ongoing Best Horror of Year, now a decade old, and the Tor.com anthologies which I've not read but I assume collect the fiction from the site. Speaking of Tor.com, she's an editor there, something she's also done at Nightmare Magazine, Omni, the hard copy magazine and online, Sci Fiction webzine and Subterranean Magazine. And yes, she won a number of Hugos for her editing including one this year which she richly deserved.
Born December 31, 1953 — Jane Badler, 68. I first encountered her on the Australian-produced Mission Impossible where she played Shannon Reed for the two seasons of that superb series. She's apparently best known as Diana, the main antagonist on V, but I never saw any of that series being overseas at the time. She shows up in the classic Fantasy Island, Sir Arthur Conan Doyle's The Lost World, Bitch, Popcorn & Blood and Virtual Revolution.
Born December 31, 1958 — Bebe Neuwirth, 63. Ok she's had but one television SF credit to her name which is playing a character named Lanel in the "First Contact" episode of the Next Gen series during season four, but I found a delightful genre credential for her. From April 2010 to December 2011, she was Morticia Addams in the Broadway production of The Addams Family musical! The show itself was ongoing up until the Pandemic started.
Born December 31, 1959 — Val Kilmer, 62. Lead role in Batman Forever where I thought he did a decent job, Madmartigan in Willow, Montgomery in The Island of Dr. Moreau, voiced both Moses and God in The Prince of Egypt, uncredited role as El Cabillo in George and the Dragon and voiced KITT in the not terribly well-conceived reboot of Knight Rider. Best role? Ahhh that'd be Doc Holliday in Tombstone. Nope, not even genre adjacent but I really, really love that film.
(13) JOINING GENRES. Clarion West will be offering a free online discussion – "Fantastic Intersections: Speculative Fiction and Romance" — on January 29, 2022, 1:00 – 2:00 p.m. Pacific. The participants will be Zen Cho, S. A. (Austin) Chant, C. L. Polk, KJ Charles, and L. Penelope, moderated by Rashida J. Smith. Register at the link.
From the sublime and magical to the stirring and steamy, storylines centering BIPOC and LGBTQIA+ characters are flourishing in the romance and speculative genres. We'll tackle the nuance of building romance into the plot vs. romance as the plot, the role of the HEA or HFN in representation, and the future of the fantastic in romance.
(14) GAME WITH A STRONG STORY. Laura "Tegan" Gjovaag broke her usual pattern by buying this game on release day and it worked out well: "Video Game Review – Ruined King: A League of Legends Story" at Bloggity-Blog-Blog-Blog.
…The story drove me on, because I wanted to read it all and find out what really happened. There is a central mystery to it – the opening cinematic sets it up beautifully. Why did the Blessed Isles fall? What is the Harrowing? You get some solid answers by the end. It's like reading a novel while playing it as well. It was an experience I very much enjoyed. In addition to the main story there were the individual tales of each of our six main characters as well as bits of lore featuring dozens of other characters, some related and some not, that you just find as you explore the world….
(15) THE ENVELOPE, PLEASE. In the Washington Post, David Betancourt and Michael Cavna rank the 12 best performances by actors in superhero movies, including nine from the MCU and three from the DCEU. "Of 'Spider-Man,' 'Shang-Chi' and 'The Suicide Squad': The year's top 12 performances from superhero titles".
… Anchoring the success of these films were the layered human performances amid all the green-screen effects. Here are a dozen actors who especially delivered depth within their superhero universes…
4. Margot Robbie ('The Suicide Squad')

Margot Robbie as Harley Quinn in 2021's "The Suicide Squad." (Warner Bros./Everett Collection)

Playing the relentlessly resourceful Harley Quinn,Robbie is reliably the most electric presence in DC's sprawling team-up movies, dropping coy one-liners with as much force as her violent blows. She again steals entire scenes in James Gunn's "The Suicide Squad," and with each own-the-screen DC outing, including "Birds of Prey," she proves that her radiant Harley could carry solo movies in between the "Suicide" squadfests.
(16) WITH SHARP, POINTY TEETH. [Item by Michael Toman.] Have to wonder what, say, Dylan Thomas, ("A Bright Child From Wales!") would have done with this Late-Breaking Holiday News Update. "Bloodthirsty, 'Psycho' Squirrel Attacks 18 in Small Town Christmas Rampage" reports Newsweek. Will there be a movie from some of the Folks at The Asylum, the ones who gifted us with the "Sharknado Franchise?" Or maybe this needs to become an Uncuddly, Unwarm, Unfuzzy Picture Book? "What a world, what a world!"
A Welsh town is being held in the grip of fear by a most unusual source, a grey squirrel that is attacking residents.

Wales Online reported that the serial squirrel has indiscriminately attacked pensioners, pets, and children, jumping at people taking out the garbage, and been chasing after people down streets as they flee.
(17) DIANA GALLAGHER VIDEOS. Fanac.org's Edie Stern introduces these Eighties recordings of Diana Gallagher singing filksongs.
Diana Gallagher is now known primarily for her science fiction media novels. However, especially early in her fannish career, she also impressed as a filk songwriter/performer, and a fan artist. She received several Pegasus Awards, as well as the 1988 Fan Artist Hugo Award. As her songs often show, Diana was also an avid supporter of the space program. She passed away in December 2021.

This recording was made in our living room in the early 1980s. At that time, she was a member of the local science fiction group, and an avid filker. She was our friend. This recording is excerpted from a longer filk recording, and features her performances of five songs (of which 4 were written by her). Many thanks to our Filk Consultant, Eli Goldberg and to our Sound Editor, Luke Bretscher for their help with this recording.
Here are links to all five videos — 1. Planetbound Lovers (0:05) 2. Following (2:52) 3. Free Fall (5:23) 4. Starsong (7:30) 5. Mary O'Meara (10:12)
(18) VIDEO OF THE DAY. [Item by Martin Morse Wooster.] In "Honest Game Trailers: Nickelodeon All-Star Brawl," Fandom Games says this Nickleodeon smash compilation is meant for gamers who ask, "Say, what would happen if Garfield fought SpongeBob?" and that Nickelodeon is basically a network for "not so nuanced sex jokes and covering kids in sludge."
[Thanks to Mike Kennedy, Martin Morse Wooster, JJ, John King Tarpinian, Olav Rokne, Daniel Dern, Andrew Porter, Michael Toman, and Cat Eldridge for some of these stories. Title credit belongs to File 770 contributing editor of the day Jon Meltzer.]