(1) SPEAKER FOR THE REDSHIRTS. "The Big Idea: Wil Wheaton" is a discussion of Wheaton's new book today at Whatever.
… In Still Just A Geek, I write a lot about the child abuse, neglect, and exploitation I survived and still struggle with. It was incredibly challenging to revisit (and in the case of The Curse, relive) all of it. In the afterword, I wrote that I expected that doing that work would lead to a catharsis, but all it did was retraumatize me.

That was true, until I narrated the audiobook. Over the course of six or seven days, I said everything I wrote in the book out loud. I gave a voice to the child who was put to work against his wishes at seven years old. I gave a voice to the teenager who was abused by his father. I gave a voice to the young father and husband who was struggling to provide for his family while he also struggled to figure out what he was going to do with the rest of his life….
Click here to read an excerpt from Still Just A Geek.
(2) THE LIST. While we're talking about the struggle against things that make life hard, Tobias S. Buckell adds this question:
(3) ORIGIN OF THOUGHT SPECIES. In the LA Review of Books, Brian Attebery reviews a book that examines the question "Who Controls the Narrative?: On David M. Higgins's 'Reverse Colonization: Science Fiction, Imperial Fantasy, and Alt-Victimhood'".
Both politicians and political scientists know the power of narratives: there is much talk about who controls and how to alter "the narrative." But neither group tends to ask where these narratives are actually, you know, narrated. In his new book, Reverse Colonization: Science Fiction, Imperial Fantasy, and Alt-Victimhood, David M. Higgins offers a fascinating look into the process by which such stories are generated and transformed into cultural references and societal roadmaps.

Higgins examines a particular cluster of narratives about power and identity, a cluster that is nicely described in his title: stories that use the iconography of science fiction to express fear of the other and resentment of loss of power, thus giving a boost to a number of reactionary movements, from Brexit and the cult of Trump to anti-feminist internet trolldom. Higgins traces the origins of a set of powerful tropes in print science fiction from the 1960s and early 1970s; he then follows their spread through media and electronic culture as well as their uses in political rhetoric and advertising. His choice of decade might seem unnecessarily limiting — why not go back to the Gothic origins of science fiction or forward to survey the contemporary scene? — but it makes perfect sense as he guides us through the paranoid visions of Philip K. Dick, the heroic illusions of Frank Herbert's Dune (1965), and the crumbling empires of J. G. Ballard, and then shows how these and their contemporaries provided the imagery, language, and narrative tropes that continue to mold behavior and set terms for debate….
(4) REPAYING IT FORWARD. [Item by Martin Morse Wooster.] In the Financial Times behind a paywall, Tom Faber discusses why far too many gamers are trolls.
…Two-thirds of gamers have experienced toxic behaviour in online multiplayer games, according to a study from games company Unity. Anyone who has played an online shooter will be familiar with the abuse that fills your headphones and can escalate from 'noob' to 'kill yourself' within seconds.

Online gaming forums too are hotbeds of vitriol. 'Hate raids' on Twitch–where mobs of trolls target streamers from minority backgrounds with spam and hate speech–have become so prevalent that streamers boycotted the platform last September in protest. Anti-Defamation League research shows that marginalised groups suffer worst and that online abuse can cause real world harm, with 44 per cent of players feeling emotionally affected by attacks and 11 per cent of them reporting depressive or suicidal thoughts as a result….
(5) WE INTERRUPT THIS NARRATIVE. For those who just tuned in and for whom it's important to believe that a genre that didn't have a name until a hundred years ago was knowingly practiced by writers since Roman times, Grunge's Richard Milner offers, "The 1,800-Year-Old History Of Science Fiction Explained".
… But yes, science fiction does indeed go back to the 2nd century CE. That doesn't mean that ancient sci-fi features cell phones, rocket propulsion, and quantum tunneling. Rather, it means that the recognizably current sci-fi tropes — extraplanetary adventure, alien races, space flight, and the rest — were present even back then, albeit in a softer, more fantastical form….
(6) GILBERT GOTTFRIED (1955-2022). Comedian and voice actor Gilbert Gottfried died April 12 from Recurrent Ventricular Tachycardia due to Myotonic Dystrophy type II. Primarily thought of as a comedian/comic actor by (likely) most people, he did tons of voice work in genre TV and films, mostly animated.
He was the voice of the wise cracking parrot Iago in Disney's iconic animated film Aladdin (1992), the video Aladdin 2: The Return of Jafar (1994), and many more Aladdin-themed projects over the years.
His live-action genre film and TV work included episiodes of Superboy, The Weird Al Show (as "Al's imaginary friend Gilbert"), and the last three Sharknado films. He also did voice work in episodes of The Ren and Stimpy Show, Superman: The Animated Series as Mr. Mxyzptlk, and many other sff shows.
(7) MEDIA BIRTHDAY.
1979 — [Item by Cat Eldridge.] Forty-three years ago, I was at University which is where I saw Mad Max in a lovely old theater near there. Not a packed house but a decent gathering if I remember this correctly many years on.
It was produced by George Miller and Bryon Eric Kennedy (who'd go on to Mad Max 2: The Road Warrior with him. He died at age thirty three when the helicopter he was piloting crashed at Warragamba Dam in New South Wales, Australia).
The screenplay was by Miller and James McCausland. It's his only screenplay and he shows up in Mad Max as the bearded man in an apron.
Need I say who played the lead character here? I think not.
So how was the reception?
First, it cost virtually nothing to produce, less than a half million, and made at least a hundred million globally. It holds the Guinness World Record for the highest box office to budget ratio of any motion picture ever.
Second, critics liked it. Or despised it. Philip Adams in the Australian Bulletin said that it had "all the emotional uplift of Mein Kampf". Ouch. Whereas David Nusair of Reel Film Reviews stated that "Gibson's thoroughly charismatic performance, along with Miller's treatment of the film's few high-octane moments, goes a long way towards keeping things interesting for the majority of Mad Max's mercifully brief running time."
It get an excellent seventy percent rating among audience reviewers at Rotten Tomatoes.
It was not nominated for a Hugo but its sequel, The Road Warrior (with the alternative title of Mad Max 2) was at ConStellation.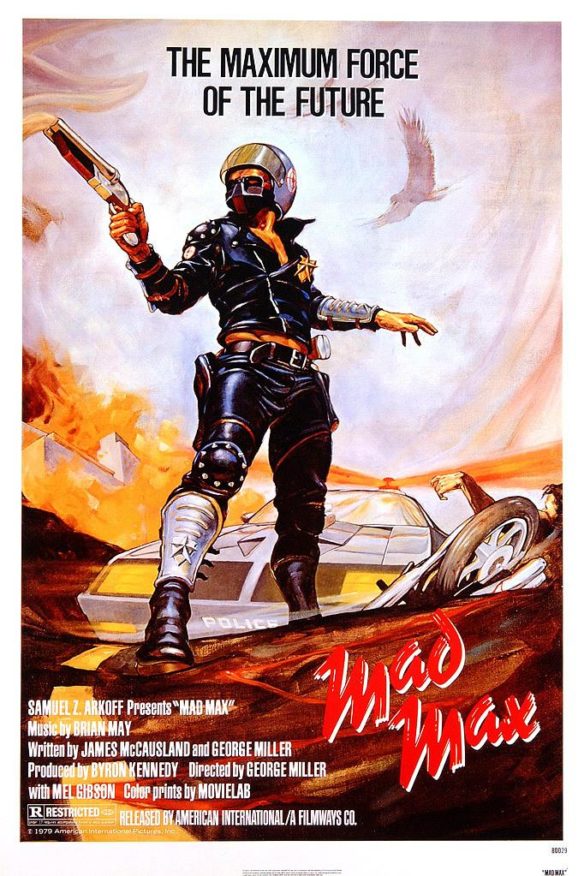 (8) TODAY'S BIRTHDAYS.
[Compiled by Cat Eldridge.]
Born April 12, 1884 — Bob Olsen. He wrote twenty-seven poems and stories that were published in Amazing Stories in the late Twenties and early Thirties. He's said to be one of the first authors to use the term "space marines". A search of both print and digital publishers does not show any indication that any of his genre or mystery fiction is now in-print. (Died 1956.)
Born April 12, 1916 — Beverly Cleary. One of America's most successful authors, almost a hundred million copies of her children's books have been sold worldwide since her first book was published over seventy years ago. Some of her best-known characters are Ramona Quimby and Beezus Quimby, Henry Huggins and his dog Ribsy, and Ralph S. Mouse. (Died 2021.)
Born April 12, 1915 — Emil Petaja. He considered his work to be part of an older tradition of 'weird fiction.' He published thirteen novels and some one hundred and fifty short stories. His Otava series, published by Ace Books in the Sixties, is based on the Finnish national myth, The Kalevala. He was named the first ever Author Emeritus by the Science Fiction Writers of America. And he was chair of the Golden Gate Futurians, a club of writers and fans, hosting meetings at his home in the Castro neighborhood of San Francisco. (Died 2000.)
Born April 12, 1921 — Carol Emshwiller. I think her short stories are amazing and The Start of the End of It All and Other Stories collection won a World Fantasy Award. She'd later receive a Life Achievement honor from the World Fantasy Awards. I've not read her novels, so which would you recommend I read? Novel wise, she's reasonably well stocked at the usual suspects but her collections are largely not there. (Died 2019.)
Born April 12, 1922 — Vince Clarke. He first made acquaintance with fandom in the late Thirties, and was active as a fanwriter and editor from a decade hence including Science Fantasy News. He'd be the winner of the first TAFF in 1954 but didn't take the trip. He worked on the 1957 Worldcon, Loncon I, and he was Fan Guest of Honor at the 1995 Worldcon, Intersection. He helped create the British Science Fiction Association. (Died 1998.)
Born April 12, 1936 — Charles Napier. Well, let's meet Adam on the Trek episode of "The Way to Eden". Oh, that's a horrible outfit he's wearing. Let's see if he had better genre roles… well he was on Mission: Impossible twice in a truly anonymous roles, likewise he played two minor characters on The Incredible Hulk and he did get a character with a meaningful name (General Denning) on Deep Space 9. I'm surprised to learn that he voiced General Hardcastle in the Superman and Justice League Unlimited series, and also voiced Agent Zed for the entire run of the Men in Black animated series. (Died 2011.)
Born April 12, 1958 — Elizabeth Klein-Lebbink, 64. A LA-resident con-running fan. She has worked on a variety of conventions, both regionals and Worldcons, frequently in the art shows. She has been a member of the Dorsai Irregulars. She is married to fellow fan Jerome Scott. Works for NASA where she's co-authored papers such as "Measurements of Integration Gain for the Cospas-Sarsat System from Geosynchronous Satellites".
Born April 12, 1968 — Alicia Coppola, 54. She showed up on Voyager in the premier episode "Caretaker" as Lieutenant Stadi. Depending on how you define genre, she was in National Treasure: Book of Secrets as FBI Agent Spellman, and had one-offs in Touched by an Angel, The Lazarus Man, The Burning Man, The Sentinel, Profiler, The Dead Zone and Teen Wolf. She was Dr. Ana Castillo in Blood & Treasure which surely is genre.
(9) STRANGER THINGS. Season 4 is incoming. Variety sets the frame: "'Stranger Things 4′ Trailer Goes to War With Upside Down".
The "Stranger Things" kids are all grown up and going to war with the monsters of the Upside Down in the official trailer for Season 4.

Set to a looping version of the pulse in Journey's "Separate Ways (Worlds Apart)," the trailer sees Mike (Finn Wolfhard), Dustin (Gaten Matarazzo), Lucas (Caleb McLaughlin) and Max (Sadie Sink) enter high school, while Eleven (Millie Bobby Brown) and Will (Noah Schnapp) are in California. As the friends navigate their different surroundings, a new supernatural threat surfaces, forcing them to once again confront the horrors of the Upside Down….
(10) RUN DON'T WALK TO YOUR NEAREST THEATER. [Item by Mike Kennedy.] This listicle of someone's idea of the 15 "best" movie posters is a little over half genre. Maybe closer to 2/3 if you include all kinds of horror. YMMV. "These Are The 15 Best Film Posters Of All Time" at Buzzfeed. Images of the posters are at the link.
There have been many creative and eye-popping designs for film posters over the years, and a lot of them have become just as iconic as the films themselves. No matter how much they've told us about their respective movies, these posters made us want to line up and buy a ticket. These are the 15 Best Film Posters of All Time….

6. E.T. the Extra-Terrestrial

Behind the shot of Elliott flying on his bike in front of the moon, this poster is one of the most memorable images of Steven Spielberg's sci-fi masterpiece. Invoking Michelangelo's "The Creation of Adam," this image is a marvelous display of a young boy's first encounter with this magical little alien.
(11) VIDEO OF THE DAY. [Item by Martin Morse Wooster.] In "Honest Trailers: Critical Role's The Legend of Vox Machina," the Screen Junkies say that, even though we live "in a world where the only thing more boring than someone telling you about their dreams is someone telling you about their Dungeons and Dragons campaign," this Amazon series, which raised $1.3 million on Kickstarter, could be the first successful adaptation of a tabletop game since 1985's CLUE."  After noting numerous board game adaptations that were failures (remember the Tom Hanks cheesefest Mazes And Monsters) this series "has so much D & D in it you'll feel like you're eating lunch alone in the eighth grade again."  But then voice actor Matthew Mercer shows up and Mercer and the narrator have an epic voice rap battle!
The link is here.
[Thanks to Andrew Porter, Michael Toman, Cat Eldridge, Chris Barkley, Mike Kennedy, Martin Morse Wooster, JJ, and John King Tarpinian for some of these stories. Title credit belongs to File 770 contributing editor of the day Daniel Dern.]