By Daniel Dern: Boskone 56, held Friday, February 15 through Sunday, February 17, 2019 at Boston's Westin Waterfront Hotel, was a fun con — good guests, fun interesting sessions, good readings… and good (for Boston winter) weather — bearably cold, and no snow or rain coming down or on the streets or walkways.
(Some of us still have memories of 2015's Boskone when the MBTA (locally aka "the T") pre-emptively announced, mid-Saturday, that due to the impending blizzard, they were shutting down the T starting 7PM Saturday, through Sunday.)
GoH's for Boskone 56 were:
Guest of Honor: Elizabeth Hand
Special Guest: Christopher Golden
Official Artist: Jim Burns
Young Adult Fiction Guest: Cindy Pon
Hal Clement Science Speaker: Vandana Singh
(Burns, unfortunately, was unable to make it, due to a last-minute emergency; however, his art was still on display.)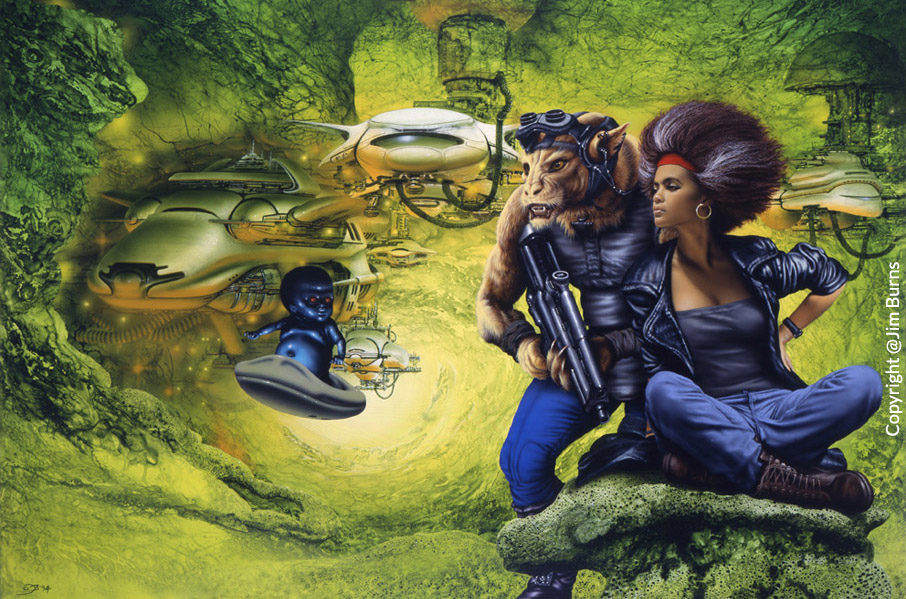 Boskone always gets a good bunch of writers, artists, editors and other sf pros. This year's 150+ program participants included (drawing mostly on people I know/names I recognize) Ellen Asher, James Cambias, John Chu, Brenda W. Clough, John Clute, Br. Guy Consolmagno, C. S. E. Cooney, Bruce Coville, Vincent Docherty, Sarah Beth Durst, Kate Elliot, Greer Gillman, KJ Kabza, James Patrick Kelly, Justin Key, Dan Kimmel, Mur Lafferty, Patrick & Teresa Nielsen Hayden, Errick Nunnally, Suzanne Palmer, Julia Rios, Erin Roberts, Michael Swanwick, Catherynne M. Valente, Jane Yolen, and Brianna Wu.
(Side note: I just came back from the library with the 2018 "Year's Best Science Fiction and Fantasy" edited by Rich Horton – and there's a good handful of authors whose names might not have recognized a week ago, but, thanks to Boskone, I recognize many more names and know I saw several panelize/read.)
Headcount of as 11AM Sunday, according to the con's Helmuth newsletter, came in at 1,382 total members, 1,061 "warm body count," and 270 "at-the-door" registrations — pretty consistent with the past few years' numbers.
There was, as always, no shortage of things to do.
Program items spanned classic through current sf/fantasy people, titles and topics, from the serious through silly, plus a range of media-oriented discussions including comics, Star Wars, and Star Trek, along with a number of sessions aimed at new authors and artists. Plus readings, kaffeeklatsches, and a room for movies/anime and other videos, also filking, board-gaming, the Art Show, the Dealers Room, noshing in the Con Suite area (which was, sadly, due to new hotel regulations, limited only to individual-portion-packaged, no-refrigeration-needed snacks'n'such). And a few evening parties, plus NESFA's Saturday evening chocoholics-delight schmorgasbord.
And the non-program items like "meet new people, schmooze with friends" and "be a volunteer."
Boskone's Friday afternoon sessions were free — a nice way to help let potential first-timers get a sense of the con (particularly, I suspect, for people who have never attended a con). (ReaderCon has been doing this, too, for the past several years, with its Thursday evening programming.) Free-to-public panel topics included "The new Dr. Who," gaming tournament demos/rules/Q&A, "Welcome to Boskone," "Laundering Your Fairy Tales," along with media/TV-themed sessions, and useful panels for new writers.
The art show had good stuff to look at (I've used up my quota of wall space, so I'm just looking, these days), although it seemed slightly smaller than last year.
Art-show-wise, of particular interest: this year's ~40-piece Special Exhibit: From the Collection of Joe Siclari and Edie Stern which included art by Hannes Bok, Chesley Bonestell, Margaret Brundage, Vincent Di Fate, Leo and Diane Dillon, and Ed Emsh.
The Dealers Room was mostly booksellers, including publishers and groups like Broad Universe, along with a handful of single-author tables. (My bookshelf space is, like my wall space, mostly full, although I did buy a few books… plus snarfing up about a foot of read-and-pass-on magazines and books from the Free Books table.)
Still, between books and magazines, I had no trouble spending thirty or forty bucks on additions to my Mount To-Be-Read (referring, of course, to that pile of books, often near the bed). Of course, by the end of the con, I had a vision of foothills forming around my Mount TBR of yet more books and authors to pursue, hopefully as library borrows.
(The late Morris Keesan once remarked (possibly at one of the monthly RISFA-North sf fan gatherings), when somebody mentioned to him their stack of TBR's, he responded, more or less, "Stack? I've got a bookshelf.")
Everyone I chatted with was having fun — schmoozing with friends, going to sessions, getting autographs, more schmoozing, etc.
Me, I had fun.
One of the things I did this year was go to more readings, including well-known's like Jane Yolen, John Chu, Fran Wilder and Bruce Coville, as well as some newer and lesser-known authors and groups of authors. All were good, and helped add to my "authors and books to look for" list.
Also, kaffeeklatsches, in particular, Jane Yolen and (her son) Adam Stemple), and Patrick Nielsen Hayden and Teresa Nielsen Hayden. (I still wish Boskone could find a less noisy space for the 'klatches rather than the public area in between the Art Show and the "Con Suite" space.)
I got a Press ribbon, to point at as I was taking pictures.
I wasn't originally on the program (not a complaint, I've had my "turn at bat" at Boskone plenty of times, in main and DragonsLair programming), but while I was buying my membership, I inquired at Program Ops, and was given an empty-as-of-then slot in the Readings track. (I had come prepared with a handful of my short-short stories.)
Equally nice, when I went to see if there were any open slots for the Flash Fiction Slam competition — with points deducted if you run over three minutes — I discovered I was already signed up! So I read my newest shortie, "Vampire, T.Rex Bite Robot, Chomp! Gnash! Ouch!"
One of my favorite Boskone Program Items is Mark & Priscilla Olson's "Trivia For Chocolate" contest — SF trivia, of course, from way back when through current stuff, where speed matters as much as correctness, with the green-rectangle chocolate Thin Mints used as point counters totaled up at the end (emptied wrappers don't count).
This year, I tied with Bob Devney for 4th place, with 23 points. Karen von Haam thirded with 30 points, Kimball Rudeen came in second with 35, and Rich Horton ate all our lunches with 60 points.
A quick browse through past Helmuths ("Helmith"?) confirms my sense that Devney and I often place in the top five, e.g.:
Boskone 55: Bob Devney 52, Daniel Dern 44, Tim Liebe 27. Peter Turi 23.
Boskone 54: Kim Rudeen 65, Tom Galloway 45, Jordin Kare 45, Bob Devney 32, Daniel Dern 29.
(Boskone 53: I wasn't there.)
Boskone 52: Kimball Rudeen 51, Karen Von Hamm 44, Bob Devney 16, Naomi Hinchen 15, Daniel Dern 12.
Boskone 50: Bob Devney 54, Athena Martin 30, Zev Sero & Peter Trei: 16
Boskone 49: Jordin Kare 69, Bob Devney 48, Christopher Davis 40, Daniel Dern 35, Team of Burton, Klein-Burton, Wall & Moore 30.
Plus, schmoozing.
Like I said, a fun weekend.
Daniel's photos of Boskone 56 follow the jump.

Continue reading