(1) WISHING STEVE DAVIDSON WELL. This Thursday, Amazing Stories' "Steve Davidson Undergoes His Own Fantastic Voyage" – open heart surgery. As he told Facebook readers earlier in the week:
scheduled for open heart surgery this coming thursday.

i will be happy to autograph selfies of my zipper scar when i have one.

everyone is telling me recovery can be a bitch, but I can expect to be feeling a LOT better once i recover.

My general feeling of malaise over the past few months may have been due more to the growing arterial blockages than anything else going on.

nor am I entirely surprised that this happened during such a time of numerous stressors happening all at once.

now I just want to get this over with.

One very interesting note: I have NO damage to my heart. "very strong" says the doc. good shape.

so, clear the pipes and I should be good to go for another 62 years, right?
Today Steve shared a diagram of his arterial blockages.
So be afraid you all, I've only been operating at between 10 and 30 percent capacity this past 18 months and will soon be restored to at least 100 percent functionality.

Ruh ro!
(2) BARROWMAN DROPPED. BBC News reports "John Barrowman video removed from Doctor Who theatre show".
A video featuring John Barrowman is to be removed from an immersive Doctor Who theatre show following allegations about the actor's past conduct.

He is accused of repeatedly exposing himself while filming the BBC show.

Mr Barrowman was to have been seen as his Captain Jack Harkness character in a pre-recorded video to be shown during the Doctor Who: Time Fracture show.

Mr Barrowman has previously apologised for his behaviour but has not responded to the show's decision to drop him.

In a message on its website, the show's producers said it had "taken the decision to remove this pre-record".
(3) REPLACEMENT PLAYER. Yahoo! Entertainment finds out "How Tig Notaro Digitally Replaced Chris D'Elia in Zack Snyder's 'Army of the Dead'".
"I really thought there was going to be a backlash from me replacing Chris. I didn't think I was going to be trending for being a badass," comedian says

After comedian Chris D'Elia was accused of sexual misconduct, Zack Snyder made the decision to digitally replace his role in "Army of the Dead" with an unusual choice: Tig Notaro.

Notaro had never done major stunt work before (she's done some light action scenes on "Star Trek: Discovery"). But she found herself pretending she was piloting a helicopter while evading a zombie as well as learning how to handle a prop machine gun in Snyder's film. And because she was digitally replacing another actor who shot his footage months earlier, she had to act largely on her own in front of green screens and without any other actors.

Both Notaro and Snyder in an interview with Vulture detailed the elaborate work it took to sub Notaro into "Army of the Dead." And it was a choice that paid off, because Tig found herself trending on Twitter after images of her chomping on a cigarillo and decked out in military garb went viral.
(4) KONG IN THE BEGINNING. Here's the first trailer for a brand new, feature length documentary film concerning the life, death, and Legend of King Kong. Premieres in November. Our own Steve Vertlieb is one of the interviewees!
(5) OMEGA SCI-FI AWARDS. The Roswell Award & Women Hold Up Half the Sky Virtual Celebrity Readings & Awards on May 22 at 11:00 a.m. Pacific will feature sci-fi and fantasy actors David Blue, Ruth Connell, LaMonica Garrett, Phil Lamarr, Tiffany Lonsdale-Hands, Nana Visitor, and Kari Wahlgren.
Pre-registration is required! Event registration and replay access is FREE. Register for the Zoom webinar here.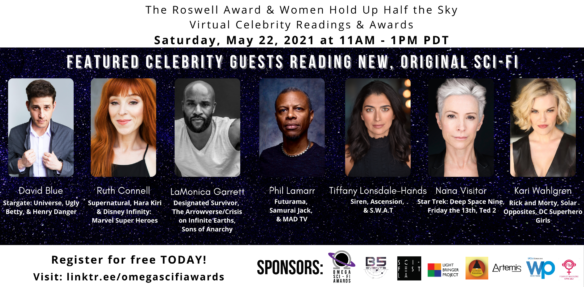 (6) THE BIRDS. In "Building Beyond: A Birds-Eye View", Sarah Gailey presents a writing prompt to Mar Stratford and J.M. Coster, and also takes up the challenge.
At 12:00pm Central European Time on Wednesday, May 12th, 2021, the Global Raptor Alliance (formerly the Hawk And Falcon Cooperative) will announce the opening of the Avian Museum of Human History. This museum will feature a bird's-eye view (literally) of human civilization.

Mar Stratford is a writer from the Mid-Atlantic and friend to all animals. Find zir online at mar-stratford.com or on Twitter.

Gailey: What are a couple of highlights of the avian narrative of human civilization? What kind of artifacts will be featured in the museum?…
(7) MAKE A WISH. Netflix dropped a trailer for Wish Dragon, an animated comedy coming on June 11.
Determined teen Din is longing to reconnect with his childhood best friend when he meets a wish-granting dragon that leads him on an adventure a thousand years in the making.
(8) MEDIA ANNIVERSARY.
May 12, 1989 — On this day in 1989, The Return Of Swamp Thing premiered. The follow-up to Swamp Thing, it was directed by Jim Wynorski, with production by Benjamin Melniker and Michael E. Uslan. The story was written by Neil Cuthbert and Grant Morris. It starred Dick Durock and Heather Locklear who replaced Adrienne Barbeau as the female lead who was in Swamp Thing. Louis Jourdan also returns as a spot-on Anton Arcane. The audience reviewers at Rotten Tomatoes currently give it a middling fifty five percent rating thought the original Swamp Thing series which also stars Durock in contrast has an eighty three percent rating among audience reviewers there!
(9) TODAY'S BIRTHDAYS.
[Compiled by Cat Eldridge and John Hertz.]
Born May 12, 1812 – Edward Lear. Famous in his day as a painter and illustrator. First major bird artist to draw from live birds; look at this parrot. Here are some Albanians. Here's Masada. His musical settings for Tennyson's poems were the only ones Tennyson approved of. Known today as a writer of nonsense. We may never see an owl dancing with a pussycat, but they do in his creation – in a hundred languages. (Died 1888) [JH]
Born May 12, 1828 – Dante Gabriel Rossetti. He was Gabriel Charles Dante Rossetti, but put his third name first in honor of The Divine Comedy. Founded the Pre-Raphaelite school of art because he thought Raphael (1483-1520) had ruined things; see how this led DGR to imagine Proserpine. His poetry too was fantastic. He is credited with the word yesteryear. He loved wombats. (Died 1882) [JH]
Born May 12, 1902 – Philip Wylie. A dozen novels, as many shorter stories for us; hundreds of works all told. Gladiator was an inspiration for Superman. When Worlds Collide (with Edwin Balmer) inspired Alex Raymond's Flash Gordon. Columnist, editor, screenwriter, adviser to the chairman of the Joint Congressional Committee for Atomic Energy, vice-president of the Int'l Game Fish Ass'n. Wrote "Anyone Can Raise Orchids" for The Saturday Evening Post. In The Disappearance a cosmic blink forces all men to get along without women, all women without men. (Died 1971) [JH]
Born May 12, 1907 — Leslie Charteris. I really hadn't thought of the Simon Templar aka The Saint series as being genre but both ISFDB and ESF list the series with the latter noting that "Several short stories featuring Templar are sf or fantasy, typically dealing with odd Inventions or Monsters (including the Loch Ness Monster and Caribbean Zombies." (Died 1993.) (CE)
Born May 12, 1928 — Robert "Buck" Coulson. Writer, well-known fan, filk songwriter and fanzine editor. He and his wife, writer and fellow filker Juanita Coulson, edited the fanzine Yandro which they produced on a mimeograph machine, and which was nominated for the Hugo Award ten years running right through 1968, and won in 1965. Yandro was particularly strong on reviewing other fanzines. Characters modeled on and named after him appear in two novels by Wilson Tucker, Resurrection Days and To the Tombaugh Station. (Died 1999.) (CE)
Born May 12, 1937 – Betsy Lewin, age 84. Illustrated twoscore books, some ours. Here is Click, Clack, Moo (Caldecott Honor). Here is Penny. Here is No Such Thing. Here is a note on BL and her husband Ted. [JH]
Born May 12, 1938 — David Pelham, 83. Artist and Art Director at Penguin Books from 1968 to 1979 who was responsible for some of the most recognizable cover art in genre books to date. He did the cog-eyed droog for Anthony Burgess's novel A Clockwork Orange in 1972. There's a great interview with him here. (CE)
Born May 12, 1942 — Barry Longyear, 79. Best known for the Hugo- and Nebula Award–winning novella Enemy Mine, which became a film by that name as well. Gerrold would later novelize it. An expanded version of the original novella as well as two novels completing the trilogy, The Tomorrow Testament and The Last Enemy make up The Enemy Papers. I'm very fond of his Circus World series, less so of his Infinity Hold series. (CE)
Born May 12, 1950 — Bruce Boxleitner, 71. His greatest genre role was obviously Captain John Sheridan on Babylon 5. (Yes, I loved the show.) Other genre appearances being Alan T. Bradley in Tron, Tron: Legacy, and voicing that character in the Tron: Uprising series. He has a recurring role on Supergirl as President Baker. (CE)
Born May 12, 1958 – Patricia Finney, age 63. Five novels for us, of which three are told by a dog in Doglish; her first was published before she was 18. A dozen others (some under different names); a radio play. Higham Award. "When I was seven I had to write a story about anything for school. Naturally I wrote about spacemen exploring other galaxies and outwitting jelly aliens…. I got A minus for it (untidy writing, I'm afraid)." Avocations karate, embroidery, folk music. Website. [JH]
Born May 12, 1966 – Gilles Francescano, age 55. A hundred twenty covers, some for work available in English. Here is L'ère du spathiopithèque. Here is Roll Over, Amundsen! Here is Galaxies 3. Here is The Night Orchid. Here is The Master of Light. [JH]
Born May 12, 1968 — Catherine Tate, 53. Donna Noble, Companion to the Eleventh Doctor. She has extended the role by doing the Doctor Who: The Tenth Doctor Adventures on Big Finish. She also played Inquisitor Greyfax in Our Martyred Lady, a Warhammer 40,000 audio drama, something I did not know existed until now. (CE)
(10) AND THE TAXI YOU RODE IN ON. "Tintin heirs lose legal battle over artist's Edward Hopper mashups" – The Guardian has the final score.
The French artist who was sued by the Tintin creator Hergé's heirs over his paintings that place the boy adventurer in romantic encounters has won his case after a court deemed them parodies.

Xavier Marabout's dreamy artworks imagine Tintin into the landscapes of Edward Hopper, including a take on Queensborough Bridge, 1913, or talking with a less-clothed version of Hopper's Chop Suey.

Earlier this year, the Breton artist was sued for infringement by Moulinsart, which manages the Tintin business. Moulinsart's lawyer argued that "taking advantage of the reputation of a character to immerse him in an erotic universe has nothing to do with humour". Marabout's lawyer argued that the paintings were parody.

On Monday, Moulinsart's complaint was rejected by the court in Rennes. "The court recognised the parody exception and the humorous intention expressed by my client," Marabout's lawyer, Bertrand Ermeneux, said.

The Rennes court also said that Moulinsart had "denigrated" Marabout by contacting galleries showing his work to say that it was infringing, Huffington Post France reported, adding €10,000 (£8,500) in damages for Marabout and €20,000 in legal fees to its ruling.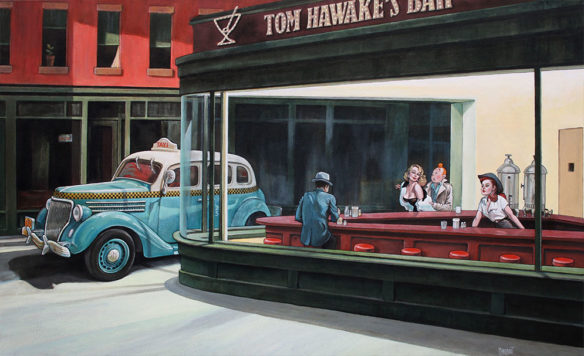 (11) IN JOY STILL FELT. [Item by Martin Morse Wooster.] Isaac Asimov, in his autobiography In Joy Still Felt, discusses the 1971 Hugo Awards at Noreascon I.
The Hugo awards banquet on September 5 (my mother's seventy-sixth birthday) was the high point of the convention. I sat on the dais, for I was going to hand out the Hugos, and Bob Silverberg was the toastmaster (and an excellent one–no one is better than he at sardonic humor).

Robyn (Asimov's daughter), radiantly beautiful, was at my side, knitting calmly. Good old Cliff Simak, now sixty-seven, was guest of honor and, in the course of his talk, he introduced his children, who were in the audience, Robyn whispered to me, 'You're not going to introduce me, are you, Dad?'

I whispered back, 'Not if you don't want me to, Robyn.'

'I don't.' She knitted a while, then said, 'Of course, if you want to refer casually to your beautiful, blue-eyed, blond-haired daughter, you may do that.' So I did.

Bob Silverberg made frequent reference to the argument that had been made at St. Louis in 1968 [sic; actually 1969], when Harlan Ellison had taken up a collection to pay for some damage inadvertently done to hotel property, and, on collecting more than the required sum, had calmly assigned the excess to his own pet project, a science-fiction class at Clarion College.

Bob therefore made frequent mock announcements of various objects that would be 'donated to Clarion' and got a laugh each time.

When it came time to stand up and give out the awards, I couldn't resist invading Bob's turf by singing a limerick I had hastily constructed while listening to the toastmastering. It read:

There was a young woman named Marion
Who did hump and did grind and carry on
The result of her joy
Was a fine bastard boy
Which she promptly donated to Clarion.

The audience saw where it was going halfway through the last line and the roar of laughter drowned out the final three words.

In the course of the banquet Lester (del Rey) presented a moving encomium on John Campbell. He is excellent at that sort of thing and constantly threatens to deliver one on me if it becomes necessary; and that does give me a marvelous incentive to outlive him if I can."
(12) PHONE HOME? "Voyager spacecraft detects 'persistent hum' beyond our solar system" reports CNN. I don't suppose it's a dial tone.
…"It's very faint and monotone, because it is in a narrow frequency bandwidth," Stella Koch Ocker, a Cornell University doctoral student in astronomy, said in a statement. "We're detecting the faint, persistent hum of interstellar gas."

NASA's Voyager 1 spacecraft flew by Jupiter in 1979, and by Saturn in 1980, before crossing the heliopause in August 2012.
(13) STILL GETTING THERE. Jeff Foust reviews Test Gods for The Space Review.
When Virgin Galactic first announced its suborbital spaceflight plans in 2004, working in cooperation with Scaled Composites just as that company's SpaceShipOne was on the cusp of winning the $10 million Ansari X PRIZE, it said it would begin commercial service as soon as late 2007. It's 2021, and the company has yet to take a paying customer to the edge of space. SpaceShipTwo hasn't made a trip to suborbital space since February 2019, and a flight in December 2020 was aborted just as its hybrid engine ignited because of a computer malfunction that's taken months to correct.

Virgin Galactic's delays and setbacks have been well-chronicled here and elsewhere, but not to the same level of detail as in Nicholas Schmidle's new book, Test Gods. Schmidle was embedded for several years in Virgin Galactic, starting not long after the October 2014 accident that destroyed the first SpaceShipTwo and killed its co-pilot, Mike Alsbury. He was such a frequent visitor to the company's Mojave facilities, sitting in on meetings and interviewing people, that one new hire thought he was a fellow employee.

Schmidle tells the story of Virgin Galactic largely through one of its pilots, Mark Stucky, with whom he spent much of his time while at the company….
(14) VERSUS LONELINESS. SOLOS premieres May 21 in the US and select territories and June 25 worldwide on Amazon Prime Video. Io9 warms up the audience in "Amazon Sci-Fi Anthology Solos"
"We all feel alone in different ways," says Morgan Freeman in this new trailer for Solos. "In feeling alone, we are somehow all together." That seems as perfect a thesis statement for Amazon Prime's upcoming TV series as possible.

The show, from Hunters creator David Well, is not the stealth sequel to Solo, but it does give us two Anthony Mackies having a heart to heart, as well as Dame Helen Mirren on a lonely space voyage, Legion's Dan Stevens hugging Freeman, and a lot more. See for yourself:
(15) VIDEO OF THE DAY. In "Honest Game Trailers: Nier Replicant" on YouTube, Fandom Games says that this Americanized version is :a master class in feeling sadness and is a game for people who "love to cry about robots" and give up fighting for long sessions of video garning and "searching for household fruits."
[Thanks to JJ, Michael Toman, John King Tarpinian, Steve Vertlieb, Cat Eldridge, John Hertz, Mike Kennedy, Andrew Porter, and Martin Morse Wooster for some of these stories. Title credit goes to File 770 contributing editor of the day James Reynolds with an assist from Anna Nimmahus.]