(1) LODESTAR BASE. Sara Felix today previewed the spectacular base she's created for the 2021 Lodestar Award, and the pins for finalists.
(2) NIGHT OF THE COOTERS. A minute-long snip from the project is available on YouTube.
George RR Martin Presents – Howard Waldrop's Night of the Cooters. Lumenscapes and Trioscope Studios have teamed up to present Vincent D'onofrio's film adaptation of the classic short story in glorious "Trioscope". NIGHT OF THE COOTERS tells the tale of townsfolk in Pachuco Texas in the 1800's rallying around one cause, survival against the unwelcome visitors from "up there". Join the townsfolk on their journey to figure out what the hell is going on in the big hole at the edge of town. With a screenplay by the one and only Joe Lansdale, and music by the prolific Ramin Djwadi get ready for a ride like no other through the mind of the great Howard Waldrop.
(Clarkesworld hosts Waldrop's story if you haven't read it yet.)
(3) OCTAVIA BUTLER. According to The Portalist, "These Are All the Octavia Butler Adaptations Currently in Development". One movie, four TV series, and a graphic novel.
 Octavia Butler was a science fiction writer like no other. Her works are essential for their prescient, intricate worldbuilding, empathy, and gripping characters. It's no surprise that more and more adaptations of her novels have moved ahead in recent years. From a soaring opera to bestselling graphic novel retellings, her work continues to find new fans through diverse mediums. 

But what of the adaptations to come? 
(4) HOMAGE. Vanity Fair's Cassie Da Costa give a fuller overview of this new wave of adaptations in "The Second Coming of Octavia E. Butler".
…It's a tremendous amount of interpretation by an impressive slate of Black talent, a gift that seems to have fallen from the heavens. Merrilee Heifetz, Butler's former agent and current literary executor from Writers House, handles the options for Butler's oeuvre alongside the author's cousin Ernestine Walker. When I ask what she expects from all these adaptations, she says, "All you can do is try to bring it to people whose vision you feel you can trust. And you look at someone like Janicza [Bravo], her visual style is incredible. I can't wait to see what she does." Years ago, when Heifetz saw that Jacobs-Jenkins was interested in writing a Kindred adaptation, she went to see his play Everybody at the Signature Theatre in New York and was impressed. Jacobs-Jenkins, who worked on the HBO miniseries Watchmen, became a huge Butler fan in high school, and when Breaking Bad was in its heyday, he realized Kindred would make a great show. He told his agent he wanted the rights….
(5) 1884. That's when Zamyatin was born – and the last two digits seem prescient. The New Yorker's Masha Gessen revisits We, "The Russian Novel That Foresaw—but Underestimated—Totalitarianism".
…Every year when I read Yevgeny Zamyatin's "We" with my students, I wish the psychiatric-ward schedule were hanging in the classroom, because Zamyatin's novel imagined a regimented way of life, and because it, too, seemed to subvert the flow of time. Born in 1884, Zamyatin was a revolutionary, indeed a Bolshevik; he was imprisoned and sent into internal exile in the tsar's Russia, and then moved for a time to England, returning just a month before the Bolsheviks came to power. Three years later, he wrote his dystopia, possibly revising it in 1921 or 1922. By the time he had completed a final draft, the Bolsheviks had already imposed censorship and created the secret police. It took them a few years to establish Soviet rule over most of what had been the Russian Empire, to expropriate most property and to build its first concentration camp, and it took longer to establish a reign of terror. But Zamyatin had already written a novel that described many of the specifics of that terror, and of other terrors to come in the twentieth century….
(6) 1940. First Fandom Experience has published a 52-page digital sampler for Volume Two of The Visual History of Science Fiction Fandom. See it at the link. The full book is over 450 pages.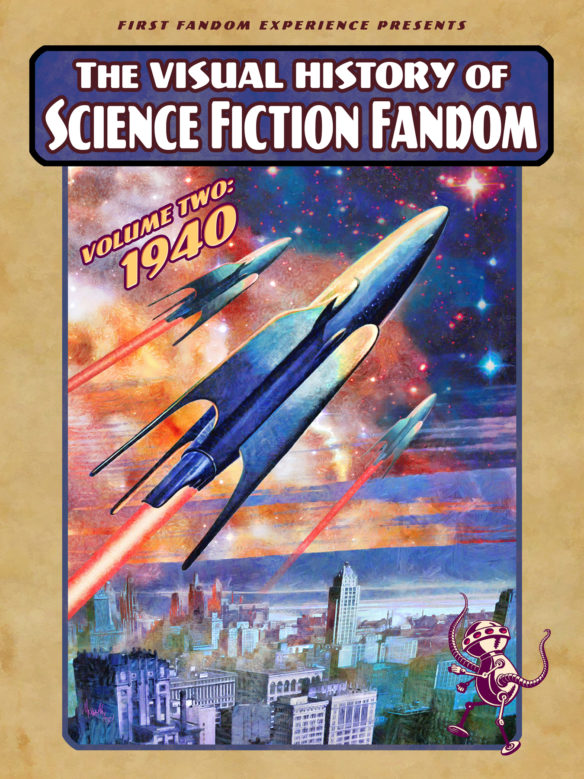 As 1940 dawned, America was recovering, poised between the Great Depression and entry into World War II. Science fiction fandom was growing up.

With maturity came new levels of confidence and accomplishment. Fans asked profound questions of themselves and their peers: Are we special in some way, smarter or more perceptive than others? If so, what does that mean for our role in society? How should we respond to the troubles in Europe? Should we unite under a single banner? 

Fans traveled more often, and farther. The central event of the year – the 1940 World Science Fiction Convention in Chicago – spurred sojourns from both coasts and across mid-America. Fans gathered and traditions that persist to modern times were established.

All of this comes to life through the words of fans as they wrote them at the time, the passions and fears and aspirations they voiced, the images they drew and the journeys they described. As rich a year in the life of fandom as ever there was, and as richly told by those who lived it.
(7) SOCIAL MEDIA V. BOOK SALES. Interesting publishing industry info here, but no sff names in the New York Times article "Millions of Followers? For Book Sales, 'It's Unreliable.'"
… It's difficult to predict whether a book will be a hit. A jar of tomato sauce doesn't change that much from year to year, making demand reasonably predictable. But every book is different, an individual work of art or culture, so when the publishing industry tries to forecast demand for new titles, it is, however thoughtfully, guessing. Because there are so few reliable metrics to look at, social-media followings have become some of the main data points publishers use to try to make their guesses more educated.

An author's following has become a standard part of the equation when publishers are deciding whether to acquire a book. Followings can affect who gets a book deal and how big an advance that author is paid, especially when it comes to nonfiction. But despite their importance, they are increasingly seen as unpredictable gauges of how well a book is actually going to sell.

Even having one of the biggest social-media followings in the world is not a guarantee.

"The only reliable part about it," said Shannon DeVito, director of books at Barnes & Noble, "is that it's unreliable."…
(8) ANNE RICE. Andrew Porter shared his photos of Anne Rice taken at the 1988 American Booksellers Association Convention. Rice died December 11 (NPR's tribute is here.)
(9) MEDIA BIRTHDAY.
1985 — [Item by Cat Eldridge.] On this date thirty-six years ago, Clue premiered. It was directed by Jonathan Lynn from the screenplay he wrote based on his story off from the Clue game created in 1943 by British board game designer Anthony E. Pratt. (It's called Cluedo – or Murder at Tudor Close in Britain.) It was produced by Debra Hill, best known for producing various works of John Carpenter.  It had a stellar cast of Tim Curry, Madeline Kahn, Christopher Lloyd, Michael McKean, Martin Mull. Lesley Ann Warren and Eileen Brennan. Tim Curry played The Butler. 
Most critics did not like it, with both Siskel and Ebert dissing it. Most particularly hated the three alternative endings. It barely broken even at the Box Office despite costing only fifteen million to make. 
It was novelized as Clue The Novel, written by Michael McDowell. It includes the three endings from the movie, plus a fourth ending not in the movie.
It however has a stellar rating among audience reviewers at Rotten Tomatoes of eighty-eight percent. Clue is currently airing on Paramount+. You can purchase it at Amazon and iTunes for six dollars right now. I think it's a fine holiday film, and an equally excellent film to watch any time of year. 
(10) TODAY'S BIRTHDAYS.
[Compiled by Cat Eldridge.]
Born December 13, 1915 — Ross Macdonald. He who writes the most excellent hard boiled deceive novels is here because ISFDB lists three of his short stories as being genre: "The Bearded Lady", "Gone Girl" and "Guilt-Edged Blonde". Now I'm seriously doubting that Macdonald wrote any genre, but I'm hoping one of y'all has read them and can confirm, whether or not they are genre. And yes, I'm a big fan of his Lew Archer novels. (Died 1983.)
Born December 13, 1929 — Christopher Plummer. Let's see… Does Rudyard Kipling in The Man Who Would Be King count? If not, The Return of the Pink Panther does. That was followed by Starcrash, a space opera I suspect hardly anyone saw, which was also the case with Somewhere in Time. Now Dreamscape was fun and well received.  Skipping his role as General Chang in The Undiscovered Country. Opinions everyone? I know I've mixed feelings on Chang. I see Plummer's in Twelve Monkeys and I've not seen The Imaginarium of Doctor Parnassus yet. (Died 2021.)
Born December 13, 1935 — Gary Combs, 86. Though originally uncredited, he was the Gorn Captain in the "Arena" episode of Trek. As a stunt double for Shatner, he appeared on "Operation – Annihilate!", "Space Seed" and "The Galileo Seven". He did stunts on The Wrath of Khan as well. He eventually rose to become a stunt coordinator on such films as The Hollow Man.
Born December 13, 1925 — Dick Van Dyke, 96. Bert/Mr. Dawes Sr. in Mary Poppins followed shortly by being Caractacus Pott in the film adaptation in Ian Fleming's novel Chitty-Chitty-Bang-Bang. (No it's not the same character as he is in the book.)  He voices the lead character in the animated Tubby the Tuba film and plays D.A. Fletcher in Dick Tracy. He narrates Walt: The Man Behind the Myth whose subject matter you can guess. Played Commissioner Gordon in Batman: New Times as well. Shows up in both of the Night at the Museum films which sort of interest me. And yes, he has a role as Mr. Dawes Jr. in Mary Poppins Returns.
Born December 13, 1949 — R. A. MacAvoy, 72. Winner of the Astounding Award for Best New Writer. I'm very, very fond of her Black Dragon series, Tea with the Black Dragon and Twisting the Rope.  (Tea with the Black Dragon was nominated for a Hugo at L.A. Con II, the year David Brin's Startide Rising won.) The only other thing I've read of hers is The Book of Kells, so do tell me about her other works. 
Born December 13, 1954 — Tamora Pierce, 67. Her first book series, The Song of the Lioness, about her character Alanna going through the trials of training as a knight, sold very well and was well received by readers. That series is set in Tortall, a world akin to the European Middle Ages. What I've read of it I like a lot. She won the Edward E. Smith Memorial Award for Imaginative Fiction in 2005, a rare honor indeed. 
Born December 13, 1954 — Emma Bull, 67. Writer of three of the best genre novels ever, Bone Dance: A Fantasy for Technophiles, Finder: A Novel of The Borderlands and War for The Oaks. Will Shetterly, her husband and author of a lot of really cool genre works, decided to make a trailer which you can download if you want. Just ask me.  She's also been in a number of neat bands, one that has genre significance that being Cats Laughing which has Stephen Brust, Adam Stemple, son of Jane Yolen, and John M. Ford either as musicians or lyricists. They came back together after a long hiatus at MiniCon 50. Again just ask me and I'll make this music available along with that of Flash Girls which she was also in. And she's on the dark chocolate gifting list. 
Born December 13, 1984 — Amal El-Mohtar, 37. Canadian edition and writer. She won Hugo Awards for Best Short Story for "Seasons of Glass and Iron" at WorldCon 75 and Best Novella for "This Is How You Lose the Time War" at CoNZealand (with Max Gladstone). (The latter got a BSFA, an Aurora and a Nebula as well.) She's also garnered a Nebula Award  for "Madeleine", a World Fantasy Award for "Pockets" and a World Fantasy Award for "Seasons of Glass and Iron". Very impressive. She has edited the fantastic poetry quarterly Goblin Fruit magazine for the past five years. 
(11) BIG COMICS NEWS. "Alex Ross Writes and Illustrates First Graphic Novel, Fantastic Four: Full Circle (Exclusive)" reports Comicbook.com.
…"This is the Fantastic Four story I have been wanting to tell for years, and visually it is one of the greatest artistic experiments I have attempted," says Alex Ross. "I'm excited to share this work with everyone, as it unites the two great publishing forces of Marvel and Abrams ComicArts in a bold new collaboration."…
(12) MARKETING FACTS. Seanan McGuire hopes readers will pick up the latest book in the InCryptid series despite its appearing as a trade paperback. She was concerned by something she read online that people might hold back. Thread starts here.
(13) WHAT'S SUPE. The Washington Post's David Betancourt says these are the "10 best Christmas superhero movies and shows you can stream".
Even a superhero can't escape the holidays.

As masks, capes and interconnected universes have become more mainstream, so too have the number of superheroofferingsthat include Christmas tree decor and Santa Claus hats. Animation, network television, streaming andeven the Marvel Cinematic Universe have all made room for the spirit of the winter season….
(14) VIRTUALLY PIXELLATED. [Item by SF Concatenation's Jonathan Cowie.] Can we create a perfect virtual reality? Or are we living in one?
BBC Radio 4's Start the Week has explored the questions arising out of virtual reality technology. The programme can be listened to or downloaded for a month after broadcast. See the programme episode page here.
Living in the Matrix

What if virtual worlds become indistinguishable from the real one? In 1999 the science fiction film, The Matrix, depicted a dystopian future in which people are unknowingly trapped inside a simulated reality, run by intelligent machines. As the fourth film, The Matrix Resurrections, is about to be released, the writer Naomi Alderman considers the influence this movie franchise has had in the last two decades, and how far virtual reality has become part of everyday life.

The philosopher, David J Chalmers, proposes that the Matrix scenario could be the future, but that rather than trapped, humanity can lead a meaningful life in virtual reality. Chalmers is one of the leading thinkers on consciousness. In his latest book, Reality+ he provocatively argues that VR is not escapism. And that we may even be living in a computer simulation already – and if that is true, it's not so bad.

Philippa Garety is Professor of Clinical Psychology at Kings College London and has been at the forefront of treatments for problems associated with psychosis, including hearing voices and hallucinations. She is currently working on innovative treatments using digital technology, including avatars and virtual reality, to alleviate suffering. In a clinical setting VR can be managed as a safe environment for patients who struggle in the real world, as a place they can confront and understand their delusions.
All of which is reminiscent of a neat little ultra-short SF film mentioned on File 770 over the summer (but worth a view if you missed it first time around):
Meanwhile, Isaac Arthur recently used virtual realities as an explanation for the Fermi Paradox
Many believe the future of humanity is to go Digital, uploading our minds to computers, living in virtual worlds that are vastly more efficient and compact. If we might do this, might distant alien empires too? And if so, might this be the reason we don't see them?
(15) HE KNOWS THE ANSWER. Yahoo! sets the frame for The Batman starring Robert Pattinson: "The Riddler Unmasks Batman In Upcoming Film's New International Trailer".
The Riddler has unmasked the Caped Crusader in the upcoming The Batman's latest international trailer.

With his ominous voice booming through the entirety of the trailer, we hear Paul Dano's Riddler proclaiming that he's "here to unmask the truth about this city," before a long sequence of violence and villainy from the troublemaker. Just as the trailer ends, we find out that Edward Nashton ultimately discovers who the man behind the cowl is, calling Bruce Wayne out by name.
[Thanks to John King Tarpinian, Andrew Porter, Michael Toman, SF Concatenation's Jonathan Cowie, Cat Eldridge, Mike Kennedy, Martin Morse Wooster, and JJ for some of these stories. Title credit belongs to File 770 contributing editor of the day Steve Davidson, part of "The Hugo Pixel Scroll Winners" series.]