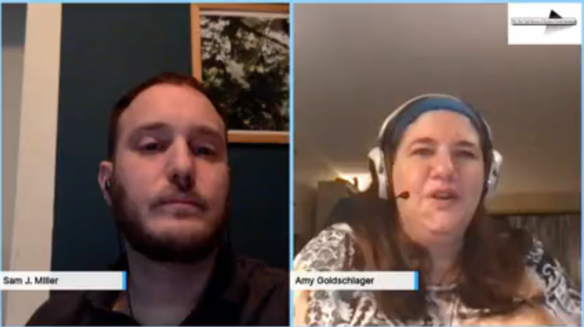 By Mark L. Blackman: On the evening of Tuesday, January 5, 2021, the New York Review of Science Fiction Reading Series opened 2021 and the second half of its 30th season with a virtual reading by writer Sam J. Miller ("to make sure we stay on our toes," said the Series' executive curator, Jim Freund). The event was guest hosted by Amy Goldschlager (who was described by Freund as "the general series dogsbody" – a word I've only otherwise encountered in Shakesperean comedies and Blackadder).
Sam J. Miller (website samjmiller.com) is the Nebula Award-winning author of The Art of Starving and Blackfish City. His short story "57 Reasons for the Slate Quarry Suicides" won the 2013 Shirley Jackson Award, and other stories have been nominated for the World Fantasy, Theodore Sturgeon, and Locus Awards, and reprinted in dozens of anthologies. Miller's offering was an excerpt from his latest novel, Between the Blades.
A living machine, Tyrannosaurus Hex, is rampaging through AR (Augmented Reality – a Monster from the Vid?) and, it seems, crossing over to reality.
After the reading, Goldschlager conducted a revealing interview with Miller. He agreed that the story is "very Ray-Bradburian, 'The Veldt' in AR." He went on to confess that he puts "a lot of me" in his fiction, but, even though "I'm a mess," they do "dumb things that I hope I wouldn't do." (Besides that, his protagonist in Between the Blades has a Hungarian name.) She noted that whales appeared in both Between the Blades and Blackfish City. "I love whales; they're amazing" (a whale appears on the city seal of Hudson, NY, where he's from), and like us "engage in revenge." James Baldwin, one of his favorite authors, also uses his and our history.
Goldschlager was in Downtown Brooklyn, which somehow led to a discussion of the issue of gentrification and the balance between "having nice things" and retaining neighborhood mix. He wants to take us to "a place where solutions can be found;" Between the Blades was "evenhanded" on the issue, she felt. A community activist and organizer, he was concerned that most people are struggling in a hard place right now, and encouraged us to understand what we can do about whatever issue we care about, health care, housing, racial and social justice. One of his is Health Care for the People – his husband is a nurse-practitioner and had Covid-19 last year – whose GoFundMe he shared: Healthcare for the People.
He misses having people to "geek out" with about Avatar: The Last Airbender (his favorite character is Prince Zuko) and the "disappointment" of Game of Thrones.
With Barbara Krasnoff as virtual "Audience Wrangler," he took virtual questions from the virtual audience. Is "City Without a Map" a podcast or a radio show? (Freund, naturally, stuck up for radio.) Well, it's in the future, so the words we use are not really applicable, but podcast is a good enough analogy. What genre programs (sf/fantasy) is he into currently? One obsession is Harley Quinn (HBO Max); "it has an edge." (When Batman tells her that supervillains are ruining Gotham City, she responds no, lack of affordable housing is ruining Gotham City.) In terms of books, he praised Leo Mondello's forthcoming Summer Suns, and said that Alaya Dawn Johnson is another favorite.
Miller has, of course, been asked the usual mainstream question "Where do you get your ideas?" (from his head), but the oddest one was whether his father reacted more to his coming out as gay or as a vegetarian. (Miller is the son of a butcher, and "the last in a long line of butchers." That puts The Art of Starving in a whole new light.) He took them both with good humor and was quite amused by the latter. What is he working on now? Short stories, the very early draft of another novel, and a graphic novel pitch. It's difficult to write in a visual medium like comics, and, as he can't draw at a professional level, has to surrender some control to the artist. How has the pandemic affected his productivity? He moves between high levels and low.
Goldschlager concluded by announcing upcoming readers:
Tues., Feb. 2nd (Groundhog Day): Charles Yu
Tues., March 2nd: Karen Russell
She added that, even though the readings are virtual, there are still expenses involved and asked us to help keep the series going by donating to NYRSF Reading Series producer Jim Freund at PayPal.me/HourWolf. (And listen to Hour of the Wolf, his radio show on WBAI-FM.) Miller concluded by, as a writer, thanking Goldschlager and Locus for running audiobook reviews.