(1) Larry Smith is out of the hospital reports Marcia Kelly Illingworth on Facebook.
Please forgive the lack of recent updates. As they say, no news is good news. Larry is back out of the hospital, and appears to be doing well. He was finally able to attend a convention last weekend, and held up remarkably well. At this point, he is hoping to make all of his November commitments. Clearly, he is not exactly on top of his game, and has had to make some adjustments to his activity level and routine, but he is improving.

Larry and Sally asked me to try to convey the enormous gratitude they feel to everyone who has come to their aid through this very trying time. I say *try* to convey, because there just are not enough words to adequately express how thankful and humbled they feel. And let me just add my thanks as well. These are some very special people, and my heart swells when I see this wonderful family that we call fandom come together to help them like you have.

They are currently still trying to find a replacement van. The one they had was a 15 passenger model, with a long wheelbase and extra suspension to handle the weight of the books. They have found a couple of possibilities (of course, none local), so they hope to find one soon. Give yourselves a much – deserved pat on the back for making this possible for them. Please share this update on any list or social media that you have available to you
(2) David Langford proudly displayed his "Sausage Maker To Fandom" badge ribbon in the new issue of Ansible.  It was given to him at LonCon 3.
(3) Thursday night's Late Show with Stephen Colbert had Seth MacFarlane and Neil DeGrasse Tyson as guests. Stephen is convinced that star KIC 8462852 is evidence of the alien life predicted in one of his favorite books. In the final interview segment, Colbert goes off on a seriously detailed Ringworld rant, including crediting Larry Niven.
"Just because you don't understand what you're lookin' at doesn't mean it's alien," countered Tyson…
In this YouTube clip, the Ringworld bit starts just after the 1:50 mark.
(4) CNN reports "Orbiting bacteria: Space Station may need some tidying up".
The next time NASA picks an astronaut to live in the International Space Station, it might want to send Mr. Clean. That's because scientists using a kind of high-tech white glove test found something in the space dust there.

The astronauts are not alone, it turns out. They share tight quarters with some previously undetected, opportunistic bacterial pathogens.
Nothing unusual here. The Sasquan guest of honor left his hotel room in the same condition as every other fan at this year's Worldcon. A generous tip ordinarily covers these things. In this case, two or three million dollars should do it…
(5) Grantland, ESPN's pop culture site founded by Bill Simmons, is shutting down. I'll miss genre-themed coverage like Brian Phillips' "50 Scenes That Do Not Appear in the Fox 'X-Files' Revival".
It does not, at any point, transpire that Assistant FBI Director Walter Skinner joins Kickstarter to seek funding for his "elegantly bound novelization" of Infocom's Leather Goddesses of Phobos.
The word "copyleft" — that doesn't get thrown around a lot.
Jonathan, who is not making churros, does not tell Scully that "it's about the cinnamon" and then gasp, "I've said too much," and then get shot in the head by a sniper from Venus.
(6) Charle Jane Anders acknowledges "The Difference Between a Great Story and a Shitty Story Is Often Really Tiny" at io9.
To some extent this is a "Devil in the details" thing: It's the little details that will trip you up. Small inconsistencies can make your world feel flimsy. But, too, tiny character moments and little bits of emotional resonance, in between the big incidents, can do a ton to make people buy stock in your world and its people.

The difference between a shitty story and a great story is often just one of clarity, also. A great story sets up its premises early on, then builds on them and deepens them, until finally you reach some kind of crisis. Going back to the topic of movies, I've been amazed by how many movies I've seen lately where the first 20 or 30 minutes are compelling and fascinating (the "first act") and then what follows is a dull morass. It's like the "building and deepening" part of the recipe just got thrown out.
(7) That lunar rover that went to the junkyard?
"Although Mr. Clueless opted to dispose of the moonlander for scrap, not so the junkyard owner!" reports David Doering.
Motherboard has an interview with the anonymous buyer.
Tuesday, we told the sad story of a prototype NASA lunar rover that was sold by an Alabaman to a scrap yard. That is true, but there's a twist: A heroic scrap dealer has saved the buggy, which appears to be in good condition.

The scrap dealer spoke to Motherboard on the condition of anonymity because he says he wants to speak to his lawyer about his next steps, but he did send me the recent photo of the buggy above to confirm it's in his possession. The rover matches a historical NASA image we believed to be the rover in question. It also matches the description given by NASA in its investigatory documents.

"The man who originally bought it, from my understanding, he bought it at an auction. He was a road conditioner [in Alabama]," the junkyard owner told me. "I can't confirm this is true, but he bought it at a NASA auction many years ago. NASA just discarded a lot of that stuff back then. When it was brought to my scrap facility, I set it aside because I knew what it was. The unit does exist today. It is not scrapped. I have that unit in storage."

"I've done quite a lot of research on the unit and it's an artifact that needs to be saved," he added.
David Doering says, "Sure looks like an easy cut-and-dried Kickstarter campaign to buy the rover!"
(8) Speaking of space exploring antiques, NASA needs a programmer fluent in 60-year-old computer programming languages to keep the Voyager 1 and 2 crafts going. The new hire has to know FORTRAN and assembly languages.
(9) Although written before the revised WFC 2015 harassment policy came out, Alasdsair Stuart's post on the issue remains revelant for making points like these:
In the last two years I've been part of a team asked to deal with a single incident. I saw my colleagues treat the individual who had been harassed with compassion, patience and respect. I saw them be given the space they needed to collect themselves and make decisions rather than be pressured into a choice they might later regret. I have rarely been prouder of the teams of volunteers I've worked with over the last few years than I was on that day.

And that's why the mealy mouthed legal tapdance WFC'15 was throwing up wasn't just bullshit, it was and still is actively harmful. This event, that proudly lays claim to being the definitive convention for industry professionals, was not bothering to do something that events with a tenth its status and a hundredth its reach have baked into their procedures. The obvious defense here is of course the tiny size of the community and 'we' choosing to deal with it 'in house'.

That's not even in the same time zone as 'good enough'.

No one on Earth WANTS to have a harassment policy. Even in building one you're forced to imagine the absolute worst of the people around you, and in doing so, work out how to minimize the damage they may cause. These people have to, by definition, include your friends and colleagues. It's an inherently cautious, inherently cynical piece of work that codifies the worst potential human behaviour and how to deal with it. No one wants that, least of all members of a community that likes to pay lip service to inclusion and diversity. But we all need it precisely because of that inclusion and diversity.
(10) John Holyoke reviews Stephen King's new short story collection Bazaar of Bad Dreams in the Bangor Daily News.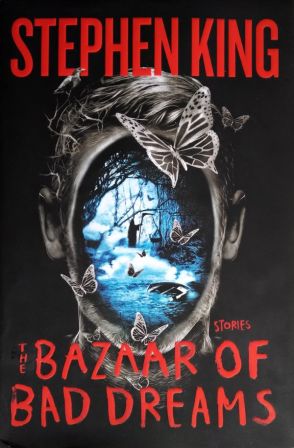 For loyal King fans who devour anything the author produces, these collections are tiny desserts: sweet morsels that can be consumed rapidly, without guilt. Like some? Fine. Love 'em all? Better. Hate a few? Oh, well — move on. Take a bite out of another.

For those who are new to King and unsure whether they'll like what they find, "The Bazaar of Bad Dreams" provides a tasty sampler that, like his other short story collections, showcases the master's array of talents.

King said a year ago that he was confident he could still "write stories that are sleep-with-the-lights-on scary." And he can. (Try his novel "Revival" on for size, if you're in doubt.)

But "The Bazaar of Bad Dreams" is a collection of a different flavor and seems to reflect the maturing — and aging — of a writer who likely has left far more tales in his rear view mirror then he has remaining in front of his headlights. Recurring themes this time around include aging, dealing with aging and death itself.

And while that isn't surprising in itself — there's often a hefty helping of dying going on in a King book or story — the tone is different, almost melancholy at times, as characters face their mortality and battle with questions like the age-old unanswerable: What's next?
(11) Lisa Morton, Horror Writers Association president, tells the true, highly commercial origins of today's Halloween holiday.
The next time somebody tries to tell you that Halloween is a ghoulish tradition that goes back to Druid priests practicing pagan rituals, tell them that companies like Hershey, Coors and Dennison had a lot more to do with the modern Halloween we revere than the Celts from 2,000 years ago.

And that's a good thing, because these companies have largely created the holiday we now love.

While it is likely that Halloween owes much of its macabre character to the Irish Celtic harvest celebration, Samhain (pronounced "sow-in"), there's no proof whatsoever to suggest that the Celts dressed in costumes, begged candy from neighbors or staged elaborate haunted scares (although they probably did hold major feasts complete with alcohol).
(12) The Horror Writers Association website has a fine array of posts about the holiday by its members. Today's entry is "Halloween Haunts: Souled" by Tonya Hurley.
We almost drove past it until I noticed the line snaking around the side of the nondescript-looking Dutch Colonial house on the canal. It hardly looked like the scene of any crime let alone that crime — The Amityville Horror. "112 Ocean Avenue.  That's it!" I shouted with half excitement and equal parts guilt. The latest family to own the house was moving out and this was hyped as a yard sale guaranteed to top them all.  Shoppers and rubberneckers from miles around gathered to land a piece of horror history, joking with each other, retelling tall tales, mixing myths with fact about the house and the crime like a demonic game of telephone as they waited. A quick walk through the home yielded little contents owned by the DeFeo family, the original owners, who were famously murdered there…
(13) Amy Wallace has updated her Wired article "Sci-Fi's Hugo Awards and the Battle for Pop Culture's Soul".
It is August 2015, and things are looking up for Team Humanity. Or are they? A record 11,700-plus people have bought memberships to the 73rd World Science Fiction Convention in Spokane, Washington, where the Hugo winners are soon to be announced. A record number have also forked over dues of at least $40 in time to be allowed to vote, and almost 6,000 cast ballots, 65 percent more than ever before.

But are the new voters Puppies? Or are they, in the words of Game of Thrones author George R. R. Martin, "gathering to defend the integrity of the Hugos"? Just before 8 pm on August 22, in a vast auditorium packed with "trufans" dressed in wizard garb, corsets, chain mail, and the like, one question is on most attendee's minds: Will the Puppies prevail?

The evening begins with an appearance by a fan cosplaying as the Grim Reaper, and that turns out to be an omen for the Puppies. By evening's end, not a single Puppy-endorsed candidate takes home a rocket. In the five categories that had only Puppy-provided nominees on the ballot—Best Novella, Best Short Story, Best Related Work, and Best Editors for Short and Long Form—voters choose "No Award."

Earlier, Beale explained to me that his plan was a "Xanatos gambit"—"that's where you set it up so that no matter what your enemy does, he loses and you win." No surprise then, that in an email he sends after the awards ceremony, Beale is crowing. "The scorched-earth strategy being pursued by the SJWs in science fiction is evidence that we hold the initiative and we are winning," he writes. The number of major categories in which no awards are given "demon­strates the extent to which science fiction has been politi­cized and degraded by their far left politics."
Quotes from pro writers only – Kloos, Bellet, Correia, Torgersen, Vox Day, George R.R. Martin, N.K. Jemisin.
Zero quotes from fans, who merely run and vote for the awards. Yet Brad R. Torgersen is outraged that still another pro, Sarah A. Hoyt, wasn't interviewed.
[Thanks to Michael J. Walsh,Tom Galloway, David K.M. Klaus, Martin Morse Wooster, David Doering, and John King Tarpinian for some of these stories. Title credit goes to File 770 contributing editor of the day Daniel Dern.]