(1) RIGHTS FIGHT. Publishers Weekly reports "Federal Appeals Court Declares Literacy a Constitutional Right".
In a potential landmark ruling, the U.S. Sixth Circuit Court of Appeals held this week that access to a basic minimum education "that can plausibly impart literacy" is a fundamental, Constitutionally protected right.

In a 2-1 ruling released on April 23, the court held that basic literacy is "implicit in the concept of ordered liberty," and central to "the basic exercise of other fundamental rights," including political participation.

"The recognition of a fundamental right is no small matter," the court conceded in its written opinion. "But just as this Court should not supplant the state's policy judgments with its own, neither can we shrink from our obligation to recognize a right when it is foundational to our system of self-governance. Access to literacy is such a right. Its ubiquitous presence and evolution through our history has led the American people universally to expect it. And education—at least in the minimum form discussed here—is essential to nearly every interaction between a citizen and her government."

The Appeals court ruling reverses and remands a 2016 case in which lawyers claim that the State of Michigan failed to provide a suitable education to a plaintiff group of Detroit Public School students, after invoking the state's Emergency Management Powers to take over control of the plaintiff's schools. At trial, the plaintiffs argued that they were forced to sit in classrooms that were "functionally incapable of delivering access to literacy," marked by "unqualified instructors," and "a dearth of textbooks and other school supplies." The result: a number of students with "zero or near-zero" proficiency levels on state-administered tests….
(2) OR IS THAT FIENDLY? First Fandom Experience revisits "The Friendly Magazine" of 1930s Los Angeles fandom.
The fanzine Sweetness and Light was launched in Spring 1939 by the "Moonrakers," clique of members of the Los Angeles Science Fiction League. The Editorial Board consisted of Russ Hodgkins, Fred Shroyer, Henry Kuttner, Jim Mooney and Art Barnes. The subtitle proclaimed the publication to be "The Friendly Magazine." Like all of its contents over its five-issue run, the masthead was ironic.
Includes an array of screencaps from the zine, like this one –
(3) FREE AUDIO. Wil Wheaton has recorded another story — "Radio Free Burrito Presents: Satellite of Fear by Fred A Kummer Jr."
Since I was going to read, anyway, I decided to grab something at random off the RFB Presents list, and record it.

I chose Satellite of Fear, by Fred A Kummer, Jr.

Inside the crippled Comet, a hard-bitten crew watched the life-giving oxygen run low. Outside, on Ceres' fabled Darkside, stalked death in awful, spectral form.
Listen on Soundcloud.
(4) SIX PACK. In "6 Books with Andi C Buchanan" a New Zealand author shares picks with Nerds of a Feather's Paul Weimer.
2. What upcoming book are you really excited about?

Oh no, this whole interview is going to have to be about choosing just one, isn't it? I am very much looking forward to R.B. Lemberg's The Four Profound Weaves. I've been following Lemberg's shorter work for a number of years; it's beautiful and warm and comforting, and hopeful without falling into the trap of skirting tougher issues or minimising them. The Birdverse verse (of which The Four Profound Weaves is a part) is filled with people you don't find as often as one might like in fiction, and yet resonate so strongly for me. I'm really excited about seeing what Lemberg does at novella length.
(5) THE WORM RETURNS. Print Magazine shares "The Inside Story of NASA's 'Worm' Logo".
Earlier this month, the design world was delighted when NASA unexpectedly revealed it was bringing back its iconic "worm" logo, which Richard Danne and Bruce Blackburn created in 1974….

…By virtue of a connection, Danne and Blackburn eventually got an invite to bid on the NASA redesign, which they did on Oct. 1, 1974. They presented one concept—the worm—which they brought to life in a deck showing applications on everything from newsletters to vans to buses and, of course, the space shuttle.

And, of course, their firm of five (which included their receptionist) won. "It was against all the odds," Danne recalled, noting they presented such a minimalistic design because the agency—which didn't have any designers on staff—was producing a lot of "garbage."

"We saw all this debris and it drove us toward a simpler solution."

Danne paired Helvetica with the worm because the two blended so well together. (He was also quick to note that he has hardly used it since.)

Owing to Pantone's rules for its numerical designations back in the day, Pantone 179 became "NASA Red," and the rest is branding history.
(6) TRIVIAL TRIVIA.
You have to know French counting 1,2,3,4 …………un, deux, trois, quatre, ………..Quarantine

Year 1403: Despite the fact that nothing was known about how disease came to be (except for the usual theories of punishment by God or infestation by demons), people tended to avoid those who were sick with some particular fatal or loathsome disease. When the Black Death struck, people instinctively fled from those afflicted, often leaving the dying to die unburied. In 1403, the city of Venice, always rationally ruled, decided that recurrences of the Black Death could best be averted by not allowing strangers to enter the city until a certain waiting period had passed. If by then they had not developed the disease and died, they could be considered not to have it and would be allowed to enter.

The waiting period was eventually standardized at forty days (perhaps because forty-day periods play an important role in the Bible). For that reason, the waiting period was called quarantine, from the French word for "forty". In a society that knew no other way of fighting disease, quarantine was better than nothing. It was the first measure of public hygiene deliberately taken to fight disease.
++ Isaac Asimov. From Chronology of Science & Discovery (1989)
(7) TODAY IN HISTORY.
April 25, 1941 — In London, The Devil Bat premiered. It was directed by Jean Yarborough. The screenplay was by John Thomas Neville from a story by George Bricker who was responsible for House of Dracula and She Wolf of London. The film starred Bela Lugosi along with Suzanne Kaaren, Guy Usher, Yolande Mallott, Dave O'Brien and Donald Kerr. The film was re-released in 1945 on a double bill with Man Made Monster. It was consider one of the best films that Lugosi ever made, though it only has a 58% rating among audience reviewers at Rotten Tomatoes. It's in the public domain as it has been since it was released, so you can see it here.
(8) TODAY'S BIRTHDAYS.
[Compiled by Cat Eldridge.]
Born April 25, 1873 — Walter de la Mare. His supernatural horror was a favorite of H. P. Lovecraft. Ramsey Campbell and Joan Aiken would also cite him as an influence on their writing. Though he did write a number of novels, I'll hold that the short story of which he released at fifteen collections was his his true strength. Out of the Deep and Other Supernatural Tales is an excellent introduction to him as a writer. It's available at the usual digital suspects. (Died 1956.)
Born April 25, 1897 — Fletcher Pratt. He's best remembered for his fiction written with L. Sprague de Camp, to wit Land of Unreason, The Carnelian Cube and The Complete Compleat Enchanter. I'm also fond of The Well of the Unicorn and Double Jeopardy. (Died 1956.)
Born April 25, 1915 — Mort Weisinger. Comic book editor best known for editing Superman during in the Silver Age of comic books. He also served as story editor for the Adventures of Superman series, Before that he was one of the earliest active sf fans, working on fanzines like The Planet (1931) and The Time Traveller (1932) and attending the New York area fan club "The Scienceers." (Died 1978.)
Born April 25, 1920 — John Mantley. He wrote but one SF novel, The 27th Day, but it rated a detailed review in The Magazine of F&SF which you can read here. (He wrote the screenplay for the film version of his novel.) He also produced a number of episodes of The Wild Wild West, Buck Rogers in the 25th Century and MacGyver. (Died 2003.)
Born April 25, 1929 — Robert A. Collins. Edited a number of quite interesting publications including the Fantasy Newsletter in the early Eighties, the IAFA Newsletter in the late Eighties and the early Nineties along with the Science Fiction & Fantasy Book Review Annual with Rob Latham at the latter time. He also wrote Thomas Burnett Swann: A Brief Critical Biography & Annotated Bibliography. (Died 2009.)
Born April 25, 1957 — Deborah Chester, 63. Jim Butcher in a Tor.com interview says she's his primary mentor. She's authored nearly forty genre novels and I've read her pulpish Operation StarHawks series (written as Sean Dalton) which is good popcorn reading.
Born April 25, 1961 — Gillian Polack, 59. Australian writer and editor. She created the Ceres Universe, a fascinating story setting. And she's a great short story writer as Datlow demonstrated when she selected "Happy Faces for Happy Families" for her recommended reading section in the '04 Year's Best Fantasy and Horror.
Born April 25, 1981 — Silvia Moreno-Garcia, 39. Canadian of Mexican descent. She's the publisher of Innmouths Free Press, an imprint devoted to weird fiction. Not surprisingly, she co-edited with Paula R. Stiles for the press, the Historical Lovecraft and Future Lovecraft anthologies. She won a World Fantasy Award for the She Walks in Shadows anthology, also on Innsmouth Free Press. She's a finalist for the Nebula Award 2019 in the Best Novel category for her Gods of Jade and Shadow novel. And finally with Lavie Tidhar, she edits the Jewish Mexican Literary Review. Not genre, but sort of genre adjacent.
(9) COMICS SECTION.
(10) ORIGINAL EC COMIC ART. The Bristol Board calls this a forgotten masterpiece —
Complete original art for "In the Beginning…" by Joe Orlando (art) and Al Feldstein and Bill Gaines (story) from Weird Fantasy #17, published by EC Comics, January 1953.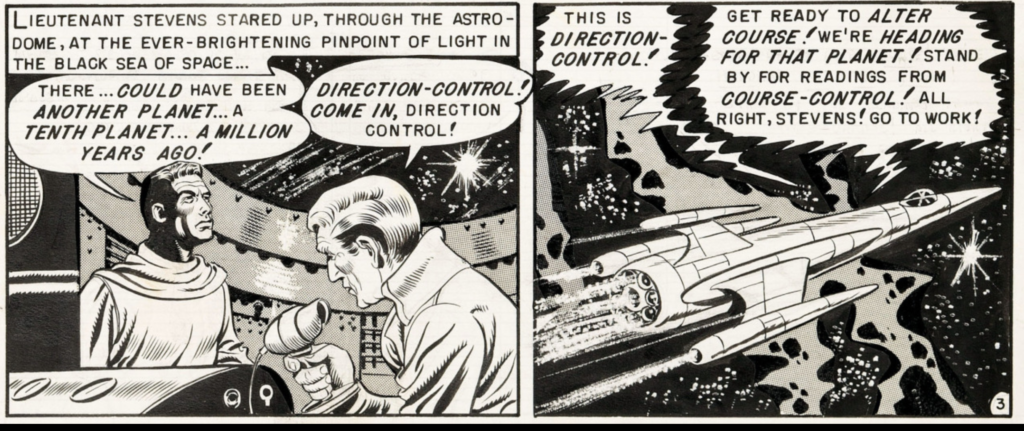 (11) THE DROID WILL SEE YOU NOW. The machine that danced over obstacles now protects against infection: "Meet 'Spot:' The Robot That Could Help Doctors Remotely Treat COVID-19 Patients" at NPR.
Brigham and Women's Hospital in Boston has been testing a new piece of hardware to help them treat coronavirus cases — a robot called Spot.

Last week, the hospital began using the robot in interviewing patients suspected of having less-serious cases of COVID-19. It's only been deployed a handful of times so far, but according to Peter Chai, an emergency medical physician at Brigham and Women's, the hope is that using Spot could limit staff exposure to COVID-19.

"It also eliminates PPE," said Chai in an interview. "Spot doesn't need to wear a mask or gown."

…"One of the hospitals that we spoke to shared that, within a week, a sixth of their staff had contracted COVID-19 and that they were looking into using robots to take more of their staff out of range of the novel virus," Boston Dynamics said in a statement.

Boston Dynamics than consulted with MIT and Brigham and Women's, outfitting Spot with an iPad and radio so a medical technician could interface with patients in the triage tent the hospital — and others — use for potential COVID-19 patients.
(12) SPACE SKEPTIC. In "NASA Astronaut Breaks Down Space Scenes From Film and TV" on YouTube, retired astronaut Nicole Stott discusses space scenes in sf and space movies, from the silly (the scene in Spaceballs declaring the ship would travel at "ludicrous speed" to realistic films such as Gravity and First Man.
(13) CAP-BUT-NO-PIE. A SYFY Wire writer regards these to be "The 10 Most Stylish Hats In Genre Movies And TV".
…Even though hats are no longer as ubiquitous as they once were, there will always be a place for millinery in both film and fashion. So whether your own personal style is hat-centric or not, it is hard to imagine the following characters without their signature accessory. For inspiration or to simply relive these memorable moments, check out some genre hat highlights below….
One of the selections is —
The Sorting Hat – Harry Potter (2001-2011)

There are a variety of hats in Harry Potter including the traditional styling to Dumbledore's flat top version. However, there is one hat that has a huge impact on every single Hogwarts student. The only sentient hat on the list has the task of sorting the Hogwarts pupils into one of four houses. It is a rather hefty task for a rather unassuming looking piece of headgear, but the Sorting Hat comes alive in its wear and tears. It might not be the prettiest of garments, but it is the only hat on this list that can sing.
(14) CREEP FACTOR THREE, MR. SULU. [Item by Mike Kennedy.] This story isn't exactly genre, but it does have the feel of a horror show. In a recent museum #CuratorBattle, the chosen field of battle was #CreepiestObject. The taxidermied monkey/fish hybrid "mermaids" were but one type of item that strayed very near the genre boundary.
The CNN story "Museums reveal their creepiest objects in Twitter battle" has several excellent entries, but a quick Twitter search for #CreepiestObject will turn up many more.
Fish-tailed monkey "mermaids." A snuff box for storing pubic hair. Enough creepy dolls to fill a haunted schoolhouse.

With their doors closed due to the pandemic, museums in the UK and beyond have been taking to Twitter to showcase the most terrifying items in their collections, and it might be enough to make you glad to be safe at home.
I've included herein a link for a tableau of unfortunate tabbies having tea. The article references it, but I felt it appropriate to highlight these SJWCs.
(15) VIDEO OF THE DAY. "How Walt Disney Cartoons Are Made" on YouTube is a short film made by RKO (DIsney's distributor at the time) explaining how Snow White And The Seven Dwarfs was created. From 1939, but it's news to me!
[Thanks to Cat Eldridge, Mike Kennedy, JJ, Martin Morse Wooster, Chip Hitchcock, John King Tarpinian, Michael Toman, Kendall, and Andrew Porter for some of these stories. Title credit goes to File 770 contributing editor of the day Jack Lint with an assist from Anna Nimmhaus.]