(1) ANOTHER BURKE CO-PANELIST MAKES A STATEMENT. Shahid Mahmud, Arc Manor Books publisher, who was one of the panelists on "Diversity Readers and Why You Need Them" at Balticon 56, today told Facebook readers that he and Stephanie Burke "got into a heated discussion" but that Burke did "nothing that warranted her treatment" or expulsion from program afterwards.
…One of the panels that keeps getting referred to is a panel I was on with Stephanie, the one on Sensitivity Readers. Not only that, but I was also the one who got into a heated discussion with her on the panel.

As a fellow panelist (particularly one who got into that that discussion with her) I would like to, in no uncertain terms, make it clear that Stephanie NEVER crossed the 'line.' I found her charming, informative, and forceful (in a good way).

At one point I did turn to the audience and apologized for us having hijacked the discussion for the last few minutes and several of them pointed out how refreshing it was to hear different sides of the issue (a couple of them reiterating it after the panel as well).

After the panel ended, Stephanie and I did chat briefly and both of us indicated to the other how much we had enjoyed the discussion even though we disagreed with each other.

So, imagine my shock when I found out that she had been kicked off panels. Even more so, since no from Balticon bothered to contact me about the panel (and no one still has).

Anyway, as a fellow panelist on the panel that is being cited as the reason for her expulsion, I want to make it absolutely clear that Stephanie did nothing that warranted her treatment.

What I find incredulous is that someone at Balticon took it upon themselves to treat another person like that without even bothering to find out what happened or having any investigation of a any kind. Escorting someone out of a panel is pretty extreme. I do think Yakira (the Balticon Chair) is trying to set it right to the extent she can (she has publicly apologized and is now leading an investigation into the incident). I hope the investigation also focuses on Lisa Adler-Golden (the program chair, and I believe the person behind the expulsion) and her actions, motivations and suitability for participation in future Balticons.
David Weber responded at length in comments (here and here), saying in part:
…I'm waiting to see how this all works out, and I hope the con chair is able (and willing) to tell the world what really happened and issue a very sincere and public apology (if appropriate) based on the results of her investigation.

If, as I suspect from all I have heard so far, an apology IS appropriate, I think it should be accompanied with an invitation to return as a special guest and, particularly, for a panel on just how destructive this sort of thing is for the fan community as a whole, and not just for the pros/guests immediately affected by it. It's an issue that needs to be dragged out into the daylight and confronted, without accepting it as long as it only happens to people WE don't like, and without degenerating into fruitless rounds of whataboutism. This is goring ALL our oxen. It needs to stop, and I hope one response to this fiasco is that Balticon will tell us how IT intends to prevent it going forward….
Also in comments, Gregory Benford reminded readers why he was removed from the 2019 Loscon.
(2) THE MESSAGE RECEIVED VARIES WITH THE READER. Jeff VanderMeer addresses the question if "Le Guin's 'The Left Hand of Darkness' is a classic for its portrayal of gender, but is it also sometimes, for the modern reader, a climate change parable?" in "Landscape, Change, and the Long Road Ahead" at Orion Magazine.
…Le Guin, in creating both this world and this situation, meant to interrogate the politics and logic of countries, and how societies deal with the outsider. Even the long, harrowing journey by Genly and his erstwhile friend from Winter, Estraven, across barren ice can be interpreted as a traditional Jack Londonesque extreme wilderness survival tale, rather than anything more modern.

Yet, the reader changes a book because the world changes, and so when I read of the "facts" of Genly being disputed in Orgoreyn, I could not help but think about the "disputed" facts and proofs of the climate crisis.

Climate crisis is about extremes, and in The Left Hand of Darkness cultures are shaped by an immeasurably hostile physical environment. The coldness of the place, which forces adaptation to its conditions and discourages certain kinds of risk. The fact the nations of Winter do not engage in war constitutes one unique manifestation of this adaptation to an extreme environment. Full-scale conflict, as opposed to minor sorties, skirmishes, individual feuds, simply seems alien to the nations of Winter….

Genly describes war as "the opposite of civilization," and this is literally true on Winter—if not on our Earth. The planet's inhabitants cannot afford the destructiveness of war or risk Death by Planet, by diverting or destroying resources needed for survival. They do not have the luxury of surviving both the climate and war….
(3) ALMOST BREAKING EVEN. Despite having cancelled Arisia 2022 due to Covid and the small number planning to attend or be on the program, Arisia, Inc. reports they have made up their annual expenses from grants and donations.
…We have heard back from the grants from this cycle, and we've gotten quite a few of them. A few were contingent on holding a convention and I'll get into the disposition of each of those.

The big news is that we got $15,000 from the City of Boston! This is $10,000 for COVID relief and $5,000 in general operating support. We can use this money to pay organizational expenses such as rent, which comes to $15.600 per year.

We got a grant for $2,275 from SFWA for convention expenses and we can use this for expenses the convention had even though it didn't actually happen. We have easily enough eligible expenses to get the access grant and $2500 for organizations that did. This appears to be what happened, as we were approved for $2500 for training. We have heard back from the grants from this cycle, and we've gotten quite a few of them. A few were contingent on holding a convention and I'll get into the disposition of each of those.

…We proposed to use this general staff anti-racism training, and I also requested in the application to be able to use the money for board training, in case we get other funding for anti-racism trainings. I believe the Anti-Racism Committee is working on specifics for this training.

We got $3000 for CART from the Universal Participation Fund and the expenses didn't happen. This is the grant that we qualify for because of Card to Culture. I don't know if the money can be repurposed, or if so how.

Speaking of Card to Culture, we had 12 people registered for A22 via Card to Culture, vs. 3 in 2021. I am hopeful that we get even more in 2023.

Finally, we have gotten about $4,000 in donations, with one large donation pending in an unknown amount.

This is a total of almost $24,000 not including the access grant. Our annual expenses are a little over $19,000 and the convention had $6,000 in expenses that can't be passed on to Arisia 2023, plus one of the grants obliges us to spend money on training that we might not have spent otherwise. So we aren't quite square, but we're pretty close….
(4) LAWSUIT GOING FORWARD. "Freedom to Read Advocates Sound Alarm as Obscenity Lawsuit Advances in Virginia" reports Publishers Weekly.
Library groups this week joined with booksellers, publishers, and public advocacy groups in sounding the alarm over a lawsuit in Virginia in which two popular authors and their publishers have been ordered to defend their works against obscenity charges.

The legal action was filed last month by Virginia Beach lawyer and delegate in the Virginia Assembly Tim Anderson (on behalf of local plaintiff and congressional candidate Tommy Altman), citing an obscure state obscenity law. It alleges that two books for sale in a Virginia Beach Barnes & Noble—Maia Kobabe's popular graphic memoir Gender Queer (Oni Press) and A Court of Mist and Fury (Bloomsbury) by bestselling author Sarah J. Maas—are "obscene for unrestricted viewing by minors."

…According to the Virginia Mercury, "the little-utilized state law allows 'any citizen' to ask a court to weigh in on books alleged to be obscene." And in a development that has shocked observers, a local judge on May 18 found there was probable cause the books could be deemed obscene and ordered the authors and publishers to defend the books later this month.

According to the Mercury, the judge who issued the order, Pamela Baskervill, is "a retired Petersburg-area judge," who is handling the case because "all other judges in Virginia Beach recused themselves."

The court's order raises the possibility that the court could issue a restraining order barring the books from public display and restraining booksellers and libraries from selling or loaning the books to minors without parental consent. In a Facebook post, Anderson hailed the judge's order as "a major legal victory" and laid out the playbook for those seeking to restrict access to materials they find objectionable: "Suits like this can be filed all over Virginia," Anderson wrote. "There are dozens of books. Hundreds of schools."…
(5) HEAR FROM EUGEN BACON. Space Cowboy Books will host a free "Online Reading & Interview with Eugen Bacon" on Thursday, July 7 at 6:00 p.m. Pacific. Get tickets at the link.
(6) INSPIRATIONAL WOMEN. "Can a book change a young woman's life?" Hear The Conversation with Nnedi Okorafor and Mel Mazman on BBC Sounds.
Can a book change a young woman's life? Kim Chakanetsa talks to two women in the publishing world about the importance of writing stories that inspire and empower girls.

Nnedi Okorafor is an award-winning Nigerian-American writer of fantasy and science fiction for both children and adults. Her books have strong female leads and draw inspiration from her Nigerian roots. Nnedi has also written comics for Marvel: she was the first woman to write the character of T'challa, the Black Panther, and she wrote a series about his tech loving sister, Shuri. She is a recipient of the World Fantasy, Hugo and Nebula Awards.

Mel Mazman is the chief product officer at Rebel Girls, a franchise publishing books and digital content aimed at empowering young women. The company started in 2016, with a crowdfunding campaign for Good Night Stories for Rebel Girls, a book featuring the stories of 100 inspirational women. Since then, they sold 7.5 million books in over 100 countries. Mel shares her insights on how the publishing industry is changing to cater for the needs and interests of younger generations of readers.
(7) BREAKFAST WITH TIFFANYS. [Item by Martin Morse Wooster.] Jo Walton talks to Helen Zaltzman about what she calls "The Tiffany Problem, or how do you tell readers that the "anachronisms" they find in novels aren't actually anachronistic.  "Tiffany" is an authentic 12th century name (ultmately derived from "Epiphany") but use it in a historical novel and readers complain,  Walton discusses how she handles this problem in her novels. "The Tiffany Problem" at The Allusionist podcast.
(8) KEN KELLY (1946-2022). Prolific genre and album artist Ken Kelly died June 3 at the age of 76. He was particularly known for his sword & sorcery cover art. He depicted Conan the Barbarian, Tarzan and the rock acts KISS, Manowar, Sleepy Hollow, Rainbow, and Ace Frehley.
(8) MEDIA BIRTHDAY.
1982 – [By Cat Eldridge.] On this day forty years ago, my favorite Trek film by far, Star Trek II: The Wrath of Khan, premiered. As I noted yesterday in my essay on the ending of the original series, there have been thirteen films so far — the good, the bad and the just plan forgettable. Star Trek II: The Wrath of Khan is in my opinion stellar.
Now I'll admit that the episode that spawned it, "Space Seed", isn't one of my favorite episodes, but the screenwriter for this film, Jack B. Sowards, who based it off a story by him and Harve Bennett, created a story here that is fantastic. Neither had any genre background so Bennett watched all of the original series after being hired by Paramount and decided to do a film off the "Space Seed" story.
Damn, they did a great job. From the Kobayashi Maru simulation (named after Soward's neighbor) to the over-the-top villain that Ricardo Montalbán is here (far more than he was in "Space Seed"), there is nothing that is not completely entertaining here. Most of these Trek films have a spot or two where I want to say to the editor why is that scene in here, but not in this film. I loved it from beginning to end unreservedly.
(Roger Ebert in his review had an interesting point about Khan: "Khan is played as a cauldron of resentment by Ricardo Montalban, and his performance is so strong that he helps illustrate a general principle involving not only Star Trek but 'Star Wars' (1977) and all the epic serials, especially the 'James Bond' movies: Each film is only as good as its villain.")
(Some of them are entirely like that.)
They were given a lousy budget, just twelve million, as Paramount really didn't believe the film was going to do crap. It did as it made ninety million.
What did the critics think? If they were Trekkies, they liked it. If they weren't, they didn't.
Kevin Thomas of the L.A. Times definitely liked it: "In this new film there's no feeling that its makers are straining to compete with 'Star Wars' and other special-effects spectaculars, instead, they're attempting to recapture the spirit of the beloved TV series. (It is, in fact, probably a plus that the film actually began production intended for TV.) The result is a brisk, handsomely designed film in which its hardware, sturdy as it is, never overwhelms its humanity."
Whereas David Khmer of the Chicago Reader wasn't impressed: "In this second Star Trek feature (1982), the crew of the Enterprise confronts middle age in a plot that makes very little literal sense but is packed with pertinent life-out-of-death, Waste Land imagery: a 200-year-old heavy (Ricardo Montalban) living on a barren planet, a secret project code-named 'Genesis' that can turn deserts into tropical jungles, Captain Kirk wearing specs and rediscovering his long-lost family. If only director Nicholas Meyer had grasped the implications of his tale more fully and enthusiastically, this might have become a classic piece of cornball SF poetry, but as it stands the tepid acting and one-set claustrophobia take a heavy toll."
It was nominated for a Hugo at ConStellation losing out to Blade Runner. Rotten Tomatoes reviewers really like giving a ninety percent rating.
(9) TODAY'S BIRTHDAYS.
[Compiled by Cat Eldridge.]
Born June 4, 1951 — Wendy Pini, 71. With husband Richard, responsible for Elfquest which won them a Balrog. Over the years Elfquest has been self-published by the Pinis through their own company Warp Graphics, then Marvel Comics, then the Pinis again, more recently DC Comics and then Dark Horse Comics. Everything prior to 2013 is free online at the Elfquest Comic Viewer. Be prepared to spend hours lost in great reading!
Born June 4, 1960 — Kristine Kathryn Rusch, 62. If you've not discovered the delights of her Diving Universe series, you're in for a treat — it's that good. Her Retrieval Artist series is one that can be read in no particular order so is great deal of fun no matter where you start. And her Spade / Paladin series of which the first novel just came out, Ten Little Fen, is absolutely delightful. Oh, and she won the Astounding Award for Best New Writer. Her website is here; don't miss her appreciation of A.J. Budrys.
Born June 4, 1960 — Bradley Walsh, 62. His first genre was on The Sarah Jane Adventures as Odd Bob Elijah Spellman aka The Pied Piper in "The Day of the Clown" story. His major genre role video wise however is Graham O'Brien, companion to the Thirteenth Doctor. Now it's worth noting that he has a lot of theatre experience that is genre having appeared in multiple versions of Aladdin, Cinderella, Jack & the Bean Stalk, Peter Pan and Snow White.
Born June 4, 1964 — Sean Pertwee, 58. Let's see, where did I see him first? Oh, of course, playing Sheriff Hugh Beringar on Cadfael but that's not genre, is it? Captain Heinz in "Trenches of Hell, Part 2 ", on The Young Indiana Jones Chronicles which was his first genre role followed being Pilot Smith on Event Horizon and Macbeth in a UK film of that name the same year. He did a bit of low-budget horror playing Bradley Cortese in Tale of the Mummy and likewise in being Sergeant Harry G. Wells in Dog Soldiers. There were some fairly low budget SF as well, say Father in Equilibrium. Not to mention Brother Proteus in Ultramarines: A Warhammer 40,000 Movie which I dearly want to see! All of which gets redeemed by his Inspector Lestrade in Elementary, a stunning take on that character. And then there's his Alfred in Gotham.
Born June 4, 1969 — Julie Gardner, 53. She was executive producer on the revival of Doctor Who and the spin-offs of Torchwood and Sarah Jane Adventures. She co-founded with Julie Tranter Bad Wolf, best known for the BBC TV series His Dark Materials and A Discovery of Witches on which she serves as an executive producer.
Born June 4, 1972 — Joe Hill, 50. I've met him once or twice down the years as he shows up here in Portland for signings at both book shops and comic shops pre-Pandemic. Really nice guy like his father. Actually the whole family is amazingly nice. Locke & Key is a superb graphic novel series and I'm fond of all of his short stories, particularly those collected in 20th Century Ghosts, and his collection Full Throttle. I notice that though he's not yet won a Hugo, he's won a fistful of Stokers, many BFAs, a World Fantasy Award and even an International Horror Guild Award.
Born June 4, 1975 — Angelina Jolie, 47. I really liked her two Tomb Raider films and thought Sky Captain and the World of Tomorrow was a really cool film with her role being quite magnificent. I never saw her early Cyborg 2 undertaking but think Hackers and her role as Kate "Acid Burn" Libby was rather good. I've not seen her Maleficent films.
Born June 4, 1991 — Jordan Danger, 31. She is best known for her role as Zoe Carter on Eureka. (Now inexplicably renamed A Town Called Eureka in syndication but not on Peacock which is streaming it now along with Warehouse 13.) She also showed up in Ragin Cajun Redneck Gators which as horror is genre of sorts, plus the SF films, Higher Power and Beyond the Sky. And even a vampire film, Living Among Us. All low budget, all straight to DVD productions.
(10) COMICS SECTION.
(11) COWL SCOWL. In "What Is Batman" the Pretty Much Pop podcast shares its taxonomical theories.
In light of the recent release of Matt Reeves' film The Batman, we consider the strange alternation of darkness and camp that is Batman. Is he even a super hero? What's with his rogues' gallery? What's with DC's anti-world-building?

Your Pretty Much Pop host Mark Linsenmayer is joined by philosophy prof/NY Times entertainment writer Lawrence Ware, improv comedian/educator Anthony LeBlanc, and Marketing Over Coffee host John J. Wall, all of whom are deeply immersed in the comics, and we touch on other recent shows in the Batman universe.
(12) HUMOR IN THE DARKNESS. Death's Intern by D.C. Gomez is the debut novel in the Intern Diaries series launched in 2017.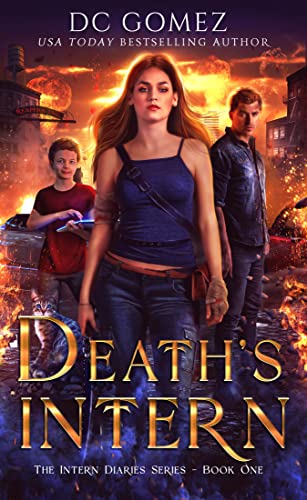 A talking cat, a boy genius, missing people, and an untrained Intern for Death. What could possibly go wrong?

Did that really happen?

There's no way Death offered me a job. I'm a musician that makes her living as a waitress, with absolutely no training in the supernatural world. This is all a very bad dream.

But Bob has been kidnapped, and I can't possibly lose the only friend I have.

Bob, you'd better be alive. Because if I just gave my soul to Death for nothing, I will personally kill you. Not to mention, it seems Death's Interns have fairly short life expectancies.

God, don't let me die.
D. C. Gomez was born in the Dominican Republic, and grew up in Salem, Massachusetts. She study film and television at New York University. After college she joined the US Army, and proudly served for four years. Those experiences shaped her quirky sense of humor. D.C. has a love for those who served and the families that support them. She currently lives in the quaint city of Wake Village, Texas, with her furry roommate, Chincha.
One of D. C.'s passions is helping those around her overcome their self-limiting beliefs. She writes both non-fiction and fiction books, ranging from Urban Fantasy to Children's Books. To learn more about her books and her passion, you can find her at www.dcgomez-author.com.
Available at Amazon.com and Amazon.ca.
(13) SCIENCE TAKES A HOLIDAY. [Item by SF Concatenation's Jonathan Cowie.] You don't know what it has been like the past few days as you are a citizen living in a flawed democracy, conversely, I am a subject living in a full democracy kingdom. Anyway, our Queen has ruled that we must have four days celebrating 70 years of her reign. So it has been street parties, barbecue, coronation chicken and a right old national knees-up this side of the Pond. It is a tough life, but we Brits are used to it.

It has also meant that, with the exception of this morning, the library cybercafés have been closed, hence no science news until now.
"NASA's Perseverance rover begins key search for life on Mars" in Nature.
More than fifteen months after landing in Jezero Crater on Mars, NASA's Perseverance rover has finally begun its hunt for ancient life in earnest.

On 28 May, Perseverance ground a 5-centimetre-wide circular patch into a rock at the base of what was once a river delta in the crater. This delta formed billions of years ago, when a long-vanished river deposited layers of sediment into Jezero, and it is the main reason that NASA sent the rover here. On Earth, river sediment is usually teeming with life.

Images of the freshly ground spot show small sediment grains, which scientists are hoping will contain chemical or other traces of life. Poet William Blake's "'To see a world in a grain of sand' comes to mind," wrote Sanjeev Gupta, a planetary geologist at Imperial College London, on Twitter….
Meanwhile, the journal Science has been looking at Mayan astronomy and this features on their cover: "The Stargazers".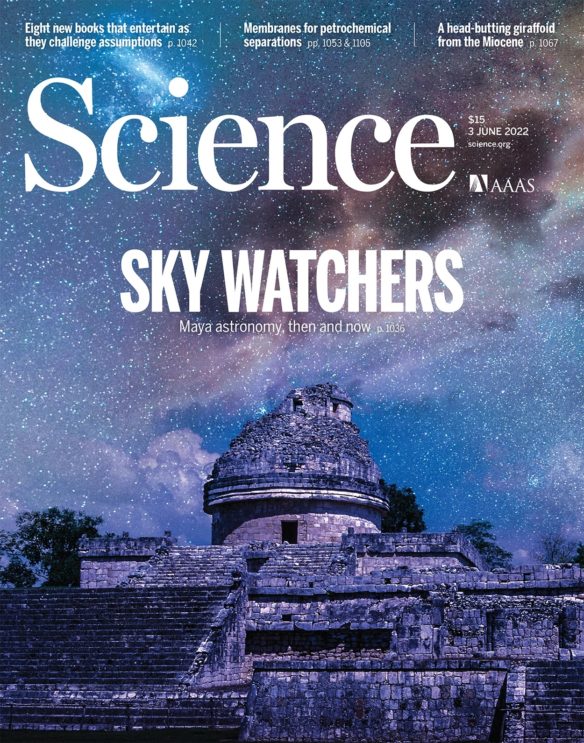 The historic Maya oriented their lives by the heavens. Today, their descendants and Western scholars team up to understand their sophisticated astronomy

In the past few years, slowly converging lines of evidence have been restoring the clearest picture yet of the stargazing knowledge European colonizers fought so hard to scrub away…
(14) SHADOWPAW PRESS MAKES DUOTERO AVAILABLE AGAIN. Duatero by Vancouver author Brad C. Anderson, a searing far-future science fiction novel about the struggles of an abandoned human colony to survive on a hostile alien world, is back in print in a new edition from Shadowpaw Press after being orphaned by the closing of its original publisher, Bundoran Press.
Majstro Falchilo Kredo has devoted his life to protecting the abandoned Earth colony of Duatero from Malamiko, the indigenous ecosystem that makes their crops fail and whose contamination turns humans into mindless monsters.

But Malimiko is changing, becoming more dangerous, more aware, even as the ancient technology the humans use to combat it fails piece by precious piece. Kredo and his fellow soldiers must risk everything or see all they hold precious wiped away and forgotten.

Kredo is prepared to sacrifice himself—and anyone around him—to do his duty. But what if the price demanded is even higher?
"Duatero is a powerful work of science fiction that confronts issues of morality and survival head-on in a carefully thought-out and terrifying alien world," said Edward Willett, editor and publisher of Shadowpaw Press. "It deserves to find many new readers, and I'm thrilled to be able to give it that opportunity."
Duatero can be bought directly from the publisher or from most online bookstores in both ebook and print and can also be ordered through any brick-and-mortar bookstore. This handy URL provides links to multiple online sources: https://books2read.com/duatero/
(15) SPELL TREK. "Harini Logan is the 2022 Scripps National Spelling Bee champion after a historic spell-off" reports CNN.
…This year's host was LeVar Burton. The Emmy and Grammy-award winner hosted the semifinal and the final round of the event.

In a statement in December, Burton called the position "an honor."

"Like a lot of folks, I look forward to the competition every year and am excited to be a part of this wonderful tradition that celebrates excellence," he said….
(16) IT'S ALMOST TIME. Suspension by Andrea Faye Christians – "a time travel tale of epic proportions" — is Book One of the Time Binder Series.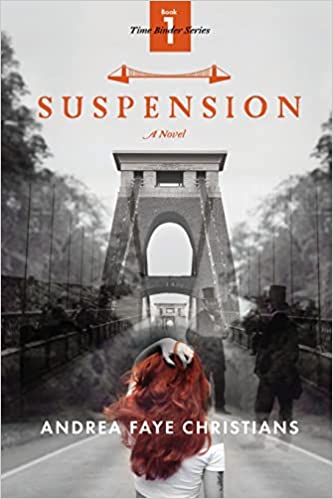 When Carla Thompson falls asleep and doesn't wake up, she is shocked to discover what destiny has in store for her. Suspended between two worlds, she meets Isambard Brunel, the legendary eighteenth-century civil engineer, who built the Clifton Suspension Bridge in Bristol, England, and who now serves as guardian of its secrets. Historical events intertwine with Carla's current reality and along the way she discovers a murder, encounters a host of characters including Jamaican psychic, Matilda, and engages in verbal banter with literary legend, Ernest Hemingway. Her adventures lead her to a startling revelation about why she was chosen for her strange new role. In death Carla realises she has never felt more alive.
Andrea Faye Christians was born and raised in Swansea, South Wales. Following a successful career in British radio including the BBC, she moved to the southern Mediterranean island of Malta to pursue her dream of becoming a freelance writer. A decade later she bought a farm in the Madonie Mountains of Sicily where a menagerie of rescue animals found their way to her. With a son in Malta and a daughter in Sicily, Andrea has a home and her heart in both places, and she now divides her time between the neighboring islands.
The book will be released June 30 and is available for pre-order from Bookshop, Amazon.com, Amazon.ca, Amazon.co.uk, Book Depository, and Barnes & Noble.
(17) PHILIP K. DICK WILL BE SORRY HE MISSED THIS SHOW. Matt O'Dowd on PBS Space Time dares to ask,"What If Physics IS NOT Describing Reality?"
Neils Bohr said, "It is wrong to think that the task of physics is to find out how Nature is. Physics concerns what we can say about Nature." Well it turns out that if we pay attention to this subtle difference, some of the most mysterious aspects of nature make a lot more sense.
[Thanks to JJ, John King Tarpinian, Chris Barkley, Andrew Porter, SF Concatenation's Jonathan Cowie, Michael Toman, Cat Eldridge, Mike Kennedy, and Martin Morse Wooster for some of these stories. Title credit belongs to File 770 contributing editor of the day Tom Becker.]