(1) SUPERPHILATELY. Royal Mail have a series of Marvel superhero stamps out later this month. Various first day covers, presentation packs, framed prints etc. are available now for pre-order:
Treat the Marvel super fan in your life to this superb Presentation Pack which includes all 15 of Royal Mail's brand new Marvel stamps illustrated by Alan Davis; the ten First Class Super Hero stamps plus the comic strip miniature sheet, which carries an additional five stamps. Packed with bonus features including:
All ten original Super Hero pencil sketches by Alan Davis printed behind each stamp.
 An original specially commissioned fold-out illustration by Marvel comic book artist Neil Edwards, featuring each of the ten Super Heroes pitted against their nemeses.
 A set of stickers including sound effects, logos and comic book narratives to help you create your own Super Hero adventure.
 A separate protective carrier for the stamp miniature sheet featuring a striking image of Thanos.
(2) GAIMAN SERIES. American Gods Season 2 starts March 10. Starz has released several promos and a featurette. Neil Gaiman appears in the first one.
When Shadow Moon is released from prison, he meets the mysterious Mr. Wednesday and a storm begins to brew. Little does Shadow know, this storm will change the course of his entire life. Left adrift by the recent, tragic death of his wife, and suddenly hired as Mr. Wednesday's bodyguard, Shadow finds himself in the center of a world that he struggles to understand. It's a world where magic is real, where the Old Gods fear both irrelevance and the growing power of the New Gods, like Technology and Media. Mr. Wednesday seeks to build a coalition of Old Gods to defend their existence in this new America, and reclaim some of the influence that they've lost. As Shadow travels across the country with Mr. Wednesday, he struggles to accept this new reality, and his place in it.
(3) KGB. Fantastic Fiction at KGB reading series hosts Ellen Datlow and Matthew Kressel present Carrie Laben and Molly Tanzer on Wednesday, March 20 at the KGB Bar starting at 7 p.m.
Carrie Laben
Carrie Laben is the author of A Hawk in the Woods, coming from Word Horde in March 2019. Her work has appeared in such venues as Apex, The Dark, Indiana Review, Okey-Panky, and Outlook Springs. In 2017 she won the Shirley Jackson Award in Short Fiction for her story "Postcards from Natalie" and Duke University's Documentary Essay Prize for the essay "The Wrong Place". In 2015 she was selected for the Anne LaBastille Memorial Writer's Residency and in 2018 she was a MacDowell Fellow. She now resides in Queens.
Molly Tanzer
Molly Tanzer is the author of Creatures of Will and Temper, Creatures of Want and Ruin, and the forthcoming Creatures of Charm and Hunger. She is also the author of the weird western Vermilion, which was an io9 and NPR "Best Book" of 2015, and the British Fantasy Award-nominated collection A Pretty Mouth. She lives in Longmont, Colorado, with her cat Toad. 
The KGB Bar is at 85 East 4th Street (just off 2nd Ave, upstairs.) in New York.
(4) FANHISTORY. Rob Hansen has added a section on "REPETERCON – the 1964 Eastercon" to his British fanhistory site THEN. Includes vastly amusing conreport excerpts such as –
ARCHIE MERCER:

The shortest distance between two points is a straight line – in the opposite direction.

Therefore, when at half past four on the Thursday I quit work an hour early, saddled my trusty scooter Laideronette and set off for Peterborough – which lay towards the north-east – naturally I travelled south-west. Peterborough was pulling hard in the opposite direction, however, and Laideronette responded strongly to its attraction. First I found it hard to stay in top gear, then impossible. Before long I found it increasingly difficult to stay in third gear, then in second.

Abandoning all thoughts of circumnavigating the globe to approach Peterborough from the far side, I coaxed Laideronette into Bridgwater at not much more than walking pace and drew up thankfully outside the Walsh abode. There the Mercatorial effects were off-loaded and transferred to the mighty Walsh automobile, and soon in company with Tony, Simone and Sarah I was following half the milk tankers in the South of England on the road to London….
(5) CHATTACON. Enjoy Ethan Mills Chattacon 44 report at Examined Worlds.
…This year I again volunteered as a panelist, which is always fun.  I was on several panels with friends I met last year.  One of the panels, "What in Hell Do We Want from Horror?" was partly inspired by my horror and philosophy class from last semester….
(6) A SHORT HISTORY OF TIME ON SCREEN. [Item by Mike Kennedy.] There have been roughly a bajillion MCU movies over the past decade plus. Have you ever wondered which hero racked up the most cumulative screen time? Well, Hannah Collins at CBR.com did ("Marvel Cinematic Universe Heroes Ranked, According to Screen Time"). If you check out the story, be sure to click through to the second page or you'll be left wondering why that guy made the top of the list and why that other guy was left off entirely…
Marvel Studios celebrated its ten-year milestone with a major character cull courtesy of the Snap-happy villain, Thanos, in 2018's Avengers: Infinity War. With half of the Marvel Cinematic Universe's population erased, the trailers for the film's sequel, Avengers: Endgame feature a depressingly empty world where our heroes are now few and far between.

[…] For the sake of brevity, we'll only be including major heroes [in our screen time ranking]. By "major," we mean heroic characters central to the MCU's over-arching story who have starred in multiple films, so don't expect to see the likes of Shuri, Wong, the Warriors Three, et al make the cut. With that caveat, let's get on with the list, in ascending order.
(7) IT'S SHOWTIME. Scott Edelman made it to the Captain Marvel world premiere tonight in Hollywood.
(8) WHAT'S THAT WORD? SHAZAM! is in theaters April 5. (If only Gomer Pyle had lived long enough to see it.)
We all have a superhero inside us, it just takes a bit of magic to bring it out. In Billy Batson's (Angel) case, by shouting out one word—SHAZAM!—this streetwise 14-year-old foster kid can turn into the adult Super Hero Shazam (Levi), courtesy of an ancient wizard. Still a kid at heart—inside a ripped, godlike body—Shazam revels in this adult version of himself by doing what any teen would do with superpowers: have fun with them! Can he fly? Does he have X-ray vision? Can he shoot lightning out of his hands? Can he skip his social studies test? Shazam sets out to test the limits of his abilities with the joyful recklessness of a child. But he'll need to master these powers quickly in order to fight the deadly forces of evil controlled by Dr. Thaddeus Sivana (Strong).
(9) PERRY OBIT. Actor Luke Perry (1966-2019) died March 4 of a massive stroke. SciFiHistory did a brief tribute — "Stardate 03.04.2019.A: In Memoriam – Luke Perry":
I was a bit old to buy into the teen-set antics of Beverly Hills, 90210, perhaps his most notable claim to fame.  As I've made it my business of following talent closely associated with the genres of Fantasy and Science Fiction, I am aware of his greater contributions to Buffy The Vampire Slayer (1992), The Fifth Element (1995), and J. Michael Strazzynski's Jeremiah. 
(10) TODAY'S BIRTHDAYS.
[Compiled by Cat Eldridge.]
Born March 4, 1946 — Patricia Kennealy-Morrison, 73. Author of The Keltiad series. Blend traditional Celtic legends and mythology unto a technologically advanced civilisation and.. well, it was awful.  Her might have been marriage to Morrison is more interesting.
Born March 4, 1954 — Catherine Anne O'Hara, 65. First genre role role was in the most excellent Beetlejuice as artist Delia Deetz followed by being Texie Garcia in Dick Tracy, a film I'll be damn if I know what I think about. She voices most excellently Sally / Shock bringing her fully to, errr, life in The Nightmare Before Christmas. I see she's in Lemony Snicket's A Series of Unfortunate Events as Justice Strauss. Lastly, and no this is by no means a complete listing of what she has done, she was on Netflix's A Series of Unfortunate Events as Dr. Georgina Orwell.
Born March 4, 1965 — Paul W.S. Anderson, 54. Genre director with a long record of films starting with Mortal Kombat. After that, he directed Event Horizon which developed a cult following on DVD, Soldier (fascinating tale, look it up), Resident Evil, Alien vs. Predator, Resident Evil: Afterlife, The Three Musketeers, Resident Evil: Retribution and Resident Evil: The Final Chapter. Monster Hunter is forthcoming from him and despite the title is not from the Puppy author that you might expect it is. It stars his wife Milla Jovovich who he first directed in Resident Evil: Extinction. 
Born March 4, 1966 — Paul Malmont, 53. Author of the comic strips, The Chinatown Death Cloud Peril and Jack London in Paradise which blends pulp tropes and SF elements including using as protagonists Heinlein and Asimov. He wrote the first four issues of DC Comics' Doc Savage series with artist Howard Porter.
Born March 4, 1973 — Len Wiseman, 46. Producer or Director on the Underworld franchise. Director of the Total Recall remake. Also involved in Stargate, Independence Day, Men in Black and Godzilla in the Property Department. Sleepy Hollow series creator and producer for much of it, wrote pilot as well. Producer for much of Lucifer as well and is the producer for the entire first series of Swamp Thing. Also produced The Gifted. 
(11) CAN'T GO ANY LOWER? YES HE CAN. The misguided attention-seeking missile that is Jon Del Arroz ran a blog post today with the headline "Women Lie About Rape" [Internet Archive link]. This is just offensive.
The #MeToo movement went completely out of control this last year and a half, destroying men's lives, dragging them through mud, and more often than not, during incidents that are complete falsehoods like in the case of our supreme court justice Brett Kavanaugh.
(12) FIRE TIME. Not cheery news for anyone who lives close to the mountains, which even surround many urban areas here: "Climate change: California wildfires 'can now happen in any year'".
Wet winters are no longer a guide to the severity of wildfires in California, a new study suggests.

Increased temperatures due to global warming and more effective efforts to contain fires means there's now more dry wood to burn.

This means that large wildfires of the kind seen in 2018 can now happen in any year, regardless of how wet the previous winter was.

The researchers say huge blazes may be a sign of things to come.
(13) MISFORTUNE. "San Francisco cost of living: A cookie factory's story" – the rising rents that affected Borderland Books impact all kinds of small businesses:
The last remaining fortune cookie factory in San Francisco is on the verge of closure, thanks to sky-high rents and new technology, but its owner says he will never give up the family business, writes Lucy Sherriff.Golden Gate Fortune Cookie Factory, in the city's Chinatown, is the last factory of its kind in the area, after competitors were forced to close when overheads became too expensive.

The family-run factory opened its doors on Ross Alley in 1962, and uses the same recipe to this day, as well as retaining the traditional machinery used to make Chinese fortune cookies.

"Even I don't know the recipe," co-owner Kevin Chan, whose mother and uncle founded the store, told the BBC. "It's my mum's secret."

Chan, who stays up until 3am at night writing the fortunes which are inserted into the cookies, says he's proud the store remains open, but he's facing an uncertain future.

"My rent is $6,000 a month. Three years ago, it was $1,400. But I'm not going to just walk away. I'm not going to give up. I will keep going for as long as I can."
(14) ASSEMBLY REQUIRED. Ikea is offering a chocolate Easter bunny — in DIY flatpack, of course: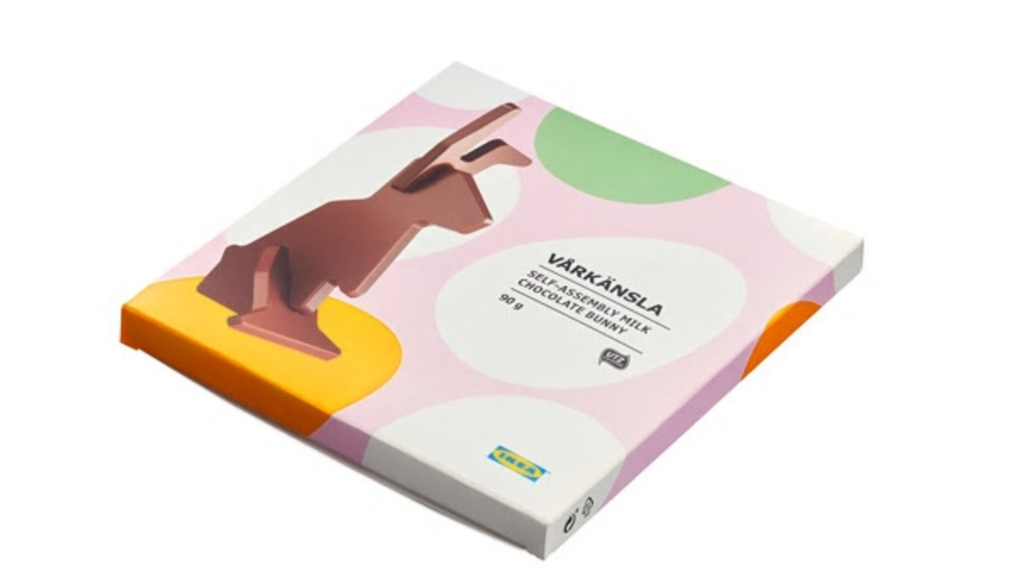 (15) IN THE ZONE. [Item by Mike Kennedy.] Though mostly known as a comedic actor, another big name is taking a presumably dramatic turn in the Pratfall Zone, um, I mean in The Twilight Zone. Deadline has the story—''The Twilight Zone': Seth Rogen To Star In Episode Of CBS All Access Series".
Seth Rogen is stepping into The Twilight Zone. The star of Knocked Up and Neighbors will star in an upcoming episode of the CBS All Access revival of the classic sci-fi/fantasy franchise that became famous for its twist endings, eerie characters and unsettling theme song.

[.. ] No word yet on Rogen's character nor any hints about the episode that he appears in. […]

Rogen joins a parade of notable names who will star in the high-profile revamp of Rod Serling's classic television franchise, which aired from 1959-64 and ranked No. 3 on the WGA's list of 101 Best Written Series. Jordan Peele will host the show while previously announced guest stars for the anthology series revival include Greg Kinnear, Kumail Nanjiani, John Cho,Ike Barinholtz, Taissa Farmiga, Ginnifer Goodwin, Luke Kirby, Sanaa Lathan, Adam Scott, Rhea Seehorn, Alison Tolman, Jacob Tremblay, Jessica Williams, DeWanda Wise, and Steven Yeun.
(16) THE FOOD WON'T BE COMICAL. [Item by Mike Kennedy.] The new capital of the UK will be London DC. OK, only the capital of certain upscale, geeky, and food obsessed parts of the UK (Bleeding Cool: "DC World, a New Immersive Restaurant to Open in London's Fashionable Soho").
Planning permission has been sought for a new restaurant in London's Soho intended to reflect the DC Multiverse.

[…Soho] is now home to many famous restaurants, is where many chains began and is full of private members dining/drinking clubs […] And it is where the world has traditionally come, bringing their own cuisine with them, only to mash it up with others, fused into new forms.
The planning application states, in part:
The restaurant will be rooted within the DC Multiverse, taking visitors on a culinary adventure through the many fictional Universes famous for their superhero residents such as Batman, Superman and Wonderwoman [sic]. The style and design of the DC Multiverse is heavily influenced by the Art Deco period with the style prominent within its publications and film and television work. The restaurant will not be a 'theme park' with literal sets and costumes from the franchise, but it has the intention to invite guests to experience the DC Universe without breaking the fourth wall- the imaginary wall that separates the audience from the performance.

[…] The proposed design will accommodate a lounge Bar (Pennyworth's) and a dining area with entertainment- reminiscent of the 1930s era (Iceberg Lounge). The North Nave – a fine dining experience (Dichotomy Fine Dining) and the South Nave (an Immersive Dining Experience) are proposed as separate, intimate dining experiences.
Other DC influences mentioned in the Bleeding Cool article include "the Wayne Manor pit seen in the Dark Knight movies, and The Arkham Asylum dining area." Lovely, I just can't wait to taste gruel à la Arkham Asylum.
(17) MUSIC TO HIS EARS. SYFY WIRE has some Dumbo news:
Dumbo's trailers have featured "Baby Mine" — the Academy Award-nominated song written for the original — before. First it was Norwegian singer Aurora covering the song; now, Arcade Fire is trying their hand at the lullaby. The version debuted in a small clip from the upcoming film that Disney posted on its Twitter account.
[Thanks To JJ, Chip Hitchcock, Martin Morse Wooster, Cat Eldridge, Mike Kennedy, John King Tarpinian, Michael O'Donnell, Carl Slaughter, and Andrew Porter for some of these stories. Title credit goes to File 770 contributing editor of the day Jayn.]